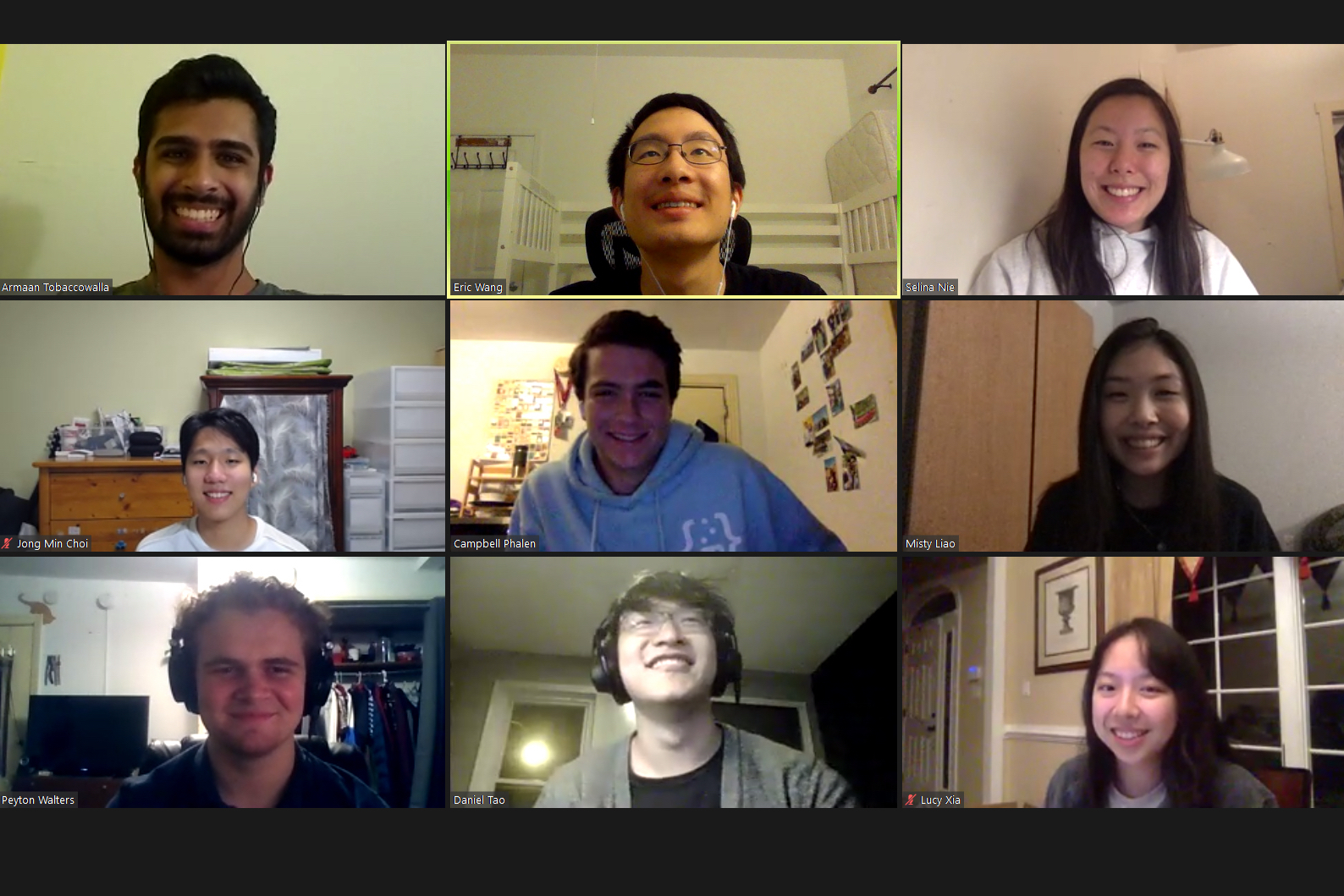 Even though pandemic restrictions have kept undergraduate students away from campus, Penn student clubs still want to connect with students interested in joining. 
And they can, through a new online platform, Penn Clubs, built by students who are themselves part of an extracurricular club, Penn Labs. The Penn Clubs platform hosted this year's virtual Student Activities Fair and is now managing a database of more than 650 clubs and groups for students to access. 
"I am so proud that students created both the online platform and opportunity for their classmates to explore clubs and find belonging during this remote semester," says Mamta Motwani Accapadi, vice provost for university life. "This is Penn at its finest: students recognizing a community need and devoting their efforts to supporting a greater good in service of their peers."
Penn Glee Club President Jake Milner, a Wharton School  senior in the finance and accounting concentration, says fall recruitment through the Penn Clubs platform went better than anyone expected, with the group adding 12 new members, bringing the total to 41. 
"We got a really great class, new people in every section: singers, band, tech, and an accompanist," says Milner, who is from Chicago. "We were able to fill a lot of spots. It wasn't our biggest class, but it wasn't abnormally small either. We felt really good about it." 
Colin Ly, a freshman in the College of Arts & Sciences, is one of those new members, and has started rehearsals playing the saxophone and clarinet in the Penn Glee Club band. Ly, who is from Sewell, New Jersey, learned about the opportunity during the virtual activities fair.
"Something I thought that was very beautiful about them was their capacity to still be welcoming and open during the virtual experience," says Ly, noting that Milner sent him an email in response to his interest. "The focus on how they reach out to individuals and make you feel like you are important was super important to me."

Created by students for students
Facilitating that connection is just what the team at Penn Labs had in mind when they started creating the Penn Clubs online platform two years ago. It is now headed by seniors Selina Nie from the Netherlands and Eric Wang from Lorton, Virginia.
"The problem we faced a lot of freshmen face. They want to be able to find an organization they fit into," says Wang, a dual degree major in computer science in the School of Engineering and Applied Science and finance in the Wharton School. "We brainstormed to come up with a solution to solve this problem."
Katie Bonner, executive director of the Office of Student Affairs, says she had been talking with Wang and Nie about making Penn Clubs the official system for student club registration before the pandemic hit. The goal was to create an active database with descriptions and contact information and eventually a master calendar of student events. 
"When it became clear we would not be able to have the activities fair in person this fall, we asked if this new system could also incorporate a virtual fair," Bonner says. 
The Penn Clubs team in midsummer turned its attention to expand the platform to handle registration and host the fair at the same time. "The activities fair was a unique opportunity and experience to be able to step up," says Nie, a double major in computer science and design in Penn Engineering. 
"It was a much larger undertaking than we thought," she says. "We were lucky that over a dozen people in the club freed up time over the summer to make this project a reality, or it wouldn't have worked."
One of the biggest challenges was figuring out how to manage chats among the students at the fair in multiple time zones. "We wanted to add some features that allowed informal interactions between students and club officers asynchronously," Nie says. 
So, they included a question and answer feature that could be accessed any time of day and worked with the Student Activities Council (SAC) to set up live sessions from 5 to 8 p.m. Eastern during the fair, Sept. 1-3. 

"Blown away"
More than 500 clubs participated by creating a page and arranging for club representatives to meet students during a live videoconference, meant to be the equivalent of a table set up on Locust Walk during the traditional in-person fair, Wang and Nie say.
More than 3,800 students logged in during the three-day virtual activities fair, generating 128,367 page views. Students created 25,000 bookmarks to keep track of clubs they were interested in and made 14,000 requests, known as subscriptions, to join the clubs' email listservs. 
"We were pretty blown away by how many people showed up and participated in the fair," says junior Teresa Christensen, vice chair of SAC which organizes the fair. "From personal anecdotes I've heard, people found it useful for finding new clubs." 
On the first day, thousands of students logged into the platform when it opened at 5 p.m., crashing the site. Penn Labs engineers, developers, and designers worked together to get it back up and running, using five times the number of servers they anticipated. The Penn Clubs team handled more than 1,200 emails during the three days. 
Christensen says it seemed like a "miracle" that the Penn Clubs team got the site back online within 30 minutes of the first-day crash. Bonner agrees. 
"It was no small endeavor build and maintain it while everybody was accessing it and also teaching groups how to use it," Bonner says. "We saw wonderful participation. We really feel like doing it online allowed people to explore and meet more groups than they might going down Locust Walk when there is a barrage of fliers. Also, it wasn't weather dependent."
Traditionally, hundreds of groups set up tables along Locust Walk, hand out fliers, take email addresses, and talk to students, primarily freshman. It's a festive atmosphere with singing and dancing and free treats.
"We wanted that feeling of browsing. You could go into the site knowing what clubs you wanted to sign up for already, but you could also look around to find a club you didn't know you existed," says Christensen, a linguistics major from Pittsburgh.

"Positive impact" 
The Penn Clubs online platform has filters, keywords, categories, and a randomized view to make it easy to navigate. A Penn Key is required to gain access to student contact information. 
Penn Labs has eight active products, including Penn Course Review, Penn Course Alert, and Penn Mobile, all apps heavily used by students. Penn Clubs is now part of their menu.
"It's very satisfying seeing the things you contribute to have a positive impact on student life," Wang says. "We are an all-volunteer organization; we love spending our time making these cool products."
Wang joined Penn Labs as a freshman. "A major motivation for me was the chance to practice and explore the computer science skills that you learn while giving back to the Penn community."
Nie joined the group her junior year and immediately teamed up with Wang on Penn Clubs. "It's like a little startup, just perfect for us. The users are students, and you can find them everywhere, ask them their thoughts," she says. "It has been a great place for me to develop real-world design skills." 
New features, new energy
Now with its own new members recruited during the fair, the Penn Clubs team is working on new features for the platform, including an events tab to support hosting activities. They are also building a master calendar of student-run events on campus, something that until now has not existed. 
"We are trying to add features that can really bring the Penn community closer together," Wang says. Another idea is a club-specific "dashboard" for club officers to help reach out to prospective members. 
They are also planning to create a map for future in-person activity fairs. "I remember freshman year I was looking for Penn Labs but couldn't find it on Locust Walk before the fair ended," Wang says. 
Bonner says her office, which supports student groups with events, is seeing more engagement by clubs as the semester progresses, as well as requests for funding for activities. 
"Groups are so important for students to feel like they found a community in a place that can feel so big and overwhelming. As much as this is the semester none of us wanted, my hope is that people feel like they have connected with others in meaningful ways," Bonner says. "We want them to feel a strong tie to Penn, to know that it is a place they belong, and it is their community. Our hope is that we can foster that this semester."
Bringing on new Glee Club members has created a new energy, Milner says, although the group has to be apart while putting together the annual fall show virtually with Penn Dance. "We are definitely trying to make the most of the semester," he says. "Welcoming the new members into the club, even over Zoom, was really exciting and got people more motivated to keep invested in Glee Club." 
Being able to pursue his passion for music has been important for Ly as he starts his freshman year, he says, in the Glee Club band, as well as Penn Band, and the Penn Jazz Combos. 
"It is kind of disappointing not being together on campus, specifically with band rehearsals because I love playing and performing music and being in that environment," says Ly. "But I appreciate that I could join the groups, and I appreciate what they are trying to do for us this semester."