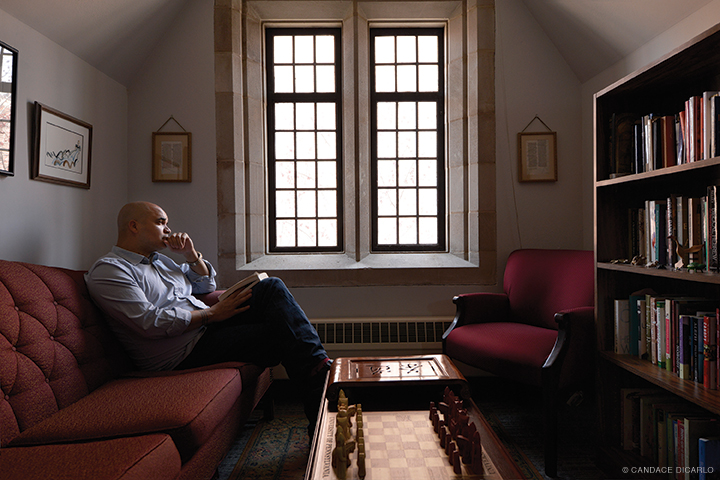 The leaders of Penn campus ministries are coming together on virtual platforms to support the people of Penn and of Philadelphia while also supporting each other. 
"I've been so moved and inspired by how our campus ministers, really the whole community, have stepped up to take care of and stay engaged with constituents and community," says University Chaplain Charles "Chaz" Howard.
Howard heads the Spiritual and Religious Life Center @ Penn. He is keeping in touch with the more than 50 different campus ministries in the Penn Religious Communities Council, covering a full range of religions, faiths, sects, and movements. 
Howard and his team, including Associate Chaplain Steve Kocher and Assistant Chaplain Sana Saeed, are available for confidential consultation by email and by phone. They are holding online office hours for students this week, from 1 to 4 p.m. by Zoom or by phone. Office hours will be available in the coming weeks as well. They are posting updated information on the Center's Facebook and Instagram pages.
Staring Monday, the leaders of the campus ministries will take turns writing a "daily word of encouragement," either one paragraph or a one-minute recording to provide support and comfort that will be posted to social media and sent via email lists. 
"These are not sermons. We all need wisdom, levity, and encouragement during a time of suffering," Howard says. "This is a word of hope from Penn."
The messages will be intentionally short because Howard says the ministry team knows how much students will be in front of computer and phone screens with online classes and maintaining social connections. 
"We feel the need to reach out and stay connected, but we also want digital well-being. We want to contribute in healthy ways, not add more of the blue glow of the screen," he says. "It's tough. We've never done this before. We don't have measurements about what's too much or too little. We are going to learn a lot about ourselves and life online in the next weeks and months." 
One message he is sending is to guard against too much consumption of news and social media, suggesting setting personal limits. "We need to stay informed, but too much news can cause anxiety, worry, and fear. Those on the line of depression are going to be overwhelmed," he says. 
Howard has counseled dozens of students, faculty, and staff in the past week who are anxious and grieving about the coronavirus. 
"The most painful back and forth has been with our seniors and our athletes," he says. "It is a hard time. There is no great answer. But this season will pass. We will get back to in-person contact again. But now it is hard. It okay to be sad. It's okay to be angry. It's okay to be nervous. But it's also okay to hope. That is one of things we really need right now."
Deciding to share his thoughts this week on ways to cope, Howard started writing. He felt like his message was getting lost in lists, so he asked his eighth-grade daughter for her help.
The result? Kindness. Check-ins. Gratitude. Wellness. Joy. Future. And a paragraph of his thoughts for each, presented in a colorful format perfect for sharing. He posted it on Twitter. "People seemed to appreciate it," he says. 
For many of the campus ministers, much of their work usually is done one-on-one with students in Houston Hall or in a coffee shop. "They are continuing to do their service in a few different ways: voice-to-voice over the phone or through video chat. A whole lot of texting has been happening and many emails," Howard says.
"It's not the same as sharing a cup of coffee together in person. But they want to make sure they remain connected to students and faculty and staff along the way," he says. "As the cheerleader of campus ministers, it has meant the world to me the amount they are turning up for people." 
The group ministries this week have already shifted to formats that don't require physically getting together. For example, the Monday gathering of Penn's Muslim Students Association was held via Zoom. Nationally, Hillel at Home allows for Torah studies and different ways of gathering and doing programming at home online. 
Churches, including St. Mary's and University Lutheran, held Sunday services on Facebook Live. "Rather than gathering everyone under same roof, Reverend Mariclaire and Pastor Fritz  just set up a camera and did the whole service," Howard says. 
A silver lining to this crisis, he says, is that the number of people who engaged in those services online were two and three times the number that attend services on a normal Sunday. "It is deeply sad that we have to do it this way. But there is this upside that people are turning to scripture, and each other, in this time of crisis," Howard says. "It's not dissimilar to the reaction after September 11. And that is encouraging."