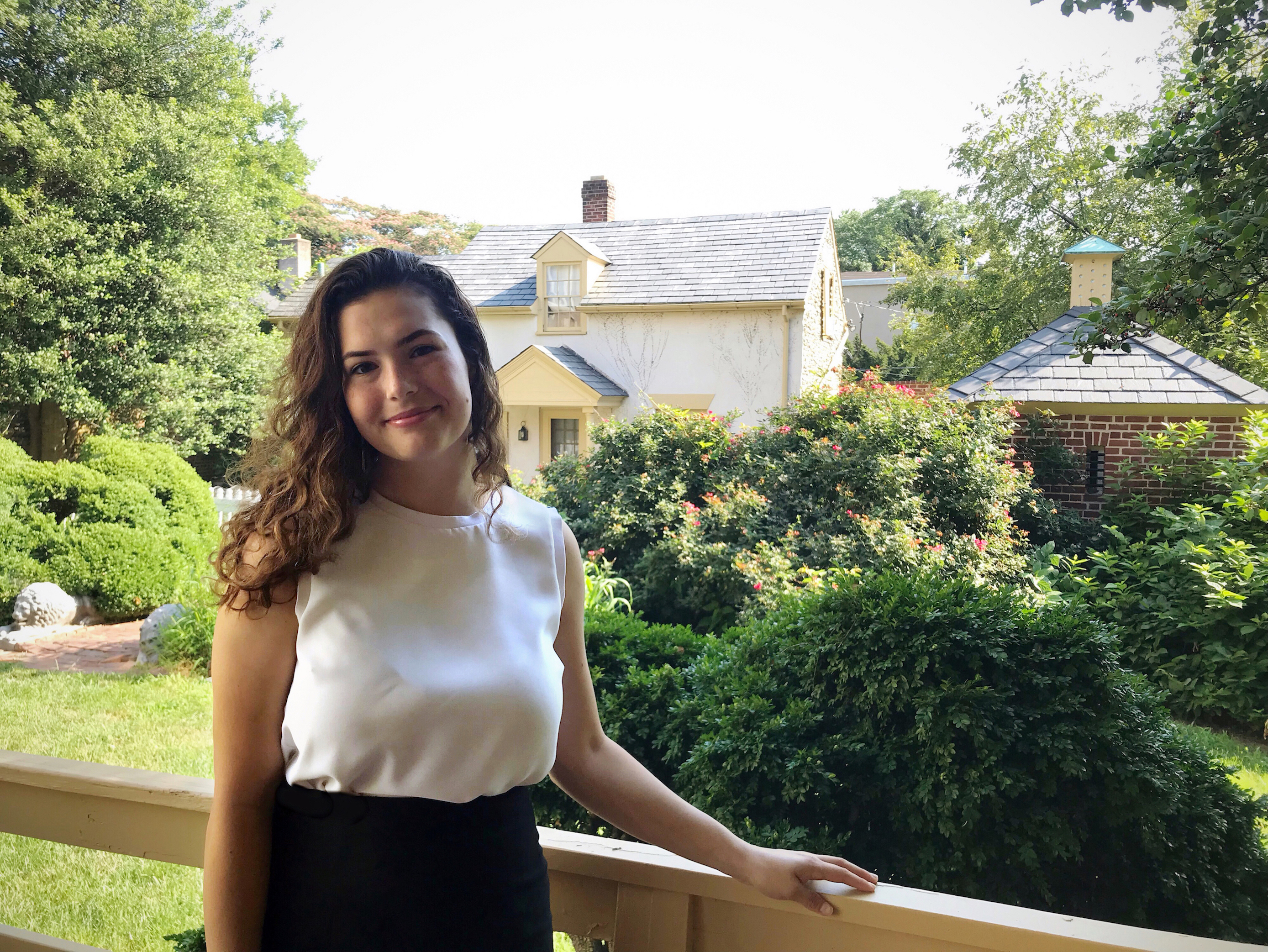 Penn junior Margarita Ortiz is learning about her own city this summer through her internship with Historic Germantown in Philadelphia. 
A history major, Ortiz has helped design and conduct a comprehensive survey of 18 museums and sites that collaborate through the neighborhood consortium, which collectively label themselves "Freedom's Backyard." 
"It has really opened my eyes as to how a nonprofit organization works," Ortiz says, noting that both her parents work for nonprofits. "It's telling how much work the staff and board members put into the site and how they advocate to get the best usage out of them." 
Ortiz was placed at Historic Germantown through Penn's Summer Humanities Internship Program coordinated through the Center for Undergraduate Research and Fellowships (CURF), which provides a $3,500 stipend supported by the School of Arts and Sciences.
The internship was one of the first offered in CURF's program, proposed by John Pollack of the Penn Libraries, who is the volunteer president of one of the sites, the Concord School House and Upper Burying Ground. 
"This internship is such a great thing for a local organization, and it gets good applicants every year, an interesting mix of students who have a certain sense of mission and initiative, who are interested in history and also in the role of history in the urban environment," Pollack says. 
An intern like Ortiz can make a big difference to a small nonprofit, says Tuomi Forrest, executive director of Historic Germantown. "It does really expand our capacity. An intern from Penn can have an immediate positive impact," he says. "And it is a great experience for a student interested in history or humanities to learn how an organization is run." 
It was precisely because Ortiz was an intern this summer that Forrest decided to tackle the survey. "It helps us try things we might not otherwise try," he says. "Without an intern through CURF, I might not have attempted such an ambitious project." 
Forrest says Ortiz's "critical thinking, liberal arts training and background, and great work ethic" have been real assets this summer. "We've been extremely happy with Margarita's work," he says.
Outside of the internship, Ortiz is working her fifth summer at a local ice cream stand, Custard and Cakes Creamery, where she started while a student at Masterman High School. At Penn, Ortiz plays on the women's rugby team, at fly-half or center, and serves on its board as secretary. She also manages the men's varsity wrestling team. 
"She's brought a great deal of energy, enthusiasm, professionalism, and creativity to the internship, and the ability to work on a variety of projects and programs while maintaining focus on a central project that was the core," Forrest says. 
For that central project, Forrest and Ortiz met to decide first how to design the survey, creating both a paper and an online version. Then Ortiz met with the directors and staff of each of the sites, asking about visitation, spaces, usage, and how they are engaging the community. 
"What she is doing is quite sophisticated and important for the broader field of history and cultural organizations," Forrest says. At the end of the 10-week internship they were working on the data analysis and writing a summary. Each site will receive an individualized report. 
Forrest says their results will help the sites tell more holistic stories about the value they bring to the community and the city and will help identify additional ways the sites might collaborate on programs, staffing, and funding. Also, new program ideas are emerging, he says. 
The experience will be useful, Ortiz says, as she contemplates her final history research project for Penn. She says the work echoes many of the themes covered in an urban studies class she took last year. 
An additional highlight for her this summer was the annual Germantown Hall of Fame awards dinner. "To see three people who have given so much to their communities was very inspiring," she says. "It was all-hands-on-deck for the big event, and I was happy to help with anything they needed." 
Another favorite aspect of the internship has been the view out of her office window. "Even though it's only half an acre, the courtyard provides a very pretty view," she says. "The garden was recently redesigned with support from the Philadelphia Water Department to improve its stormwater management. The courtyard also has a cottage that was renovated just in time for our event."
She wants to be a history teacher for middle or high school. "For a long time, I've planned on becoming a teacher, and I think that is still my main goal," she says. "I am also interested in historic preservation and community development, areas that history can have an effect."