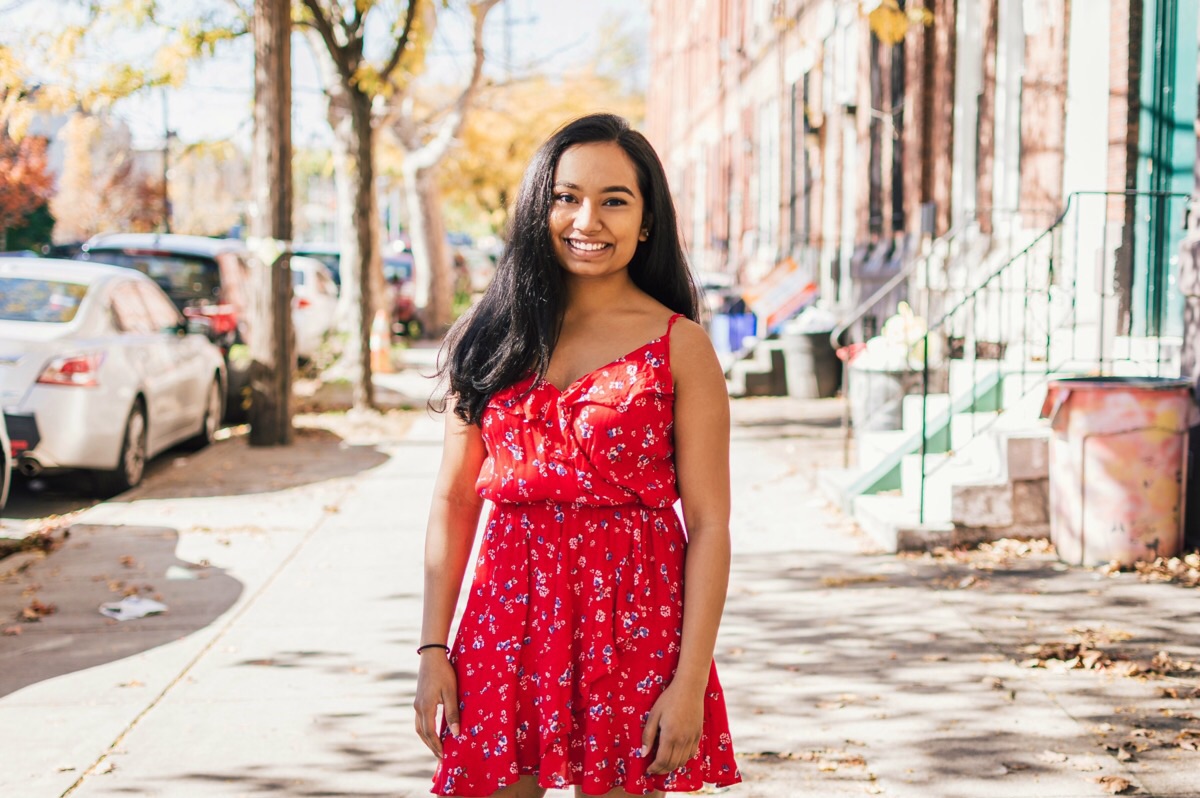 The arts are very much a part of Srinidhi Ramakrishna's experience at Penn, as an alto in the a cappella group Counterparts, and she is also an advocate, with a student organization focused on criminal-justice reform.
Combining her interests in her summer internship, the rising sophomore is working at ArtWell, a Philadelphia nonprofit that uses art, poetry, and music to reach young people in underserved communities. Ramakrishna, from Montgomery, New Jersey, has not yet declared her major, but she is considering political science.  
"I've always been interested in the intersection of art and activism, how art can cause social change," Ramakrishna says. "ArtWell is the perfect combination, a way to have art help people but in a nonprofit sphere."
ArtWell, based in Philadelphia's Fishtown neighborhood, collaborates with schools and organizations to bring local artists to young people facing poverty, discrimination, and violence in an effort to foster thriving and peaceful communities. During its 20-year history, ArtWell has served 35,000 young people through 400 partnerships. Last school year, ArtWell worked with 15 program partners in 22 classrooms, reaching 900 students in grades K-12. 
Ramakrishna's internship is through Penn's Summer Humanities Internship Program coordinated through the Center for Undergraduate Research and Fellowships, which provides a $3,500 stipend supported by the School of Arts and Sciences.
This is the first year ArtWell has hosted a Penn undergraduate intern, although graduate students from the School of Social Policy & Practice have been interns in the past. 
"We are thinking about representing fully the ways people engage in art and culture in Philadelphia, and we are explicitly trying to expand into places that engage in community development in an artistic way," says Molly McGlone, associate director and assistant dean for academic affairs in the College of Arts and Sciences. "ArtWell was at the top of our list this year."
Ramakrishna started her internship the week before the ArtWell Festival, the nonprofit's most important fundraising and community event, held once every two years. She jumped right into organizing and helping at the street fair, which drew hundreds of people. 
"We had all these performers—spoken-word poetry, drumming, performances that exemplified community empowerment and social justice, and a lot of art activities," she says. "There were a lot of kids and families there, and everyone was having a really great time. I think it brought a lot of people together."
Rae Pagliarulo, ArtWell development director, says Ramakrishna "is really good with people and at public speaking, so we put her on a street team to go around the neighborhood and encourage people to attend the event. She took that job very seriously, and a lot of people showed up with the flyer that she gave them. She took a leadership position."
Ramakrishna's most critical work has been helping to create a way to analyze ArtWell's student surveys, Pagliarulo says, working with two consultants who were former interns from Social Policy & Practice. ArtWell surveys the students halfway through their programs and again at the end, gathering demographic and quantitative and qualitative data. 
"What I have heard from them is that she has been invaluable. There was no hope of getting all the survey data into the system without her," Pagliarulo says. "We need this time in the summer to take a really hard look at what we've accomplished in the past year and identify where we can improve and what changes we can make."
Ramakrishna has also done grant writing and is planning for a board meeting next year. And when she has any extra time, she organizes the art supply closet. "She has an attitude of 'Let me see what needs to be done and do it.' She has a lot of initiative," Pagliarulo says. "She asks questions. She is self-directed. It is very easy to work with her."
The ArtWell experience meshes well with what Ramakrishna has been studying at Penn, she says, in particular an urban studies class about the city that focused on Baltimore, Urban Studies 210. "We talked a lot about how historically in cities there are communities—communities of lower economic status, communities of color—that never receive the same resources that other communities have," she says. "I think that ArtWell is an organization that can do its one small part to alleviate those inequalities." 
Addressing inequalities also aligns with her volunteer work in a campus organization that advocates for criminal justice reform, Beyond Arrests: Re-Thinking Systematic Oppression (BARS). She is publications manager, working with a team of student writers. "Criminal justice is another intersecting area where inequalities come into play, making sure that everybody gets an equitable chance at living a healthy and emotionally fulfilling life," she says. 
She also writes feature stories for 34th Street Magazine of The Daily Pennsylvanian student newspaper, and will be feature editors this year. 
Working at ArtWell, she says, has shown her the value of a positive, committed group of people.  "I don't know exactly what I want to do, but I do want to work in a place where people actually really care about the work they are doing, in an environment that is supportive and empowering and mission-driven."