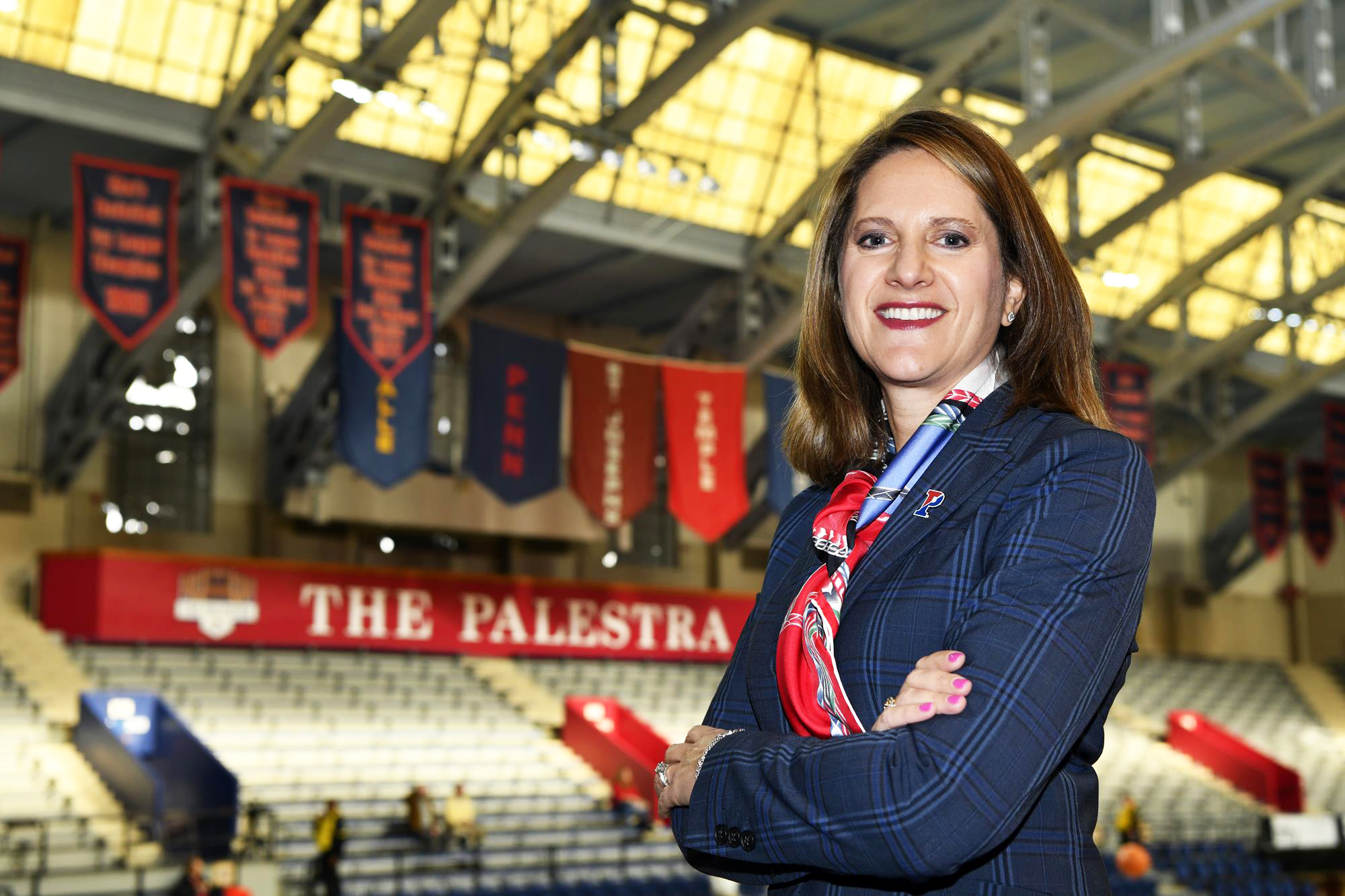 M. Grace Calhoun, director of athletics and recreation at Penn, has been named the incoming chair of the NCAA Division I Council, a high-level group responsible for the day-to-day decision-making for Division I.

The Council is comprised of one representative from each of the 32 Division I conferences, plus several at-large representatives, and is the chief legislative body of the Division. Calhoun will also represent the Council with a seat on the NCAA Division I Board of Directors, a group comprised predominantly of college presidents with ultimate decision-making responsibility for Division I. She is the first chair from a non-Power Five university, following Jim Phillips (Northwestern) and Blake James (Miami), and will begin her two-year appointment following the June meeting of the Council.

"I'm honored to serve the NCAA, its institutions, and most importantly the student-athletes as the chair of the NCAA Council," Calhoun said. "I continue to be passionate about the holistic development of young adults through athletics participation, and I believe that the educational value of intercollegiate athletics and the mental and physical well-being of our student-athletes should be paramount in our decision-making. I look forward to the opportunity to lead the Council as we work to shape the future of the rapidly-changing NCAA Division I landscape."

Calhoun has extensive NCAA governance and national association service. Beyond her current seat on the NCAA Council, Calhoun currently serves as chair of the NCAA's Strategic Vision and Planning Committee. She has previously served as chair of the NCAA Division I Awards, Benefits and Financial Aid Cabinet; chair of the NCAA Research Committee; and vice chair of the NCAA Olympic Sports Liaison Committee. She has served as a member of the NCAA Committee on Academic Performance, the NCAA Competitive Safeguards and Medical Aspects of Sport Committee, and the NCAA Division I Track and Field Committee. Calhoun also served on the board of Women Leaders in College Sports (formerly NACWAA).

A proven, impactful leader, Calhoun is passionate about the holistic development of students and the promotion of physical, mental and emotional wellness through sport participation. Calhoun has spent 25 years making a difference locally and nationally by administering high-quality programming and formulating and facilitating the adoption of values-based policies governing sport at the institutional, conference and national levels. Calhoun's leadership was recognized by being named the 2017 Division I FCS Administrator of the Year by the Women Leaders in College Sports.

Calhoun's first five years at Penn have been highlighted by increased competitiveness resulting in 19 Ivy League or conference championships by 13 different sports, three individual national titles, and two national runner-up team finishes. In addition, Penn has had 79 All-Americans, 165 individual NCAA Championship qualifiers, 14 Coaches of the Year, 18 Ivy League Players of the Year, 77 Ivy League individual champions, 154 first-team All-Ivy selections and a Rhodes Scholar. In the NCAA Academic Progress Rate (APR) announcement in 2017, Penn ranked fourth nationally with 17 teams rated in the top 10 percent of their sport.

Under Calhoun's leadership, Penn Athletics has launched the "Game Onward" fundraising campaign, raising over $110 million to date toward the $150 million campaign goal. Beyond building or renovating seven athletics facilities in this campaign, Calhoun has already more than doubled the size of Penn's athletics endowment and increased annual fund raising to historic highs. Calhoun's five-year strategic plan for Penn Athletics includes building out three "centers of excellence" for which Penn Athletics will become nationally known: a best-in-class partnership with Penn's Wharton School of Business on leadership and character development through sport; a cutting-edge program in sports performance and injury prevention in partnership with the world-renowned Penn Medicine; and a civic engagement program in conjunction with Penn's Netter Center whereby student-athletes are having local, national and global impact.

Calhoun arrived at Penn from Loyola University Chicago, where she was director of athletics and assistant vice president. Calhoun hired eight head coaches including the men's basketball coach and transitioned athletics conferences, two moves that were publicly credited with setting in motion Loyola's men's basketball Final Four run in 2018. She led the Ramblers to their most successful all-sports finish in decades, including the first of two consecutive national championships in men's volleyball. Calhoun also built campus partnerships and garnered national media attention for the 50th anniversary of the Game of Change culminating in a visit to the White House.

Prior to Loyola, Calhoun served for six years as associate athletic director and senior woman administrator at Indiana University, four years as associate executive director of the Patriot League conference, three years as associate athletic director at Dartmouth College, and began her athletics administrative work serving four years at the University of Florida and two years at St. Francis University.

Calhoun graduated magna cum laude from Brown University in 1992 with a degree in electrical engineering, where she competed on the track and field team, a sport she picked up late in high school after her retirement as an elite gymnast. In addition to her bachelor's degree from Brown, Calhoun earned master's degrees from the University of Florida (exercise science) and Lehigh University (MBA), and a Ph.D. in higher education administration from Florida.