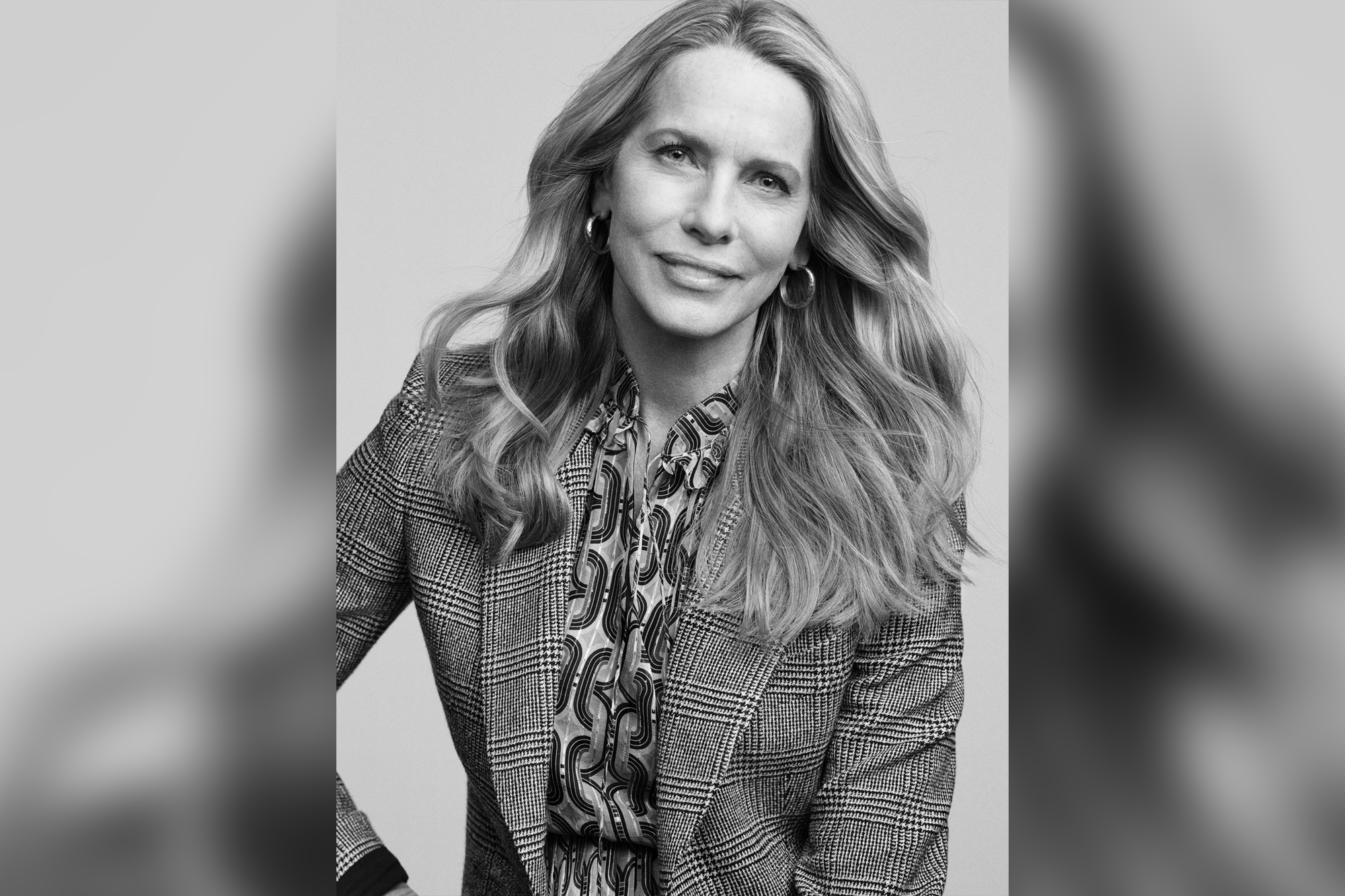 Alumna, philanthropist Laurene Powell Jobs will deliver the address at the 2021 University of Pennsylvania Commencement on Monday, May 17. The announcement was made today by Vice President and University Secretary Medha Narvekar.
"We are honored to bestow our highest degree on Penn alumna Laurene Powell Jobs and thrilled to have her address our graduates at Penn's 265th Commencement," said President Amy Gutmann. "She has championed equity and inclusion with pioneering work in education and immigration reform and with philanthropic commitments directed toward making systemic progress in economic, health, and environmental justice. Laurene is a most inspiring example of the leadership, philanthropy, and advocacy of Penn grads determined to make a positive impact on our society and world."
Powell Jobs, who earned a B.A. in political science from the College of Arts and Sciences and a B.S. in economics from the Wharton School at the University of Pennsylvania, is founder and president of the Emerson Collective, an umbrella organization for her philanthropic and business endeavors. During her time at Penn, Powell Jobs worked at Penn Student Agencies and founded Special Deliveries; she also studied abroad in Paris. After graduating from Penn, she worked at Goldman Sachs before earning an MBA from the Stanford Graduate School of Business.
In 1997, she founded College Track, a nonprofit supporting low-income students via college preparation and completion programs. She is also cofounder and board chair of The XQ Institute, dedicated to rethinking the high school experience. A champion for supporting independent journalism as a vital civic institution, Powell Jobs is co-owner of The Atlantic.
Powell Jobs has served on the National Advisory Board of Penn's Netter Center for Community Partnerships, and serves on the Stanford University Board of Trustees and the boards of Chicago CRED, Conservation International, The Council on Foreign Relations, Nia Taro, and Elemental Excelerator, where she is board chair. In addition, she is a member of the National Academy of Arts and Sciences and a recipient of the Stanford Graduate School of Business' Ernest C. Arbuckle Award for managerial excellence and addressing the changing needs of society. 
At the Commencement ceremony, Powell Jobs will receive an honorary doctor of humane letters degree. 
Other 2021 Penn honorary degree recipients will be Elizabeth Alexander, Frances Arnold, David L. Cohen, Joy Harjo, David Miliband, John Williams, and Janet Yellen.
"It will be our pleasure to welcome Laurene Powell Jobs as our 2021 Commencement speaker and to celebrate the contributions of all of our extraordinary honorees. Their exceptional achievements encompass the arts, world-changing discoveries, leadership, civic engagement, and scholarship," said Julie Platt, chair of the Trustee Honorary Degrees Committee. "We are privileged to honor them as we celebrate Commencement and our wonderful Class of 2021." 
Elizabeth Alexander, who earned her Ph.D. in English from Penn, is a decorated poet, educator, memoirist, scholar, and cultural advocate. As president of The Andrew W. Mellon Foundation, she has built innovative programs in education and philanthropy, championing support for the arts and humanities. While at the Ford Foundation, she co-designed the Art for Justice Fund, using art and advocacy to address the crisis of mass incarceration. During her distinguished academic career, she inspired generations of students at Yale, Columbia, Smith, and the University of Chicago. The author or co-author of 14 books, she is twice a Pulitzer Prize finalist, including for her 2015 memoir, "The Light of the World." Her works include "Crave Radiance: New and Selected Poems 1990–2010," "The Black Interior: Essays," "Antebellum Dream Book," and "Body of Life." She is a member of the American Academy of Arts and Sciences, chancellor emeritus of the Academy of American Poets, and recipient of the John Simon Guggenheim Memorial Foundation Fellowship, the National Endowment for the Arts Fellowship, and three Pushcart Prizes for Poetry, among other accolades. She will be receiving an honorary doctor of humane letters degree.
Frances H. Arnold is the recipient of the 2018 Nobel Prize in Chemistry for her pioneering work in directed enzyme evolution methods, which she has used to expand the catalytic repertoire of enzymes and develop efficient, sustainable ways to produce chemicals. She is the Linus Pauling Professor of Chemical Engineering, Bioengineering, and Biochemistry at the California Institute of Technology. In January 2021, President Biden named her to co-chair the President's Council of Advisors on Science and Technology. She is the co-inventor on more than 60 U.S. patents and the co-founder of the biotechnology companies Gevo, Provivi, and Aralez Bio. Additional accolades include the 2011 Charles Stark Draper Prize of the U.S. National Academy of Engineering, a 2013 National Medal of Technology and Innovation awarded by President Obama, and the 2016 Millennium Technology Prize from The Technology Academy Finland. She is a member of the National Academies of Science, Medicine, and Engineering; the American Academy of Arts and Sciences; and the American Philosophical Society. She will be receiving an honorary doctor of sciences degree.
David L. Cohen is a senior advisor and senior counselor to the CEO of the Philadelphia-based Comcast Corporation having served previously as Comcast's senior executive vice president and first chief diversity officer. Prior to Comcast, Cohen who holds a J.D. from Penn, was a partner and chairman of Ballard Spahr Andrews & Ingersoll, LLP, and from 1992 to 1997 served as chief of staff to Edward G. Rendell, when he was mayor of Philadelphia. Cohen was elected a trustee of the University of Pennsylvania in 2001 and since 2009 has served as its chair. He is also a member of the Trustee Board and Executive Committee of Penn Medicine. He serves on numerous other civic and charitable boards as a member of the Board of Directors of the Greater Philadelphia Chamber of Commerce, the U.S. Semiquincentennial Commission, and the Kimmel Center President's Leadership Council, and as chair of the Philadelphia Theatre Company, the 2026 FIFA World Cup Philadelphia Bid Committee, the national boards of City Year, National Urban League, and Corporate Advisory Board of UnidosUS. He has been honored by the Anti-Defamation League and the American Red Cross and is the recipient of the William Penn Award, Spirit of Asian American Award, Jewish National Fund Tree of Life Award, and Minority Corporate Counsel Lifetime Achievement Award. He will be receiving an honorary doctor of laws degree.
Joy Harjo is an internationally renowned award-winning poet, writer, performer, and musician of the Mvskoke/Creek Nation. She is the author of nine books of poetry, a memoir, numerous essays, and interviews, and in 2019 was appointed the 23rd United States Poet Laureate, the first Native American to hold the position. Her poetry collections include "An American Sunrise," "Conflict Resolution for Holy Beings," and "She Had Some Horses." Her memoir "Crazy Brave" won the PEN USA Literary Award for Creative Nonfiction and the American Book Award. Additional awards include the Jackson Prize, the William Carlos Williams Award, and the Ruth Lilly Prize. Harjo performs saxophone internationally, both solo and with her band The Arrow Dynamics. She has six music and poetry albums. Her album "Winding Through the Milky Way" received a Native American Music Award for Best Female Artist of the Year in 2009. Harjo is the recipient of the John Simon Guggenheim Memorial Foundation Fellowship and the Rasmuson United States Artist Fellowship. She will be receiving an honorary doctor of humane letters degree. 
Public policy analyst David Miliband is the president and CEO of the International Rescue Committee (IRC). The son of refugees, since 2013 he has brought a personal commitment to the IRC's work, overseeing the agency's relief and development operations, its refugee resettlement and assistance programs, and the IRC's advocacy efforts on behalf of the world's most vulnerable people. Before taking the helm at IRC, Miliband had a distinguished political career in the United Kingdom. From 2001 to 2013, he was a member of Parliament, and from 2007 to 2010 served as the youngest secretary of state for foreign and commonwealth affairs in three decades, driving advancements in human rights and representing the U.K. throughout the world. He began his career at the Institute for Public Policy Research and was named by former Prime Minister Tony Blair as his Policy Unit head. He is the author of "Rescue: Refugees and the Political Crisis of Our Time" and is a member of the American Academy of Arts and Sciences. He will be receiving an honorary doctor of laws degree.
With a career spanning more than five decades, John Williams is one of America's most accomplished and successful composers for film and the concert stage. He has composed the music and served as music director for more than a hundred films. His 45-year artistic partnership with director Steven Spielberg is evidenced in many of Hollywood's most acclaimed films, including "Schindler's List," "Jaws," "Jurassic Park," and the Indiana Jones films. He also composed the scores for all nine Star Wars films and the first three of the Harry Potter film series. Williams served for years as music director of the Boston Pops Orchestra and is Artist-in-Residence at Tanglewood. He has received five Academy Awards, 52 Oscar nominations—the most of any living person, seven British Academy awards, four Golden Globes, five Emmys, 25 Grammys, and numerous gold and platinum records. Among other honors, he is the recipient of the National Medal of Arts and the Kennedy Center Honors, and is the first composer to receive the American Film Institute's Life Achievement Award. He is a member of the American Academy of Arts and Sciences and will be receiving an honorary doctor of music degree.
Economist Janet L. Yellen is the 78th United States Secretary of the Treasury, the first woman to hold this position, and was the first woman chair of the Federal Reserve Board in 2014-2018. She is also former chair of the White House Council of Economic Advisors. Yellen is a professor emerita at the University of California, Berkeley, and formerly a Distinguished Fellow in Residence with the Economic Studies Program at the Brookings Institution, an assistant professor of economics at Harvard University, and a lecturer at the London School of Economics. Yellen has authored numerous articles, as well as "The Fabulous Decade: Macroeconomic Lessons from the 1990s," with Alan Blinder. In 2012, she was appointed Distinguished Fellow of the American Economic Association. She is also a member of the American Academy of Arts and Sciences and the Council on Foreign Relations, and a founding member of the Climate Leadership Council. Her scholarship has covered a range of macroeconomic issues, with a special focus on the causes, mechanisms, and implications of unemployment. Her many honors include Yale University's Wilbur Cross Medal and the Truman Medal for Economic Policy. She will be receiving an honorary doctor of laws degree.
Due to pandemic health restrictions, this year's Commencement ceremony will be limited to graduating seniors who have been on campus and participating in the University's COVID-19 screening procedures. Family and friends will be able to watch a livestream of the celebration and a recording will be posted to the University's website.