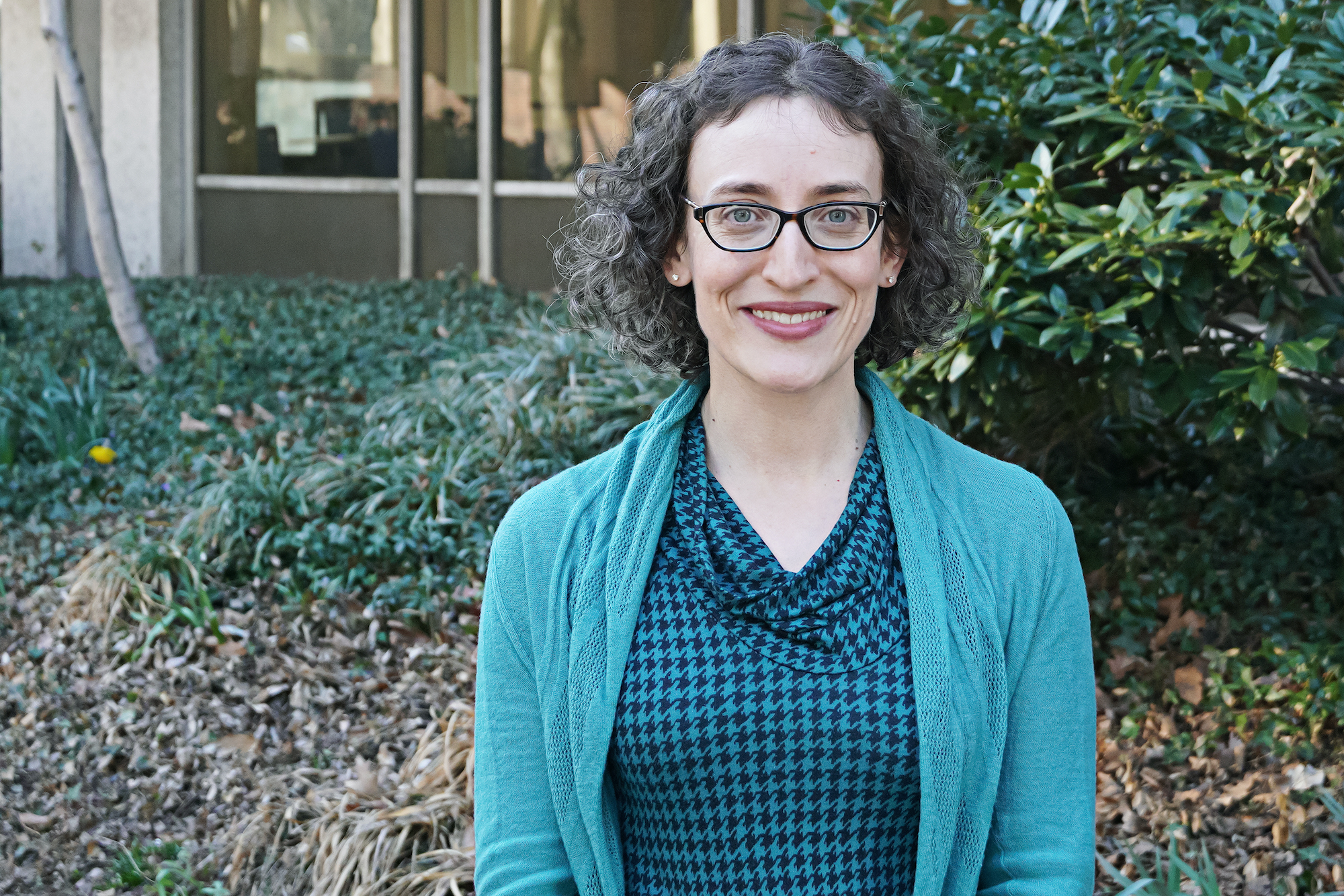 When Penn's new Japanese studies librarian, Rebecca Mendelson, was an undergraduate, she participated in a program that involved living in Buddhist temples in Japan, a transformative experience that she says "changed everything" for her.
"That experience had a tremendous impact on me and my research trajectory," she says. It sparked her interest in the history of Japanese Zen, and she went on to get her Ph.D. in Japanese religions. "I wrote my dissertation on the development of lay Zen in late 19th- and early 20th-century Japan, which paved the way for the worldwide Zen boom we've seen in the 20th century."
After finishing her Ph.D. at Duke University in 2020, she decided to become a Japanese studies librarian. "It's been an excellent fit for me not only in terms of my subject training and academic background, but also on a personal level in terms of personality, strengths, and interests," Mendelson says. "I spent over a decade building language and research skills while immersing myself in archives and connecting to international networks of Japanese studies specialists. In my role at Penn, I find it extremely gratifying to build on these skills and experiences daily to enable research, teaching, and learning on a large scale."
Mendelson started her role at Penn completely remotely in July of 2020 and just wrapped up her first academic year in person on campus. "It's been a great year," she says. "I've been so inspired by Penn's East Asian studies community and my area studies colleagues."
Her job at the Penn Libraries is to manage the Japanese and Korean Collections, continuing the development of these distinctive collections. She provides research and teaching support for the Japanese and Korean studies communities, helping undergraduate and graduate students navigate resources and providing research methods training. She works closely with library colleagues, faculty, and graduate students to shape the collections in support of this and the next generation's research.
"Rebecca has proven to be a remarkably visionary and resourceful steward of our extraordinary collections in Japanese and Korean studies, skillfully navigating the needs of multiple stakeholders. We're so lucky to have her as a core member of the East Asian studies team, says Frederick Dickinson, director of the Center for East Asian Studies.
Spending her first year at a new job in a completely remote setting was "an adventure, to say the least," she says.
"I was amazed by the degree to which it was possible to do my job virtually," she says. "So much of my job, which is very public facing, can be done through Zoom. I developed relationships, not only with library colleagues but also with our faculty and students."
The virtual nature of that first year also made it possible for her to connect with colleagues all across North America and attend events she likely wouldn't have been able to without Zoom, she says.
However, she has enjoyed combining remote and on-site work.
"It's amazing to finally be amidst the books and get to know our vast print collections," she says. "I'm delighted and honored to hold these books in my hands, especially the old and rare materials."
She says she's inspired by the number of distinctive collections in Japanese studies, including a collection involving imperial Japanese naval scrapbooks and periodicals, as well as The Arthur Tress Collection of Japanese Illustrated Books, which includes more than 1,200 titles from the late 17th century through the 1930s.
"We have such a deep, broad, and dynamic East Asian studies collection," she says. It dates back to a late 19th-century donation of over 1,000 Chinese and Japanese studies volumes from a Protestant missionary and Penn alumnus.
She's also appreciating finally having the chance to work in person helping students, like in March, when a group of students in Linda Chance's course "Sushi & Ramen: Global Food" visited the East Asian Studies Seminar Room in Van Pelt-Dietrich Library Center. Mendelson led a bibliographic instruction session to prepare them for library research on the history and globalization of tempura, sushi, ramen, and sake, among other topics.
"I encourage my students to do creative research projects, which means they get stuck," Chance says. "Rebecca guides them right back onto the trail. We are incredibly fortunate that she is so engaged in bringing the library to life for all our students."
Some of the most fascinating and challenging work she's done this year has been the behind-the-scenes work with area studies colleagues on collections and thinking deeply about what is important and meaningful for the Libraries to be collecting at this moment in our world and into the future.
"This has been really inspiring work, thinking across borders and about underrepresented voices, knowledge production, nontraditional modes of collecting, and the power that librarians and archivists have to preserve knowledge and make it discoverable," she says.
Among the many materials she's been working to collect are materials on colonial Japan and the colonial Japanese presence in Taiwan, Manchuria, and Korea; Japanese disability studies; and Japanese women photographers.
"It's incredibly exciting to continue building collections that people have been cultivating for decades, while also discerning new opportunities for impactful collecting," she says.
The best aspects of the job are helping people wherever they are in their research or learning process as well as collaborating with people across departments and institutions, she says.
"Both Penn and the world of Japanese studies librarians are such stimulating communities," Mendelson says.