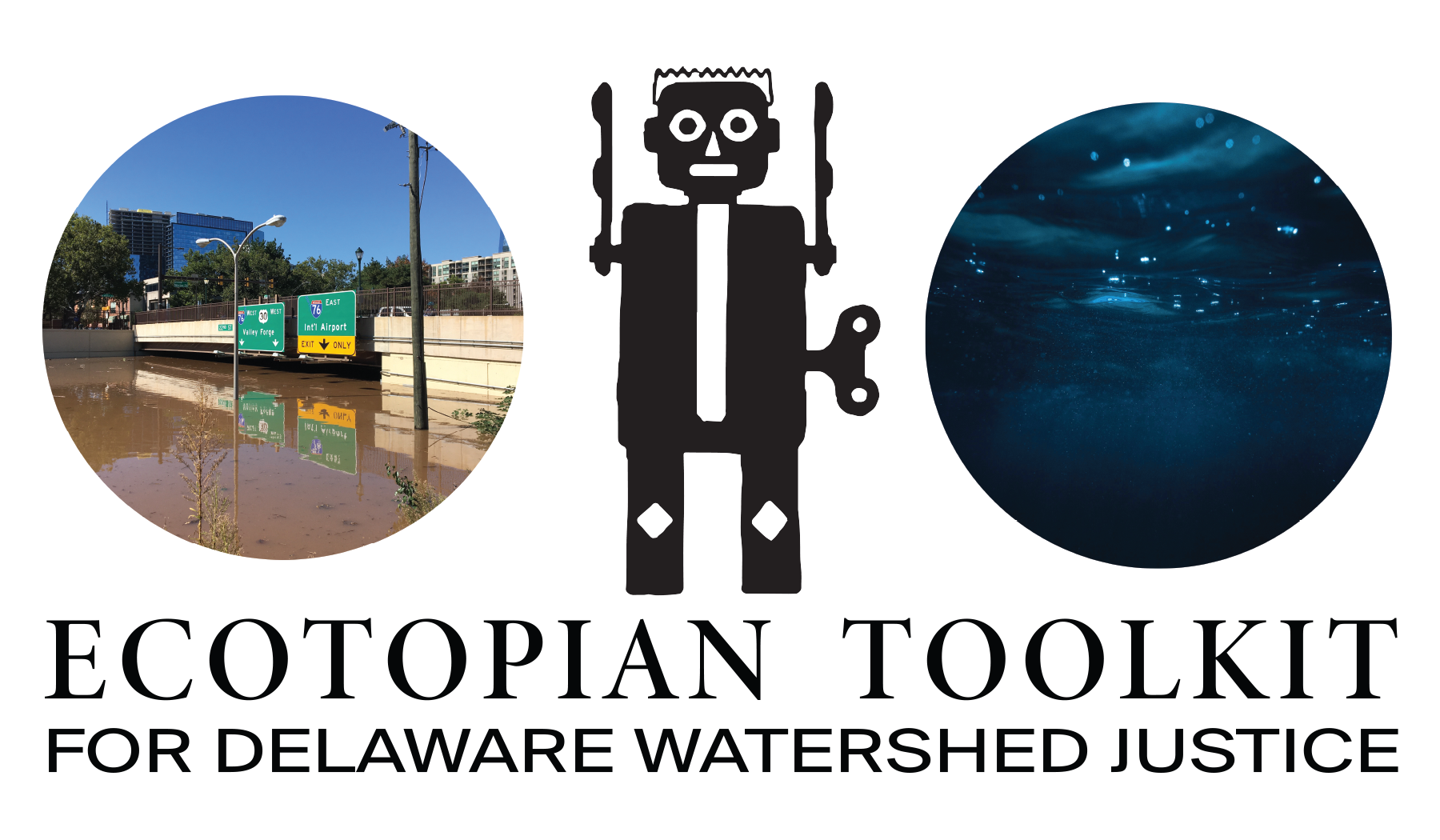 Environmental changes are remaking the Delaware River watershed, bringing saltwater into areas that used to be fresh, floodwaters onto highways, and petrochemicals into waterways. What tools will help inhabitants of this region adapt and respond to a present and future that look quite different from what we used to understand these places to be?
An invitation to imagine and design such tools is at the heart of the Ecotopian Toolkit initiative, developed by the Penn Program in Environmental Humanities (PPEH). The 2022 Call for Ecotopian Toolmakers for Delaware Watershed Justice is soliciting design ideas for tools that "might be used by inhabitants of the watershed to support its diverse, multispecies community as we learn to adapt and respond to our changing local environment: sinking, submerging, immersing, diving, soaking in climate-changing waters."
This year, PPEH is issuing its call for proposals in collaboration with the Independence Seaport Museum (ISM), which recently launched an exhibition on the project.
Toolmakers whose proposals are selected will each receive a $1,000 microgrant enabling their tool to be "explored, prototyped, and possibly built, distributed, and used in the watershed and on the river." Proposals are due by midnight on March 1.
"The resulting tools will be debuted to the public in a series of workshops in the spring at the museum, where they can be pilot tested," says Bethany Wiggin, founding director of PPEH and an associate professor of German in the School of Arts & Sciences. "And in a final part of the project, we'll meet on Penn's campus for a workshop to create a narrated, illustrated catalog of the tools for publication."
Previous iterations of the Ecotopian Toolkit project, which began in 2017, have led to an illustrated map of the region, a pocket field guide to plants of the lower Delaware, art documenting urban bird migrations, a floating sculpture, public walking tours, and more. 
The shape of this year's project emerged in Wiggin's fall 2021 course Environmental Humanities: Theory, Methods, and Practice. As part of their classwork exploring diverse veins of futurism, students collaboratively wrote what would become the call for proposals. They were then invited to step into the shoes of those who might contribute, imagining their own ecotopian tools. 
In one example, Miriam Fox, a student in the Master of Environmental Studies program, developed a proposal for an enlarged manhole cover inscribed with the word "lens." This portal into the underground would enable passersby to see, hear—and smell—the waters that flow through Philadelphia's combined sewer system on the way to the Delaware River, while also learning about how these hidden systems operate and the impact they have on the environment. 
"The environmental humanities are all about collaboration, not only between humanities disciplines but also between scientists, between thinkers, between artists," says Fox. "Our goal as students was to develop a call for proposals that could speak to a variety of people active across sectors, not just artists, to draw out those kinds of collaborations."
Eight jurors, representing a variety of backgrounds and ties to the watershed, will evaluate the proposals. The group includes Terrill Haigler, aka "Ya Fav Trashman," whose Instagram account illuminated the challenges that sanitation workers faced as they were called upon as essential workers during the pandemic; artist Stacy Levy, whose works blend science and art as they reveal and tell stories of the ecology of the sites where they are installed; and Penn's Howard Neukrug, a professor of practice, director of The Water Center at Penn, and former CEO and commissioner of the Philadelphia Water Department. 
Youth Programs Supervisor Alexis Cabrera of ISM, landscape architect and artist Kate Farquhar, Haverford College anthropology and environmental studies professor Joshua Moses, environmentalist and Delaware Riverkeeper Maya K. van Rossum, Zay—a Philadelphia high school student and ISM volunteer, and PPEH's Wiggin round out the jury.
At ISM, a related exhibition introduces visitors to the project with an interactive display that allows visitors to pose questions and offer ideas about ecotopian tools. 
"This partnership embodies ISM's mission to connect visitors with the Delaware River," says Daniel Kennedy, assistant director of exhibitions and design at ISM. "Visitors first learn about the importance of the Delaware River in our award-winning exhibit, 'River Alive!' Then, visitors explore and connect with the river through our River Ambassadors Program. Finally, 'The 2022 Ecotopian Toolkit Project' exhibit brings the ISM experience to a head by welcoming visitors to share and learn tips that they can use to protect the Delaware River. The Museum is excited to instill and empower its visitors to become community leaders to help promote and take steps towards sustainable futures."
"This is a collaboration between a public museum and an academic entity that does publicly engaged research," says Mia D'Avanza, program coordinator for PPEH. "It's a partnership that feels both natural and generative."
As with many of the PPEH's efforts, the Ecotopian Toolkit aims to encompass the ideas and perspectives of a diverse cross-section of Delaware watershed residents, representing academics as well as non-academics.
"We're really hoping to engage people from a variety of backgrounds—in design, policy, climate science—and of all ages and walks of life," Wiggin says.
To read the call for proposals and apply, visit the Penn Program in Environmental Humanities website.