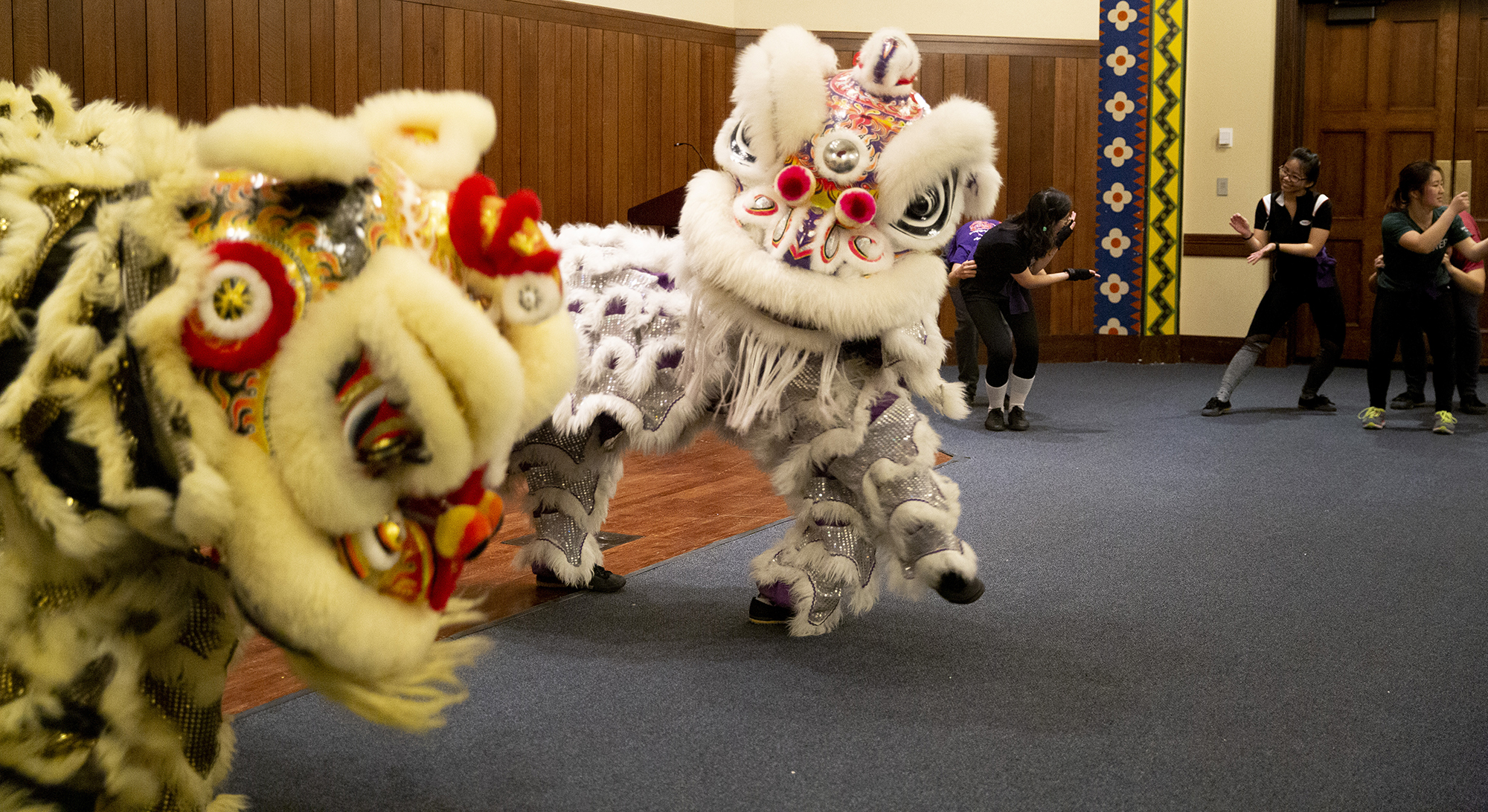 Growing up in New Jersey, Sara Zhou wasn't much involved in activities involving Chinese culture, even though her parents are originally from China. Looking for a community as a freshman at Penn, she found the Penn Lions student dance troupe. 
Now a senior and president of the one-of-a-kind performing arts group, she says the troupe is like family, central to her college experience. 
"Through lion dance, I have had a really special opportunity to connect with my Chinese culture," says Zhou, a cognitive science major from Oakland, N. J.  
"Everyone in Penn Lions is my best friend," she says. "I feel like I can call on anyone unconditionally and they will help out."
Founded in 2007, the troupe today has about two dozen members who are pursuing a variety of majors in all four undergraduate schools, and a few graduate schools, across the University. The group practices the Hok San style of lion dance, which combines the martial arts traditions of Southern China with cat-like movements and flashy acrobatic tricks.
Jia Wei Teo, a junior in the Wharton School, says she joined the group for three reasons: social, cultural, and athletics. "I was a very shy person my freshman year. I flew 30 hours to get here from Malaysia, and it was intimidating and it seemed hard to make friends," she says. "Joining Lions was the best decision. It's like my family." 
February is the group's busiest month because of Lunar New Year celebrations: this Year of the Pig started on Feb. 5. The Lions have performances scheduled on Penn's campus at several of the College Houses, including Kings Court English and Stouffer. Lion dancing can also be performed during other occasions throughout the year, including campus events, weddings, business openings, and school festivals. 
"Our goal is to spread this culture that we care a lot about to people who may not have been exposed to it before," Zhou says. "The purpose is to spread good luck and good fortune."  
A typical performance features two lions, with two students each, one in the huge colorful head and another in the fur-fringed tail. "We have different tricks we do where the person in the tail lifts the person in the head," Zhou says. "We train intensively to perform these tricks, called stacks, safely."
Each move, signaled by a unique drumbeat, has significance. This season's performance tells the story of an old lion and a young lion trying to get out of a cave. The young lion is scared as it approaches the entrance, and the old lion guides it through. The lions then "eat" a head of lettuce and throw it to the audience in a sequence commonly known as "cai qing". 
The lions also unfurl red scrolls with new year sayings in gold: 万事如意, wàn shì rú yì, "may everything go well with you" and 恭喜发财, gōng xǐ fā cái, which wishes wealth and prosperity.
"The climax of the performance is to overcome a challenge and share and spread the good luck," says Kenneth Shinn, a sophomore from Santa Rosa, Calif. 
 "Cai qing," or "plucking the greens," is designed to signify finding fortune, based on different meanings of the Chinese word cai. Cǎi qīng (采青) means "plucking the greens", while cái qīng (财青) represents spreading good fortune. The same homonyms apply in both Mandarin and Cantonese. 
"For the lion dance, these words actually line up in both dialects," says Shinn who plans to double-major in economics and engineering. "It's a cool consistency between these two Chinese dialects, where pronunciations of similar words can be vastly different."
A select few members, including Shinn and Zhou, take turns at the drum, driving the performance with its reverberating beat. Four others accompany on cymbals. "We consider the drum to be the heartbeat of the lion," Zhou says. "The drum dictates the performance of the lion."  
The rehearsals are athletic and demanding, two hours on Thursday, three hours on Saturday, and an extra optional practice on Friday. The team practices every day around the Lunar New Year, taking turns using the five lion costumes, each with a different dominant color: gold, blue, purple, red, or yellow. 
"This has given me an appreciation for art, how we teach art, and how we lead a group of people to do something that is really, really spectacular," says Zhou. "We help people achieve something that they may think they can't achieve by themselves."
The older members teach the new ones, helping them with the challenging dance moves, some of which require one to lift another onto their head. Alumni often return to help coach. Completely student-run, Penn Lions is supported by the Penn Student Activities Council which helps with funding, including buying the lion costumes. 
"Our goal for training is to teach the new members as much as possible in their first year, so when they become sophomores they become general troupe members, and everyone is the same skill level," Shinn says. 
"That keeps us student run, to keep us teaching each other. It gives us that closure and that intrinsic family-like bond that our group has," he continues. "We are not only each other's mentors, but we are each other's students, and friends." 
Although most members are of Asian descent, everyone is welcome to join the group. "If you have a passion for learning lion dance," Zhou says. "we wholeheartedly welcome you."