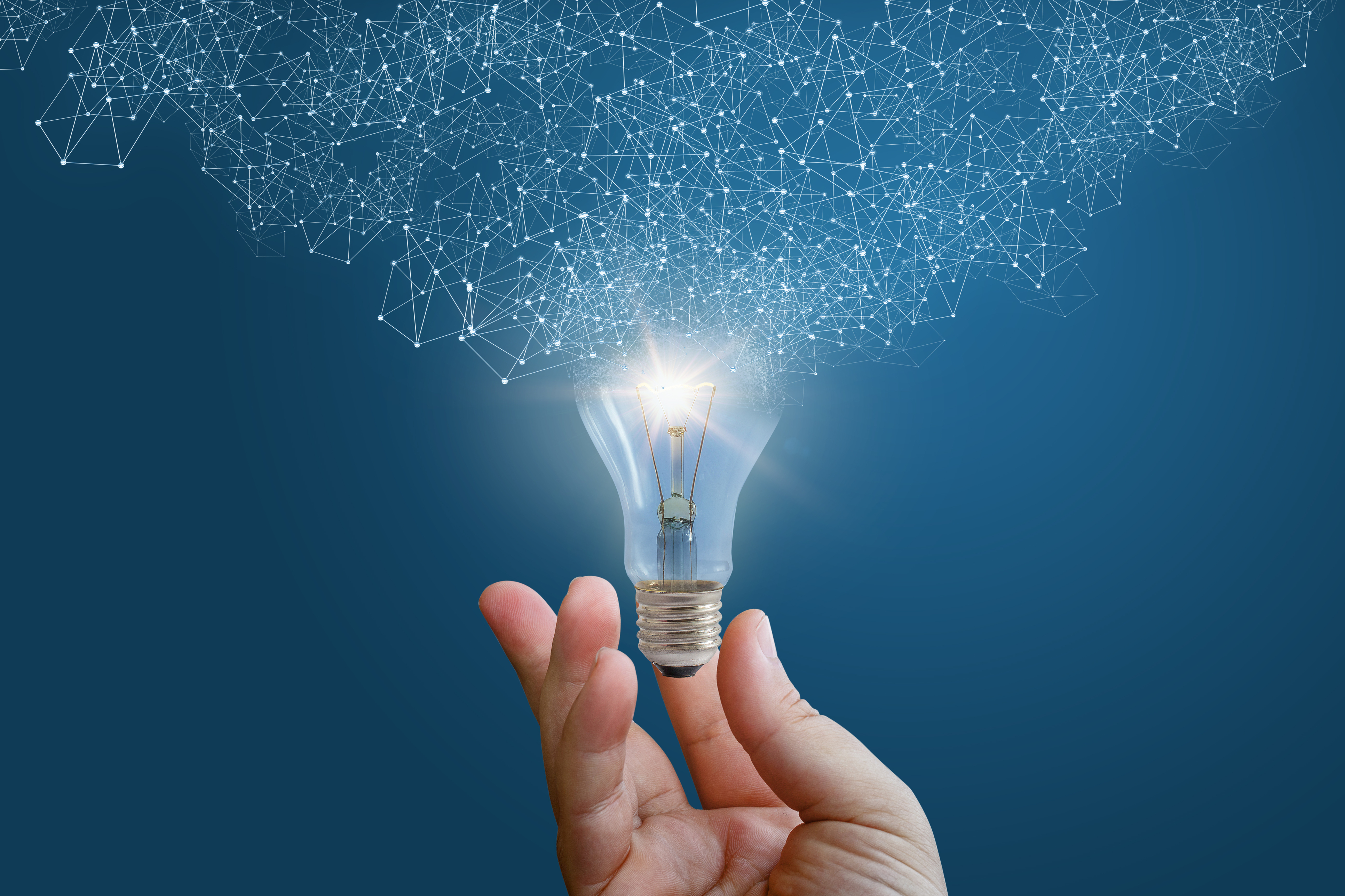 A professor, researcher, and inventor, Daniel Powell—an international expert in cancer immunobiology and translational immunotherapy—is one of Penn's most engaged new innovators. Browsing his portfolio, he has presented more than 40 disclosures, or discoveries, to the Penn Center for Innovation (PCI), many of which have potential for commercial development.  
For years, Powell, an associate professor in the departments of Pathology and Laboratory Medicine and Obstetrics and Gynecology in the Perelman School of Medicine, has worked on numerous inventions, varying from improvements to T-cell manufacturing, novel therapies for treating T-cell lymphomas, new CAR-T therapies for ovarian cancer, and universal CAR-T cells, an innovation that makes CAR-T cells more regulatable and versatile. He has helped lead discoveries out of his own lab—the Powell Lab—and in 2014 was named Outstanding New Investigator by the American Society of Gene & Cell Therapy. 
In presenting Powell with the 2017-18 Emerging Inventor of the Year Award at PCI's Celebration of Innovation, Mark Engleka, an associate director for corporate alliances at PCI, said of Powell: "He's always a pleasure to work with, and I think he's a model for how we like faculty to interact with our office. I want to thank Dan for the wealth of IP he's presented to us and the opportunities that provides—I look forward to bringing those forward to patients and any commercial opportunities that come by."
PCI's second annual Celebration of Innovation, held at Houston Hall on Wednesday, Feb. 28, offered a unique opportunity for some of Penn's visionaries from across disciplines to gather together and highlight their incredible work from the past year. 
"After several years of innovation being at the forefront of our strategic plan, and due to the energy and creativity of the community—you, the folks here in this room—innovation is abounding across the campus," said Dawn Bonnell, Penn's vice provost for research, as she addressed the crowd. "Tonight, we are celebrating the innovation around research and discoveries, and, importantly, the impact that comes when we take these ideas into the marketplace."
Other awardees included Singh Center for Nanotechnology Scientific Director Mark Allen, founder of EnaChip, for Startup of the Year; the Perelman School of Medicine's Drew Weissman, for Deal of the Year; and the School of Engineering and Applied Science's Haim H. Bau, for Biomedical Device of the Year. IP Group, which PCI has fulfilled five deals with, received the Partner of the Year Award. 
The final recognition—Inventor of the Year—was presented to Yvonne J. Paterson, a professor of microbiology at Penn Medicine. Paterson, elected to the National Academy of Inventors in 2016, counts among her many achievements the development and testing of a cancer vaccine that uses the common bacterium Listeria monocytogenes, which can cause food poisoning and other illnesses, to fight tumors.
"Yvonne is really inventor of the years," said Robert Schenkel, PCI's director of special business projects, pointing to the fact that, although her latest patent was issued in 2017, she has a much larger portfolio of discoveries that have already generated significant commercial impact. 
"Not only has she contributed from a creative standpoint, but the inventions she came up with, we expect very shortly will be used as therapeutics," Schenkel said. 
PCI recognized Penn faculty members who were awarded a total of 111 patents last year—"the highest number in a single year issued to Penn since we started counting," said Associate Vice Provost for Research John Swartley, also managing director of PCI. "That's pretty amazing." 
Each patent awardee received a "Penn inventor" pin, as well as a special, personalized "patent cube" to mark their achievement, the type of commemorative gift Laurie Actman, PCI's chief marketing, communications, and programs officer, said she hopes to see continue to "pile up in inventors' offices over the years."
An exciting year for Penn innovators, Swartley also noted the "not one, but two" groundbreaking drugs approved by the U.S. Food and Drug Administration that were based on discoveries and technologies created at the University. The first, of course, was Kymriah, the CAR T-cell therapy developed by Carl June and his team in partnership with Novartis. 
"This is a groundbreaking drug that offers new hope to pediatric and young adult patients suffering from acute lymphoblastic leukemia," Swartley said. "And it's just the first of what we hope will be many approval announcements related to this partnership and others like it."
The second was Luxturna, a novel gene therapy developed by Jean Bennett and her team with Spark Therapeutics, which can help to restore sight for patients suffering from a congenital form of blindness. 
"These are just incredible accomplishments with real patient impact," Swartley said. "And neither of them would have happened without the sustained effort of an army of people, researchers, clinicians, animal handlers, technicians, clinical trial specialists, administrators, my own team at PCI, Penn leadership, and many, many, many others."
In fiscal year 2017, PCI, Penn's very own hub for innovation, venture creation, and commercialization, facilitated $119 million of combined licensing income and corporate sponsored research funding.
"Interestingly, corporate-sponsored research funding as a percentage of the R&D enterprise at Penn has more than doubled over the last five years," Swartley said. "I think that is a testament to the incredible work of our faculty and the relevance of that work to the commercial sector."
And this only helps Penn's startup activity boom. Throughout the years, PCI has helped launch more than 150 company projects, with more than $150 million in investments in those companies, money that Swartley said often comes back to Penn in the form of research funding.
"Now, we're consistently being ranked in the top 10, or top 5, in terms of performance of commercialization offices, innovation zones, and Philadelphia is also being much more highly ranked in terms of innovation in many sectors," Swartley said. "We are on a nice wave of success and recognition and I think we can expect to see more of that."