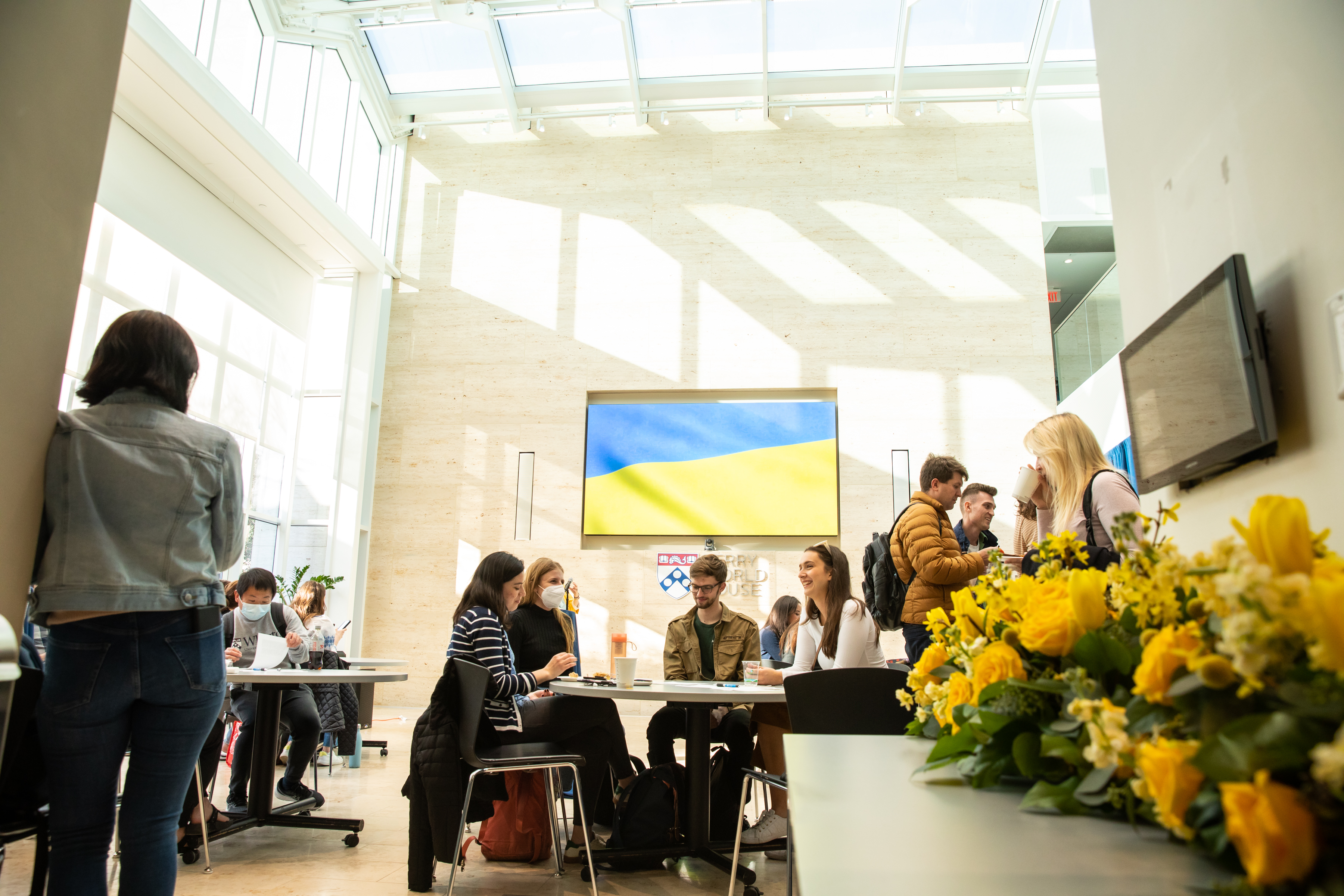 More than 60 students, faculty, and staff gathered at Perry World House on a spring-like evening for Razom: A Moment of Togetherness for Ukraine. There were touches of yellow and blue, a nod to the Ukrainian flag. Razom, meaning "together" in Ukrainian, was a recurrent theme among the presenters.
Hosted by Penn Global and the Office of the Chaplain the event attracted Ukrainian students as well as American and international members of the Penn community in a show of solidarity.
Amy Gadsden, associate vice provost for global initiatives, welcomed those gathered. "We are here to support our Ukrainian students. The horrendous events in Ukraine affect us all," said Gadsden. "The world is changed."
As people stood, the Prometheus Ukrainian Male Chorus of Philadelphia—shirts decorated with traditional embroidery—performed the Ukrainian national anthem. "Shche ne vmerla Ukrayiny, ni slava, ni volya—Ukraine is not yet dead, nor its glory and freedom," they sang.
Among the 12 members performing were Peter Hewka and Walter Kononenko. Each had come to the United States from Ukraine as child refugees of World War II. Hewka later completed his Ph.D. in physics at Penn in 1967. Kononenko worked as a staff researcher in Penn's Physics Department for decades before recently retiring.
Following the anthem, Charles L. "Chaz" Howard, University chaplain and vice president for social equity and community, offered a meditation. He said, "It's hard to not get emotional hearing the beautiful voices powerfully and passionately singing the Ukrainian national anthem. I'm grateful for their presence and your presence."
Howard relayed a story about a family who are his neighbors; the husband is Russian and the wife is Ukrainian. They have two young sons.
"During the last three weeks their countenance, the look on their parent's faces has been heavy," said Howard. "It is hard. At the same time the two sons are doing kid stuff there is this defiant joy on the faces of these little boys, even as they know what is going on—as much as a 7- and 9-year-old can know.
"I bring up this moment because it captures the complexity of the moment. Humans are complex and can hold a range of emotions at any given time. We can be really anxious and sad all while enjoying a beautiful day outside. We can be really mad and also be really grateful to hear from someone we are worried about."
He urged students to take care of themselves, understanding that for many attending class while dealing with the reality of the war and worry about family and friends may be hard, and to reach out, "You are not at all alone. The Penn community is here with you," he said.
Three undergraduates and two Fulbright Scholars from Ukraine then shared their experiences.
Senior Artem Palyanychko of Donetsk, Ukraine, spoke of a childhood friend killed in the war, of a fundraiser he'd begun to raise money for medical supplies, and with gratitude for the community he'd found at Penn. Juniors Ballina Prishtina of Pristina, Kosovo, and Elena Tisnovsky, of Westchester, New York, urged those gathered to advocate on campus and in Congress on behalf of all people affected by the war. Fulbright Scholar Mykola Stetsko, from Lviv, Ukraine, who arrived in Philadelphia just three months ago to work with members of the Physics Department in the School of Arts & Sciences, urged the audience to study the root causes of the Russian invasion.
The final scholar to speak was Rymma Mylenkova, a Fulbright Scholar at the Stuart Weitzman School of Design who is from Sumy in the northern part of Ukraine, very close to the Russian border. She asked the audience a number of pointed questions. "Do you know where the bomb shelter is here at the University of Pennsylvania? Do you know where you might need to run? Do you have a bag packed with a photo of your parents?
"Do you think the world can be the same?" she asked, her words resonating Gadsden's remarks before making a final appeal. "Please let us fix things together," she said. "We are the scientists; we are the philosophers; we are the artists. Please let us do this together."
As the choir returned to close the event with two Ukrainian folk songs, Gadsden invited those gathered to "stay, connect, think, and reflect on ways to come together as a community.
"I want to echo the words of my colleague the Rev. Chaz Howard," she said. "If you need support of any kind, reach out. Reach out to your teachers, your colleagues, to us. We are here to help. This is a time to hold each other up to reflect and try to provide the support to sustain people going through a very difficult time. We continue to network, and we encourage the people of Ukraine and the region and beyond the region to come together and work together."
The choir then returned accompanied by pianist Irena Pelech Zwarych and conducted by the choir's artistic director, Roman Kucharskyy. As the final words of the folk song "Prayer for Ukraine" rose in the World Forum at Perry World House, the dozen harmonious voices settled, somber and hopeful.

Helpful links and resources for international students:
Wellness support
Immigration/legal support
Financial support
Advocacy