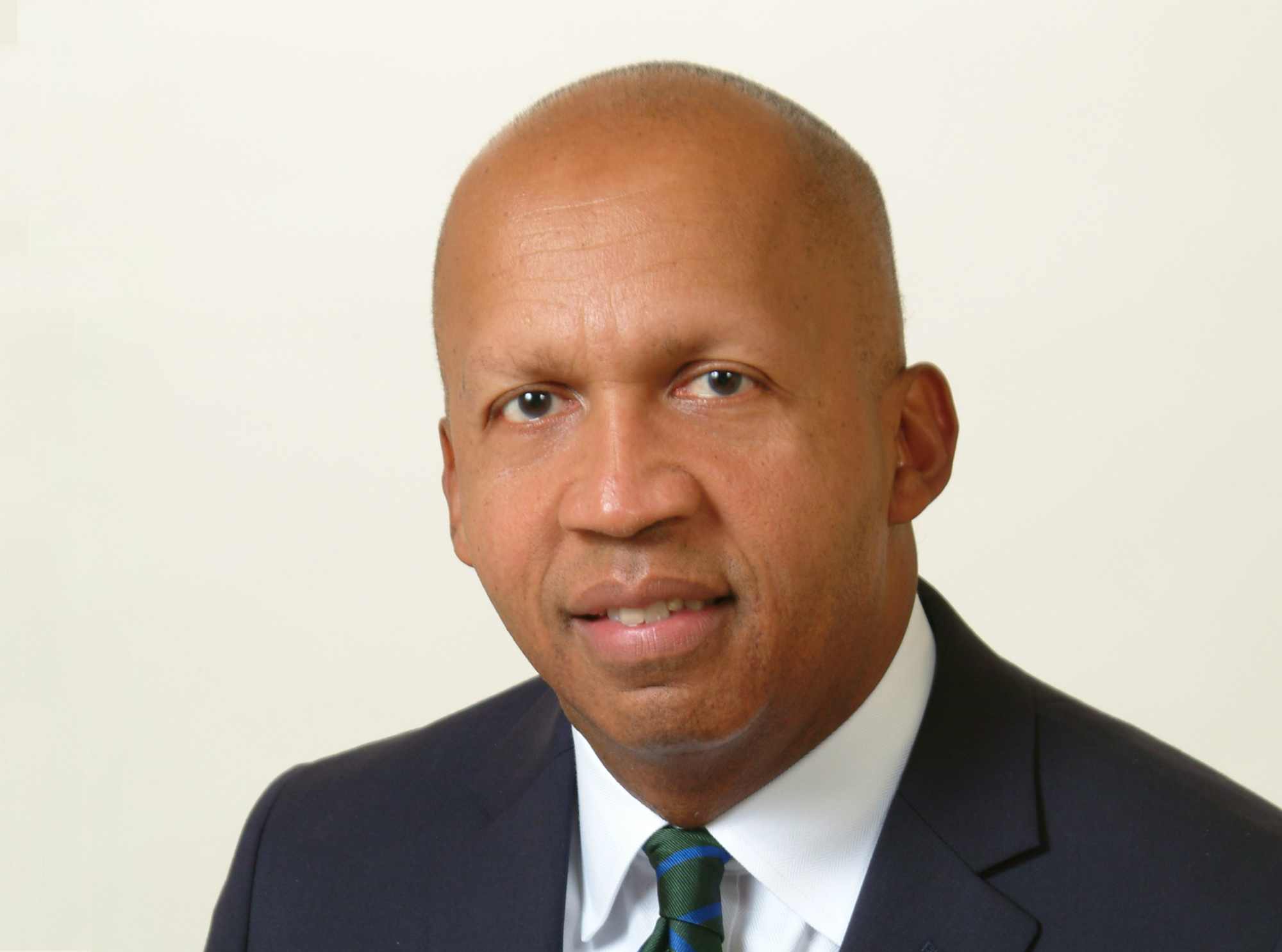 Best-selling author, public-interest lawyer and advocate Bryan Stevenson will deliver the address at the 2019 University of Pennsylvania Commencement on Monday, May 20.
The announcement was made by Vice President and University Secretary Leslie Laird Kruhly.
"We are honored to bestow our highest degree on Bryan Stevenson and have him address our graduates at Penn's 263rd Commencement," said Penn President Amy Gutmann. "As a champion of equal justice, he has dedicated his life to fighting poverty and challenging racial discrimination in the criminal-justice system. As a legal advocate and steadfast defender of our nation's most important democratic ideals, he sets a positive example of the impact that Penn graduates may have as they prepare to put their education to work as engaged citizens."
Stevenson is the founder and executive director of the Equal Justice Initiative (EJI). Under his leadership, EJI has won major legal challenges eliminating excessive and unfair sentencing, exonerating innocent death-row prisoners, confronting abuse of the incarcerated and the mentally ill, and aiding children prosecuted as adults. Stevenson has successfully argued several cases in the United States Supreme Court, including a recent historic ruling banning mandatory life-without-parole sentences for children 17 or younger. 
Stevenson is the author of the critically acclaimed New York Times bestseller, "Just Mercy," which received the NAACP Image Award, and was named by Time magazine as one of the 10 best nonfiction books for 2014. 
His legal-advocacy work has earned him numerous awards including the MacArthur Foundation Fellowship Award Prize, the Olof Palme International Prize, the ACLU National Medal of Liberty, and the Ford Foundation Visionaries Award. He is also the recipient of the 2016 American Bar Association's Thurgood Marshall Award, and the 2018 Martin Luther King Jr. Nonviolent Peace Prize from The King Center in Atlanta. He has also received the American Bar Association Medal, the Association's highest honor.
A graduate of Eastern University of St. David's, Pennsylvania, the Harvard Law School and the Harvard School of Government, Stevenson is a Professor of Law at the New York University School of Law. At the Commencement ceremony, he will receive an honorary doctor of laws degree. Other 2019 Penn honorary degree recipients will be Jon Bon Jovi, Temple Grandin, Richard Lugar, Denis Mukwege, Laurie Olin, Neville Strumpf, and Jill Tarter.
"We are delighted to announce Bryan Stevenson as our Commencement speaker and greatly look forward to celebrating the extraordinary contributions of all of our honorees," said Julie Beren Platt, Penn trustee and chair of the Trustee Honorary Degrees Committee. "Through their work, they have touched and changed our world through concern and service to others, scholarship, communication, education, and creativity. They truly exemplify the greatest levels of achievement. It is our privilege to honor them as we celebrate Commencement and our wonderful Class of 2019."
New Jersey native, singer-songwriter, producer, actor, and philanthropist Jon Bon Jovi is the front man and founder of the Grammy Award-winning, best-selling band Bon Jovi. A member of the Songwriters Hall of Fame, he is a recipient of American Music and Golden Globe Awards for his original music. In 2018, the band was inducted into the Rock and Roll Hall of Fame in recognition of its longevity and impact on popular music over the past three decades. He is also the chair of the Jon Bon Jovi Soul Foundation, founded in 2006 and dedicated to supporting innovative community efforts to break the cycle of poverty and homelessness. In 2011, with his wife, Dorothea, Bon Jovi opened the JBJ Soul Kitchen community restaurant in Red Bank, New Jersey, with a pay-it-forward model serving both in-need and paying customers. In the aftermath of Hurricane Sandy, a second location in Toms River, New Jersey, opened. These community restaurants have since served more than 90,000 meals. In 2010, President Barack Obama appointed Bon Jovi to the White House Council for Community Solutions. Bon Jovi will be receiving an honorary doctor of music degree. 
Temple Grandin is a scientist, inventor, teacher, best-selling author, and renowned animal expert and advocate for autistic communities. A champion of "neurodiversity," she is a professor of animal science at Colorado State University and the founder and consultant of Grandin Livestock Handling Systems. She has devoted her career to improving understanding and conditions for livestock and has designed numerous innovations to reduce stress for animals in handling facilities. Diagnosed with autism as a child, Grandin credits her parents' advocacy and early educational intervention as a factor in her success. Her story was depicted in a 2010 award-winning HBO film, as well as her memoir, "Thinking in Pictures," and autobiography, "Emergence: Labeled Autistic." She is the author of more than 400 articles and many books, including "Animals Make Us Human" and "Calling All Minds." In 2017, she was inducted into The National Women's Hall of Fame. She is a fellow of the American Association for the Advancement of Science and the American Society of Agricultural and Biological Engineers. Grandin will be receiving an honorary doctor of sciences degree.
The late former United States Senator Richard G. Lugar was the longest serving member of Congress in Indiana history. Serving for six Senate terms, Lugar was active on critical issues of global food security, nuclear non-proliferation, energy independence, and free trade. He led actions to reduce the threat of nuclear, chemical, and biological weapons and also played an instrumental role in enacting U.S. sanctions on the apartheid government of South Africa. He was president of The Lugar Center and a professor of practice and distinguished scholar at the School of Global and International Studies at Indiana University. Lugar also served on the faculty at the University of Indianapolis, leading the Richard G. Lugar Symposium for Tomorrow's Leaders. He held the rank of honorary Knight Commander of the Most Excellent Order of the British Empire, and received the Presidential Medal of Freedom from President Barack Obama. He was also a Rhodes Scholar and U.S. Navy veteran. Lugar also managed his family's 604-acre Marion County, Indiana, farm. Lugar will be receiving a posthumous honorary doctor of laws degree.
2018 Nobel Peace Prize recipient Denis Mukwege is a physician, surgeon, and human-rights activist. He is internationally recognized as an advocate on behalf of sexual-violence survivors and for his efforts to bring greater global attention to the crimes of sexual violence as a weapon of war. As the founder of Panzi Hospital at Bukavu, Democratic Republic of the Congo, Mukwege helped develop a holistic response for victims of gender-based sexual violence committed by armed groups in that region. This pioneering model of integrating psychological and medical care, legal assistance, and socio-economic support has been implemented in countries across Africa. To extend the hospital's outreach efforts, Mukwege established the Panzi Foundation in 2008. Enduring a 1996 attack in which hospital personnel were killed and an assassination attempt in 2012, Mukwege continues to call on the international community to hold perpetrators to account and raise awareness of the need for quality health care for all, for women's and human rights, and for peace. Mukwege will be receiving an honorary doctor of sciences degree. 
Renowned landscape architect, distinguished educator, author, and artist Laurie Olin is known for his award-winning "people-centric" landscapes. He is practice professor emeritus of landscape architecture in Penn's School of Design, where he taught for more than 40 years. As founding principal of the Philadelphia-based OLIN, he has guided signature projects, such as the re-design of the Washington Monument Grounds in Washington, D.C., New York City's Bryant Park, the Getty Center in Los Angeles, and the Barnes Foundation in Philadelphia. For more than four decades, he has also contributed significantly to the master planning and development of Penn's campus. A Guggenheim Fellow and a Fellow of the American Academy of Arts and Sciences and of the American Society of Landscape Architects (ASLA), Olin has written widely on his field, including co-authoring "OLIN: Placemaking," a selection of his studio's most celebrated projects. In recognition of his work, he holds a 2012 National Medal of Arts and the 2011 ASLA Medal, the Society's highest award for a landscape architect. He will be receiving an honorary doctor of arts degree.
Neville Earl Strumpf is a renowned educator and expert in the nursing care of older adults. During her tenure at Penn's School of Nursing from 1982 until her retirement in 2008, she founded and was director of the School's Center of Gerontologic Nursing Research and its Hartford Foundation Center of Geriatric Nursing Excellence. She also served as interim dean of the School, and for 15 years she directed its nationally top-ranked Gerontology Nurse Practitioner Program. Under her leadership and innovative scholarship, Penn Nursing was among the first to integrate gerontology into the undergraduate curriculum. A Fellow of the American Academy of Nursing and the Gerontological Society of America, Strumpf's work with research partner at Penn Lois Evans yielded the first clinical trial of its type, demonstrating that routine use of physical restraints was dangerous for older people. These findings contributed to groundbreaking national legislation, altered standards of care, and revolutionized practices in nursing homes and hospitals in the United States and the world. She will be receiving an honorary doctor of sciences degree.
Astronomer Jill Cornell Tarter is the emeritus chair for SETI (Search for Extraterrestrial Intelligence) Research at the SETI Institute in Mountain View, California. She is a role model for generations of women in science, and has spent much of her career spanning more than four decades attempting to answer the age-old human question, "Are we alone?" Her groundbreaking work searching for evidence of technological civilizations beyond Earth was introduced to the public when actor Jodie Foster portrayed a character inspired by Tarter in the 1997 film Contact. She is the author of more than 170 technical papers, and has conducted numerous observational programs at radio observatories worldwide. A Fellow of the American Association for the Advancement of Science, the California Academy of Sciences, and The Explorers Club, she was the winner of the 2009 TED Prize and a Lifetime Achievement Award by Women in Aerospace. In 2012, she was named one of the Time 25 in Space. A biography of Tarter, "Making Contact," was published in 2017. She will be receiving an honorary doctor of sciences degree.