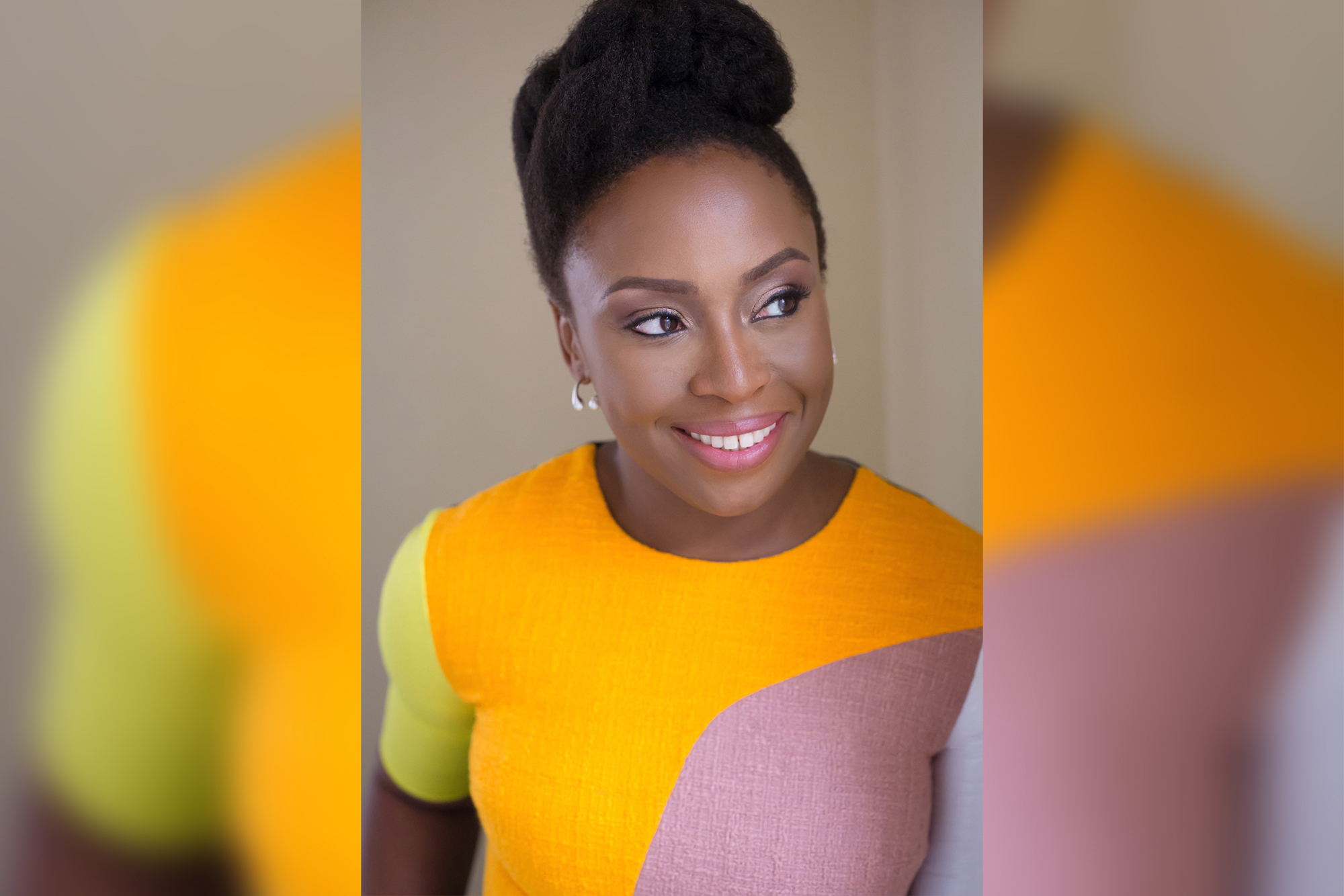 Award-winning author Chimamanda Ngozi Adichie will deliver the address at the 2020 University of Pennsylvania Commencement on Monday, May 18. The announcement was made today by Vice President and University Secretary Medha Narvekar.
"We are honored to bestow our highest degree on Chimamanda Ngozi Adichie and have her address our graduates at Penn's 264th Commencement," said President Amy Gutmann. "Her compelling narratives and absolutely fascinating commentary on complex cultural issues elevate the power of the individual voice."
Nigerian-born Adichie began her first novel, "Purple Hibiscus," during her senior year in college. The work won the Commonwealth Writers' Prize. Her second novel, "Half of a Yellow Sun," won the Orange Prize. In 2013, "Americanah" won the U.S. National Book Critics Circle Award and was named one of The New York Times Top Ten Best Books.
Adichie is a MacArthur Foundation Fellow and a member of the American Academy of Arts and Letters and the American Academy of Arts and Sciences. Her work, often taking on themes of politics, immigration, religion, and love, has been translated into more than 30 languages. 
Adichie is also recognized for landmark TED talks, including 2009's "The Danger of a Single Story." Her 2012 talk "We Should All Be Feminists" fostered a worldwide conversation about feminism and was published as a book in 2014. Her most recent work, "Dear Ijeawele, or a Feminist Manifesto in Fifteen Suggestions," was published in 2017. 
At the Commencement ceremony, Adichie will receive an honorary doctor of humane letters degree. Other 2020 Penn honorary degree recipients will be Anthony M. Kennedy, Jhumpa Lahiri, Jill Lepore, Stanley A. Plotkin, Sister Mary Scullion, Gregg L. Semenza, and Henry Threadgill.
"It will be our pleasure to welcome renowned author Chimamanda Ngozi Adichie as our 2020 Commencement speaker and to celebrate the contributions of all of our extraordinary honorees. Their exceptional achievements encompass world-changing discovery, creativity, scholarship, the guardianship of justice, and compassionate service to others," said Julie Beren Platt, Penn trustee and chair of the Trustee Honorary Degrees Committee. "We are privileged to honor them as we celebrate Commencement and our wonderful Class of 2020."
Anthony M. Kennedy served as an associate justice on the U.S. Supreme Court for 30 years. From his nomination by President Ronald Reagan and unanimous confirmation by the U.S. Senate in 1988 until his retirement in 2018, he authored opinions on some of the most significant legal issues of our time, including the Court's decision striking down the death penalty for juvenile offenders and 2015's Obergefell v. Hodges that cleared the way for same-sex marriage nationwide. Throughout his years on the bench, Kennedy established himself as a strong proponent of individual rights. Prior to his service on the Supreme Court, he was appointed to the U.S. Court of Appeals for the Ninth Circuit by President Gerald Ford in 1975. At that time, he was the youngest federal appellate judge in the U.S., and the third youngest in history. He will be receiving an honorary doctor of laws degree.
Jhumpa Lahiri is the award-winning author of three novels and numerous short fiction and nonfiction works, as well as an author, translator, and editor of several Italian works. Born in London to Bengali-born parents, her family moved to the United States during her youth. Her debut story collection, "Interpreter of Maladies," which explored the concept of identity among immigrants and cultural transplants, was recognized with the Pulitzer Prize for Fiction in 2000. Lahiri's Italian works and translations include the autobiographical "In Other Words," written in Italian, "The Clothing of Books; Dove Mi Trovo," and "The Penguin Book of Italian Short Stories." She is a professor of creative writing and director of Princeton University's Creative Writing Program. She was awarded a 2014 National Humanities Medal by President Barack Obama in 2014 and is also a Guggenheim Fellow and a National Endowment for the Arts Fellow. She will be receiving an honorary doctor of humane letters degree.
American historian and author Jill Lepore is the David Woods Kemper '41 Professor of American History at Harvard University. The author of more than a dozen books as well as an acclaimed staff writer at The New Yorker, Lepore's work explores themes of American history, law, literature, and politics. Her most recent book is 2019's "This America: The Case for the Nation." Her 2018 work, "These Truths: A History of the United States," has been translated and published around the world. Her national bestseller "The Secret History of Wonder Woman" received the 2015 American History Book Prize. Lepore is a member of the American Academy of Arts and Sciences and the American Philosophical Society. She is a past president of the Society of American Historians and a former commissioner of the Smithsonian's National Portrait Gallery. She will be receiving an honorary doctor of humane letters degree.
Physician Stanley A. Plotkin is an emeritus professor at the University of Pennsylvania and adjunct professor at Johns Hopkins University. Plotkin developed the lifesaving rubella vaccine that is now in standard use worldwide and co-developed the pentavalent rotavirus vaccine. A world leader in his field, through the years he has worked extensively on development and application of vaccines including rabies, varicella, pertussis, Lyme disease, and cytomegalovirus. He continues to teach at Penn and consult for vaccine manufacturers, biotechnology companies, and nonprofit research organizations. Plotkin was elected to the National Academy of Medicine of the National Academy of Sciences and to the French Academies of Medicine and Pharmacy and is the recipient of numerous awards including the Distinguished Physician Award of the Pediatric Infectious Diseases Society and the French Legion of Honor Medal. He will be receiving an honorary doctor of sciences degree.
For more than four decades, Sister Mary Scullion has deeply engaged in service and advocacy for the homeless and mentally ill. A member of the Sisters of Mercy, her advocacy has resulted in the right of homeless persons to vote as well as a landmark federal court decision that affects the fair-housing rights of persons with disabilities. She is the co-founder of Philadelphia's Project HOME, nationally recognized for providing supportive housing, employment, education, and health care to enable chronically homeless and low-income persons to break the cycle of homelessness and poverty. Since 1989, Project HOME has grown from an emergency winter shelter to an organization with more than 900 housing units and with businesses providing employment to formerly homeless persons. In 2009, Time named her one of the World's Most Influential People. She will be receiving an honorary doctor of humane letters degree.
Recipient of the 2019 Nobel Prize in Physiology or Medicine, Gregg L. Semenza heads the laboratory that discovered, cloned, and characterized hypoxia-inducible factor 1 (HIF-1), the founding member of a family of master regulators that direct responses to decreased oxygen availability in virtually all metazoan species and which have been shown to play important roles in cardiovascular disorders, cancer, COPD, diabetes, and other disorders. Semenza, an alumnus of Penn's Perelman School of Medicine, is an American Cancer Society Research Professor and the C. Michael Armstrong Professor of Genetic Medicine at the Johns Hopkins University School of Medicine and founding director of the Vascular Biology Program in the Johns Hopkins Institute for Cell Engineering. An elected member of the National Academy of Medicine of the National Academy of Sciences and the Society for Pediatric Research, he is the recipient of numerous honors including the Nobel, the Massry Prize, and the Wiley Prize in Biomedical Sciences. He will be receiving an honorary doctor of sciences degree.
Henry Threadgill is celebrated as one of the most original, forward-thinking composers and multi-instrumentalists in American music. Hailed by The New York Times as "perhaps the most important jazz composer of his generation," he has released more than 30 critically acclaimed albums and is the recipient of a Guggenheim Fellowship, the Aaron Copland Award, and the Doris Duke Impact Award. His four-movement work "In for a Penny, In for a Pound" received the Pulitzer Prize for Music in 2016, one of only three jazz compositions to ever be so honored. His many commissions include Mordine & Co. Dance Theater, Carnegie Hall, the New York Shakespeare Festival, Talujon Percussion Ensemble, Junge Philharmonic Salzburg Orchestra, the Biennale di Venezia, and the American Composers Orchestra. He has been composer in residence at the University of California, Berkeley, and the Atlantic Center for the Arts. He will be receiving an honorary doctor of music degree.