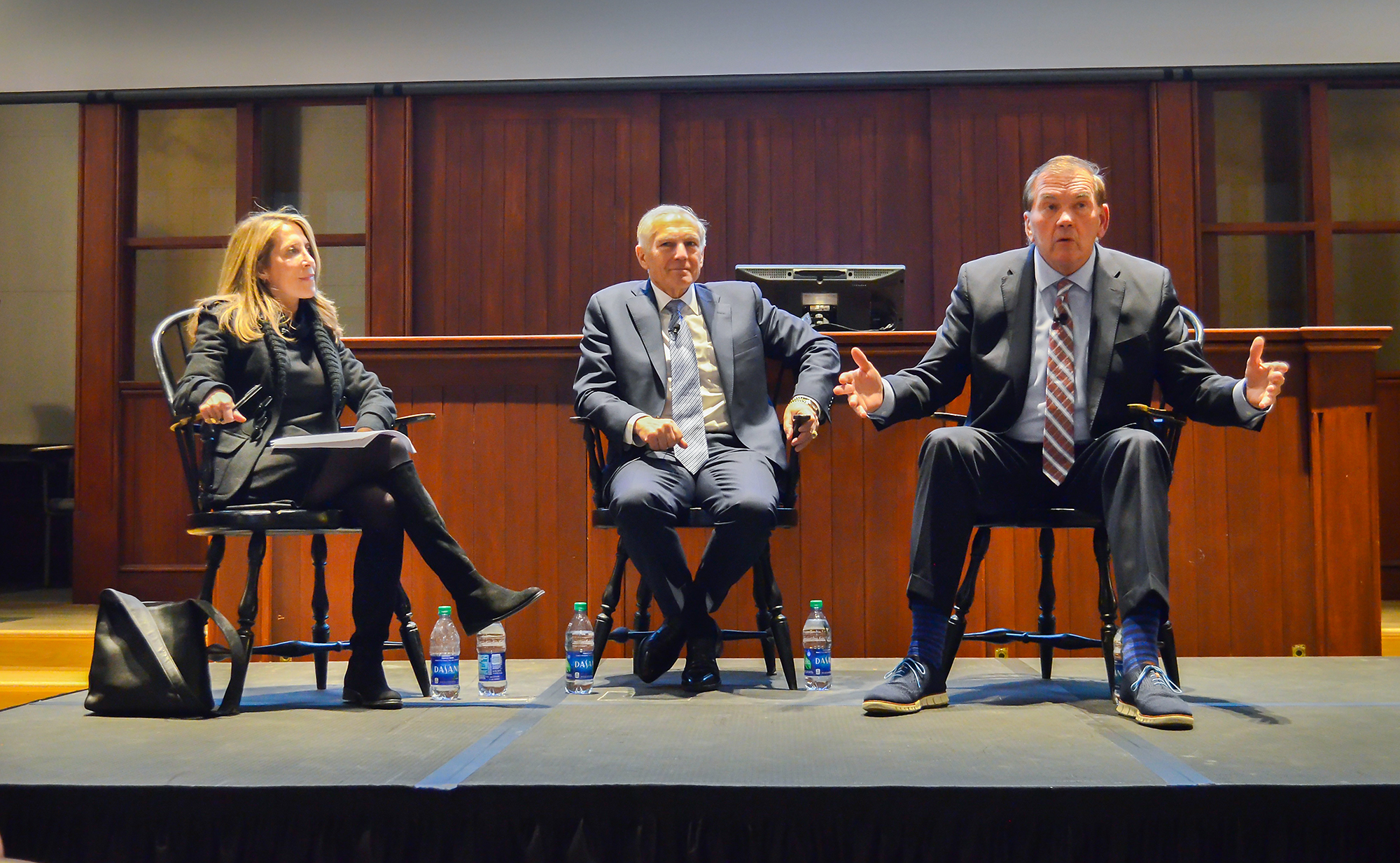 A Democrat and a Republican walk into College Hall. 
With the way the federal government has been operating—now in day 34 of the longest shutdown in history—this may seem like the start of a bad joke. 
But, in fact, this was reality on Wednesday evening, as two political leaders came together to talk reasonably about their differences, as well as commonalities, with a group of students, faculty, staff, alumni, and even folks from the broader Philadelphia community.
The event, hosted by the Penn Political Union (PPU), a nonpartisan student organization sponsored by the Andrea Mitchell Center for the Study of Democracy, featured former Supreme Allied Commander of NATO Wesley Clark, a retired four-star general of the U.S. Army who ran as a Democrat for president in 2004, and former Pennsylvania Gov. Tom Ridge, a Republican who served as the first U.S. Secretary of Homeland Security. Longtime political journalist Jessica Yellin skillfully moderated the two-hour conversation.
For sophomore Sarah Root, the speaker of the PPU, the event was far more meaningful to her than just being able to pick the brains of notable politicians. It showcased for her, during this uneasy time, that "there is this ability to compromise that still exists."
"They are two people who know how it's been done and people willing to guide younger generations into learning the art of compromise," she said, "and learning that despite disagreements, what people want is what is best for their country."
Ridge had just, only a couple hours before coming to campus, submitted with his Homeland Security successors a letter to President Trump and every member of Congress, emphasizing the importance of restoring funding for his former agency, and urging an end to the shutdown—a topic on the minds of undoubtedly everyone in the room, and in America.
"The whole debate around the shutdown, more security at the borders, and DACA obscures, in my mind, the real issue: The issue is, in an interdependent, interconnected, global world, we do not have a 21st century immigration policy … that is consistent with both national security interest and our economic interest," Ridge said, talking candidly to the crowd at Penn. "If you are running around using bits and pieces of that broader immigration reform to keep your base happy, then in my opinion, you are violating the responsibility of government."
As for the wall, as Trump has proposed it? "You don't need it, it won't work…and in my judgment, it is [attempting to address] a serious problem, but not a national security risk."
Noting that he is, indeed, for improved security "in 21st century ways" at the border, Ridge said, "that is part of a bigger package."
Clark insisted that shutting down the government shouldn't be allowed as a tactic. This should be an "easy fix," he said, noting that the government needs to be restarted and suggesting that a national commission be put in place to really look at what the border security needs are.
On the topic of immigration, later addressed through a question from an audience member, Clark honed in on the fact that the U.S. was "made by immigration." Encouraging more people to come to America, he said, passionately, "We're a big country, we could have 500 million people. In my state of Arkansas, please give us another million people, everyone is leaving. We want you there."
He even suggested an idea of setting up "immigration preparation centers" in countries in Central America, preparing folks with skills, education, and health services upon their arrival to the U.S.
"I'm going to disagree with the characterization of immigrants that was in the last presidential campaign," he said. "Most of these people are people who want a better life, and isn't that who we want to join ourselves with?"
Ridge respectfully differed with some of Clark's ideas on immigration—noting that some immigrants come to the U.S. only to work and then go back to their home countries—but expressed a possible idea for an "entry-exit system" that would allow people to come back and forth comfortably.
On the topic of NATO, or the North Atlantic Treaty Organization, both Ridge and Clark seemingly agreed: It's not in the United States' sovereign interest to withdrawal from the political alliance.  
"Every few years there's a crisis and somehow NATO hangs together because the nations know that they have to hang together," said Clark. "It's hard to break this. It could be broken, it could be. And when the president complains about the allies not paying enough—OK, they don't like that, but it's true, they do need to do more for their own defense. But, when these rumors come out of the White House that he wants to get out of NATO because it's not in our interest, he's dead wrong."
"We need this alliance and if we lose it, it will shape the foundation of the modern world," Clark added. Later, Ridge noted, "When NATO countries speak with one voice, led by America, other countries listen very carefully. It does influence directly and indirectly the geopolitical environment."
Always on-the-ball, Yellin responded with a somewhat expected question, "Is it in Russia's interest if we withdrawal from NATO?"
Without hesitation, Clark said, "Absolutely."
The remaining chat flowed seamlessly, touching on various, wide-ranging issues, from dealing with China and Russia's influence, foreign aid, race and gender inequality, taxes, gerrymandering, and even the opioid epidemic. It was a discussion that Yellin said is "the kind of thing America needs." 
"It's not straight-arming the other side, and saying my way or the highway, it's finding common ground and building upon it," Ridge said.
One of Clark and Ridge's main missions in talking on Penn's campus was to hopefully encourage more young people to get involved in politics.
"By virtue of looking at the calendar, you have more interest in what goes on in government than we do," said Ridge. "You know why? Because you have more tomorrows than we do. And the people that you elect, they will affect your tomorrows."
With a nod to his recently launched Renew America campaign, Clark said the only way to bring the U.S. "back together again" is through "empowering the electorate."
"The way the electorate is empowered is with knowledge, with commitment, with ideas, with the ability to stand up and speak, and challenge with authority," said Clark. "That's our democratic system and if we don't use it and love it and strengthen it, we will lose it. So we're out here as your old pops and grandpops telling you we've been through the system, we know what this is like, and we're here to help."
Dan Baxhija, a freshman science, technology, and society major, was standing to the side after the talk, taking in the topics discussed. Born in Albania, he was particularly interested in hearing from Clark, who served as Supreme Allied Commander Europe of NATO during the Kosovo conflict.
"This is only something that can happen at a place like Penn," Baxhija said. "Sometimes on campus it's a little bit hard to have conversations that don't go with the mainstream, especially considering how things are nowadays, but the PPU here and the group of students that represent all spectrums of the political spectrum, I think that's really healthy and that's the point of college. If you come to college and you don't have your views challenged, then I don't think you are doing a good job here."
Baxhija left Penn Today with a couple final words for his peers at Penn: "Go out and vote. [Model yourself after] of some of the great patriots that come and visit us."