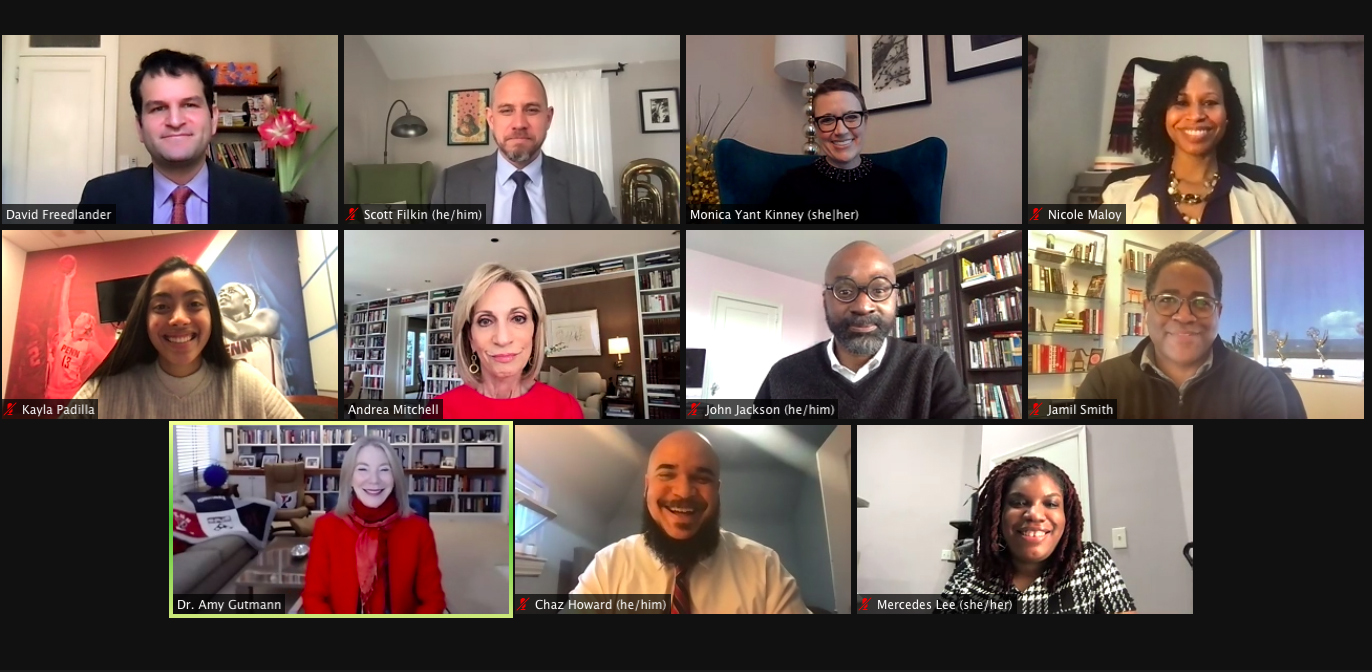 On the heels of a U.S. presidential administration that waged mass conflict with the media, a wide-ranging conversation Tuesday focused on the importance of truthful storytelling, especially as it pertains to social equity.
Featuring Penn alumni and well-regarded journalists Andrea Mitchell, Jamil Smith, and David Freedlander, as well as Annenberg School for Communication Dean John L. Jackson Jr. and Wharton sophomore Kayla Padilla, who founded online media platform The Sideline Post, the virtual, livestreamed program was the first of many to come hosted by Penn's newly established Office of Social Equity & Community.
"The political philosopher within me is thrilled to welcome these conversations, so is the democratic citizen in me," Penn President Amy Gutmann said in her opening remarks. "We need more and more of these conversations like the one we're about to have today. Not only here at Penn but also across our entire society and the world."
Moderating the event was Monica Yant Kinney, a former newspaper reporter who now works as chief of staff and chief communications officer in Penn's University Life Division. Topics varied, but ultimately settled on three important issues surrounding journalism today: a crisis that is predicated on media outlets pressured to cater to political trends; a convoluted concept of truth telling with exceptional divide in society; and a new generation armed with technology that's demanding change in every direction.
Mitchell, who graduated from what was then the College for Women at Penn in 1967, began the conversation by discussing how, back when she got her start in journalism, women weren't technically allowed in the newsroom.&
"There was a lot of fact-based journalism," the Penn Trustee emerita recalled. "But whose facts were they? They were white male facts."
As newsrooms begin to finally move toward inclusion, not just concerning gender but also people of color, Mitchell, today the host of Andrea Mitchell Reports on MSNBC and NBC News' chief foreign affairs correspondent, said another issue has bubbled: opinion dominating what she calls "hard news reporting." Smith, a 1997 College of Arts and Sciences alumnus, an Emmy Award-winning producer, and senior writer for Rolling Stone, noted the "marketplace of media" contributing to this new siloed reality, to some degree. "We need to encourage people to seek out intellectually honest opinions from every side," Smith said.
The discussion shifted, aptly, to social media and its impact on journalism's development throughout recent years, and more specifically how it affects the spread of facts or fiction. Smith explained how he thinks it's a regulation issue that the nation's elected officials need to handle.
"Those companies, whether or not they like to admit it … they are media companies as well," he said. "What they do or don't do is impacting our understanding of the facts we are trying to get out to the people."
One of the goals of the event was to explore the concept of truth telling, Yant Kinney said, to which Jackson, who is the Richard Perry University Professor and a scholar of urban anthropology, mass media, and critical race theory, noted both evidence and ethics as being pillars.
"If we spend more time both as professionals and in our everyday lives talking explicitly about those two ideas, I think it will help us to understand some of the conflict, some of the distances among us in terms of opinions we have," Jackson said.
Mitchell, Smith, and Freedlander detailed specifically the hostility that has surrounded the media throughout the past four years. The press was put into a situation by the former president "of being a central character in the national drama," said Freedlander, a 2000 College graduate and features writer for magazines such as New York Magazine, Politico, and Vanity Fair.
Mitchell, who has covered every president since Jimmy Carter, said she never thought she'd hear such negative rhetoric come from the White House pertaining to the press.
"[As a journalist] you have this privilege as a representative of millions of people, and to be lied to and then accused of being the enemy of the people and to have the platform defiled by lies day in and day out was just mind bending, and has to be called out," Mitchell said, later adding, "I have been, for the last four years, placed in a position of being categorized in a way that makes me very uncomfortable as a journalist because there were so many things that were wrong … that had to be challenged."
Smith noted this occurrence as a symptom, which has encouraged society to "shut off their critical thinking." In addition, Freedlander, whose book "The AOC Generation" publishes this month, said he noticed a significant shift lately where Republican politicians no longer want to talk to him for news stories.
"They just won't do it," said Freedlander. "They just don't feel that it's in their interest, they don't feel an obligation to do it, and they don't feel they will be treated fairly, and they have their own place to go, and their readers aren't reading what I'm writing about so why bother anyway? It's hard to know where all of this is going to go."
Addressing widespread terms such as "alternative facts" and "fake news," Yant Kinney spearheaded conversation related to the serious ramifications of a populous actually believing the news is fake. The impact, noted Jackson, is dangerous: the inability to have a conversation.
People are no longer "sharing the most basic fundamental ideas about what the world is that we are inhabiting together," he said, which is a political issue but even more it is "almost existential."
"If it really is true that we can't communicate across the chasm of the differences of opinions we have about what we imagine facts to entail, then nothing else is possible," Jackson said.
All of this change comes as a new generation—one that represents exceptional diversity—enters society. Padilla, a Penn Women's Basketball star set to graduate in 2023, started The Sideline Post last year. An online media platform for college athletes, her mission is to tell the stories of those who for too long felt they didn't have a voice.
Padilla shared with her fellow panelists the impact she has noticed social media has on other people her age; mainly how it has been a way to express political views or beliefs—with silence often equated to indifference. She also explained how it seems a majority of her classmates and friends aren't keen on paying for news, something she dubbed a "service to inform us." Padilla asked the group: "Should there be a price for wanting to be informed?"
To Padilla's point, Jackson challenged how as a democracy we can accommodate "this radically changing media ecology" in a way that isn't only determined by who can pay for it or not—especially when we all know and understand the necessity of having "informed members of the body politic."
In terms of equity in storytelling, all of the panelists homed in on the importance of "stepping outside of yourself," as Padilla concisely put it. "A big part of our job is to try to shake our readers, viewers, and listeners out of their complacency," Mitchell said.
Smith explained the collapse of many local news sources, and how national outlets are becoming the best means to spread information to these communities now (reporters' geographic diversity matters, too, in addition to racial and gender diversity, he noted). An unfortunate development, it's not something individual journalists can control, Smith said, but they can control how, and what, stories are covered.
"If they can't subscribe to a magazine or they can't get cable, we have to find places where we can meet them," Smith said. "If they have a phone, they can get podcasts. If there's some kind of way we can get to them on Twitter, or other social media outlets, then we should do that. It's our responsibility to find them so we can get this information out there because we are experiencing a crisis of facts in this country."
This also means having significantly more diversity in the newsroom, all the panelists agreed.
Looking ahead, Jackson said he is optimistic that as journalism continues to evolve, those within Padilla's generation will be "up to the task of dealing with the hectic and crazy informational age they are inheriting."
"Kayla is with a group of young people who already are thinking about ways to understand the flow of information, ways to use technology that are unprecedented," Jackson said. "That will be a new iteration of what journalism allows us to access as we try to make sure we have an educated populous that can really make decisions for the better of all."
The Office of Social Equity & Community at Penn is committed to identifying opportunities for connection and progress in the three pillars of the University's ongoing mission—inclusion, innovation, and impact—while also celebrating work that is already underway through the heads, hearts, and hands of the many dedicated people who bring Penn to life. Founded under President Amy Gutmann's leadership during Summer 2020, the Office is led by Chaz Howard, who has served as University Chaplain since 2008. Scott Filkin and Nicole Maloy serve as the Office's co-directors, and Mercedes Lee is the administrative coordinator. Visit sec.upenn.edu for more information and to stay up to date on further programming.