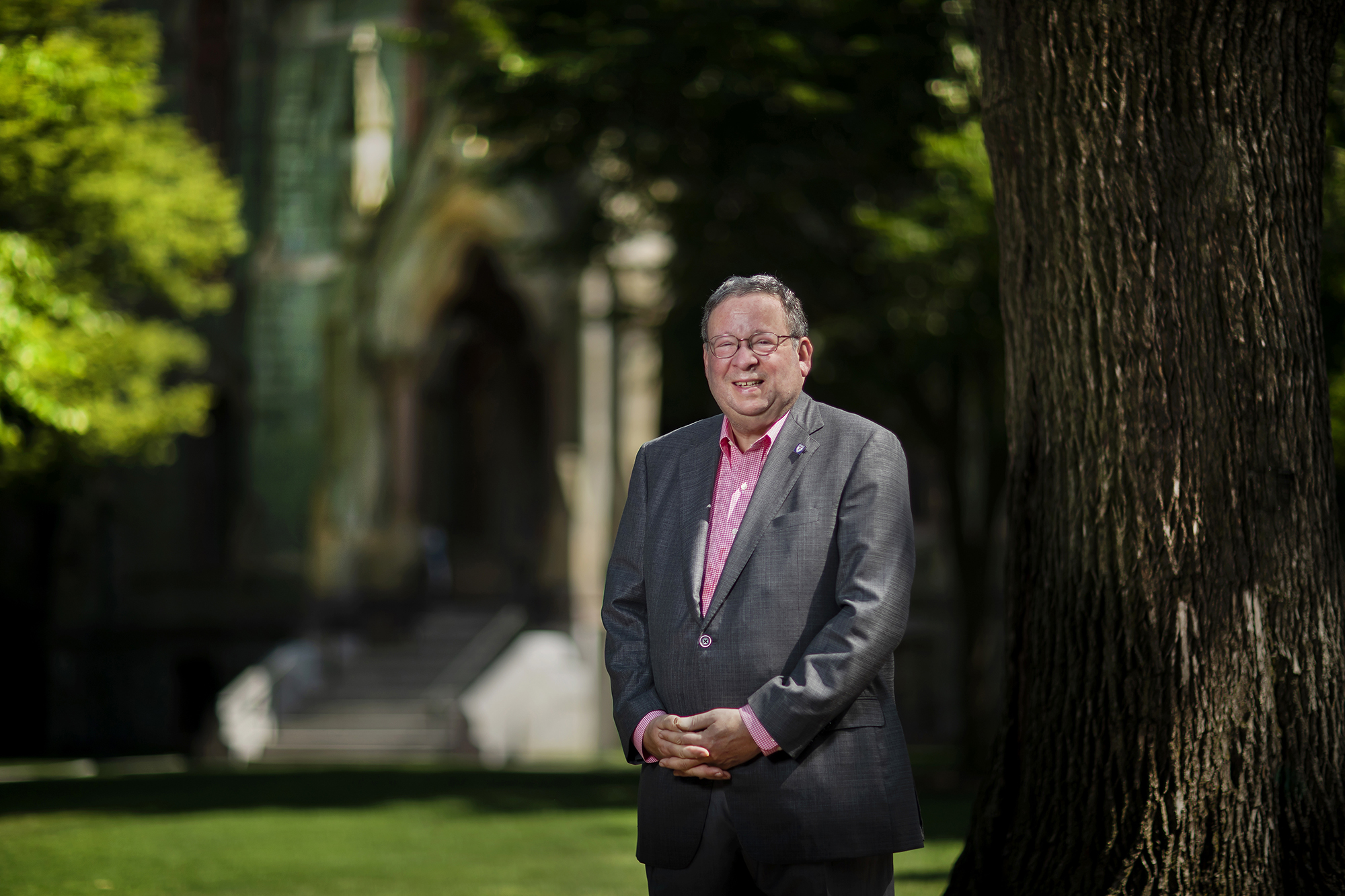 On one of the hottest days of summer at the end of June, David L. Cohen walks from his car parked around the corner to meet outside College Hall. He smiles for a few photos, and between clicks engages with Locust Walk passersby decked out in Penn gear. He cracks a joke and gives a wave. 
Personable and easygoing, it is evident he's in his element—interacting with Penn students on a university campus he so clearly adores. 
"It's an incredible source of pride for me to see how far the campus has come," Cohen says.
For nearly 12 years, longtime Comcast Corp. executive Cohen, a 1981 Penn Law graduate, has served as chair of the Board of Trustees at Penn, a voluntary position he officially turned over to Scott L. Bok on July 1. A University trustee since 2001, Cohen can uniquely detail the past two decades of Penn's enormous transformation—many changes of which he's had a direct capability to influence.
Working alongside Cohen since her appointment in 2004, Penn President Amy Gutmann has often lauded him for his "magnificent" service to the University throughout the years. In a message to the Penn community when Bok's appointment was announced, Gutmann wrote of Cohen: "As the longest serving chair in recent Penn history, he has been absolutely tireless in his commitment to Penn, and the University is so much better because of his stewardship. I cannot overstate what an extraordinary job David has done."
Cohen's ties to Penn are strong, as are his ties to Philadelphia at large. He joined Philadelphia-based media giant Comcast in 2002, serving over the years as the company's senior executive vice president and chief diversity officer. At the end of last year, he transitioned from his executive role to serve as senior adviser to Comcast's CEO. He has also served as a partner in and chairman of Ballard Spahr, one of the largest law firms in the country. In the 1990s, Cohen played a critically important role as chief of staff to Philadelphia Mayor Ed Rendell. Outside of Penn and Penn Medicine, Cohen is enormously involved in a variety of civic and philanthropic work within the city and nation, wearing many hats on a seemingly endless list of boards, including the Greater Philadelphia Chamber of Commerce, the Philadelphia Theatre Company, City Year, the National Urban League, and UnidosUS, to name a few.
Cohen graciously sat down with Penn Today to discuss why he has been so committed to the University and its growth throughout the years, what made his working relationship with Gutmann and other trustees so strong, why it's "bittersweet" for him to step away from his leadership post at Penn, and much, much more.
Talk to me about your background, and what led you to become a trustee at Penn in the first place.
It's not the most typical road because I did not go to Penn undergrad, and I think most Penn trustees have gone to Penn undergrad. I went to Swarthmore for undergrad, then I went to Penn Law. I started practicing law and began to be active in the community, as a lawyer just joining nonprofits. I also was involved in politics—locally and nationally. I can't imagine living in a city and not being engaged in the community, trying to make the community a better place.
My connection to Penn is interesting. It didn't really come from my being a Penn Law grad, it came initially from my relationship with [former Penn President] Judy Rodin, who was Ed Rendell's classmate. When she joined Penn, she came to see us and wanted to talk about ways the city and Penn could work together—it was the very beginning of the West Philadelphia Initiatives. Later, because I did a fair amount of legal work for the University of Pennsylvania Health System, [then-Executive Vice President] John Fry and Judy Rodin asked if I'd be willing to serve on what were then multiple Health System boards. There was some contention between the University and the Health System. I think one day people woke up and realized that—it just rolls off my tongue now—that the Health System is half of the University. If the Health System went belly up, it could take the University down, there is no separate credit. So the University and the Health System really needed to have a symbiotic relationship. The extreme financial difficulties of the Health System led to a governance discussion in which I was heavily involved. My role was to do that more from the Health System's side, but as a clear 'friend' of the University as opposed to the Health System's side in contention with the University. The net result of that was to fix the governance by creating something called Penn Medicine as an umbrella organization over the Health System and the Medical School, and to build into the Penn Medicine governance protections so that you couldn't end up with the conflicts between the Health System and the Medical School on the one hand and the University on the other hand. I was then asked to be the inaugural chair of Penn Medicine. In the governance that was created, the chair of Penn Medicine had to be a University trustee. So that's how I became a University trustee. 
So, fast forward about eight years from then, how did it come to be that you were named chair?
That's a place where Penn has a really strong corporate governance in that its succession as chair is a subject of lengthy discussions among the current chair, the executive committee, and the president of the University.
A few years before the formal transition, [former Chair] Jim Riepe talked to me, explaining that he was thinking about who might be his successor, and asked if I might be interested in being chair of the trustees. At the time I was crazy busy with work. I said, 'Look, it's always been my goal to be chair of the trustees, but I'm not sure this is the best time.' He said, 'It's not next year, we have a few years.' So I said, 'Let's keep talking about it.' When you look at the executive committee at the time, it was largely made up of members who were older than I was, and the people closer in age to me I didn't know that well. Jim and I worked out a good plan where I would have a couple of years to get to know the trustees better than I did, and they would get to know me. We ultimately decided that the transition would be in November of 2009. 
Did you have a similar process when choosing Mr. Bok as Penn's next trustee chair?
We definitely used the same process. I think Penn is pretty good at chair transition. I think I am pretty good at transition, too. In fact, I just went through a transition at Comcast at the same time I was doing the transition here. I think transition is the most important responsibility that any leader has. I give a lot of thought to it. Early on, we started a process where I was thinking about who my successor would be, could be, should be. I consulted with some of the leading members of the executive committee. Amy and I obviously talked about it. I settled on Scott pretty early on as my choice, but there was a substantial consensus that Scott was the best choice, among many strong candidates. 
How does it feel to make this transition now?
I wouldn't be being completely honest with myself if I didn't say that there's a little bit of a bittersweet feeling to it. Penn has become my No. 1 philanthropic and civic passion. And I've loved the time that I've spent as chair of the trustees. At this point, I have been personally involved in selecting most of the people who are trustees; they have become my friends inside and outside of Penn. I will miss my frequent interactions with Amy, her senior team, the deans, trustees, and faculty leaders a lot. But, one of the most important aspects of leadership is knowing when it's time to move on. I will have been chair of the Board of Trustees for 12 years. [Penn Vice President and Secretary] Medha [Narvekar] tells me that makes me one of the longest serving chairs of the trustees in Penn's history. I'm a believer in the fact that the University is strengthened by freshness of perspective. And it's been long enough for me. I see it every once in a while where we are discussing something important, there is almost an impatience, where I think, 'Well, I know the answer to that.' And I may know the answer to it but I may not know the best answer. You get to the point where having a new perspective, and a different perspective, is essential to the growth and the future success of the University.
I will be honest, I've said this when I started talking to trustees over a year ago who asked if I had to leave. It is very nice to hear, but my answer to that is I really think I do—for the good of the University. And when you have somebody of Scott's talent and his reputation and his ability ready to assume the role, my view is, you grab it, you don't take a chance. Sure, it's a little bittersweet but overall it's much sweeter than it is bitter. And as Scott and Amy have pointed out, it's not like I'm going anywhere. Penn is amazingly good at not letting go of you as long as they have the capacity to do that. 
You mentioned Penn is your No. 1 philanthropic passion. Why have you been so committed to the University over the years, and even more broadly, to the city?
Those answers are actually linked. I didn't go to undergrad here, but the Law School has meant so much to me and my career. Maybe more than the typical law graduate. Everything I have been able to do professionally derives from my Penn Law education. My wife also went to the Law School, and as it turned out my son ended up going to the Law School. So as a family, the Law School is incredibly important to us. I don't even want to think about where my career would be without the University of Pennsylvania Law School, now the Carey School of Law, so that's a part of the puzzle.
No. 2, my personal connections and relationships with the last two University presidents, Judy Rodin and Amy Gutmann, they are not typical trustee-president relationships. I was very close to Judy personally, close to her husband. And I've been extraordinarily close to Amy and to Michael. Those personal relationships at the leadership level have certainly helped to bind me to the University.
Third, and most importantly, although it's hard to articulate, and this is the bleed into your second question, which is that I have a unique passion for Philadelphia. My entire career has been built around supporting Philadelphia and the growth of Philadelphia. My service in government was very Philadelphia centric, in the same way my service at Penn is very Philadelphia centric. It is the marriage, it is the symbiotic relationship, between Philadelphia and Penn that has made that so comfortable. There is no more important citizen of Philadelphia than Penn, and you can layer on Comcast, too. If you think about the Comcast relationship to Philadelphia—the number of jobs, contribution of the growth of the city—and if you think about the Penn relationship to Philadelphia—the number of jobs, the contribution to the city—there's a symbiosis there that would make it hard to separate my passion and my commitment to all of those institutions as incredibly valuable contributors to life in Philadelphia.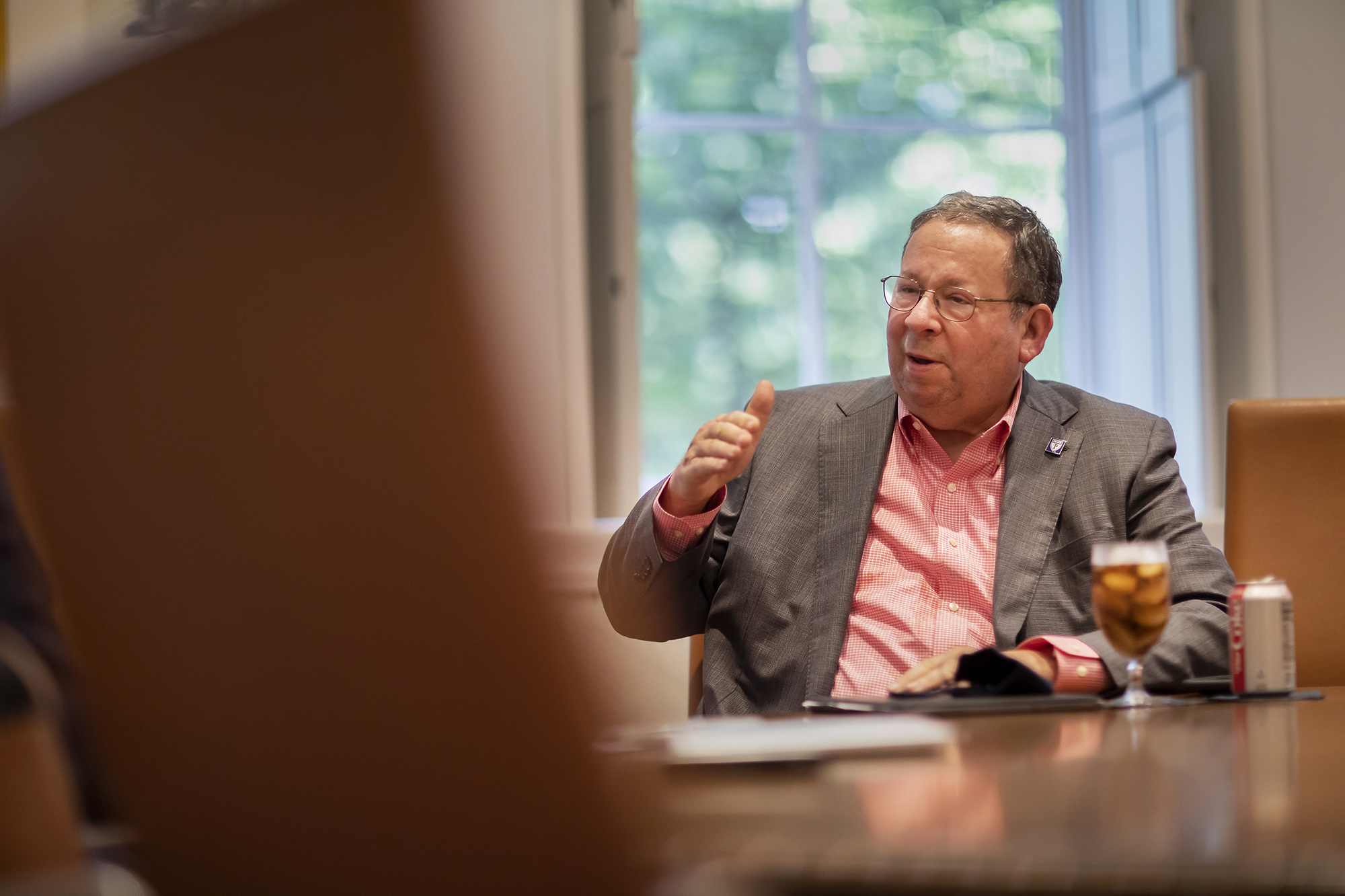 It's certainly apparent that you were able to form extremely strong working relationships with both Dr. Rodin and Dr. Gutmann. Talk to me about why this bond is so important between a trustee chair and a university president.
Part of it is my personality, part of it is my approach to board governance. I think there is a difference, a big difference, between the chairman of the board and the president of the university. It is not my job to operate the university; it is my job to support the president and to make sure that the trustees are supporting the president. It is not my job to make day to day decisions. I think both Judy and Amy were appreciative of that perspective. There was never any competition between Amy and me on whose job it was to shape a COVID relief plan, for instance. It's the president's job. And a good president is going to consult in detail with the chair of the board, having the confidence that the chair of the board is not going to try to take over or usurp the responsibilities of the president. And that's the kind of relationship we've had and I think it's been incredibly important for the University. I don't think it's present at all the other academic institutions that are peers of ours.
In addition to being appropriately deferential to the president, I think I'm appropriately open with the other trustees, particularly the committee chairs and the members of the executive committee. I think this collaboration is very important, and I think it's served to bind the board together and to make the individual trustees feel good about their role. We have an experienced, diverse group of trustees and when I think about what I've been able to accomplish as chair of the trustees, I don't think any of it would have been possible without the talent, the commitment, and the collegiality of my fellow trustees.
Talk to me about Penn's growth over the years.
You've probably already heard me say that I think in Amy Gutmann we have the best university president in the country. I worry about saying it too often, except it's so obviously true in my mind. Why do I believe this? I think it started with the original Penn Compact. Amy had been on the campus for less than a year, she's giving her inaugural address, and she lays out a vision for the University that has borne the test of time. It's innovation, it's Penn Connects and the facilities part of the campus, and it's access and affordability. When I was sitting in Irvine Auditorium and listening to it, I said, 'This is pretty awesome, this is not your usual inauguration speech.' She laid out a vision and a game plan to grow this University and she has stuck to it.
In terms of growth, I have to start with access. I think the greatest legacy that Amy will have at this University will be the legacy of making a Penn education affordable. I think that you can have the greatest university in the world, the greatest faculty, but if kids of modest or lower income needs can't afford it, what good does it do? What are you accomplishing? Amy's passion for this is rooted in her own upbringing. Amy could not have had the higher education she enjoyed without substantial financial aid. It changed her. I think when she was in a position to do something about it, she was going to pay it forward—to make sure that any student who wanted to benefit from a Penn education would not have a financial barrier to coming to this institution, and that's what she has executed. Today, Penn has the largest all grant, no loan program of any university in the country. It is the thing I think I will be proudest of as chair of the trustees—helping Amy execute that vision and to lead toward that result.
I think innovation is probably the next item on the list. I can't tell you the number of trustee meetings we sat through where we looked at what other colleges and universities were doing in the innovation space. Penn always seemed to be a laggard and not because we didn't have a pipeline. Again, Amy articulated innovation as something that she wanted Penn to excel at, and look how far we have come. It is a second incredibly important legacy that Amy will leave this University with. We are in fact beginning to be known as a hotbed of innovation, whereas 10 years ago we wouldn't have appeared on a Top 50 list.
Then the third thing I would point to is the entire Penn Connects program. Look at what has happened to this campus. The growth of unbelievable buildings on this campus, many of them tied to innovation and to impact. We have the new Patient Pavilion, we have the Singh Center for Nanotechnology. And it's not just academic buildings, we have the New College House and the second New College House. The campus has been physically transformed over the term of Amy's tenure. It's not like Penn wasn't a nice place to go to school. It was a beautiful campus, a walkable campus, a livable campus, but now it's a spectacular campus with the physical infrastructure tied into the vision and the goals of the Penn Compact. 
Reflecting on your past 12 years as chair, what has been your biggest challenge?
The easiest answer is COVID. But, by the way, it is a perfect example of what I've been talking about: The leadership of the response to COVID and how we were going to handle it rested squarely on Amy Gutmann's shoulders. She created this leadership group among her staff. She was sufficiently confident that she opened that up entirely to me. There wasn't a meeting that occurred that I was not invited to. So she wasn't trying to build walls around the process, but I wasn't trying to micromanage or get in her way. She knew what she was doing, she had a plan, she executed that plan, but the complexity of the University response to COVID was enormous. We had more telephone conversations, more meetings of the executive committee, and more trustee emails than at any other time in my service as chair. I will stack our performance up against any college or university in the country, and I think one of the reasons we exit COVID in as strong of a position we are is because of Amy's leadership and the plan that was put in place, and the plan that was executed. It put us in a position to be able to make tough decisions like requiring all students and staff and faculty to be vaccinated before they come back. In my view, it's clearly the right decision. It was not my decision, it was not a trustee decision, although Amy discussed it endlessly with me. And we discussed it with the trustees. She wanted to make sure that if that was the direction she headed, that she wasn't going to be in contention with me, or the trustees, and she wasn't. But in all those discussions there was never a moment where I confused who bore the responsibility for the ultimate decision and who bore the responsibility for figuring out how to support that decision. And it's that symbiosis, to use that word again, that made our relationship work so well, and I think that benefited the University.
What's your impression of the students of today?
I sometimes say that if I ever forget why I'm investing all the time I do in being a trustee at Penn, just put me in a room with a few students. Our students are amazing. They are absolutely amazing, even when I don't agree with them. These students are the future of our city and our country. It's amazing how impressive they are and how articulate they are and how mature they are. There isn't a group of students I've met who haven't blown me away. In the end, it is our students that keep me focused and energized.
From your perspective, what does it feel like to walk through campus?
I love how walkable the campus is, how green the campus is; just to walk around and to see the buildings that have been a part of the Penn Compact and a part of Penn Connects. I am probably better known than most trustees, so students, faculty members, family members often say hi to me. It makes me feel great to talk with them. I see the connectedness between our faculty, our students, and the physical campus. I see how the investments we've made are directly translating into higher quality education for our students. I see the values of the University reflected in our physical campus. For example, in sustainability. When you go and look at Penn Park—what college or university would invest $30 million of green space in the middle of campus? Nobody but Penn. And it just makes me so proud to be associated with this place as a reminder of how special our students are, how special our faculty is, and how we have made the campus an incredibly special place for everyone.
Is there a way for you to sum up all your experiences—in, say, law, politics, media, business, and nonprofits—to describe your one leading passion?
My career has been bound together by the interconnectedness of all my interests. I have a passion for the city, for making sure that we're bringing underserved communities and underserved neighborhoods together, to make sure there is equal opportunity for people in this city regardless of the neighborhood they live in or the color of their skin. I think that's my underlying ethic. My passion is to make sure that we are equalizing opportunity and that we are affording every young person who lives in our city an equal opportunity for higher education or to get a job where you can make a living wage. I think that's what stitches my life together. 
It seems like over the course of your career, you've said yes a lot, and you've gotten a lot done. Talk to me about this and how you've stayed motivated and so engaged year after year.
Staying motivated and engaged is not a problem because the important and challenging issues that we have to confront in the city, and in this University, are limitless. There is always something important to be done. And always something to apply yourself to. Finding the time to do that is more of a challenge. People used to say to me that I don't know how to say no, that I say yes to everything. And for two or three years, I asked my assistant to keep a list of everything I said no to. After a couple years, there were about 500 items on the list. So I argue, I do know how to say no, but I don't say no to anything that's important. I've long lived by the Ben Franklin line, that if you want something done, go find the busiest person and ask them to do it. I think you can always squeeze in something else important in your life, in the life of the community, in the life of the university.
When I think about my own skillset, I think one of my most important skills is time management. I know how to divide my life and my time and to make the time to do almost anything that comes up that is important. And I think that has served me very well at Comcast, it served me well when I was practicing law, it has served me well in politics, and it has served me well at Penn.