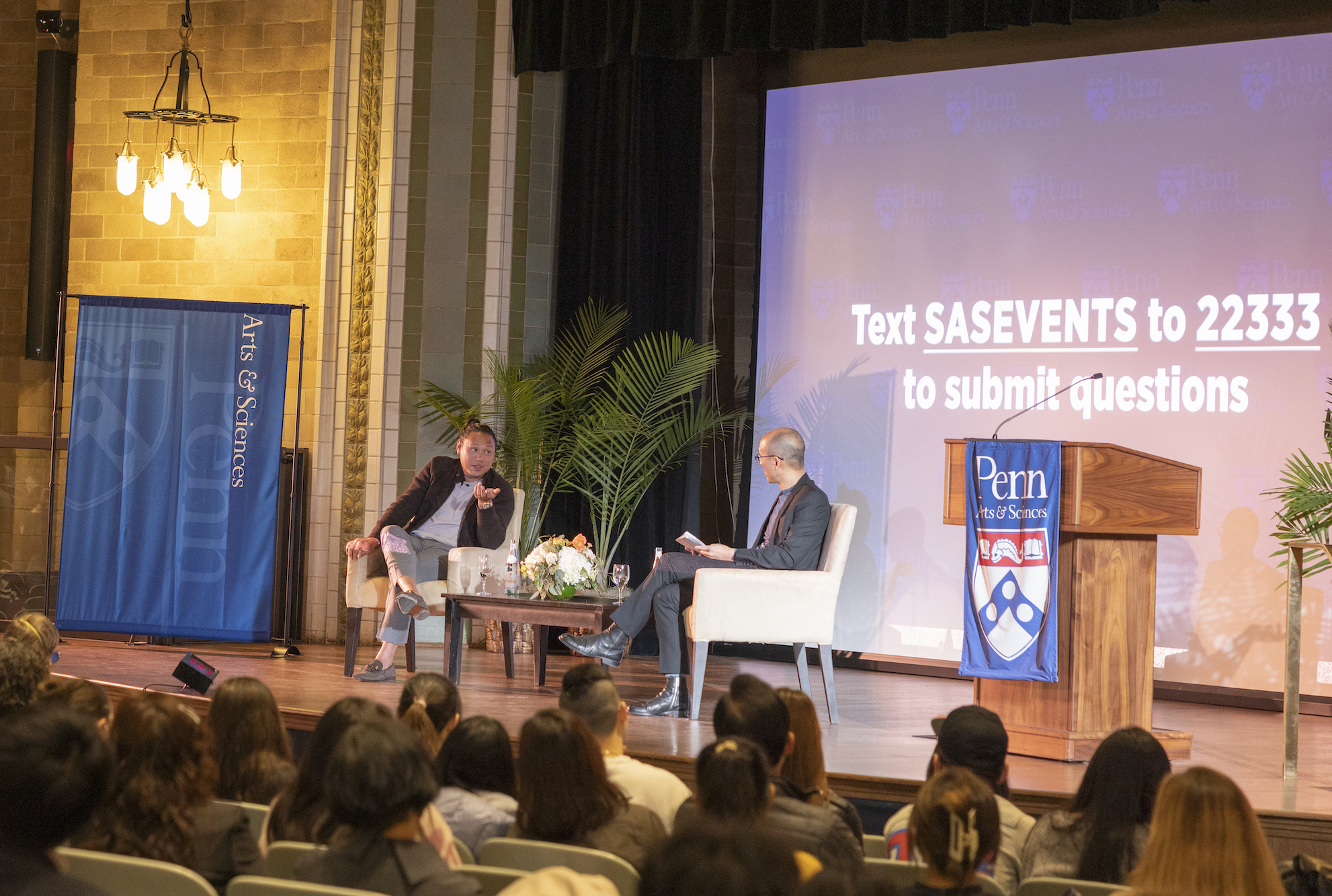 Filmmaker Jon Chu knew he had arrived while directing Mark Ruffalo in "Now You See Me 2," a 2016 heist thriller. He finally had a seat at the table and the ear of studio executives. He had honed his craft. "I could feel myself get my 10,000 hours," he said, referring to the skill-mastery theory popularized by Malcolm Gladwell. "I can hang with these guys. And I think, I know I belong here now. And then I looked around. What the hell am I doing here?" Anyone could direct "Now You See Me 2," Chu said. What was the movie that he had to direct? Chu thought about what his college self would say: "Deal with your identity crisis, dude."
At the 2022 Stephen A. Levin Family Dean's Forum, Chu joined David Eng, Richard L. Fisher Professor of English and Asian American Studies, to talk about art and the power of representation in "Crazy Determined Asians," a title inspired by Chu's 2018 blockbuster film "Crazy Rich Asians," the first film produced by a major title with an all-Asian cast since 1993's seminal "Joy Luck Club."
Chu was accustomed to being the only Asian American in rooms with studio executives, he said. If there was another Asian American, he felt defensive, almost hostile. "Don't screw this up for me," he remembered thinking. For years, Chu tried not to be "the Asian director" and to be recognized simply as a director. But Chu needed to find who he was as a filmmaker, and to do that he had look at identity, he said.
The biggest positive influence at the time came in the shape of Dwayne "The Rock" Johnson, whom Chu directed in 2013's "G.I. Joe: Retaliation. Chu said that while they were on set together The Rock "put his arm around him and said, 'you look like my cousin. How crazy is it that you, who look like my cousin, are directing this movie, and I, who look like me, am the star of this movie?'"
Then when the #oscarssowhite hashtag started trending on Twitter during the 2015 award season, Chu realized that he had the opportunity to make a difference. "Oh, wait, this is my business. Am I doing this?" he thought. "I'm at the point of change. Who's actually going to hire an Asian cast to go make a movie where they're allowed to be who they are?" He told his agent, "I'm not going to make money for you for five years, but I have to do this." Chu said it marked the first time he referred to himself as an artist.
The result, "Crazy Rich Asians," brought together major international movie stars in a film that grossed $239 million worldwide. Based on a 2013 book by Kevin Kwan, the story centers on Rachel Chu, a young economics professor raised by a single mother who immigrated from China —coincidentally with the same last name as the director. She meets and falls in love with Nick Young, whose Singapore-based family is extremely wealthy. The aspirational romantic comedy appealed to many, particularly in North America, where it grossed $174.5 million.
During the Dean's Forum, Eng replayed the last scene in the movie, "which—I kid you not—during COVID I watched about a thousand times," he said. In the scene, Rachel Chu boards a plane to return to New York and is intercepted by Young. "At my age, it was so romantic, that he rescued her from flying economy," Eng said. Young proposes to Rachel Chu with his mother's ring, a signal that the Young matriarch, played by Michelle Yeoh, has approved the marriage.
The original ring was immediately rejected by Yeoh, recalled Chu. "She looks at this ring, and she's like, 'Honey no. I got a ring for you.'" He said Yeoh, who initially established her career as martial arts expert in the Hong Kong movie industry, buys herself a piece of jewelry after every movie and brought in one of her personal pieces, an emerald and diamond ring, to use in the film.
He said that Yeoh's character was an important foil to the protagonist, establishing Rachel Chu as a worthy partner who could hold her own. The climax of the movie, when Young's mother tells Rachel Chu her personal history, how the family has clung to each other and built themselves up with tenacity and resilience—and then that Rachel will never be never be good enough for them—was rewritten just a month before filming.
The original script, which included the Young family business and Nick's ex-girlfriend as reasons for the rift, was scrapped. "We tore it up," Chu said. The story had to center on Rachel, the protagonist. "It's actually the movie when she finds her own self-worth, so how do we set that up?"
Chu, whose parents own a Chinese restaurant in the San Francisco Bay area, decided to show the Young family making dumplings together, passing traditions down through the generations and through that scene show the matriarch's raison d'être. "Eleanor loves her family so much," Chu said. "That's why she is so strong."
The final moment of the film shows the couple walking together into a party, with "Yellow" playing on the soundtrack. According to Chu, "the studio freaked" at this idea, saying they would get killed for this. "Yeah, you would get killed if you used a song called 'Yellow,' but I won't," Chu said.
"The original concept was that I wanted to do covers that Americans know but in Chinese," Chu said. "Yellow" was very important to his concept, but Coldplay would not grant permission to the studio to use the song. "Remember, when you're a storyteller, you kind of have to be as creative to get what you want as the thing itself," he told the audience. So, Chu wrote a letter to the band, which he read to the audience.
"My whole life, I've had a complicated relationship with color yellow, from being called the word in a derogatory way from grade school to watching movies where they called our people yellow. It's always been a negative connotation," he wrote. "This is until I heard your song, for the first time my life, to describe the color in the most beautiful, magical ways I ever heard: the color of the stars, her skin, love."
Chu told Coldplay that the song "Yellow" spurred him to rethink his relationship to the word. It gave him "a new sense of pride," he said. "We could reclaim the color for ourselves." Two hours later, the permissions came through.
In the film and television industry, Chu said, he learned how fast the definition of beauty can change. When working on the "Step Up" movie, the studio told him that they needed to sell a particular song that no one had ever heard before. They had a rollout plan, and Chu watched how Disney made people fall in love with the song, he said. "That's powerful. We create want. We create what is beautiful." We get to define what we aspire to be like, Chu said.
If we're asking people to change their fairy tales," said Chu, "we have to make our own that will replace those with just as much of joy, just as much inspiration, and just as much adventure. And so, we need these stories to fill the void. You can't just take it away from people."
How should culture producers respond to anti-Asian violence? Eng asked Chu. "I don't know," Chu responded. "'Crazy Rich Asians' isn't going to change everything, but maybe it changed a little something," he said. "Everyone has to be comfortable with feeling uncomfortable for the next however many years. Because that's what it's going to take for us to be better, to be the America that we all hope it is, that we've all been told it is."
Despite this discomfort, Chu said he feels optimistic about the future. One of the best things about being a filmmaker is meeting people from all around the world, he said. All communities interact, learn from each other, and support one another, said Chu. "We're all moving together."
After making a mistake, it's important to listen and respond, he said. "I think that's the best thing to ask each other. That we speak our truth, that we find a middle way, and we help keep going," he told the audience. "You will get something wrong, too. You will feel the heat. The worst thing you can do is collapse and stop. You have to keep going." Perseverance and offering grace go a long way, Chu said.