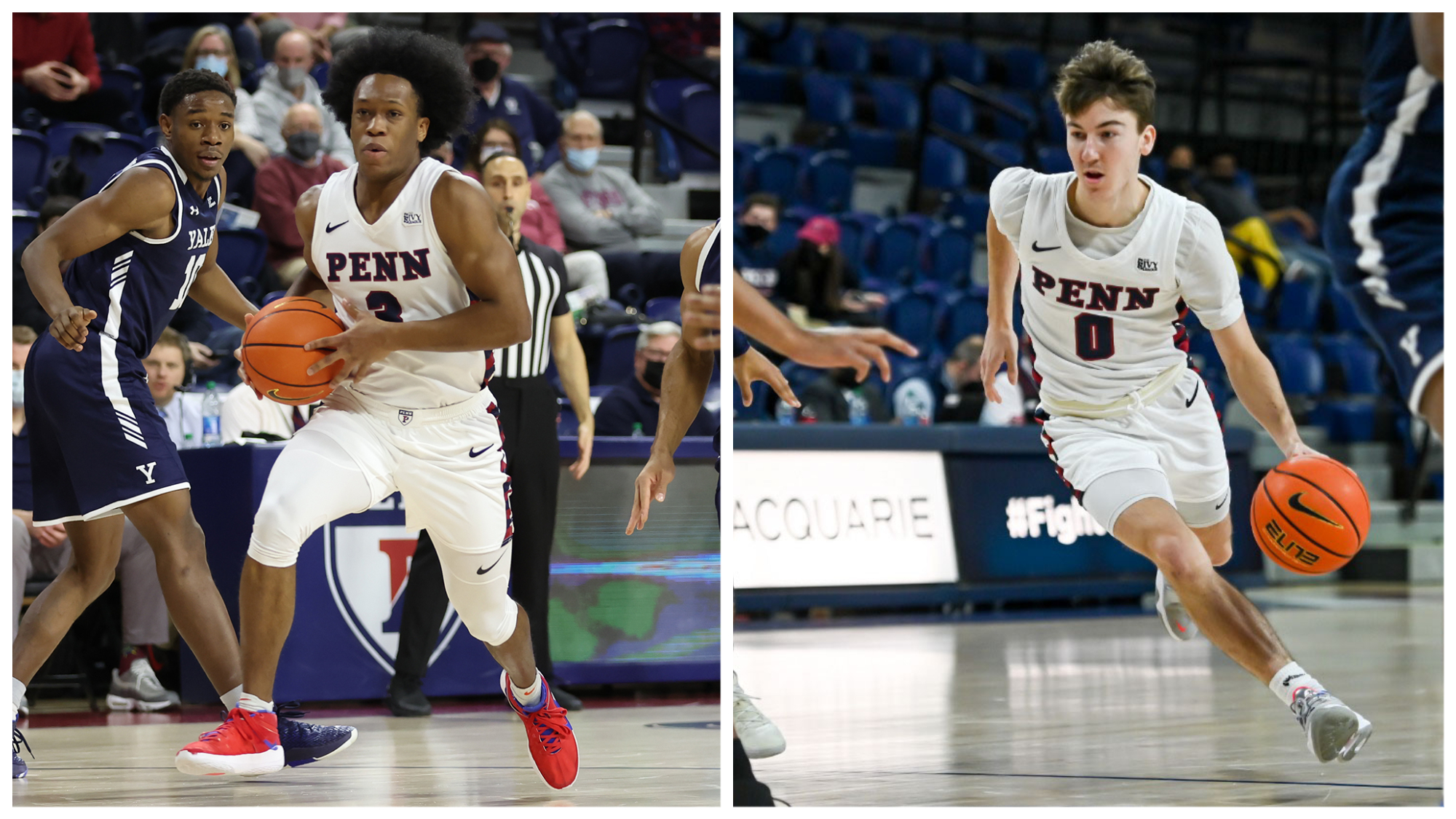 Sophomore guard Jordan Dingle dropped 31 points in the men's basketball team's 76-68 victory over Yale on Saturday at the Palestra, and sophomore guard Clark Slajchert added 13—including eight straight during a key stretch in the second half. For their performances, both players have earned weekly conference honors; Dingle has been named Ivy League Player of the Week and Slajchert has been selected Ivy League Rookie of the Week.
(Slajchert is considered a rookie and Dingle is not because Dingle left school for 2020-21 to preserve eligibility after playing the 2019-20 season. Slajchert did not play last season as there was no season.)
Dingle's 31 points tied a career high, matching his output against Utah State on Nov. 18. Versus the Bulldogs, he shot 13-24 from the field and grabbed six rebounds in 33 minutes. Eighteen of his points came in the second half. Late in the game, with three-and-a-half minutes remaining and Yale having cut Penn's lead to 64-58, Dingle put the team on his back and scored seven straight points to put the Quakers up 71-63 with 58 seconds left on the clock.
Slajchert came up big as well. The Red & Blue entered halftime ahead 35-23, but Yale was within three, 44-41, at the 14:15 mark. Over the next three-and-a-half minutes, Slajchert scored eight consecutive points, which gave the Quakers a 50-44 advantage with 11 minutes remaining. He finished 4-7 from the field and 5-6 from the charity stripe in 19 minutes. He also had four rebounds, two assists, and one steal. Eleven of his points came in the second half.
Averaging 18.7 points per game, Dingle is tied for first in the Ivy League in scoring. He is second in free throw percentage (.828) and fifth in field goal percentage (.429). His two 31-point outings are the second highest in the Ivy League this season.
Penn (7-12, 4-2 Ivy League) takes on Harvard (10-6, 2-2 Ivy League) on Friday at 5 p.m. in Massachusetts.