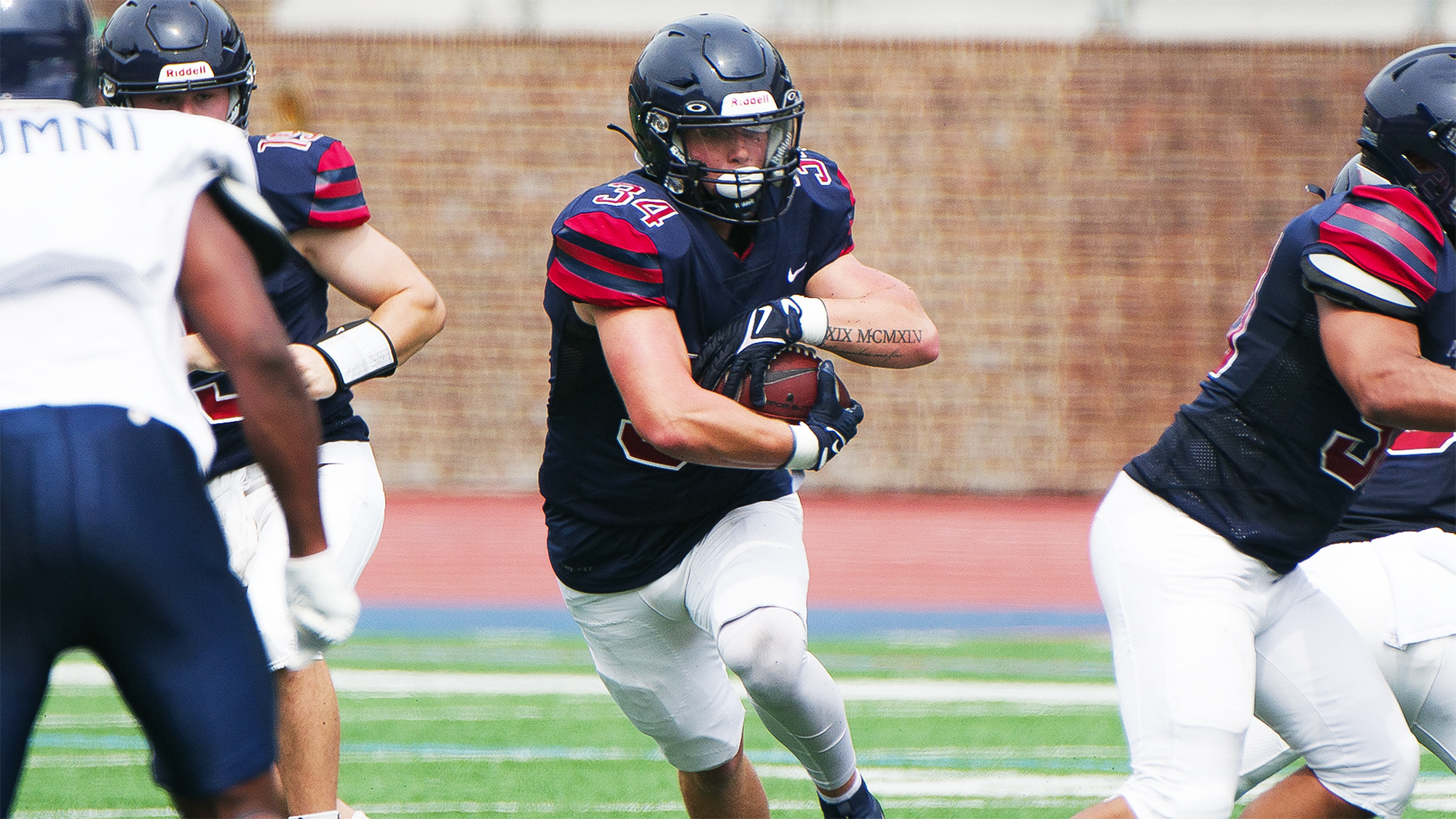 The sprint football team beat Cornell for the 10th straight time on Friday, toppling the Big Red 21-9 at Franklin Field. First-year running back JT Goodman had himself a good day, rushing for 76 yards and two touchdowns, and second-year linebacker Gavin Griswold had a career-high nine tackles (eight solo) and 1.5 sacks.
A fumble recovery by third-year linebacker Cam Janock midway through the first quarter set up the first touchdown of the game. Cornell had a 2nd-and-4 from their own 17-yard line and Janock recovered a fumble by fourth-year quarterback Cooper Wise. Goodman scored on a one-yard run five plays later, putting Penn up 7-0 at the 4:10 mark of the first quarter.
The Big Red scored a 36-yard field goal at the beginning of the second quarter to cut the Quakers' lead to 7-3. Third-year quarterback Tyler Scherer threw two interceptions in the period, but the Quaker defense was able to keep Cornell out of the endzone. The scored remained 7-3 at halftime.
On Cornell's first play of the second half, third-year defensive back Jordan Ortiz intercepted the ball in the red zone at Penn's eight-yard line. The Red & Blue offense then embarked a 12-play, 92-yard drive that took 6:29 and ended in a one-yard touchdown run by third-year running back Tom Rebstock. With 6:32 left in the third quarter, the Red & Blue were up 14-3.
Cornell scored its first touchdown in the closing minutes of the third period, which made it an interesting game. A short punt by third-year punter Adrian Montemayor gave the Big Red the ball at Penn's 45-yard line. On 3rd-and-6 Wise and second-year wide receiver Marco Hernandez connected on a 27-yard score. Cornell botched the extra point, making it a 14-9 game.
Penn used a ground-and-pound approach in the fourth quarter to grind out the victory. A 10-play, 25-yard drive and a 7-play, 35-yard drive ate up around 10 minutes of clock. Goodman scored his second touchdown, a one-yard run, with 2:36 left in the game.
The Quaker defense held Cornell to seven first downs, 42 rushing yards, 78 passing yards, 120 total yards, and forced six punts. Second-year linebacker Charles Tauckus and third-year linebacker Jake Inserra had seven tackles and Janock had six.
 
"We knew that our defense was truly special and through two games, they've done a great job," says Jerry McConnell, the William R. Wagner Head Coach of Sprint Football. "We knew that our offense had to grow a little bit, and I think it showed in the second half that they started to get into a rhythm. Being a rhythm-based offense, that caused us to move the chains and do some positive things tonight."
The Quakers are 1-1 headed in next weekend's bout against Army West Point (1-0) on Friday, Sept. 29, at 7 p.m. in West Point, New York.