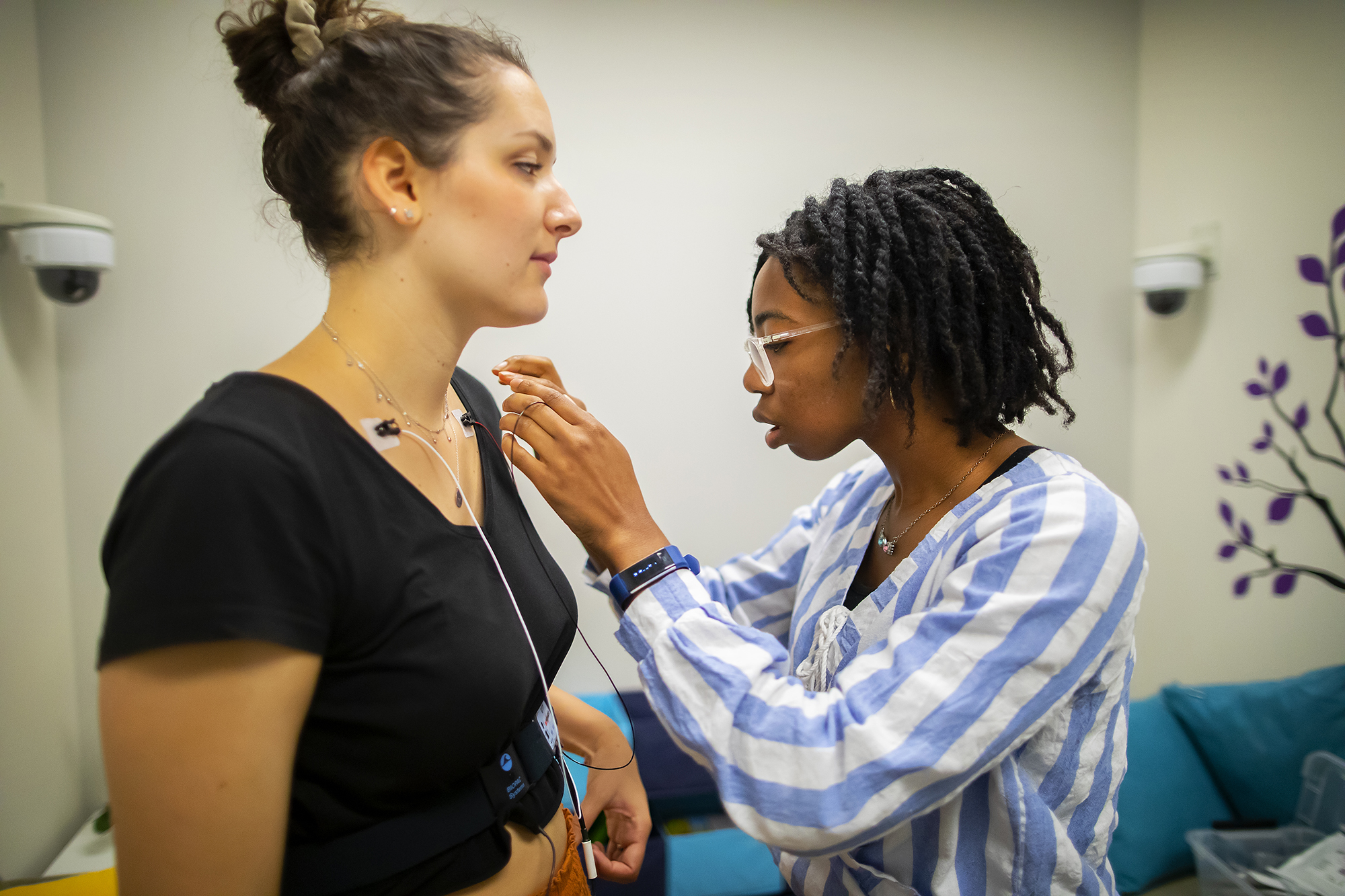 Student researchers applying to Penn's Jumpstart for Juniors program are limited only by their class year and their imaginations. One participant is examining the diminishing role of Catholic administrations in healthcare, while another is analyzing the relationship between obesity and stress. Elsewhere on campus, students are studying photonic circuits and twisted light, the architecture of border crossing, neurodevelopment, and tissue regeneration. Every year, participants pursue investigations in fields running the gamut from biochemistry to archeology.
Jumpstart for Juniors, an initiative of the Center for Undergraduate Research and Fellowships (CURF) backed by the Vice Provost for Education, helps support summer research for successful applicants who are between their junior and senior years. For many of the students involved, the program constitutes their first real extracurricular research experience, giving them a chance to complete some hands-on work and boost their resumes before the post-grad job hunt begins. 
Jumpstart for Juniors launched in 2016. To apply, students and faculty members work together to create the student's research proposal, and a panel evaluates their proposals to determine who will be granted funding. Since 2016, the volume of applicants has risen substantially.
"We've seen numbers of applications absolutely explode," says Ann Vernon-Grey, senior associate director for undergraduate research at CURF. "And because the quality and the demand is clearly there, we could increase the number of awards we're giving threefold, and still not be able to fund all of the really worthy applications." 
Both the student recipient and faculty member receive funding to offset expenses associated with undertaking the research. To culminate their research experience, students are expected to present on their work in a poster session inside the Hall of Flags during CURF's Fall Research Expo, in which any Penn student is welcome to present their work. This year it will take place on Sept.11. 
One of this year's participants, Noah Kest of Los Angeles, found out about the program when Vernon-Grey visited his thesis class. Kest, a double major in history and philosophy, has been using his Jumpstart for Juniors grant this summer to further his studies of existentialism in the U.S. in the mid-1900s. 
The funding has allowed him to visit historical archives at Harvard, Yale, and the University of Colorado. He says his experience so far has been "very positive and fulfilling," and he plans to continue his research through the first semester of his senior year.
Unlike some of the other participants in the program, Donnisa Edmonds of Gambier, Ohio had conducted research before. 
In summer of 2017, Edmonds received an Interdisciplinary Mind and Brain studies fellowship from the MindCORE program to research psychology under Geoff Goodwin, an associate professor in the School of Arts and Sciences. In the fall of that year, she received a College Alumni Society Research Grant to continue that research.
Then, in the beginning of her junior year, she started working in the EDEN lab, run by Rebecca Waller, an assistant professor of psychology, studying children with callous and unemotional traits. Kids who fall into this category are at a higher risk for developing conduct disorders and psychopathy, which often leads to juvenile or adult incarceration.
"The EDEN lab has taught me a lot about what research looks like when you're working with a team and how collaborative the process of conducting research can be," Edmonds says.
As a Biological Basis of Behavior major, Edmonds enjoyed working on a project that investigated both the neurological and environmental contributors to social outcome. However, after spending a semester abroad, she didn't think she'd be able to continue in Waller's lab as an unpaid researcher.
Because of Jumpstart for Juniors, Edmonds will be spending the summer furthering the work she started earlier in the year. After preparing surveys and gathering participants, Edmonds and Waller's team will be determining if children demonstrate any physiological changes when acting out callous or unemotional behavior.
"Just having people be aware that it's never too late to get started, I think is a key message," Vernon-Grey says. "And secondarily, research can happen in any field and it can be rigorous and exciting."