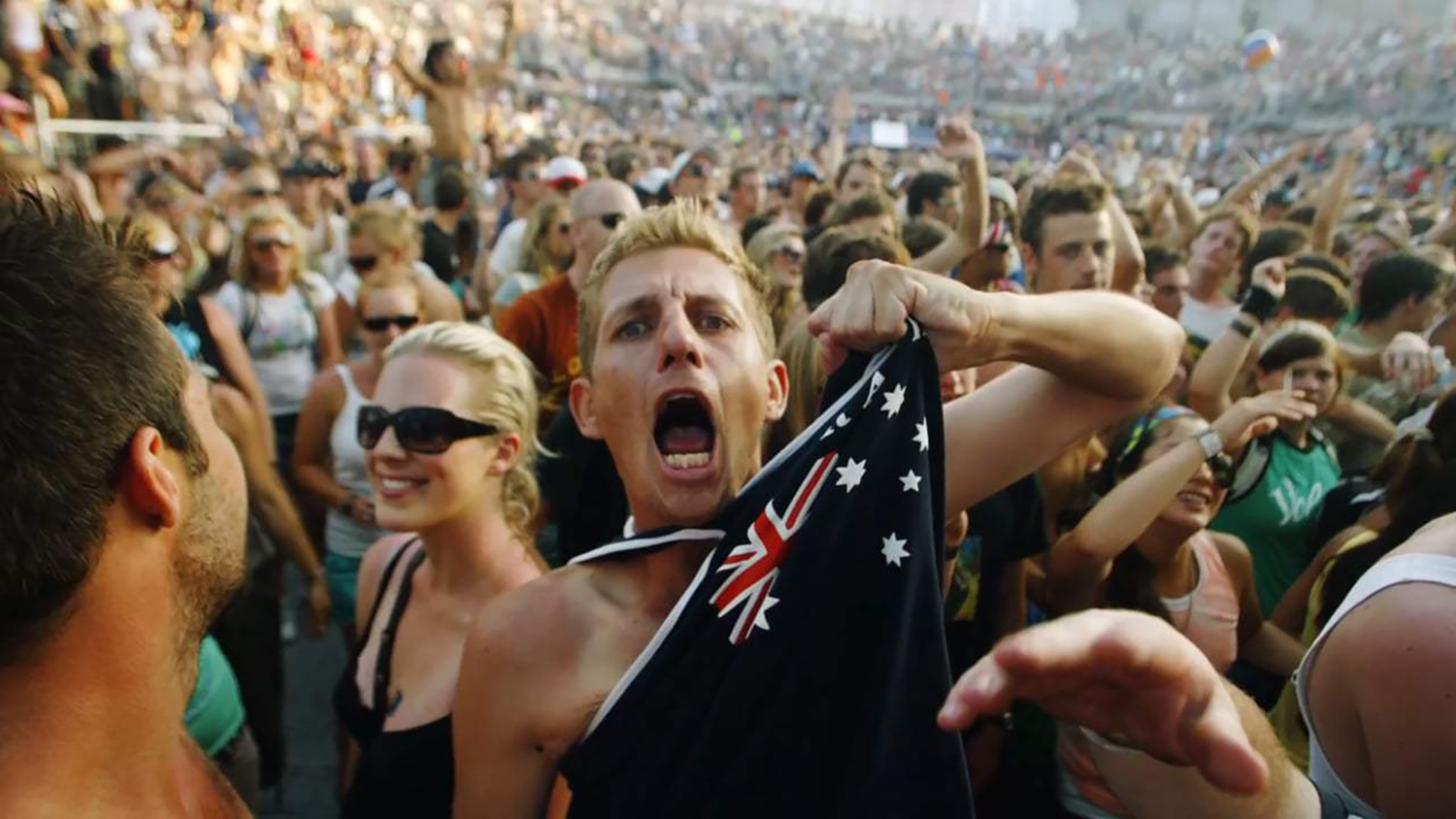 Symbols often have an effect that is both galvanizing and uniting, pulling in people who might not otherwise engage with one another without the common identity of sharing a symbol and its underlying values. 
That couldn't be truer of the Southern Cross, a symbol that's explored in an 85-minute documentary film, "We Don't Need a Map," that will screen at the Penn Museum on Sunday, Nov. 10, co-sponsored by Cinema and Media Studies, CAMRA, and the Wolf Humanities Center—and spun from the Center's current theme of "Kinship." 
"We are keen to explore the many different ways in which senses of affinity and belonging are articulated and experienced," says Karen Redrobe, director of the Wolf Humanities Center. "This film was interesting to us because it examines the way in which the Southern Cross constellation is interpreted by different groups in entirely different, even opposing ways. While indigenous Australian people see it as pointing to the origins of people, the Southern Cross has also emerged as a symbol of white nationalism and anti-immigration sentiment. 
"It raises interesting questions about who gathers under different symbols, why, and when."
The Southern Cross is, for the unfamiliar, a constellation only visible in the Southern Hemisphere. It holds special meaning to many indigenous populations as a spiritual symbol and tool of wayfinding for trade, but has also been adopted by countries like Brazil and Australia in their national flags. The haziness of the symbol's interpretation has recently been made even more complicated thanks to an uptick in white nationalism that, specifically, encourages tattooing of the symbol on the body in a politically and racially loaded display of white nationalist solidarity.
The film makes the case that a generation of neoliberal policy in Australia with anti-immigrant messaging—and sensationalizing of immigrant crimes—led to a nationalism that drew from the flag, and thus threw the Southern Cross and its meaning into question. "We Don't Need a Map," directed by Australian filmmaker Warwick Thornton, is a sort of direct response to critics of a comment he previously made likening the Southern Cross to a swastika. 
In a talk that will follow the screening of the film, Julia Alekseyeva, an assistant professor of English and cinema and media studies, who joined the University this year, will speak not just about the content of the film and its relationship to the kinship theme, but also dissect how the form of the film—which is very "punk rock," she says—influences how we digest these types of complicated stories. 
"I thought it was very unique," Alekseyeva says of the film's personal essay-like telling. "And that it was related to a lot of different films from the last 40 or 50 years that had, within the form of the films themselves, a kind of leftist or anti-establishment mentality. [It's a film that] emphasizes the subjectivity of the director and the director's own experiences, creating this more nuanced and subjective understanding of historical events, and how that in itself could be radically left and radically counter culture and anti-establishment. 
"And I see the roots of that in the 1960s, which is an area I study."
She says the film fits in a larger movement to pivot from a "talking heads" style of documentary that's taken hold in mainstream documentary culture, and she is hopeful the film—described as a poetic essay—can bring awareness to the form's appeal. 
"The more people who see this film the better, I think, because it also shows everyone else there's interest in these kinds of styles, and you don't have to have the Netflix, PBS, BBC, talking-head interview with a variety of stats and then voiceover telling you what's going on," Alekseyeva says, "that there's interest in more nonconventional ways of telling about history and politics."
Alekseyeva is an expert on the subject of these unique and intentional forms of storytelling; she's currently pressing forward with a book about the use of the "semi-documentary" form in French and Japanese film in the 1960s—highlighting how some documentarians fought the collective amnesia of the nations' wartime atrocities by blurring the lines between fiction and nonfiction in their forms of storytelling, finding entertaining ways to convey history. 
Whether attending for discussion of the film's deep dive into indigenous and nationalist cultures and the power of symbols, or a breakdown of film form, the larger idea is to create conversation and provoke thought.
"Film programming is one important way to build bridges between communities inside and outside the University," Redrobe says. "We are interested in the ways that audiences might have very different responses to the same film, and these differences become a great catalyst for public and collective thinking, of which we need more."