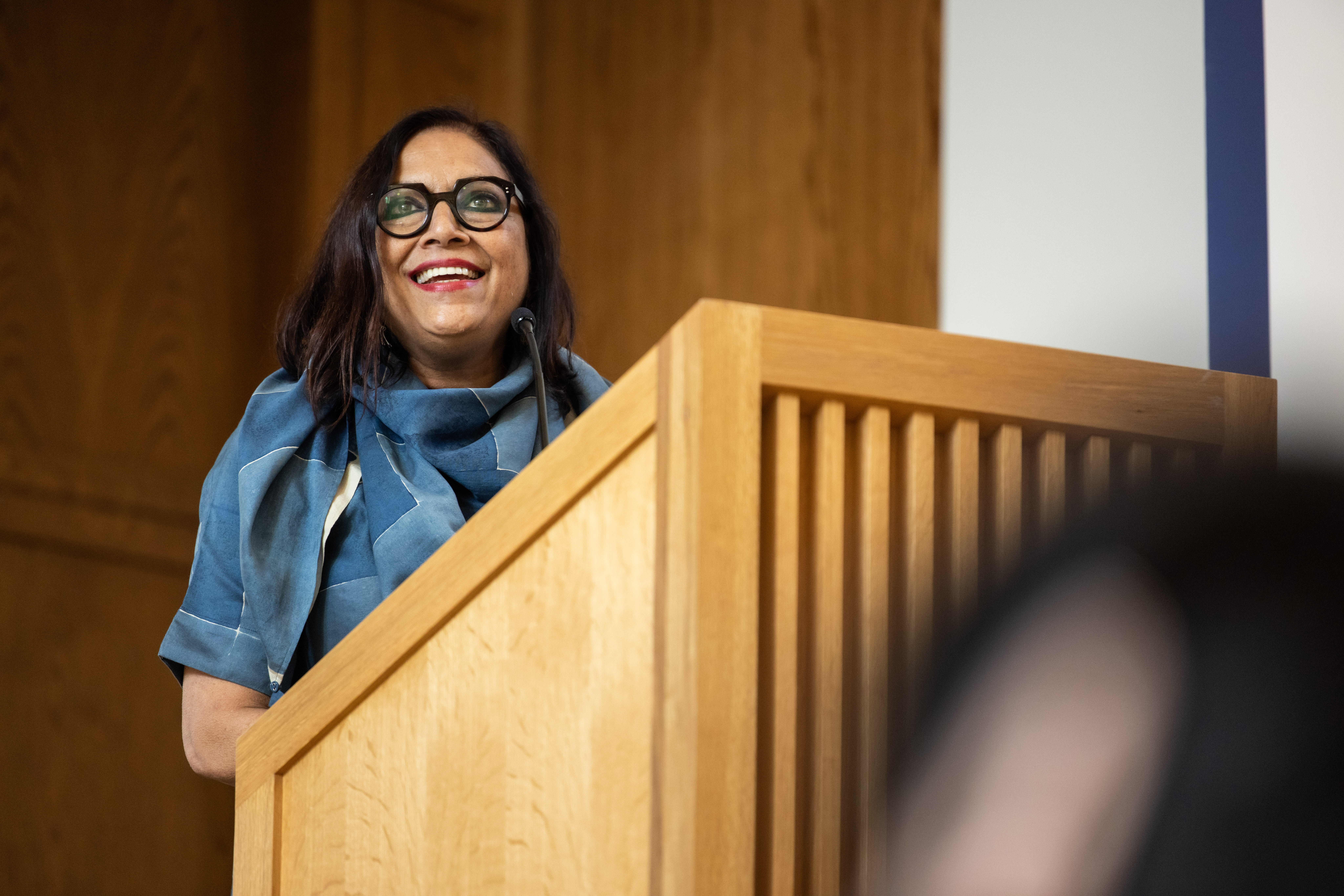 With intimately rendered portraits of everyday life, filmmaker Mira Nair has captivated both mainstream and art-house audiences alike. In "Seeing India Through My Lens: East, West, and Coming Full Circle," the 2023 Saluja Global Fellow Lecture for the Center for the Advanced Study of India (CASI), Nair discussed her process and approach to filmmaking and storytelling. 
"I always believe if we don't tell our own stories, no one will tell them," Nair said. "And if they do, they'll probably bugger it up."
CASI director Tariq Thachil introduced Nair. As a social science center, Thachil said he was eager to bring Nair to campus, noting her ethnographic approach. The Saluja Global Fellows program at CASI invites leaders and rising experts on contemporary India, preferably from the fields of media, culture, law, and contemporary history, to be in residence on campus. 
"The idea of doing one's own story in cinema is what has shaped my life," Nair said. "Can art change the world?" she asked. Driven by this idealistic quest, Nair said she began to explore India as a landscape, asking the "questions that got under my skin and refused to let me go." 
In "India Cabaret," a 1984 documentary on the Mumbai's cabaret scene, Nair filmed a triangle between a traditional, articulate, good-humored wife, her husband who loved the cabaret, and the women who danced in them. In doing so, she hoped to explore the binary between "good" and "bad" women, she said. "I was there because I wanted to tell a story that went beyond stereotypes in my society."
Eventually, her film work evolved from the art of observing the world to the art of creating it on screen, Nair said. Her first feature film, "Salaam Bombay!" (1988), explored the world of street children, winning 23 international awards and a Best Foreign Language Film nomination at the 1989 Academy Awards. Nair ultimately created the Salaam Baalak Trust, an NGO that works with at-risk adolescents in India, after finishing the film.  
The success of "Salaam Bombay!" allowed Nair to make films that mattered to her, and while she received many offers to direct subsequent films, she had the good sense to turn them all down, she said.
"There is nothing more powerful than making worlds in which we see ourselves, our color, our language, our society, our poetry," Nair said. Through embracing diversity and specificity, it is possible to create work that is relatable to everybody, she said. 
Turning back to her memories of coming to Cambridge, Massachusetts, where she majored in visual and environmental studies at Harvard University, Nair decided to evoke the feeling of being out of place, "neither here nor there," she said. She made "Mississippi Masala," an interracial romance between an African American carpet cleaner (played by Denzel Washington) and an Indian woman whose family settled in Mississippi after ethnic Indians were kicked out of Uganda in the 1970s by dictator Idi Amin. 
Nair's most commercially successful film to date is "Monsoon Wedding," written as "a love song to the city of Delhi," she said. The inspiration for this film began with a documentary. Nair saw a woman dressed in pink and white crossing the highway, laughing the whole time. Nair followed the woman, spoke with her, and found she was part of a laughing club, and that there were 65 such clubs all over India. 
"The Laughing Club of India" (2001) became the stylistic genesis of "Monsoon Wedding," which is currently being turned into a musical for the stage, said Nair. 
Throughout her talk, Nair emphasized her focus on following her vision and strong point of view, rather than following the money. 
"So much of Hollywood, where the money is, is about recreating what has already been deemed successful. But for me, if they say, 'FBI agent,' it just doesn't do the trick," Nair said. 
"I don't look to the market. I believe you should tell the stories that the market will not tell," Nair said, referencing her 2016 film "Queen of Katwe", about a chess champion in a small African village. "You don't make that film if you're following the market. You make the film and maybe the market will catch up."
"My feeling is that there is importance in defending universal stories, but we also must tell our stories our way," Nair said. "We have to live with both worlds." 
During her visit, Nair also met with students, faculty, administrators, doctoral students and postdoctoral students over meals and one-on-one meetings. In addition, she was a guest speaker in India on Screen: How Global Media Industries Shape Culture and Politics, a course in the Annenberg School for Communication. 
The program was made possible by a gift from Vishal Saluja. The Saluja Lecture was co-sponsored by the Department of South Asia Studies, the South Asia Center, and the Cinema and Media Studies Program.
Tariq Thachil is professor of political science, Madan Lal Sobti Chair for the Study of Contemporary India, and director of the Center for Advanced Study of India.