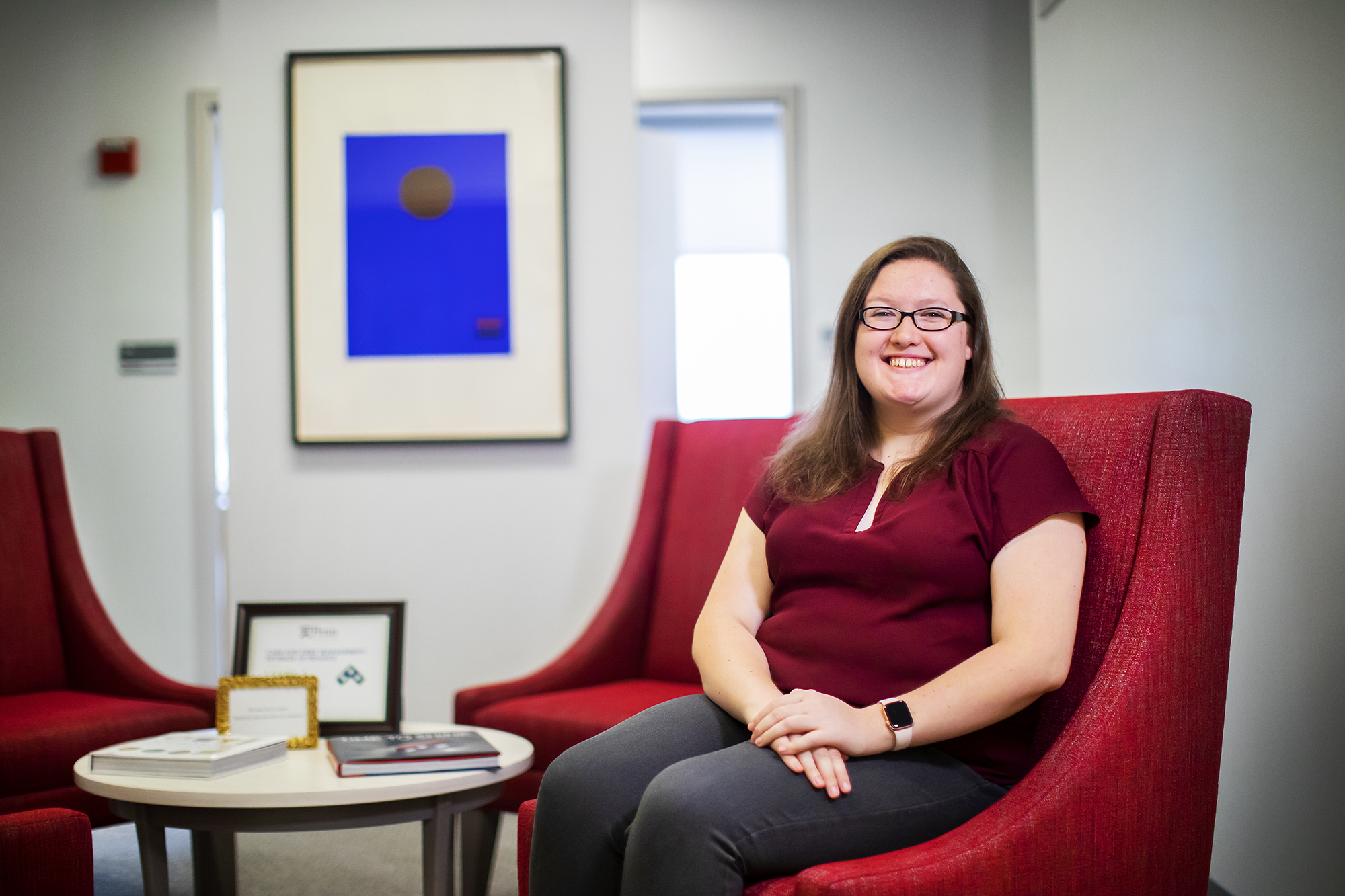 Lyndsi Burcham was in the fourth grade when her mother lost her job. Growing up in a single-parent household in Kansas City, Missouri, Burcham recalls spending as much time as possible out of the house, eating meals with other family members. "That was the dark ages," Burcham says. She later became the first person in her family to attend college, accepting a full scholarship to Penn. She was matched at Penn through a program called QuestBridge, which pairs high-achieving, low-income students with elite colleges.
Now, the May 2019 grad is translating her "passion for student affairs" into a career helping other students gain financial control of their lives. As the financial wellness program manager, Burcham is spearheading a new program geared at improving student financial literacy with a website that launched Jan. 27.
Tailored to the specific needs of college students, the initiative will include information on budgeting, banking, debt, and investing. Penn students will have access to Cash Course and Financial Avenue with worksheets, templates, and tutorials. 
There are a lot of online resources, says Paul Richards, director of communications for the Division of Finance, but this one will be "customized for Penn students and how they want to learn." The program plans to offer workshops, financial-wellness grants for campus partners and student groups, and monthly lunch-and-learn sessions called Financial Fridays. The first of these sessions, on Jan. 31, will be about money resolutions. The inaugural session will include a discussion of spending habits and financial goals, aiming to set students on a focused path in 2020. By the fall semester, one-on-one peer financial coaching is planned. Burcham will start recruiting for these student positions in March. 
Hired in October, Burcham is developing the program and learning as she goes. "For me, financial wellness is all about understanding how your financial situation impacts you now and will impact the rest of your life," she says, adding that she wants to empower students to manage their budgets to maximize future growth. "I think Penn undergrads are in a unique position when they're financially on their own for the first time in their lives," she says. "It's all about creating good habits that will carry on post-grad."
As a first generation, low income student (FGLI), Burcham maintained what she calls a "crazy spreadsheet." She had no margin for error and was vigilant about tracking her expenses. "I think that prepared me really well for this position," Burcham says. During her undergraduate career, she was a member of Penn First and sat on the Student Financial Services Advisory Board. Her current supervisors, Richards and Matt Sessa, executive director of student registration and financial services, knew Burcham as a student and recognized that she had a unique skill set. With her Penn background, they felt she would be an asset for the developing financial literacy program. 
Sessa says that as an undergraduate Burcham made an immediate impression. "She was a real leader in terms of her actions," he says, adding that she continued to stand out throughout the competitive hiring process. "We made the right decision," says Sessa. "She really hit the ground running." 
The program has been a focus for the financial services team for several years building on the work of a financial wellness working group. Filling the financial wellness manager position was a key step in being able to finally launch the program. 
The website and workshops will create accessibility, says MaryFrances McCourt, vice president of finance and treasurer. "Most students don't learn about personal finance until they are on their own," says McCourt. "In my opinion, personal finance should be part of a student's curriculum throughout their education."
Ryan Bush of Fort Lauderdale, Florida, a sophomore pursuing a degree in philosophy, politics, and economics in the School of Arts and Sciences and a member of the Undergraduate Assembly, serves on the financial wellness working group. Bush, says "Before joining the group, I left it to my parents to work through that aspect of my life while I was more focused on academics." 
Bush says he now realizes that all students are impacted by financial services, and it is important for everyone to have a general understanding. "This program gives students immediate access to a one-stop destination for the tips, tricks, and information they need to be fiscally smart and proactive," he says. "Nobody should have to worry about figuring out convoluted financial issues on top of juggling classes and extracurriculars. This program helps to make that process just a little more manageable."
Financial literacy, Sessa says "is something that all the students seem to be interested in. From a wellness perspective, it gives students peace of mind and more control when they understand how to interact with their finances."  
Richards cautions that financial literacy can be scary and urges students to be generous with themselves and celebrate incremental change. It's about "allowing yourself to experiment and try things within the bounds of your financial reality," he says. "If you make a mistake, try again next time." 
"Budgeting is an art and a science," Richards says. Not only about spreadsheets and compounding interest rates, money is "also about feelings and emotions and your mental state and what you prioritize," he says, urging students to take the time to understand themselves and their motivations. "It helps you center yourself and understand what is stressful about this," he says. "What are your actual goals? Is it just to not run out of money? Maybe you're saving for a trip, maybe you want to buy a bike. Making it more tangible allows you to make decisions based on specifics instead of the overwhelming complexity of your entire life."
Burcham agrees. Her personal goal is to help students feel confident. "You can do all the things you want to do if you make a plan for it," she says. "It's when you don't make a plan that you're going to fall into a hole and not know how to dig yourself out of it financially." 
In her new role, Burcham finds it helpful to reflect on her own pathway to Penn. She says "I knew I wanted to go to college, but given my financial situation I didn't know how that was possible. When I came to campus, I had $100 in my bank account. It's funny to look back on it now because I definitely didn't have what I needed. But I made do. 
One of the biggest challenges as a FGLI student," Burcham says, "is that you don't feel entitled to things, especially attention or access. You feel like a burden every time you ask someone, so you just don't." Burcham was resourceful. She gravitated towards others who were interested in low-budget living and cooked her own meals and took advantage of a textbook library offered through the Greenfield International Center.  
She recommends that students "ask a lot of questions and don't be afraid to. Ask for help. The biggest hurdle can be not knowing what to ask and not knowing you can ask," she says. "In my experience, everyone is working here because they want to help. Find an adult at Penn that you trust and go to them when you don't know something, anything, and they will point you in the right direction."
Now that the team is in place says McCourt, "We'll only grow from here. We are now in a great place to launch this initiative, and it is exciting for all of us."