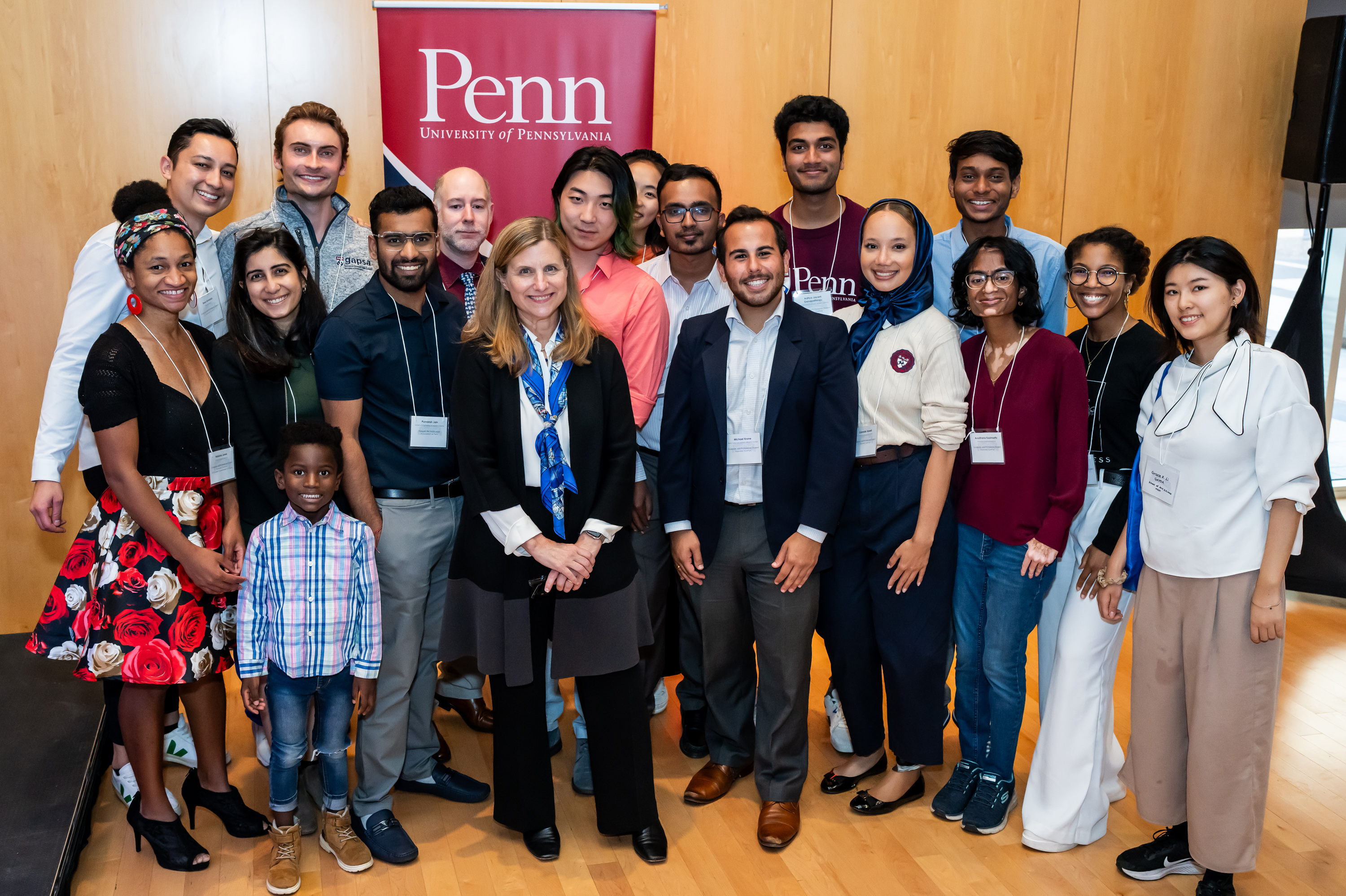 There were research town halls and movie nights, speed friending and a boat cruise, with a board game night, planting workshop, and axe throwing in between. It was GradFest at Penn.
Now in its 16th year, the weeklong programming from Sept. 18 through Sept. 24—co-sponsored by the Graduate and Professional Student Assembly (GAPSA) and the Graduate Student Center—was meant to offer events far and wide for all incoming and returning graduate and professional students at the University. GradFest organizers also partnered with several student centers, including the Penn Women's Center, La Casa Latina, Pan-Asian American Community House, and the Family Resource Center to co-sponsor graduate student-specific open houses and programming during the week.
"It's a really large, concentrated effort to get students to know one another and make really special memories," said GAPSA president Michael Krone, who is in the Carey JD/MBA Program. And it's just the start, he added: "This is not the only programming GAPSA runs, we run tons throughout the year."
At a GradFest reception, President Liz Magill thanked the graduate student leaders in attendance for their commitment to service.
"You are doing so much as leaders to contribute to the experience of all graduate and professional students, not only those who are here now, but those who are going to come after you," she said, speaking at a podium in The Agora at the Annenberg Public Policy Center.
Ananth Srinivas, a paleontologist and Ph.D. candidate in the Department of Earth & Environmental Science, is serving this year as president of SASGov, which is the Graduate Student Government of the School of Arts & Sciences at Penn. He also volunteers as GAPSA's director of public relations, managing the organization's website, email newsletter, and social media channels.
Involved with student government during his time as an undergraduate, too, Srinivas said he knew he wanted to be involved at Penn as a doctoral student outside of his typical scholarship.
"On a personal level, both GAPSA and SASGov have provided another outlet because sometimes you just get really siloed being in a lab or being in a research department, and you want to network with people outside of your school," he said. "It has also been very beneficial or useful to be somebody that can voice out student concerns and issues and advocate them by interfacing with the administration. I hope to create a safe space for students to come out and make aware of all the things that are important to them as well as see from administration what their perspectives are, because it's a two-way street."
Collaborating for GradFest across the 12 school governments (including SASGov), as well as with other campus partners, was a priority for Anusha Singhal, who serves as GAPSA's vice president for programming. The master's of biotechnology student helped lead the planning for close to 20 separate "Sweet Sixteen"-branded events. "We're focusing on doing more equitable and accessible programming for all graduate and professional students this year," Singhal said last week.
Amid a busy class schedule, splitting time between Wharton and Penn Carey Law, Krone said last Tuesday that he was looking forward to attending the Graduate Student Activities and Resources Fair on Wednesday, the GAPSA 101 session on Thursday, and the midnight boat cruise on Saturday, which invites graduate and professional students to the Spirit of Philadelphia for a special event on the Delaware River, beginning at midnight. Most GradFest happenings were ticketed, but largely subsidized if they come with a price, Krone said.
"One of my favorite things about being involved in GAPSA is making friends from outside my schools," Krone said. "It's been one of the hallmarks of the experience for me the last three years."
It's also been fascinating, Krone said, to learn with and from students with such different backgrounds, especially when discussing sometimes challenging issues facing students, facing the University, or even facing the world. "Everyone is bringing their own means of thinking to the table to address their own issues and ways of moving forward."
As for the year ahead, Krone said GAPSA will be focused on forging even stronger partnerships on campus with student and administrative groups, with the overarching goal of always improving the graduate and professional student experience.
"There are a lot of opportunities for students to get involved within their school and I encourage all graduate students to take advantage of those opportunities, but I also would challenge them to look outside their school as well, either get to know someone new, get to try something new, or just be a part of something that's bigger than any one school," Krone said.