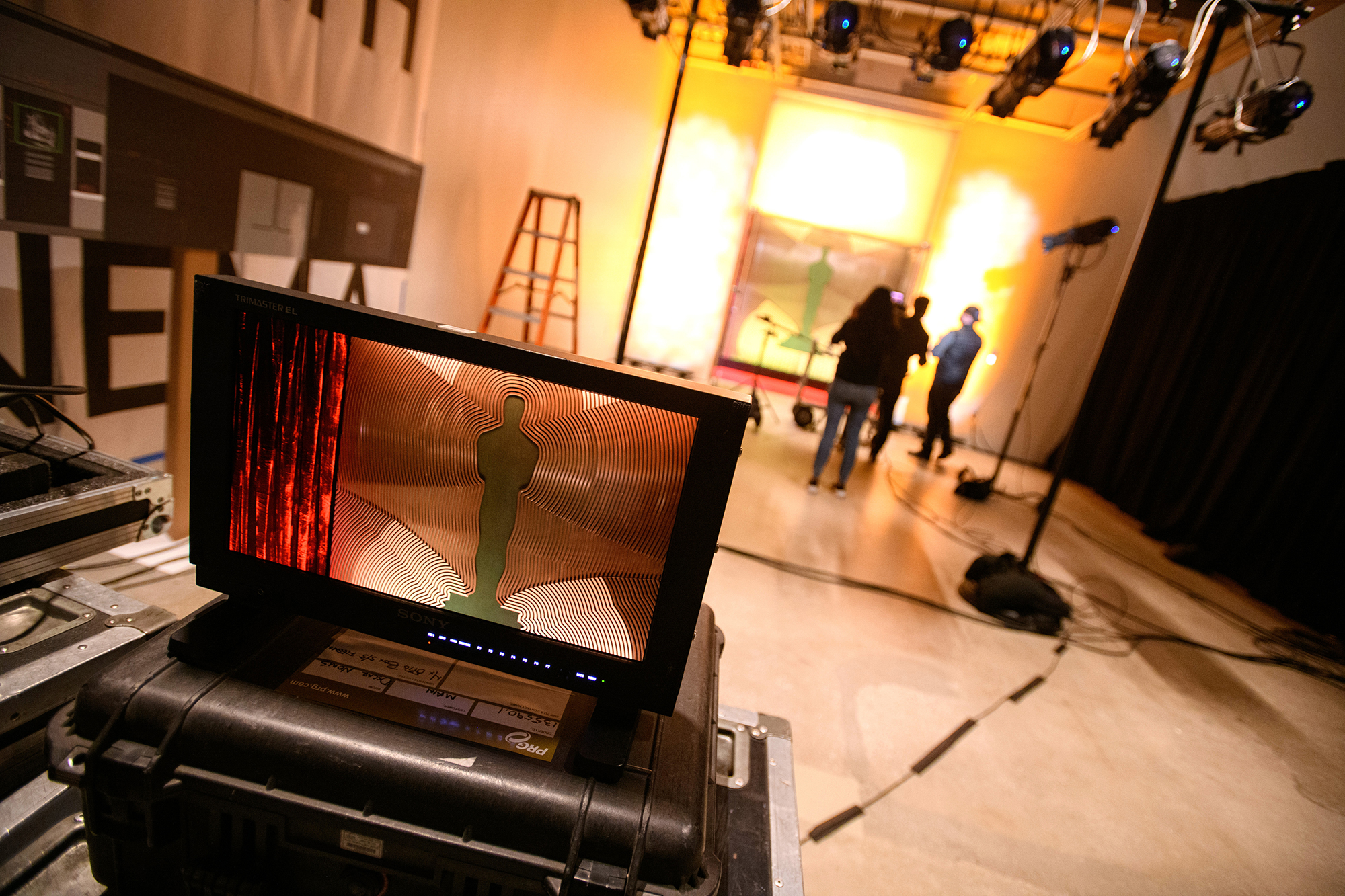 As the saying goes, the show must go on. And there may be no greater demonstration of that axiom than the pandemic-year Oscars.
The 93rd Academy Awards will be held April 25, broadcast from a combination of Union Station in Los Angeles, the Dolby Theatre (the show's usual home), and a hub in London for nominees abroad. Unlike other awards shows hosted during the pandemic, the Oscars will be in-person, though scaled down and include some pre-taped footage.
But the format of the show itself, its glitz and glamour diluted by a global pandemic, hardly captures the larger changes at play this season. Of which, in fact, there are many, and make this year's ceremony one worth watching.
'A lot of firsts'
After several years of controversy surrounding predominantly white and male nominees, the 2021 Oscars field features nine people of color out of the 20 acting nominations. In the Best Director category, where only five women have ever been nominated, this year has two: Chloe Zhao, for "Nomadland," and Emerald Fennell, for "Promising Young Woman." And, in the Best Actor category, Steven Yeun ("Minari") is the first Asian American nominee, while Riz Ahmed ("Sound of Metal") is the first Muslim nominee.
"Everyone likes a story of firsts," says Peter Decherney, director of the Cinema & Media Studies Program and a professor of English and cinema & media studies in the School of Arts & Sciences. "And so, it's really a breakthrough year for Asian and Asian American actors and directors, and there are a lot of firsts overall."
For the first time since 1973, two Black women are nominated for Best Actress: Andra Day, for "The United States vs. Billie Holiday," and Viola Davis, for "Ma Rainey's Black Bottom." Davis would be the first Black woman to win the Best Actress Oscar twice.
"This is a story Hollywood has been hoping they could tell for a while, and they're happy as an industry to see a more diverse field of nominees," says Decherney. "The question is, 'Is there something about COVID and the lack of blockbusters on the market that created this change? Or is it the impact of several years of trying to create more diversity within the industry and the Academy? We'll have to wait until next year to see."
The releases of major films like Steven Spielberg's "West Side Story" and Lin-Manuel Miranda's "In the Heights" were postponed because of the pandemic, thus making them ineligible for this year's Oscars. That, Decherney speculates, may have partly contributed to the Oscars lifting up films that might have been overlooked, like Amazon's "Sound of Metal."
What also remains to be seen is whether such a shift in the Oscars' diversity might signal a change in casting for blockbusters, he adds, as even those larger films hope for recognition that can bolster their success.
"It changes the narrative that somehow having a more diverse cast is going to decrease box office returns," Decherney says. "And we've known that hasn't been true for a while. Blockbusters like the recent 'Star Wars' franchise had a much more diverse cast and still generated just as many hundreds of millions of dollars."
Streaming strengthens its grip
Meta Mazaj, a senior lecturer in Cinema & Media Studies, notes that a significant—if ostensibly temporary—rule change this year for nominations may also allow the field to continue in the direction of diversity.
For the first time, films were not required to have a theatrical release to be eligible. The rule change was made for this year only, but should it continue, that may open doors for films that otherwise couldn't afford theatrical distribution. It has already allowed for a broader array of film types to enter categories. Looking at this year's nominees, there is the Korean immigrant story of "Minari," the Fred Hampton biopic "Judas and the Black Messiah," and the darkly comedic thriller "Promising Young Woman." All have been viewable via streaming, at times exclusively.
"If anything, the theatrical run eligibility rule change opens up these categories to films that would be overlooked otherwise, because it's not easy to have your film open theatrically in Los Angeles, nor does it make a lot of sense," Mazaj says.
Furthermore, it's a win for Netflix. In previous years the company has purchased theaters in Los Angeles and New York to screen its films in order to meet the eligibility criteria. This year, Netflix reaped 37 Oscar nominations—a record-breaker for a streamer—without needing to force theatrical runs for its leading films, "Mank," "Ma Rainey's Black Bottom," "Da 5 Bloods," and "The Trial of the Chicago 7."
Mazaj also adds that she's wary of considering this year's lineup as a sort of off-year Oscars, as some have whispered, spurred by the sense that this year's pool of eligible films was limited by how many studio films were pushed back to 2021 or 2022 because of the pandemic. Many commercially minded, big-budget films among the delayed, she says, are not targeted toward the Oscars anyway, and ones that were released, like Christopher Nolan's "Tenet," underperformed.
"The Oscars race has been dominated by indie titles for many years now, even as what we consider an 'indie movie' is being redefined continuously," she says. "The Academy looks to smaller budget films that have the potential to become big as they accumulate cultural capital by the awards season. Films like 'Minari' or 'The Sound of Metal.'"
To boot, a less-talked-about and noteworthy element of this year's Oscars is the continued presence of transnational films, this year in the form of Denmark's "Another Round," which is streaming on Hulu. The film, a dark comedy starring Mads Mikkelsen, secured a nomination for Best Director and Best International Feature. This follows the success of South Korea's "Parasite" last year, which won Best Picture and five other awards. These films, too, Mazaj adds, are beneficiaries of a streaming culture that has been expedited in the world of the Academy.
"These films have certainly gained more visibility, broader reach, and have generated more discussion because of streaming. As more streamers' hits, films and TV series, are international, like the phenomenally successful 'La Casa de Papel,' more people are exposed to a wider variety of films than used to be the norm," she says. "And I think that will continue."
Campaigning in a year of isolation
In 1998, "Shakespeare in Love" went home with the Oscar for Best Picture, against all odds. In part, this was attributed to the campaigning tactics of Miramax, then led by Harvey Weinstein. Ever since, campaigning for Oscars—the all-out promo blitz to pitch to Academy voters—has become the norm. Even during a pandemic.
"It's all virtual this year, but the campaigns have really taken a turn in terms of experiences," explains Spencer Rosen, a senior cinema & media studies major with a minor in English, from San Francisco. "Netflix has done a lot of drive-in screenings and everyone has sent care packages related to films—a classic Hollywood campaign strategy."
Rosen recently wrote his senior thesis on the rise of Netflix compared to other independent filmmakers, as well as the history of Oscars campaigns, with Mazaj as his adviser. In it, he assesses how these campaigns have adapted during the pandemic, and the parallels between marketing strategies of Netflix today and Miramax in the 1990s. That is, while Netflix has avoided some of the bully tactics of Weinstein, they both have spent gobs of cash trying to win an Oscar.
Miramax, Rosen says, infamously spent $5 million to promote "Shakespeare in Love" for Best Picture, compared to a usual $250,000 or so for the average nominee. Fast forward two decades, he says, and Netflix spent $25 million just to promote "The Irishman" for the 2020 Oscars. (And, it should be noted, walked away with zero Oscars.) It also wrote into the contracts of stars Robert DeNiro and Al Pacino that they had to promote the film, which is an atypical requirement for well-established actors.
"They use stars, as well as try to hit every aspect they can in the industry in terms of screeners and promotional events," Rosen explains. "By winning awards, Netflix and other streamers hope to become more integrated into the mainstream and socially accepted in Hollywood, as well as by the Academy and voting members of any awards show, and by actors and directors themselves.
Gone is the cocktail party circuit that is typical of the Oscars campaign season. In its place is an endless lineup of virtual panels, which Rosen says has been surprisingly engaging—pairing together duos like Cher and Amanda Seyfried, or Viola Davis and Oprah, for interviews. Leading actors, he says, have overall reported being satisfied with their promo schedule as they take video calls from home instead of crisscrossing the country—even if studios balk at price hikes for spots on popular roundtables from the likes of Vanity Fair, which charges thousands of dollars to participate in a Zoom call.
But the virtual Oscars campaigns have borne fruit.
"It's made conversations more interesting, or real," Rosen says. "When you have someone in the comfort of their own home, they're quite disarmed, even if they obviously know they're being filmed. So, you're getting a more authentic depiction of Hollywood players than you did before.
"But it's interesting," he adds, "because overall the campaigns have changed drastically when you can no longer have these over-the-top events. They're trying to appeal more to the soft-natured side of, 'We're here for you, here's a gift—still think of us!' Because when people are dying daily [during the pandemic], you don't want to say, 'Vote for my movie!' You want to be tasteful about it."
An additional change of note, he says, is the continued prevalence of online screeners, which were first adopted during Miramax's "Shakespeare in Love" campaign and are now a staple of any Oscars campaign—inviting voting members to watch nominated films in the comfort of their own home. Starting next year, all screeners will be digital, as the rules will not just discourage but ban the use of DVD mailers.
"That will really prop up streaming platforms and put them in a far better light than before, since their content is already digital," Rosen says.
Continued relevance of the Oscars
Any dissection of the Oscars season inevitably begs the question: Why should anyone care?
"For me," says Decherney, "the way I've thought about that over the years is that the Oscars represent how the industry feels about itself. When actors and directors are nominated and get awards, they really care about this one not just because it's famous and has prestige, but because it's their peers and colleagues voting for them.
"It also gives a sense of how Hollywood wants to represent itself to the world."
Moreover, he says, the Oscars are a leading indicator of what kinds of movies will be made in the future. Winning awards motivates filmmakers and studios and, as Rosen put it, determines who is "valuable and viable" in the industry.
"There's a lot at stake, and you can't blame filmmakers and studios who try to win awards when money is at stake, careers are at stake, and the future direction of the art of film is at stake," Decherney says.
As for who will win Best Picture? Decherney isn't ready to place bets on any film, though he's hopeful "Mank," which has the most nominations, will not sweep. Mazaj, meanwhile, senses "Nomadland" will win Best Picture, in large part due to its continued momentum since it won the top prize at the Venice Film Festival in September.
"I'm a fan of Chloe Zhao, and although 'Nomadland' is not my favorite Zhao film, I think this is her moment," Mazaj says. "And this has more to do with the kind of cultural capital and buzz she's accumulated, not with the film itself. I'm cheering for her anyway, and I think it's a safe bet to put your money on her, both for best director and best film."