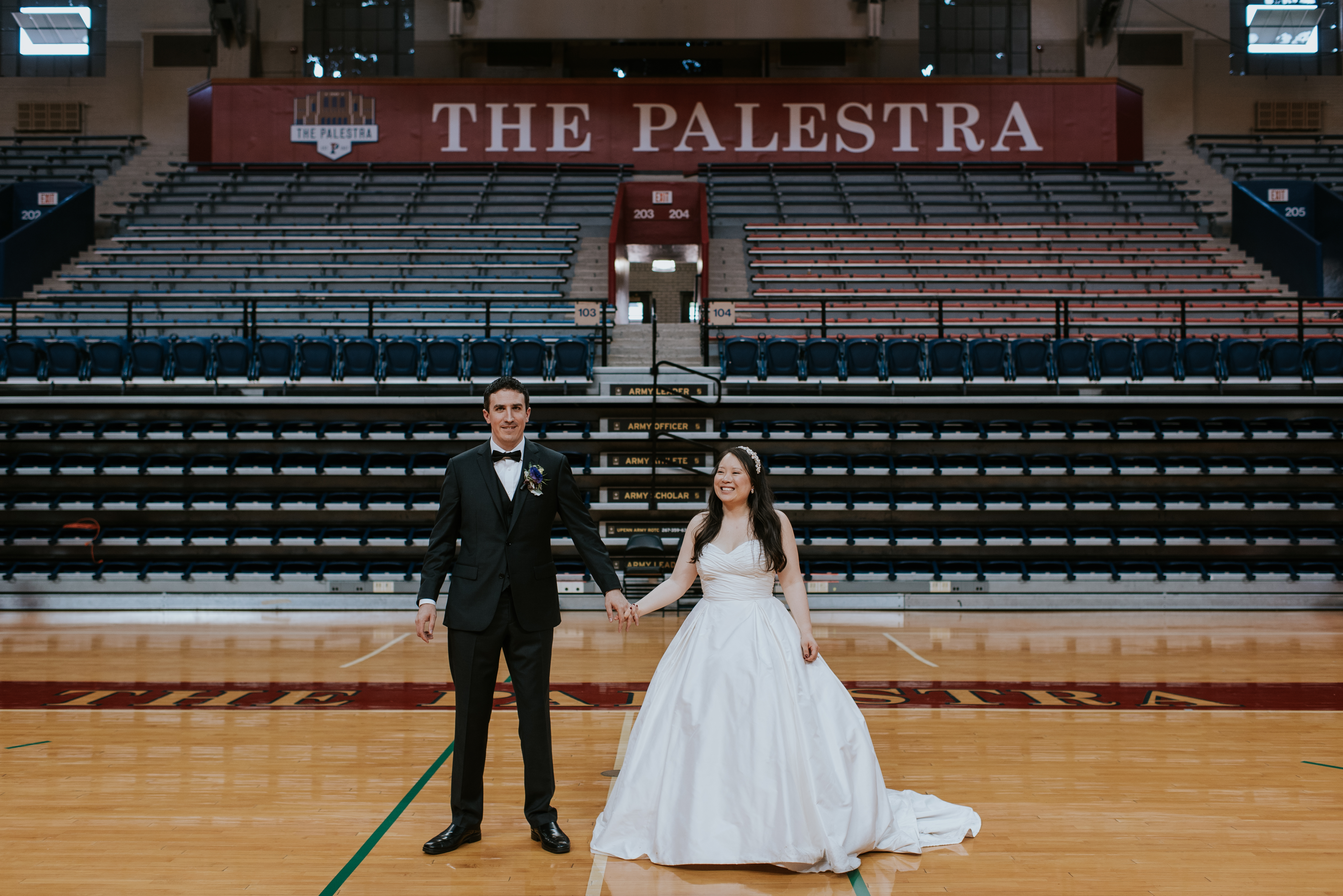 Few bonds in life are as enduring as the one between a student and their university. 
The relationship seeds from the moment the acceptance letter comes in the mail; it sprouts when the first branded hoodie slides over a student's head during that first week of classes; and then, of course, it comes into full blossom when the pupil hits his or her stride in academics, dives into extracurricular activities, and establishes rapport with classmates. 
And after graduation? The university name—the Penn name—forever sticks around, whether on LinkedIn profiles, in alumni Facebook  groups, or merely shelved in memory banks. There's always a connection—a story—that lives on and touches alumni lives from all sorts of angles. 
Here, in that spirit, ahead of 2018 Penn Alumni Weekend, five alumni offer up Penn memories, stories, and relationships they won't soon forget. 
Ryan Weicker and Stephanie Yee
What binds the relationship of husband-and-wife Ryan Weicker and Stephanie Yee? Season tickets to Penn's basketball games. 
"After we graduated, Stephanie started going to all the basketball games with me," says Weicker. "Since we graduated, we've had season tickets—for the past 10 years. We go to all the home games we can; we travel with the team quite a bit and part of our wedding photoshoot was in the Palestra, where we have a lot of strong memories." 
The beginnings of their love story, in short: Weicker, a class of 2008 graduate, and Yee, also a class of 2008 graduate, both grew up in Las Vegas, but never connected until Weicker—interested in transferring from Loyola University Chicago—met Yee through a mutual friend. When he finally transferred and needed a buddy to help him move, he thought of Yee.
During the next few years, they'd encounter each other often—not through classes, but extracurricular activities: as residential advisers, student orientation leaders, and while playing in a summer softball league. 
Penn's breadth of activities and opportunities served as a glue for their interest in one another.
"Penn was definitely a thread [for our relationship] because it was through Penn activities that we had the opportunity to really get to know one another," Weicker explains. "Even though we were friends initially, we got to spend more time together through all the Penn activities." 
They fondly recall College House group outings for half-price burgers at Copabanana at 40th and Spruce streets, a quirky moment at Rodin College House when a bat flew into Weicker's room, and endless sporting events together—mostly as friends. During winter break of their senior year, though, they began dating. They were finally married last year, with a classmate as their officiant, the Morris Arboretum as the location for their engagement photos, and the Hall of Flags as the venue for their wedding ceremony. 
A very big, very Penn wedding.
"We've gone to so many Penn events in Houston Hall, in that space, and the beauty of the stained glass and the wood paneling—it's a special place on campus," Yee says, explaining the Penn-heavy presence in their wedding plans. "We also knew we wanted to do something in the Palestra, so we had a Team Bride versus Team Groom basketball game, and our classmate and dear friend, also the officiant, was the referee."  
They'll both celebrate their 10-year class reunion this weekend, though they note they've also attended most Homecoming and Alumni Weekend celebrations.
"The only times we haven't were when we attended Penn weddings, which we think is an OK excuse," Yee quips. 
They're also heavily involved in the University year-round.
"Penn basketball is really important to us, and we're both heavily involved in the Penn Alumni Club of Philadelphia—Stephanie was a past president and I'm on the board," Weicker says. "One of the things [that is] very important to us is to stay engaged with Penn—and that's something we do together and takes form in many different ways."  
Elsie Sterling Howard and Lisa Nass Grabelle 
As a young Brownie, Lisa Nass Grabelle looked up to Troop Leader Elsie Sterling Howard—who, coincidentally, was also a neighbor and an oft-present friendly community face. 
Little did she know, she'd later be the friendly face of her Penn admissions interview. 
"Moreover, I had no idea when she interviewed me she was president of all Penn alumni, at the time," says Nass Grabelle, of the class of 1993. "It was before the days of the internet."
 
Penn, in many ways, intersected their lives. Sterling Howard would later be the one to deliver an unexpected call that Nass Grabelle had been accepted to Penn—a memory Nass Grabelle cherishes—and, during a ceremony for the Goddard Senior Award near the end of Nass Grabelle's undergraduate career, introduced Nass Grabelle with a rousing speech. 
"I remember, that speech, I didn't know until she was introducing me until the day I arrived—and I remember all the other honorees were so jealous I was able to have this special introduction Elsie gave me, talking about how long she knew me," Nass Grabelle says. "I remember even Andrea Mitchell [who participated in the ceremony] was surprised when she heard Elsie telling our connections and how far back they went.
"It was a moving day for me and my whole family."
Sterling Howard, recalling that initial admissions interview, remembers the meeting with fondness, relishing in the coincidence of it all, but grateful, too, to have had the opportunity to award good Penn news not once, but twice in the lifetime of someone who lived just down the street. 
"I loved Lisa's energy as a child and young woman," Sterling Howard says. "There are many hundreds of students over the past 50 years whom I've had the privilege of interviewing, and I always look for a couple specific components to a potential student, the first being passion and enthusiasm—I don't often have to worry about the GPA or SATs.
"Penn," she adds, "has always looked for something else, something beyond. And I think that's one of the overarching connections between generations of Penn alumni and current students—we all share enthusiasm." 
This weekend, they'll celebrate yet another coincidence: both class presidents and organizers of their reunions, Nass Grabelle will celebrate her 25th class reunion; Sterling Howard, meanwhile, will celebrate her 50th. 
Mae Pasquarello
Mae Pasquarello was enrolled at Beaver College—now Arcadia University—when, while riding a trolley, two women behind her told her matter-of-factly, as Penn's array of beautiful buildings emerged in the distance, "You can't get in."
Naturally, Pasquarello bee-lined to the trolley exit at the next stop and picked up an application to the University. She was later accepted.
"I was not the poster girl for Penn," says Pasquarello, class of 1953, pointing out that many Penn students of the era were "tall and blonde" and also not of the lower-income, South Philadelphia Italian variety, as she was. Among her family members, she was only the second to pursue higher education and the first woman to do so. 
It was also, to be sure, a very different time to be a female student at Penn, she says: She attended the College of Women, which limited fields of study for female students; the faculty list was a sea of men; and many friends, she says, resisted attending class reunions for years because, as women, the general experience left "a bad taste" in their mouths. 
But, she adds, equity has improved substantially since then, and women enrolled at Penn haven't had a "CW" (College of Women) preface on their degree since the college was overhauled in the 1970s. 
After staying away from the University for 25 years, Pasquarello began actively attending every reunion, encouraging others to join her, and even began auditing classes that vary from topics of poverty in America to Africana Studies—leading to what has truly been a lifetime of continued education.
She thinks of her Penn community as "an extended family," she says, and is grateful to the school for opening doors in her professional life as a guidance counselor for two schools in the School District of Philadelphia, as well as opening her eyes to the art and architecture world, noting that her family's construction business, P. Agnes, has even worked on building restorations on campus. 
As this year's parade marshal, celebrating her 65th reunion at age 87, she hopes to send the message that it's never too late to get involved.
"I try to tell other people: Get involved with your university. Because you're a graduate—you're always an alum." she says, excitedly.
And because, she puts succinctly, Penn is "a wonderful place to be."