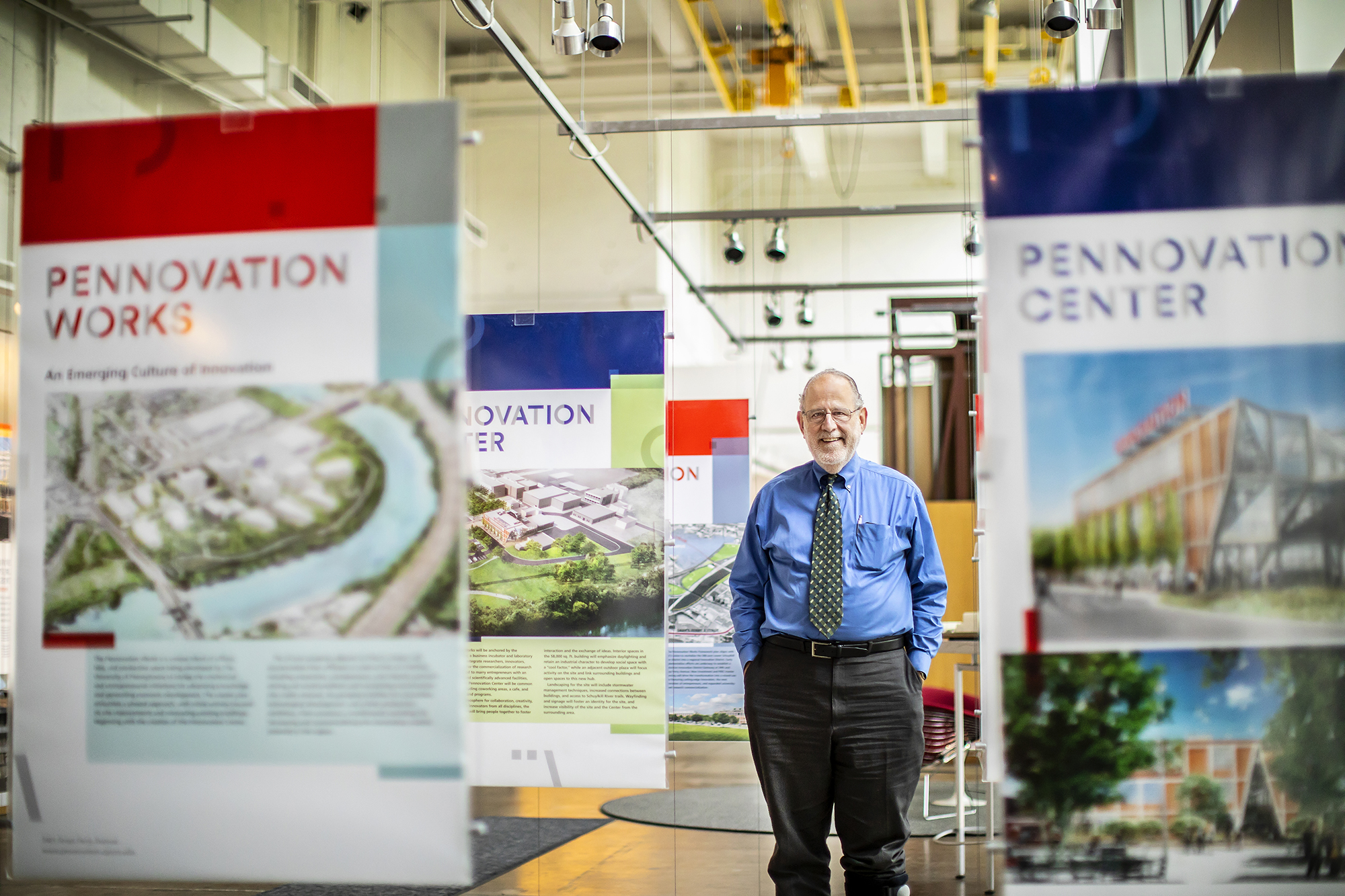 For 12 years, David Hollenberg has been a design conscience for Penn, serving as University Architect in the Division of Facilities and Real Estate Services, influencing the outcome of projects that have ranged from the Pennovation Center to the recently opened Robbins House for the M&T Program. His work has evolved from low-key historic preservation efforts—at the time, practically unheard of as an area of architectural expertise—at a firm in West Chester in the 1980s, to collaboration on the 1990s reimagining of Independence Mall, to a thorough restoration of the exterior of the historic Reading Terminal Headhouse along Market Street.
He's an architectural presence whose fingerprint might be left on more Philadelphia-favorite spots than most realize.
Here, get to know the man behind the job—one who plays the piano, can often be seen dining around town, and is currently lost in the literary works of Italian novelist Giorgio Bassani. 
When did you start working here?
I became University Architect in June 2006. But this fall will be my 30th year of teaching at Penn, in the Historic Preservation Department. As a full-time staff person, I've been here since June 2006. I went for grad school in architecture [at Penn] and graduated, and got my master's here in 1975, in what was then the Graduate School for Fine Arts—now PennDesign. I went to Columbia for undergrad and came here for grad school; I didn't like it very much, and I left after a year. I found architecture school way harder than I expected it to be, and so I went off and got a job at an architecture firm to persuade myself I could actually do it, and then came back. I started in '71 and finished in Summer '75. It's a three-and-a-half-year program and I took four and a half because I took a year off. 
And except for that year away, I've basically been in Philly ever since. 
Where did you grow up?

I haven't grown up. [Laughs.] But Scranton, two hours north of here.
Knew you needed out?
Yeah. I have family there still. Dwindling rapidly, but the family I have left is there. I'm an only child, so it's a small family, but Scranton is my roots. 
Who keeps you grounded?
My wife, for sure. God bless her. My circle of friends. My son. I'm not sure he keeps me grounded, but he keeps me interested. Grounded is an interesting word, but students definitely do. The teaching piece of my life keeps me grounded. This place does. The nature of the work. If I had to give one answer, it'd be my wife. 
How do you keep yourself learning?
You can't help it. It's almost harder if you didn't want to keep learning. To say, 'I'm tired; I'm not going to learn anymore.' Actually, I said that yesterday when someone was trying to get me to upgrade a piece of software. I said, 'I don't want to learn that.' I don't want to have to learn something that someone else in California decided it's time for me to learn. I have other things I want to learn. There are things I shut off.
Did you have a moment you knew you were interested in architecture?
No, actually. It's weird. That was one of the difficulties when I got here, because I realized most of the people who come to architecture school always knew they'd be an architect. I sort of backed into it in what was, in retrospect, a casual way. After I graduated from Scranton Central High, my parents gave me a trip to an art history tour of Italy that I found a brochure for, being run by the University of Cincinnati. So, I went to Italy for four weeks with a bunch of people interested in art history. I always liked paintings and going to museums—I still do. That's another thing that keeps me grounded: looking at art. I have no artistic skills, but I like to think I'm a good looker. I ended up palling around there with a guy in architecture school, and we would take these endless walks through whatever city we were in. That was really fun and got me into architecture history. 
When I went to Columbia, I majored in art history, and over the course of my four years there I picked classes that leaned more toward architecture history each year. There was no pre-architecture program at Columbia; nobody did it.
I wasn't going to be an architectural historian, but I really enjoyed doing architecture history and I had a really long independent research paper at Columbia with a professor who only taught grad students, but was willing to take me on as an independent student. He was wonderful. And at some point, I thought, 'I'm not going to become an architectural historian. Why don't I become an architect?' That was the light-bulb moment. But it was sort of as casual as that.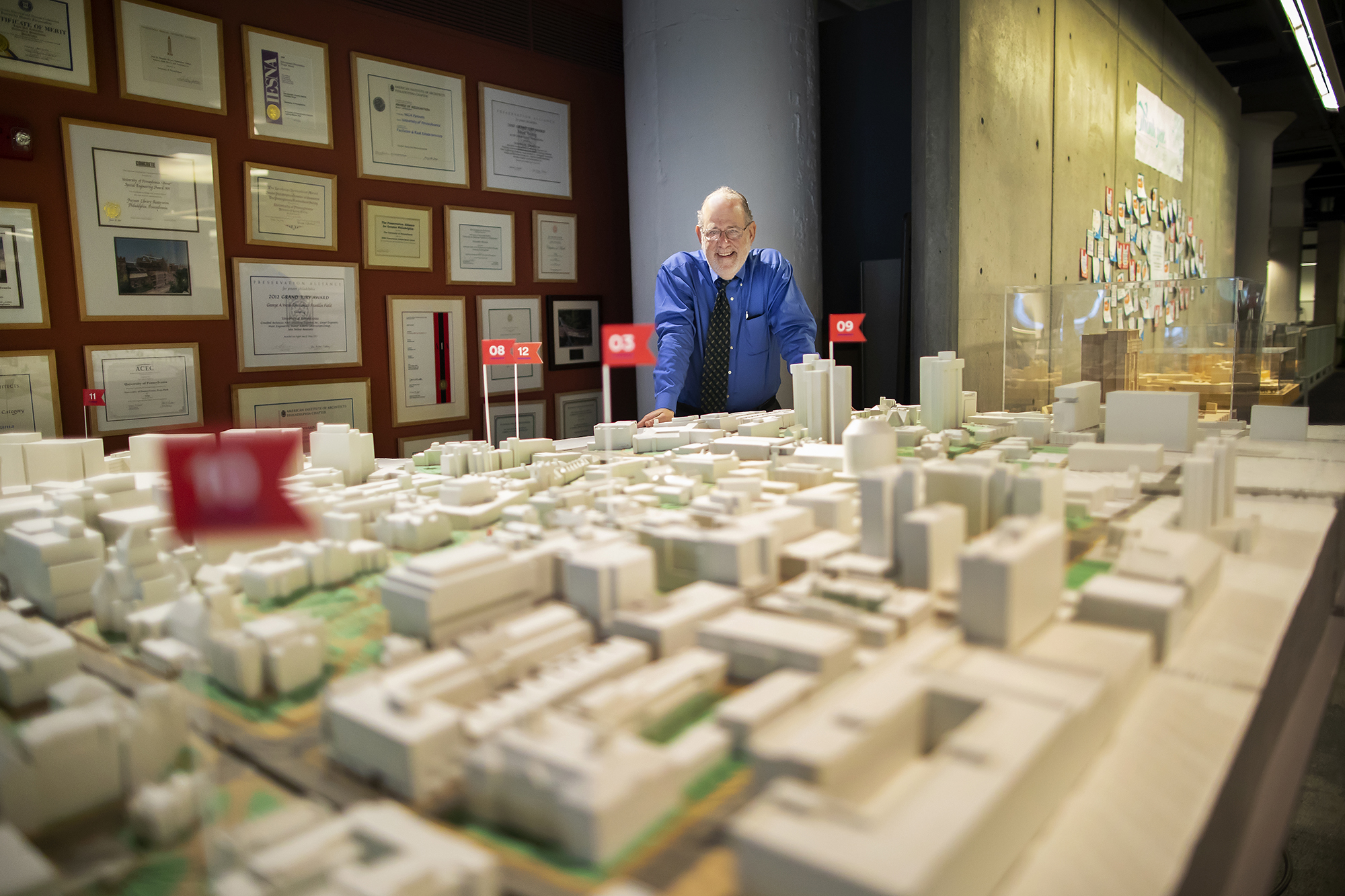 It's hard to reconcile doing versus teaching.
It is a hard thing. Unless [you're like] a lot of people in architecture school who knew from the moment they were 2, who are building and drawing things. I still can't sketch, can't draw anything. I couldn't sit across the table and draw you anything, whereas a lot of my colleagues could and almost can't help themselves. 
What kind of projects did you work on when you did start working in historic preservation at the National Heritage Corporation, then called the John Milner Associates?
Fairmount Water Works, the Reading Terminal Headhouse, Wanamaker's—all sorts of things downtown. A lot of church work. A big one was the rehab of Lit Brothers. I was historic architect on that. Those projects require huge teams. The Headhouse was the last project with my seal on it, the restoration of that façade. I still love going by there, looking at it. It's holding up pretty well. That was done in the late '80s. 
Is there a building in the world that you think 'Wow,' or 'This is my happy spot'?

No. I have lots of those. But to name one would be hard. But there are many places that just get me really excited. And it's not just famous stuff.
It's easy to talk about the Pantheon and all those things, and every time I go on vacation, part of it is just dragging people along to look at places, but it's almost cities as a whole than a single place within a city. I love Buenos Aires; I love Paris, of course. I love some Southern cities. Savannah, I really love Savannah. I love New York City. I love Quebec City, Montreal, Toronto—the Canadian cities—Vancouver. There are so many cities I find thrilling to be in. I almost always prefer to vacation in cities. I'll go out to the country, but at the end of the day I want to be in a city.
Do those cities share something in common?
Urbanity. [Laughs.] The mix of people. The constant diversity. The diversity of building types—the good, the bad, the ugly. The energy. The presence of curious people who want to be around other curious people.
Savannah has a common thread with Penn, with how it integrates nature. 
I think of all the places I've named it probably does have the most common thread with Penn. And Philadelphia, we live in West Mt. Airy and I just feel like—it's a 20-minute train ride, a great, old 1920s neighborhood, and it has all these majestic trees, and I almost feel like I'm going to a country house every day. But it's so Philadelphia to have that 150-year-old tree experience in your front lawn while you've been downtown the rest of the day. I think that's hard to do in other cities like the ones I just named. 
If there's places I love to go that I know I'm going to have a great, satisfying day, they tend to be museums or concert halls. I love to go to the Met and the Japan Society in New York. I love The Frick in New York. It depends what's on display, but I love the Neue Gallery in New York. I love The Guggenheim, depending on what's there. 
But I'll go to those others no matter what. The Japan Society is a 110-year-old institution basically devoted to Japanese culture, and they have a small exhibit space, and they don't have a collection but they put on exhibits in Japanese art, whether contemporary or not, that are always absolutely sensational. I was just there last week.
By the way, I didn't mention Kyoto or Tokyo in my list of favorite cities, but they're on there.
Kyoto is certainly a place of historic preservation.
It's awesome. Kyoto is just incredible. I love those cities. It would be harder to think of cities I don't like that I have no interest in. I'm not a big fan of Washington, for example. Most cities, I find something I really, really like. 
But I like Philadelphia a lot. I'm happy to be here and imagine I'll die here, and do as much traveling as I can. But this is where I'll be. People ask me what my favorite building on campus is and I can't answer that. It just sort of happens to be whatever one I was involved with that morning. I like so much of what pre-existed me and so much of what we've done.
Is there a particular project you felt really interested in?
I loved every one of them. I have a good job. I get to work with the best talent, in some cases on the planet. And the talent is excited to be working here. They know we take architecture and design pretty seriously and they're going to, at the end of the day, know they're going to build something we'll be proud of, even if we squabble along the way about this and that. At the end of the day, it will be a great contribution to the campus, to the city, to the profession, and I know this sounds sappy, but really all the projects have been terrific. At the end of the day, when you go to a ribbon cutting you always feel great. No matter what the scale of the project.
Any odd hobbies?
Odd? No. I think what I like to spend my time doing is listening to music, and hopefully after I retire I'll get back to playing music. I used to play the piano but I really have not had much time. I was good, but I haven't touched it for probably six or seven years, or barely touched it.
Does it come back to you?
I sure hope so. I don't think it will come back like that, but I sure hope it does, because it was a really important part of me that's become increasingly difficult to do when you have 10 minutes here, 10 minutes there. You have to practice at least every day, if not every other day. I do spend what my wife calls a ridiculous amount of time going to concerts. So, I do spend a lot of time going to hear music. No matter how tired I am at the end of the day, it always exhilarates me, gets me going again. That grounds me.
What have you been reading?
I've been on a little jag with this Italian writer who died in the '60s named Giorgio Bassani, and I'm in awe of him. I've been grabbing everything I can. He writes about—you may know one of his books because it's a well-known foreign movie, called 'The Garden of the Finzi-Continis,' about upper-class Jews in Ferrara, Italy, which is his hometown. He only writes about Ferrara—it's a book about gathering clouds in the '30s when Mussolini joined the racial laws of Hitler and transformed the sort of security and sense of certainty among a group of pretty well-coddled Jews in Ferrara.
He has a series of fantastic stories called 'Inside the Walls,' with sort of similar themes. And it seems so relevant now, how this creeping fascism takes over daily life, but with incredibly meticulous detail and it's never screaming—it's very quiet. He's amazing. 
And then the third one I read of his, 'The Gold-Rimmed Spectacles,' I've been snapping up whatever I can of his because I was so blown away by the first one, a collection of five stories—"Inside the Walls." It's about a well-respected Jewish homosexual doctor in Ferrara and how some off-hand comments about his homosexuality just upend his life completely, again in the most quiet ways. And the sort of tragic story of how just a few occasional comments change everything. And it's a really heartbreaking book. It's actually quite short. More a novella than a novel. But he's great. 
Where do you like to eat in Philadelphia? 
Oh God, that's impossible. I had my heart broken this week when I heard Le Cheri in the Art Alliance building was closing. At the southeast corner of Rittenhouse Square, it's a building with a wonderful restaurant in the back that's shutting down. It was a favorite place.
We try to keep up, but it's impossible. I love Le Virtu on Passyunk Avenue. There was a squabble between the owners and the chef a year ago, and I was nervous about whether [it would still be good]. It's still good; I think it's still good. I always get nervous when I go in there though, if it will still be good. 
On Tuesday night, I had dinner with a friend at Vista Peru, a relatively new restaurant on Second Street where Serrano used to be. It's Peruvian food, which I don't know much about, but I liked. 
I love Dana Mondi on Chestnut Street; it's an Indian place in the back of the grocery store on the 4200 block of Chestnut Street … There's a diner on that corner and the place right next to it is an Indian grocery store packed to the gills with South Indian groceries, and if you go all the way to the back of the store there's a shower curtain you walk through and there's this kind of setup, where you get fed with plastic forks and Styrofoam and there is someone who is surely someone's grandmother in the kitchen stirring and cooking.
I love Vedge, which blows my mind every time I go there. There's a couple fluorescent-light restaurants in Chinatown I really like, the names I can't remember—I remember where they are. They have no character whatsoever, but the food is amazing. 
I love Japanese food; the real treat for anniversaries and birthdays is Royal Sushi in Queen Village, but that is really a lot of money—but worth every bite. It's always an unforgettable experience. Maybe once every two years.
And I actually love Parc. For breakfast, in particular. It's fantastic. The atmosphere—I don't know how they do it. God, they must turn 2,500 tables a day and 200 people working at any one time. Incredible, how they do it day after day after day. It seems so hard, as a business, to maintain the level of quality at the scale they do and the volume they do without a day off ever. It's pretty impressive. 
I could go on…