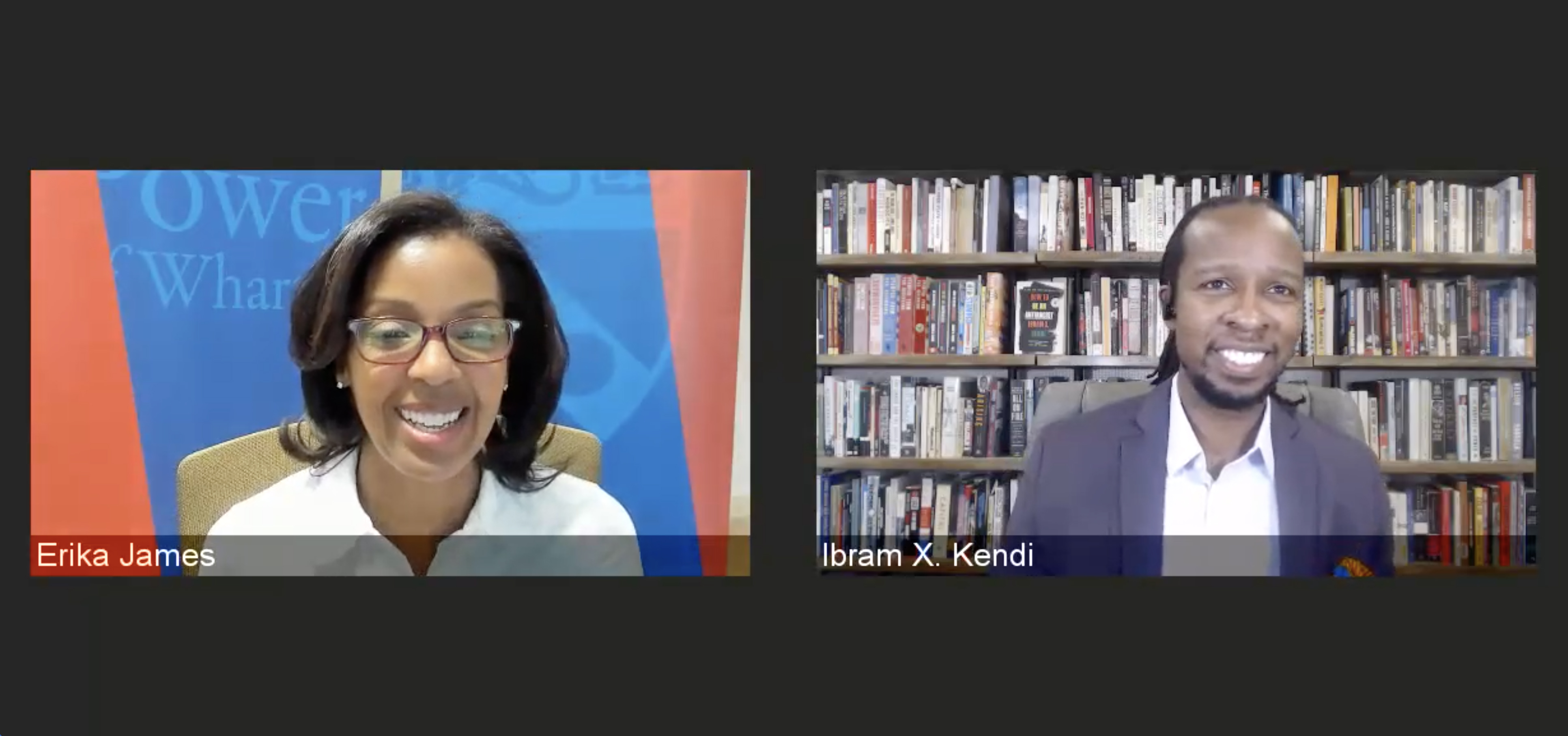 For Ibram X. Kendi, Juneteenth is, on one hand, a day of memory. 
"People of African descent in this country were enslaved for about 250 years," he said, talking virtually alongside Wharton Dean Erika James on Friday, June 18. "And when I think of slavery, as an institution, I think of systematized terror and violence; the consistent breaking up of families and the consistent preventing of people to live and be their full selves."
On the other hand, when he thinks of Juneteenth, Kendi said he celebrates the resistance of African Americans over the course of that time, and finds inspiration from them.
Juneteenth, a combination of the words "June" and "nineteen" is also known as Freedom Day and Emancipation Day. It marks the June 19 day in 1865—two years after President Abraham Lincoln signed the Emancipation Proclamation—that all slaves were actually freed from bondage in the United States. To commemorate the important, now-federal holiday, Penn hosted for about 2,000 members of the University community an hourlong talk with the award-winning author, professor, and antiracist activist Kendi, renowned for his best-selling books including "Stamped from the Beginning" and "How to be an Antiracist." James, an organizational psychologist and leading expert on crisis leadership, workplace diversity, and management strategy, led the conversation, which included her own, thoughtful questions, as well as those from the audience.
Provost Wendell Pritchett provided opening remarks, and in doing so he acknowledged how difficult and divisive the past year has been, especially for people of color. But at the same time, he said, "It's also opened many people's eyes," showing us the "fragility of our democracy and the need for constant vigilance."
One hundred and fifty-six years since the first Juneteenth, President Amy Gutmann said our country still struggles "to eradicate the vestiges of slavery and systemic racism." Before introducing Kendi and James, she noted how such a lecture, led by two extraordinary scholars, was "an opportunity for the Penn community to reflect together on the progress that has been made and the work that lies ahead."
James kicked off the discussion by diving into some of Kendi's work regarding language, specifically his emphasis to make known and understood the distinction between the terms antiracism and racism and antiracist and racist—the former referring to a culmination of structural and systemic policies that have become normative, and the latter being individualized terms, such as an individual racist or antiracist policy or an individual racist or antiracist idea. The two go hand-in-hand, as Kendi and James pointed out.
"The dividing line for the individual is, 'Am I challenging or upholding the structures of racism?' 'Am I seeking to build those structures of antiracism?' And that allows us to know in any given moment whether we're being racist or antiracist," Kendi explained, adding later how racism is a construct determined by politics, power, and history.
This type of thinking, which allows for the ability to identify opportunities to deconstruct problematic systems, James noted, "is required to becoming a more antiracist society."
With both Kendi and James establishing their careers on college campuses, they commented on their shared view that, in today's extremely polarized society, universities should be leading the way in providing spaces for not only finding shared facts, but also allowing for and encouraging safe, constructive debate. That starts with, Kendi noted, people learning how to "self-critique, self-reflect, and change."
"It's a fundamentally open-minded posture," Kendi said. "It's fundamentally a posture in which you're actually willing to acknowledge the times in which you're being racist. It's a posture that a person is constantly seeking to change and grow, as opposed to constantly seeking to argue a position from a close-minded standpoint, as if we know it all."
And that goes for people of all races, Kendi later explained. Every individual has the power to "see the structures of racism as the problem, and then to challenge it," he said.
The conversation moved to Kendi's ideal way to celebrate Juneteenth, as well as thinking about racism as a public health crisis. It also touched on some of Kendi's background, specifically how he merged his sports journalism major in undergrad with racial justice work. He'd ultimately earn his doctorate from Temple University in African American studies. 
With a nod to his local university ties, James asked what kinds of relationships prominent institutions such as Temple or Penn—and other colleges in urban environments—should have with their surrounding communities. 
"Well, it certainly should not be a colonial relationship," Kendi said, without hesitation. He added how important it is for professors to teach in their courses the structural policies that have led to certain outcomes (he used a class on food insecurity as an example), as well as diving into the structural solutions—and doing so in consultation with the community.
"This would allow students to not only learn about food insecurity but address the issues in their own backyard," Kendi said. "And if we were to do this as universities, at a larger level, that not only would be best for the learning environment, it would be best for the community."
For current and future business and political leaders who tuned in, Kendi provided his—albeit shortened version of—advice in making sure they support antiracism at the workplace, as well as in their personal lives. Describing the power that such leaders possess—to resist, to carry out, and to make policies—he said, "I would say, first and foremost, ensure that your organization, your company, that you are supporting policies that are antiracist, that are leading to equity and justice. And when your organization is not, take responsibility and change those policies as opposed to blame, let's say, people of color."
Responding to James' question about whether he thinks there will ever be a time race doesn't have to be talked about in the U.S., Kendi spoke of an analogy he has detailed before: The comparison between racism and cancer. He explained that even if we were able to "surgically remove racist policies from our body politic" replacing those policies with ones that are antiracist, he thinks we would still have to prevent, and regularly scan for, a reoccurrence of such "tumors of inequity and injustice." 
To conclude the discussion, James asked Kendi—who will soon turn 40—what he hopes the country will look like in the next four decades, to which he responded: "It's my hope we would finally and truly be free, in this case, free of racism." 
Kendi is able to stay hopeful, he said, "largely because I come from a tradition of people who believe the impossible is possible."