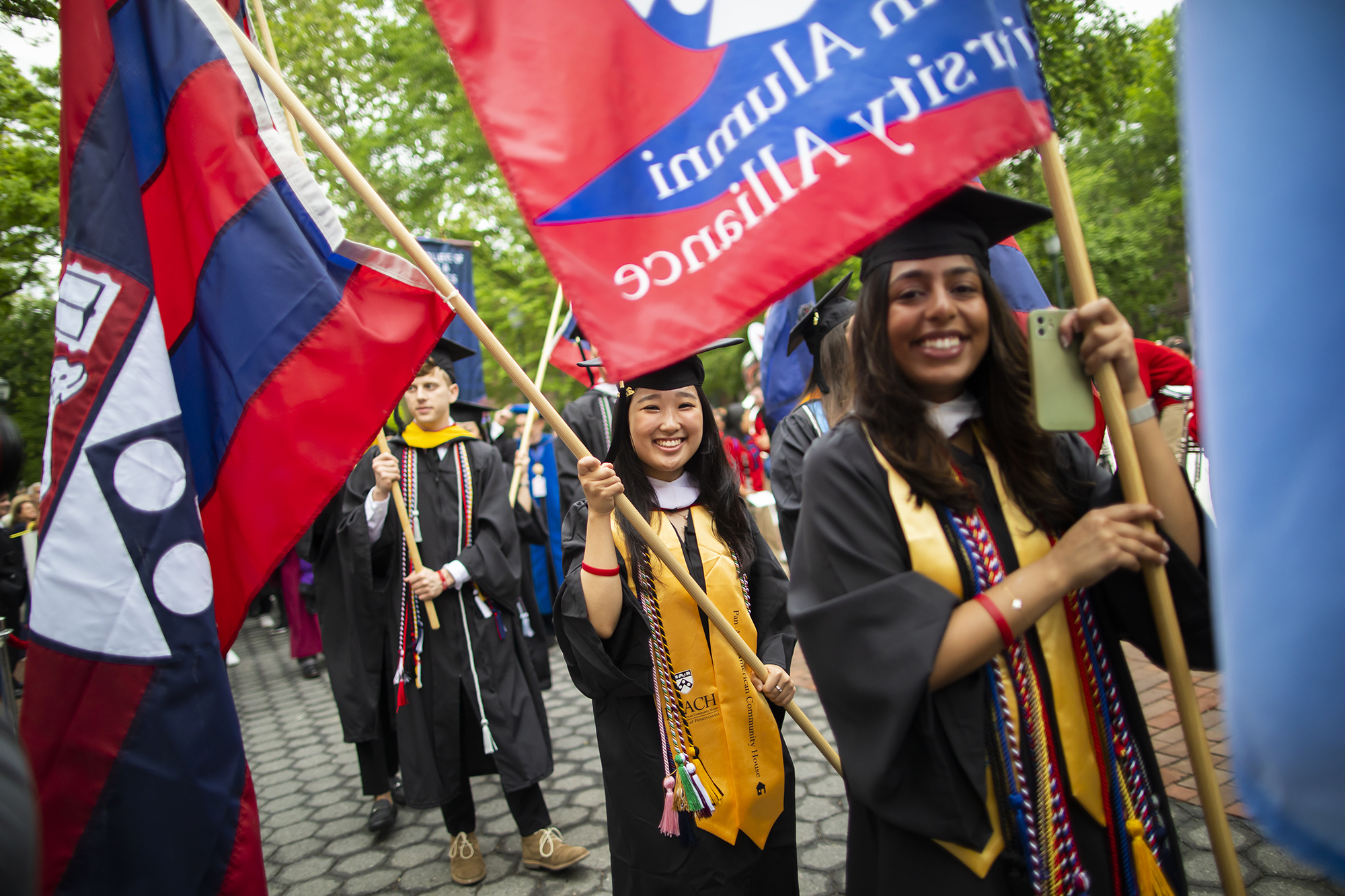 The University of Pennsylvania's 267th Commencement ceremony will be held on Franklin Field on Monday, May 15. Answers to most FAQs are at Penn's Commencement 2023 website. Here are facts and tips to help guide you through this year's ceremony.
Guests should be aware of the no bag policy and plan accordingly. In addition to bags, no artificial noisemakers (including airhorns or bullhorns) and no signs, posters, or flags are permitted. No golf umbrellas will be permitted; small collapsible umbrellas only will be allowed. A full list of prohibited items can be found on the FAQ page.
 
This year, due to added security requirements, the gates to Franklin Field will open at 7:00 a.m. for all guests. Every person entering Franklin Field will be subjected to an airport-style security screening, which will slow entry into the stadium. Note that only certain small items (including cell phones, wallets, and small clutches) will be permitted. A good rule of thumb: If an item does not fit in your pocket, please do not bring it with you.
 
Guests should use the south stands entrances to Franklin Field along South Street. Please plan to arrive early as there will be lines to get in. The stadium has outdoor bench seating. Seating for guests who use wheelchairs, as well as those with limited physical mobility or medical conditions, will be available both on the field and in the lower stands. Refreshments can be purchased at the concession stands once inside. No outside food or beverages can be brought into the stadium, unless it is for medical reasons.
 
Before entering Franklin Field, graduating students will assemble at 39th Street and Locust Walk starting at 8:00 a.m. for a procession across campus. The procession will begin at 8:30 a.m. The graduates will also have to go through a separate security check-point once they reach the stadium.
 
Faculty, staff, and friends traditionally gather along Locust Walk to watch and cheer the graduates. The Penn Band will also be performing from College Green during the procession.
Graduating students and alumni flag bearers will process into the stadium beginning at 8:45 a.m. The ceremony will officially start at 10:15 a.m. and end at approximately 12:15 p.m.
 
Tony Award-winning actress, singer/songwriter, producer, and author Idina Menzel will deliver the address at the 2023 University of Pennsylvania Commencement on Monday, May 15. She will receive an honorary doctor of arts degree.
 
An estimated 6,000 undergrad and graduate students will attend Commencement. According to data from Penn's Office of Institutional Research and Analysis (compiled as of May 8), 9,808 diplomas will be issued to approximately 9,240 graduates in the Class of 2023, some of whom are receiving more than one degree.
 
University Secretary Medha Narvekar will lead the academic procession carrying the University Mace, an ornate, four-pound staff designed in the style of maces of medieval knights.