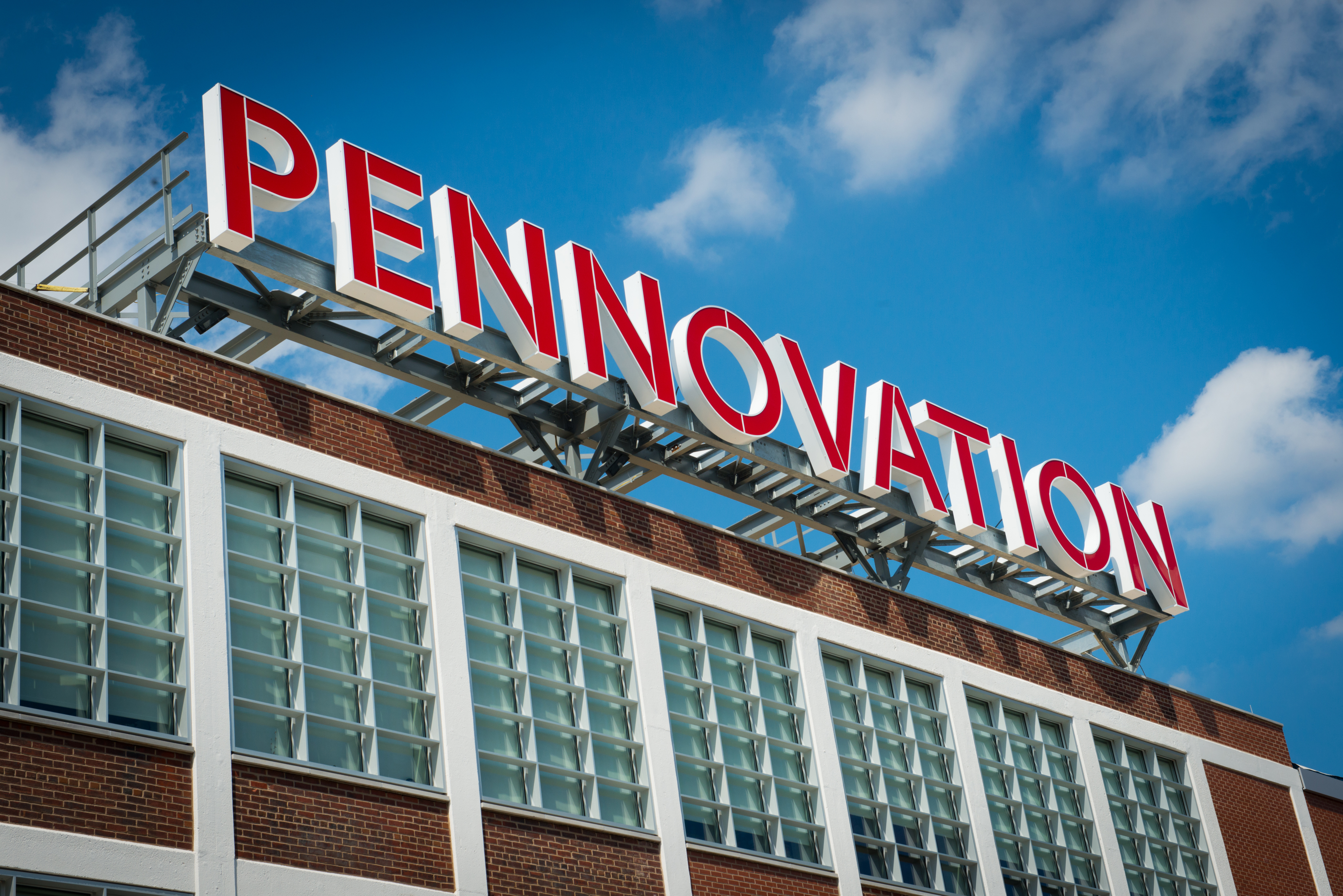 Situated on the east bank of the Schuylkill River, Pennovation Works is the University's 23-acre development site. An area of the city equipped for technology and innovation, it is home to the likes of the Penn Vet Working Dog Center, the Penn Design Studio, the Penn Dental Research Greenhouse, and the startup-infused Pennovation Center.
Surprisingly to some, the site—located in the Grays Ferry neighborhood of South Philadelphia—has always maintained this innovative spirit. Before Penn acquired the land in 2010, it was owned by DuPont, and before DuPont, it was owned by the Harrison Brothers. Rewind even more to the mid-1700s: A man named George Gray transformed what was merely farmland by starting a ferry service to cross the river.
"It's been a place of innovation for centuries," says Julie Donofrio, managing director of PennPraxis, the PennDesign's center for applied research, outreach, and practice.
Donofrio and Molly Lester, a research associate for PennPraxis, have been studying the Pennovation Works site's deep roots in groundbreaking invention. The duo will lead a Jane's Walk—"Paints & Patents: History of Innovation at the Pennovation site"—on Friday, May 4, at 4 p.m. The hour-long walking tour—rain or shine—will begin and end just outside of the Pennovation Center, at 3401 Grays Ferry Ave. (On-demand shuttle service is available for PennCard holders.)
"We'll be lifting up the stories behind this place, and connecting it to its surroundings," says Lester. "It's a great location, close to the river and the trail, and it's offered a lot of opportunities because of that."
Whether a headquarters of a chemical manufacturing company, home to a laboratory for paint production, or a testing ground for flying robots, innovation has surely served as a common theme as the area evolved. Donofrio and Lester, along with their team at PennPraxis, have worked for two years with Facilities and Real Estate Services to learn the ins and outs of the site's history, ultimately producing a report and providing recommendations to the University based on their findings. 
"This is a part of the city many Philadelphians are unfamiliar with," says Donofrio. "But, the reason it provides the perfect place for an innovation campus today, is because it has been serving this role for hundreds of years."
With the goal of sharing their findings with as many people as possible, Donofrio and Lester knew it would be a no-brainer to host a Jane's Walk. The weekend-long, annual program takes place worldwide, offering free, citizen-led walking conversations inspired by urbanist and activist Jane Jacobs. The Philadelphia chapter also happens to be led by Ashley Hahn, a PennDesign alumna.
"Jane's Walks are intentionally relaxed," notes Lester. "They're meant to be an outlet for conversations and questions." She says she hopes neighbors will join—sharing their own stories about the recent history of the neighborhood.
Donofrio and Lester have also recently established the Pennovation Works site on Discover Penn, the University's campus-wide cell phone tour. It is aptly narrated by Anthony Sorrentino, assistant vice president in the Office of the Executive Vice President, who Lester says has served as an adviser throughout their research into the Pennovation Works site's history. (The message can be heard by dialing 215-525-1562, 18#).
"As you stand in front of the Pennovation Center, take a look around the whole Pennovation Works campus around you," reads Sorrentino. "Did you know that nearly 50 patents are thought to be associated with research conducted on the site you're standing on right now?" 
This type of work fits perfectly with PennPraxis' mission of community engaged design, notes Donofrio. 
"How this historical research translates into the neighborhood, and how the community is involved in sharing these stories of heritage, we trust that those will resonate as a way of bringing people together," she says.