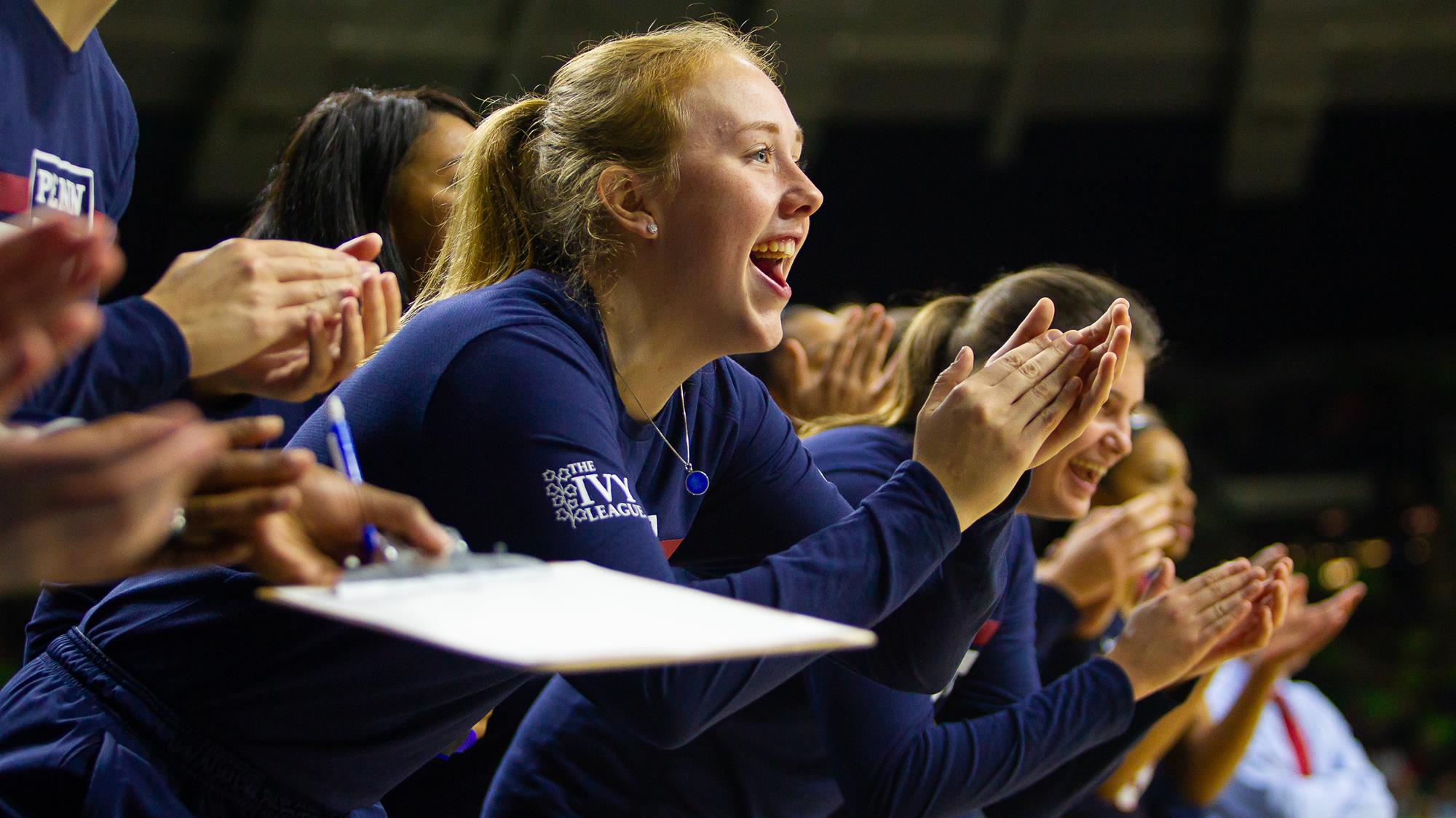 [Liz Satter is a senior forward on the women's basketball team. From Glencoe, Illinois, she is an economics major and a digital media producer at Penn Athletics. This article, which she authored, originally appeared on the Penn Athletics website.]
My experience as a student-athlete at Penn has been full of momentous, extraordinary, huge moments that will stay etched in my memories forever.
Freshman year, my team won the regular-season Ivy League conference title, won the inaugural Ivy League Tournament at the Palestra, then flew across the country to compete in NCAA March Madness at UCLA. Sophomore year, we traveled to Bimini, Bahamas over Thanksgiving to compete in the Junkanoo Jam, won the Big 5 title, competed in the Ivy League Tournament and played in the WNIT Tournament. Junior year, we traveled to Spain and France in August to compete against international teams, won another Ivy League regular-season title, competed in the Ivy League Tournament and played another post-season in the WNIT. Senior year, we played Duke in Cameron Indoor Stadium over Thanksgiving break and traveled to Hawaii for New Years.
While all of those moments were incredible, when reflecting on my past four years, I find myself reminiscing on the little moments that transformed Penn basketball and all of Penn Athletics into a second family.
Moments like sitting in the locker room, laughing so hard at something silly with my best friends or trying so hard to figure out what practice was going to be like based on what Coach McLaughlin was wearing that day.
Walking into the training room, knowing my treatment would take 20 minutes but being fully aware that I would be in there for at least an hour chatting with the trainers and other athletes.
Knowing I could walk into Houston Hall anytime between 11:00 and 2:00 and that at least seven other athletes would be congregated in the middle section, taking over way more tables than necessary.
Seeing someone walk into lecture wearing Penn gear or pull out a blue Powerade bottle, feeling relieved that another athlete was in the class.
Waking up before the sun, trudging down Locust in the early morning light for lift and conditioning before class, and getting rowdy as we pushed each other through chain squats and negative pull-ups.
Heading over to the Athletic Communications/Marketing suite for my work-study job, which entailed stopping to chat with Rhonda Kirlew in the Dunning Coaches Center first and then hearing the familiar Christmas-bell jingle as I opened the communications office door, ready to fill the Communications and Marketing staff in on my latest life drama.
Cheering on and supporting other teams, whether it be at, or streaming, their games or shouting words of congratulations as we pass each other on Locust.
Feeling excited on game days, not only for the game itself but the motivating pregame speeches from the coaches, the dance circle and watching the hype video, acting like it's the first time we've seen it even though we all have it memorized.
Motivating each other in practice, constantly working to make each other better people on and off the court.
Traveling across the country and around the world, fortifying relationships through new opportunities, six-hour bus rides, and stops for ice cream after away games.
Lacing up my basketball shoes and stepping onto the historic Palestra court in the early Sunday mornings, getting shots up because the familiarity of the gym always made me feel better.
I could go on and on about the little moments. Just as progress is made little step by little step, building the supportive, family-like atmosphere I experienced at Penn was built little moment by little moment. Without knowing it, these little moments created relationships that I am going to cherish for life. Every single one brings a smile to my face, reminding me that regardless of where I end up, I will always have a home within my family at Penn Athletics.