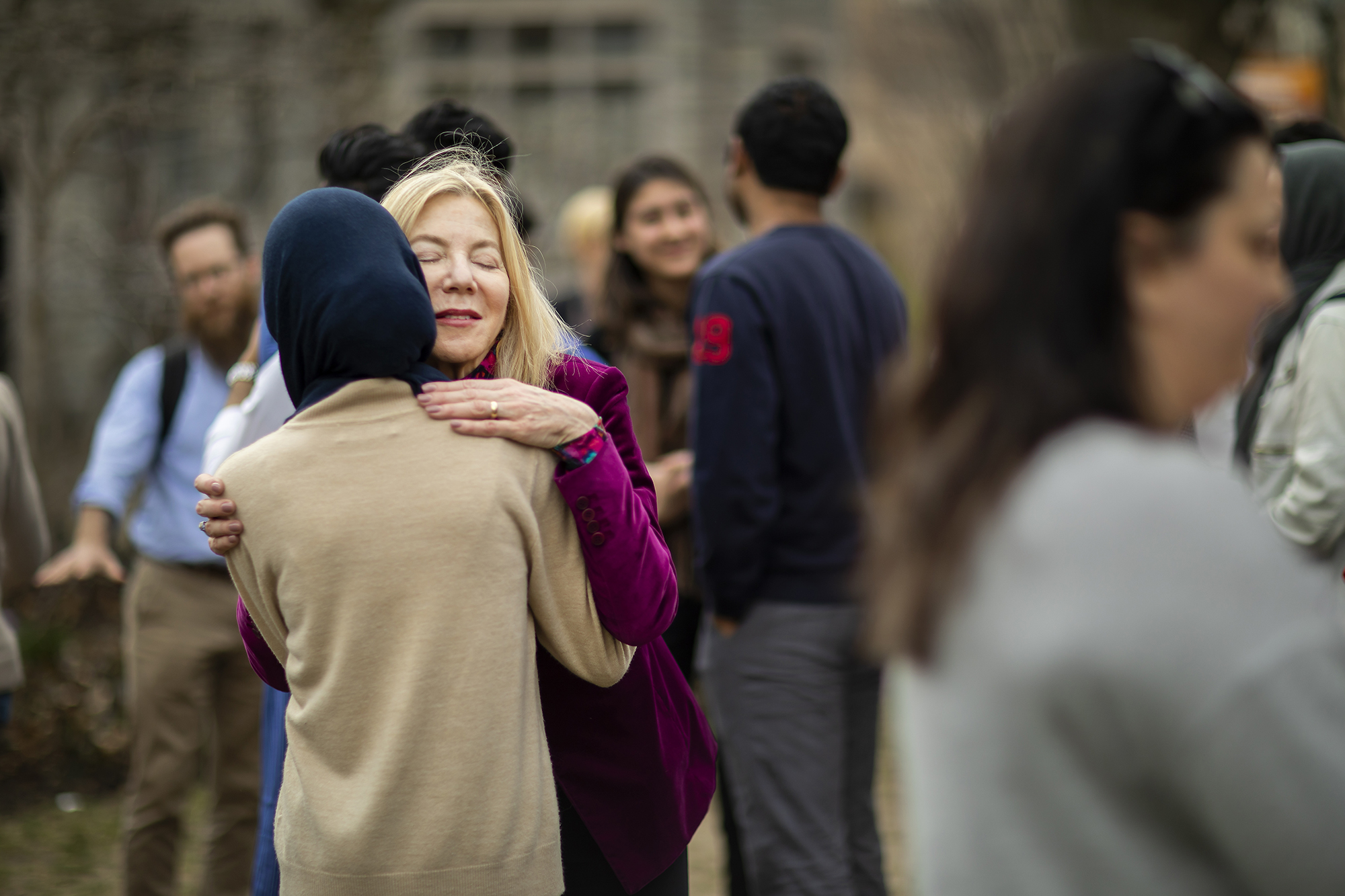 Penn faculty, staff, and students woke to tragic news Friday, as 49 innocent Muslim lives were brutally taken in an attack at two mosques in New Zealand.
But as dark as the day began, the unexpected spring-like weather in Philadelphia—joining more than 100 folks of all walks of life for a vigil next to the LOVE statue on campus—bred hope.
"I have hope that as we grieve and as we hold each other, I still think a better road is coming," said the Rev. Chaz Howard, the University's chaplain. "Because of you."
People of different faiths, colors, ethnicities, nationalities, and ages stood close together in disbelief and sadness, praying for those who have died and were injured, and wishing for a brighter future.
"We join the families of the slain and the wounded in their pain, their grief, and their outrage," said Penn's President Amy Gutmann. "We know that when bigotry and hatred strike the heart of one community, bigotry and hatred strike each and every one of us. We know that this vigil for our Muslim sisters and brothers is sadly only the latest, and we wish with every fiber of our being that never again will there be a need for another vigil.
That this will be the last."
The tears were painful, the silence was telling, and each hug shared seemed to last a little longer than normal.
Tafshena Khan, president of the Penn Muslim Students Association (MSA), thanked Gutmann and Provost Wendell Pritchett and other Penn community members for being there, and spoke about the importance of having faith during such a heartbreaking time.
"There's a saying from the Prophet, peace be upon him, the example of Muslims and their mutual love, mercy, and sympathy is like that of a body," Khan said. "If one of the organs is affected, then the whole body responds with sleeplessness and fever. May we be of the compassionate and the merciful and extend a hand to all those who need it."
The vigil offered additional remarks from other students within MSA, as well as Penn Muslim Chaplain Patricia Anton, Campus Minister of the Christian Association Rev. Megan LeCluyse, and Rabbi Josh Bolton of the Jewish Renaissance Project at Penn Hillel. A special rendition of Adele's "Make You Feel My Love," was beautifully performed by singer and songwriter Dania Hallak, who graduated from the College of Arts and Sciences last year.
"Music is one of the best ways to heal," Hallak said.
Gutmann, speaking passionately, reaffirmed that "hatred has no place anywhere, and no home here."
"Penn is a family," she continued. "All humankind is a family. I say this and I ask that we all say this from the bottoms of our hearts and the top of our mind each and every day. With all our might we must hold on to these words of wisdom from the Prophet that true faith is at its very core a restraint against violence and against hatred."
Gutmann addressed how Anti-Muslim speech and actions are on the rise; intolerance and bigotry emboldened.
"Some public leaders and social media sites spew inexcusable, hateful, bigoted rhetoric," she said. "Despite it all, we will persevere together."
"We hold out for better days to come and we will always hold tightly to one another," Gutmann said. "We will hold tightly to one another in solidarity, in peace, in love, and across all faiths and all communities around this world."