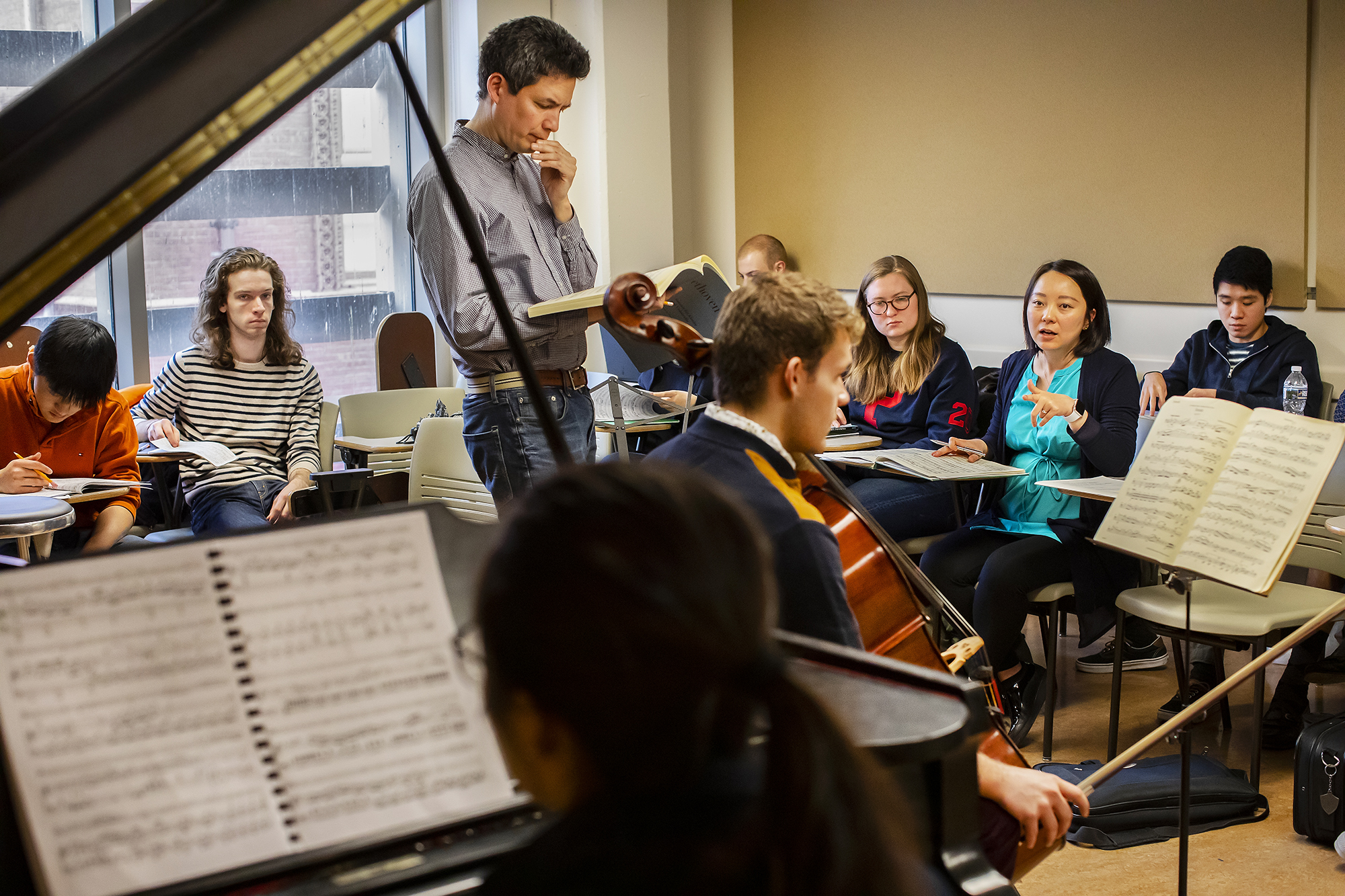 As the bow dances over the four strings of his cello, sophomore Justin Blum concentrates while playing several measures of a Beethoven sonata. He is seated in front of 16 other undergraduate students in this Penn music course who are following along on the printed score. 
Also watching and listening are professional cellist Tom Kraines, a member of the Daedalus Quartet, and pianist Yu Xi Wang, a Penn piano instructor and director of keyboard studies at the Curtis Institute of Music. 
"Justin, this time the bow didn't really speak. Do you start with the bow on or off the string?" Kraines asks. "I would tend to start on the string. If I start on the string, I always know what I'm going to get." 
Students get more than performance instruction in Music 236. Taught by Jamuna Samuel, this academic/performance hybrid also includes history and analysis, focused on the music of one composer. Working with music professor Anna Weesner, Samuel created the course, inspired by a class she took when she was a student at Yale University, with an emphasis on developing the collaborative aspect. 
"It is a dynamic exchange in which we are all learning really every minute," Samuel says. "It is amazing, even little things like bowing and articulations and transitions, these seemingly mundane little things are really powerful in understanding the musical work." 
Another member of the Daedalus Quartet, Min-Young Kim, worked with Samuel to design the course, as she was familiar with the approach from Harvard University. 
"All the students taking this class are extremely passionate and engaged in a very focused way. I know a lot of students love music and want to take that passion by exploring and getting into the mind of the composer, living and breathing the composer," says Kim. "Jamuna brings the students into the world of that composer; what that composer is thinking musically in the historical context would have influenced the way he created a work of art." 
This semester the focus was on the instrumental chamber music of Franz Schubert, although other pieces are also considered as a way to compare and contrast composers, such as the "Cello Sonata #1 in F" duet by Ludwig van Beethoven, played by Blum and pianist Jasmine Chen, a freshman from Sydney, Australia. 
Now in its third year, the spring semester course last year focused on Beethoven, and the previous year on Joseph Haydn. Plans are in the works to offer the course again next spring semester and may expand to other types of composers beyond classical, such as jazz or world music. 
There is no prerequisite to enroll, although all the students are musicians and an audition is required. Meeting for three hours on Fridays, the time is devoted to both performance coaching by Daedalus Quartet members and Wang and to academic study, taught by Samuel. "The goal is to have an even exchange," she says. 
The Daedalus Quartet members have been artists-in-residence in the School of Arts and Sciences since 2006. Various Penn music faculty have been guest instructors in the Music 236 course as well. "I think what's unique about our class is the collaborative aspect, among the performers, and Jamuna, and guests from the Music Department faculty weighing in," Kim says. 
"I love it," says Wang. "It's not often we have an ideal set up like this, where we can talk about theory and history and go in-depth with teaching each piece and performing." 
Sophomore Evan Jiang, a biology major who is planning to go into medicine, took the Beethoven course last year, and enjoyed the experience so much that he took this year's course. 
"Music is probably the most important extracurricular I have. Without music I wouldn't be the person I am today," says Jiang, from Chapel Hill, North Carolina. He plays the cello and is in the Penn Symphony Orchestra and a Penn Chamber Music quartet. 
"Playing the pieces, getting feedback on how you play, and also looking into how these composers composed, getting ideas about their compositional techniques, that's what interested me in the class," Jiang says. "It combines the nitty-gritty of analysis and in-depth looking into the piece and things associated with music concerts like playing and performing." 
Blum, from Dubuque, Iowa, is majoring in bioengineering in the School of Engineering and Applied Science and minoring in music. He says the course is "academically challenging," with assignments each week that are then discussed in class. 
"A lot of the readings help you develop skills you need to analyze the score to write about it. We have to do music theory and score analysis," says Blum, who has been playing the cello since he was 9. 
"I love the performance aspect," of the class, he says, adding that this is the first time he's played in an ensemble since high school. 
During the class, Kraines switched places with Blum, taking the cello to demonstrate, the bow popping off the strings in a rapid staccato. "His advice is really helpful," Blum says. "He catches a lot of things I don't even know I'm doing."  
In addition to the duo with the piano, Blum is playing in a quintet in the class. Each student in the course is in more than one grouping of pairs, trios, quartets and quintets. 
"There are different skill sets to playing in an ensemble and playing in an orchestra. In an ensemble you are more in charge of the end product; all the decisions you make with the music are yours," says Blum, who plays in the Penn Symphony Orchestra. "I think I've gotten better at trying to match the styles of the composers."
The class requires a lot of listening as each group performs and students are coached. And they have to work together in the performance groups and are expected to practice outside of class. 
"The music unites them," Kim says. "It creates friendships in the class around the music, which is wonderful to see, and what they will take beyond college." 
Junior Brittany Xiao, a violinist and an urban studies major from Sugar Land, Texas, has become friends with sophomore Chitose Wakamiya, who plays the viola and is an exchange student from Waseda University in Tokyo, taking classes at the Wharton School. They were part of a quartet in class, which learned and performed Schubert's "Death and the Maiden."
"It was through this class that we really got to know each other," says Xiao. "Even though it is a class, it doesn't feel like a class. It's a friendly atmosphere."
Xiao says she likes the different perspectives in the course and the focus on one composer. "I feel like I know Schubert like the back of my hand," she says. "I think it really helps with playing." 
Assessment will be based on a final concert, Samuel says, including notes the students wrote for the performance program, as well as an analysis of one of the works they performed. "It's all preparation for that final paper on Schubert, when their voice will emerge," she says. 
"My definition of success is for the students to be engaged on many different levels with the music and to understand more and hear more in the music," Kim says, "not necessarily how well they are playing but how their appreciation deepens."