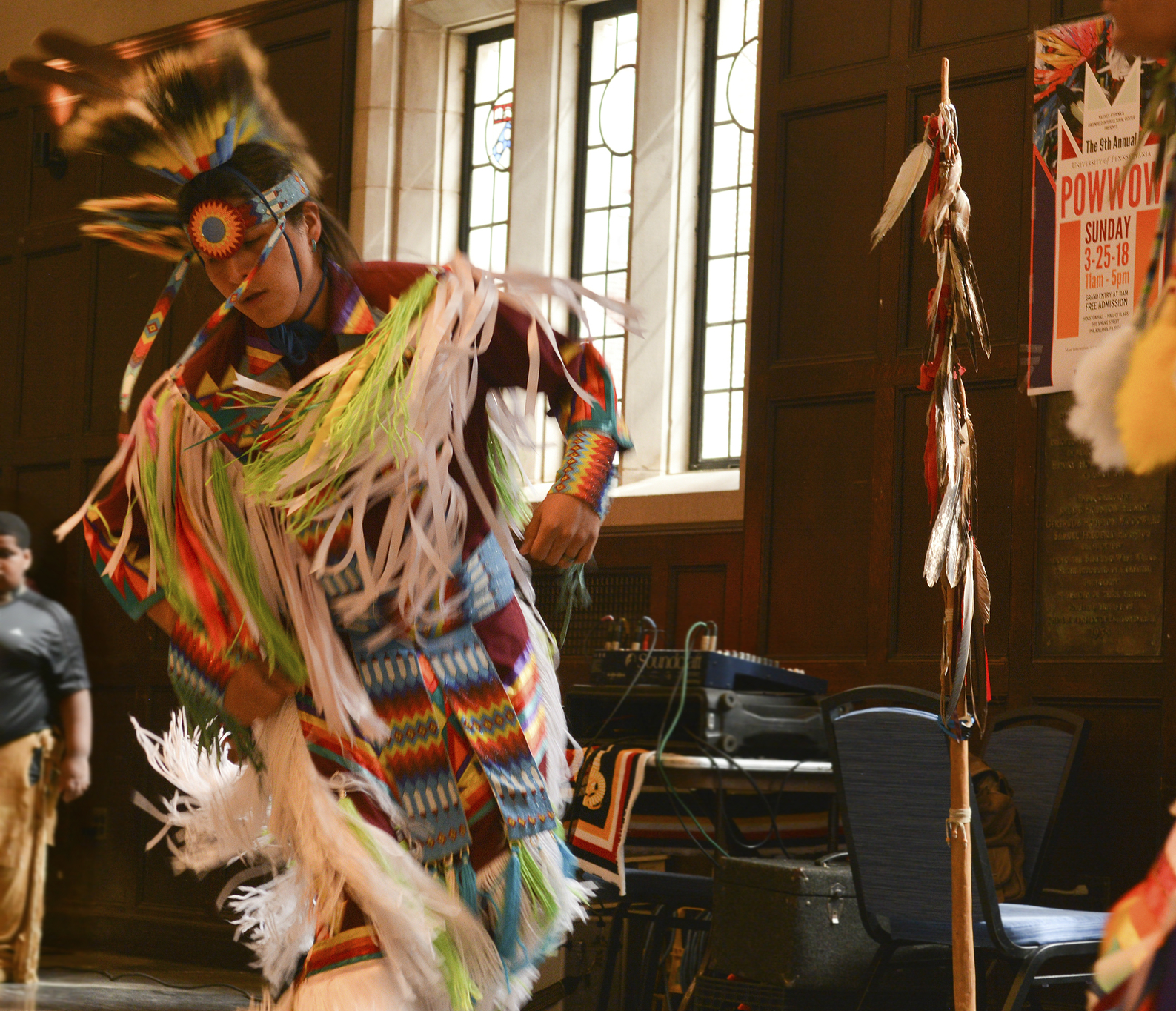 In a widely shared Lenape creation story, a turtle is summoned by the Creator out of the deep water to become an island home from which life grows: trees, roots, and branches, and from there the first man and first woman. In a quiet corner of Penn's campus, this story is celebrated through a turtle-shaped garden, a nod to Penn's Native community which dates back to 1755. 
Natives at Penn (NAP) helped to create the Lenape garden. They teamed up with the local Lenape community, the Association of Native Alumni, along with Facilities and Real Estate Services, and University Landscape Architect Bob Lundgren, to plant the seeds of historic reflection and future growth. 
Through the garden and other activities, NAP has altered the University's cultural landscape during its nearly 25-year history.
Formerly known as Six Directions, Natives at Penn is a student-run organization that creates awareness of Native culture, history, and contemporary issues, and enhances the visibility of Native students. Founded in 1994 by Bryan Brayboy and Desiree Martinez, it has established a supportive community for Native students, staff, and alumni at the University of Pennsylvania, along with neighbors throughout the tri-state area.
"I am exceedingly proud of the momentum that NAP has built over the years," says Valerie De Cruz, the director of the Greenfield Intercultural Center (GIC). "With the help of the Association of Native Alumni (ANA), they have worked hard to build a vibrant community and helped educate the campus by showcasing strong cultural traditions through student conferences, spoken word events, film screenings, and powwows." 
Considering the GIC's mission of fostering intercultural understanding and awareness among Penn students, the Lenape garden in its backyard was a natural fit–helping to share the story of the Lenape people. Unveiled in 2013, it features signs identifying the Lenape name of each plant and herb, along with an explanation of how they are used, the garden is lined with indigenous shrubs, trees, and perennial flowers the Lenape use for medicinal and culinary purposes. 
"Honoring the creation story with a garden represents core Lenape motifs: the body's inherent connection to the sacred earth," says alumna Caroline Kee, the former co-chair of NAP. "It balances the health of students, both Native and non-Native, while acknowledging the surrounding and underlying Lenape homeland. It is also a place to relax, socialize or take a moment to pause and reflect." 

NAP works with University officials to increase awareness of cultural concerns and coordinates with Penn's Office of Admissions to assist with student recruitment.
For Tina Fragoso, the associate director of admissions and a member of the Nanticoke Lenni-Lenape who has been actively involved with Natives at Penn for about 13 years, the garden stands out as one of NAP's major achievements with symbolic meaning and also helps to identify Penn as a place that respects Native traditions.
"It's a tranquil, ceremonial space," Fragoso explains. "You can sit near the turtle, where it's a quiet, peaceful place that doesn't feel like you're in a city. You get to be in a sacred space: a home where you go to pray.
"Gaining more visibility on campus also gives Natives the opportunity to make meaningful change. We are creating a different type of legacy and bringing in Native students," Fragoso says. "They're changing the fabric of Penn – just by having a presence here."
The Native community has seen substantial growth in the last decade, yet it remains a small portion of the overall student population. 
Members of Natives at Penn are from tribes such as Nanticoke Lenni-Lenape, Oglala Lakota, Navajo, Cheyenne River, Sioux, Micmaq, Choctaw, Miskito, Washoe, Mescalero, Apache, Lenape, Cherokee, Potawatomi, San Ildefonso Pueblo, Zuni Pueblo, Tiwa, Delaware Tribe of Indians, Penobscot, Ceroenhaka, Yaqui, Taino, Lumbee, Tepehuan, Blackfoot, Inupiat, Chickasaw, Ojibwa, Seminole, and others.
Fragoso says including Natives in formal activities on campus is another way of recognizing their history and educating the community. During the interfaith Baccalaureate ceremony, for instance, a Native student acknowledges that Penn's campus rests on Lenape territory and pays respect to local Indigenous people. Both Native and non-Native students advocated for this to become a part of the ceremony, she says. 
"It's important to acknowledge the cultural relevance and honor the Native communities," Fragoso says. "It builds respect and it's an acknowledgement that we're not extinct. We're a part of a continuous community."
As a part of the University's dedication to engagement, NAP collaborates with nearby tribes to plan activities for Native American History Month in November. It also provides a sense of belonging for students who identify as Native or Indigenous. 
Keturah Peters  graduated from the School of Nursing in May. She grew up surrounded by other Native people in the Mashpee Wampanoag Tribe in Mashpee, Mass., and found it tough to adjust when she moved to Philadelphia at first. 
"It was difficult to be in an environment where people did not understand how my culture and heritage were a huge part of my identity," says Peters, who later came across the supportive resources at GIC and NAP. She adds that despite its small size, NAP has had a powerful impact on raising awareness and building community at Penn.
"With the help of the GIC, we have been able to accomplish so much," says Peters, who played a major role in planning many of NAP's events, such as the 9th annual Powwow in March. 
Each year, the Powwow welcomes the community from the tri-state area to campus to experience both traditional and modern Native-American culture through music, dancing, and more. This year's Powwow surpassed previous attendance records, welcoming more than 250 campus visitors. 
Selected as the Mashpee Wampanoag Powwow Princess for 2012, she has been traditionally dancing for her entire life. Peters also has learned her tribe's traditions, language, and songs.
"I am proud that I have the opportunity to pass that along to younger generations," explains Peters, who invited drummers from her own Tribal community back home to be a part of this year's Powwow. 
"It was an honor to be able to dance at my last Powwow at Penn to the songs of my Tribal men," says Peters, who asked local tribes and non-profit organizations to participate. The Native community in Philadelphia does not come together often, but when it does, "there are amazing vibes," she says. 
"Penn resides on Lenape land and we acknowledge that as much as we can," says Peters, who adds that she's grateful for the Native community she's found at Penn, including Fragoso and Sam Garr, a rising sophomore in the School of Engineering and Applied Science from Warrington, Pa., who has been coming to Penn's Powwows since he was 11. Following in the footsteps of his older brother, Paul, who graduated in 2010, Garr joined Natives at Penn. 

"I've always felt a strong connection to NAP and it was one of the main reasons I chose Penn," says Garr, who spent months helping Peters to plan the Annual Ivy Native Council Spring Conference, "Navigating Two Worlds," held in early April. Welcoming more than 100 Native students from across the United States, the conference focused on issues facing Native students, barriers and success within higher education, and the ways in which today's students can make a positive impact on Indian Country.
"Being part of the planning process made it a meaningful conference that we are all proud of," says Garr, who was appointed as Penn's representative on the Ivy Native Council. "The GIC has been very supportive of NAP. We couldn't have had a successful conference without all the help from our GIC family."
"As Natives in Ivy League schools, we face similar challenges," Peters says. "It is important to share those experiences and support each other." 
Now a graduate, Peters hopes to find a nursing position closer to home. Eventually, she plans to use her nursing skills to help people in her Mashpee Wampanoag Tribe. 
"I hope to improve the health of Natives, especially in my community," says Peters, who wants to stay active with NAP, so she can help mentor other Native students, especially those who represent the organization's next chapter, like Garr.
He anticipates growing into a leadership role that will strengthen NAP's momentum in the future. Garr plans to steer NAP into the next decade and he's thinking big. Not only does he hope to see growth in terms of its membership, but he also wants to involve more students and members of the local community with the group's activities, broadening its overall engagement efforts.
Fragoso says these activities point to how the University has embraced the Native community.
"Part of Penn's Compact 2020 focuses on inclusion, which means including Native stories and honoring our ancestors," she says.
In addition to the work of the Native community, Penn also boasts more than 35 courses in 12 different departments that offer substantial Native American and Indigenous content, along with an Indigenous Studies minor in the field of Native American and Indigenous Studies, which launched in May 2014.  
"Now, students–Native or not–can come in and have the opportunity to study in that field," says Fragoso. "It's important for Natives to be here and succeed in academic spaces. With each class of graduates, their success has created a pathway for the next student."
_________________________________________________
Native people have always been a part of the University, dating back to 1755.
The first Natives to attend what became the University were two brothers, Jonathan and Philip Gayienquitioga, who were members of the Mohawk.
In 1847, Robert Daniel Ross, a Cherokee, became the first Native to earn a medical degree from Penn. And, social organizations bringing together the Native community date back even further than Six Directions.
In the early 1920s, "The American Indian Club" provided a venue for making connections while sharing their culture and heritage with other students.
_________________________________________________