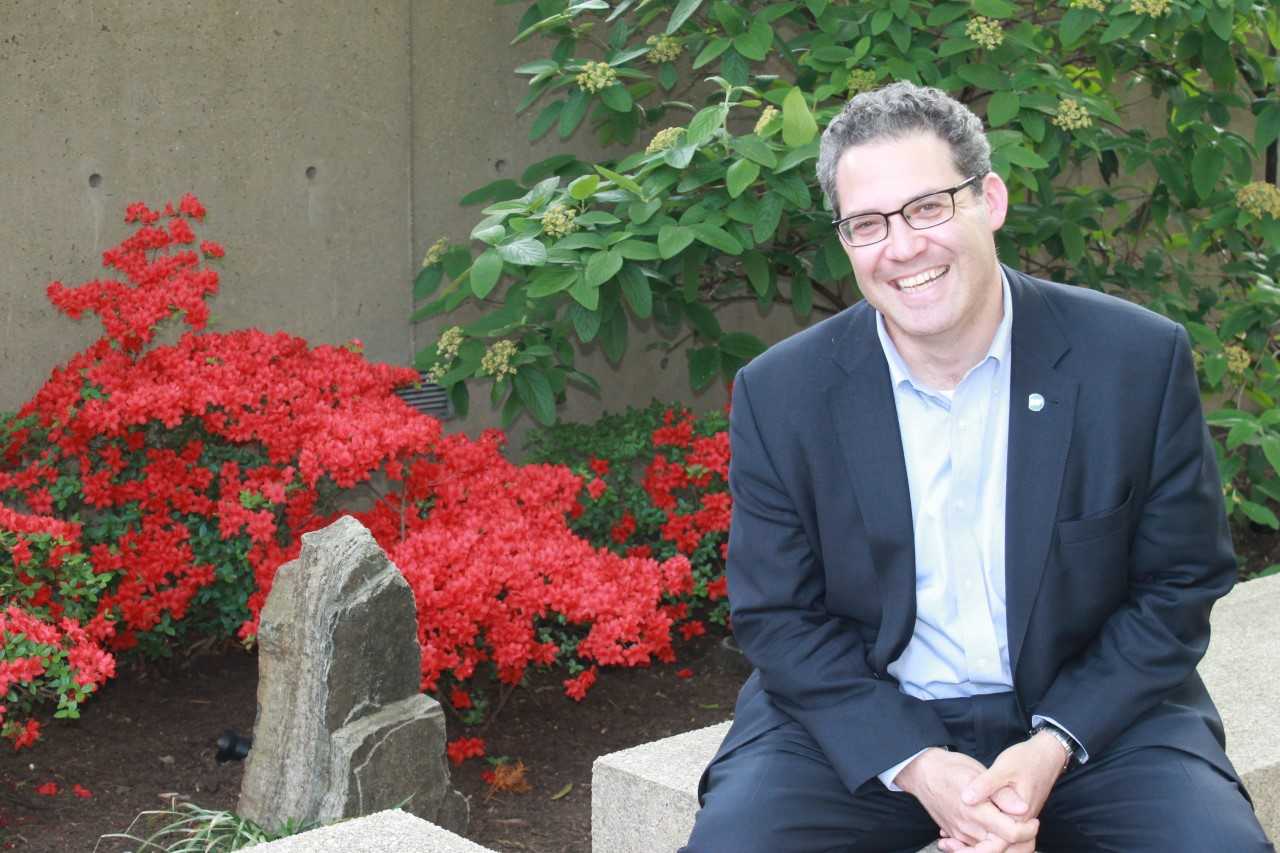 The storied International House Philadelphia, grazing the northern end of campus at 3701 Chestnut St. as a home for 1,122 international residents, adds a new leader to its more than 100-year-old history this summer. Josh Sevin, former executive director of the Economy League of Greater Philadelphia, will step to plate as the nonprofit's president and CEO.
Sevin, a longtime University City resident, says he sees the new role as a chance to refocus on the organization's fundamentals—but with a modern, growth-minded perspective. "I'm doing a lot of thinking about going back to this organization's core values, which were around internationalism, mutual understanding, respect across cultures, being a gathering place—a literal, physical hub for people of diverse cultures and perspectives to come together," Sevin says. "Looking at today's Philadelphia, I've been thinking about, 'What are the greatest needs that build on those foundational values?'"
Historically, International House has a legacy of catering to international students who have had a challenging integration into American culture. As the story goes, the independent organization's roots took shape when Rev. A. Waldo Stevenson encountered a group of Chinese students on Penn's campus in 1908 and, flabbergasted that they had yet to make an American friend, began hosting international students at his apartment on Friday nights for entertainment. When the thoughtful sentiment turned formal and became International Students' House in 1918, then under sponsorship of the Christian Association, the facility surfaced as a space for not just services to combat maladjustment, but a place for recreation and congregation.
Generally speaking, Sevin wants to focus more on place-making, integrating immigrants who plan to stay long-term, and cultivation of international business. In a practical sense, that might mean a colocation approach at International House, offering temporary living and office space to a firm expanding to the U.S. and, by extension, giving residents easy access for services or employment. He's also interested in encouraging retail move-ins like the Nom Nom Bowl poke bowl restaurant that recently opened at 3701 Chestnut St., as well as boosting programming and social amenities through attractions like pop-up beer gardens.
"Too often the reaction [from passersby] is, 'I didn't realize what was beyond that wall,'" Sevin says, pointing to a slab of concrete that separates street traffic from International House's courtyard space. "We're looking at opportunities for more events, ways to activate [the space]." These community-oriented features are what Sevin hopes will give the nonprofit an edge, even as state-of-the-art housing developments continue to spring up around the nearly 50-year-old building. "What we've always sold is that community experience for people looking for that real mix of international experience," he says. "That's our niche and we look to keep articulating that value and asserting it.
"We don't view this as real estate. This is about community."
Any changes are especially significant to Penn in that 40 percent of International House residents are students at the University, housed among the building's 14 floors and 379 rooms. The building also houses Penn Global, various programming events throughout the year, and, of course, the Lightbox Film Center—which has become a staple for any film student looking to brush up on repertory film.
"As a resource for Penn students, I don't think it can be overstated how important [Lightbox] is not just for students interested in cinema, but any student serious about the humanities, who can find a lot to connect with here," says Jesse Pires, who curates the films at Lightbox.
Strategically, International House's film program—kicked off in 1977 as "The Neighborhood Film Project" for international screenings—was rebranded last year as a way to distinguish itself from the overarching International House brand to make it clear that the films are not just for students or the facility's residents. Sevin hopes to continue to leverage the allure of the theater's unique programming, and also continue to partner with Philadelphia institutions to produce film series. In the past, International House has partnered with Penn Cinema and Media Studies. Currently, they are partnering with the Barnes Foundation for its "Renoir" exhibit.
"We're really looking to build on the theater's legacy, and of course, in today's age, where there are so many entertainment and media options, it makes what we do even a bit more unique," Sevin says. "There's still that experience of all the reactions to a movie when you're in a theater together, and what we really think is unique is that year-round, high-quality repertory cinema, with top-of-class programs that speak to our mission of intercultural values, art, and more."
Case in point: Lightbox will soon kick off a centennial retrospective film series spotlighting Swedish director Ingmar Bergman, as well as produce an Ed Emshwiller exhibit—a U.S. filmmaker famous his experimental films and sci-fi illustrations—funded by a Pew Arts & Heritage grant. For Sevin, it all adds up to an exciting opportunity to reposition International House by doubling down on its foundational principles. With Penn in mind, he hopes to strike the right balance of serving a broader mission while complementing neighboring institutions.
"It's such an opportunity to pivot this organization in a new and exciting way—that was what drew me here," he says. "And I'll say that my work over the years on economic development in Philadelphia, thinking about the importance of our global identity, presence, and ties, I feel very strongly about that. I think it's the pathway for us to continue to be more of a world-class region."