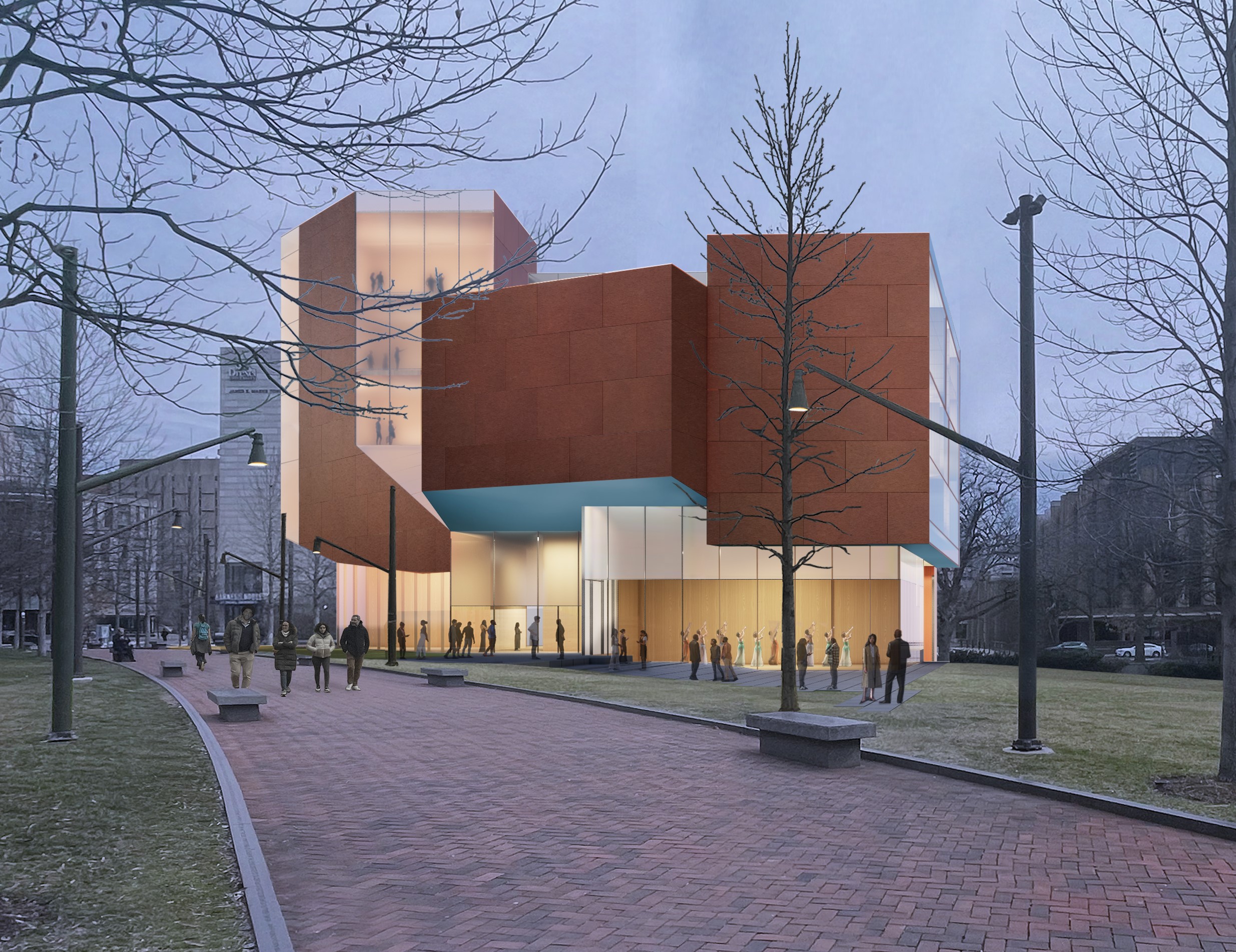 The University of Pennsylvania Board of Trustees have reviewed the design for a new $75 million, 37,300-square-foot Student Performing Arts Center, moving the project forward. The building will provide a dedicated, flexible, and modern facility for the University's student performing arts community, which includes dance, theater arts, a cappella groups, and musical ensembles.
Designed by New-York-based, internationally renowned Steven Holl Architects, the new Student Performing Arts Center will include performance, teaching, rehearsal, and practice spaces. The Center will be built within a prominent triangular site adjacent to Lauder and Hill College Houses and bounded by Woodland Walk and Jenny Holzer's "125 Years" text-based sculpture celebrating the history of women at Penn near 33rd Street.
"This exciting project will expand the existing spaces that help Penn's student performing arts scene thrive," says Penn President Liz Magill. "The new Student Performing Arts Center, together with Platt Student Performing Arts House, Houston Hall, Irvine Auditorium, the Annenberg Center, and a consortium of other spaces on campus, will support and amplify arts programming for students across Penn.
"The Student Performing Arts Center is made possible thanks to the forward-thinking leadership of campus partners from the Office of the Provost, University Life, and Penn Live Arts," Magill says. "Here at Penn nearly one fifth of undergraduate students are involved in performing arts and film and we anticipate the Student Performing Arts Center will maximize visibility of creative life on campus."
With more than 70 student performing arts groups, more than half of which are organized into the Performing Arts Council, the new Center will serve as a dynamic and flexible space for student groups for dance, theater, singing, comedy, and other artforms.
The proposal for the Center grew out of recommendations identified through a study completed in 2019 by University Life, which concluded that additional performance and rehearsal space was needed to meet current and future demand.
The design for the Student Performing Arts Center includes a 300-seat proscenium theater with full fly tower and orchestra pit, a 125-seat studio theater with flexible performance and rehearsal capabilities, five rehearsal studios, as well as performance support spaces and a loading dock. The main entrance will face Woodland Walk and its stacked rehearsal spaces will form a beacon of light and activity at the prominent University gateway facing 33rd and Chestnut Streets. The building will target LEED silver certification and serve as an exemplar of sustainable performing arts design.
"The design team led by Steven Holl has carefully composed a vibrant massing of trapezoidal forms lifted above a transparent glazed base that reflect a complimentary appreciation of the iconic Frank Furness designed Fisher Fine Arts Library," notes University architect Mark Kocent.
The Student Performing Arts Center is expected to begin construction in fall of 2024 with anticipated completion in winter 2027.