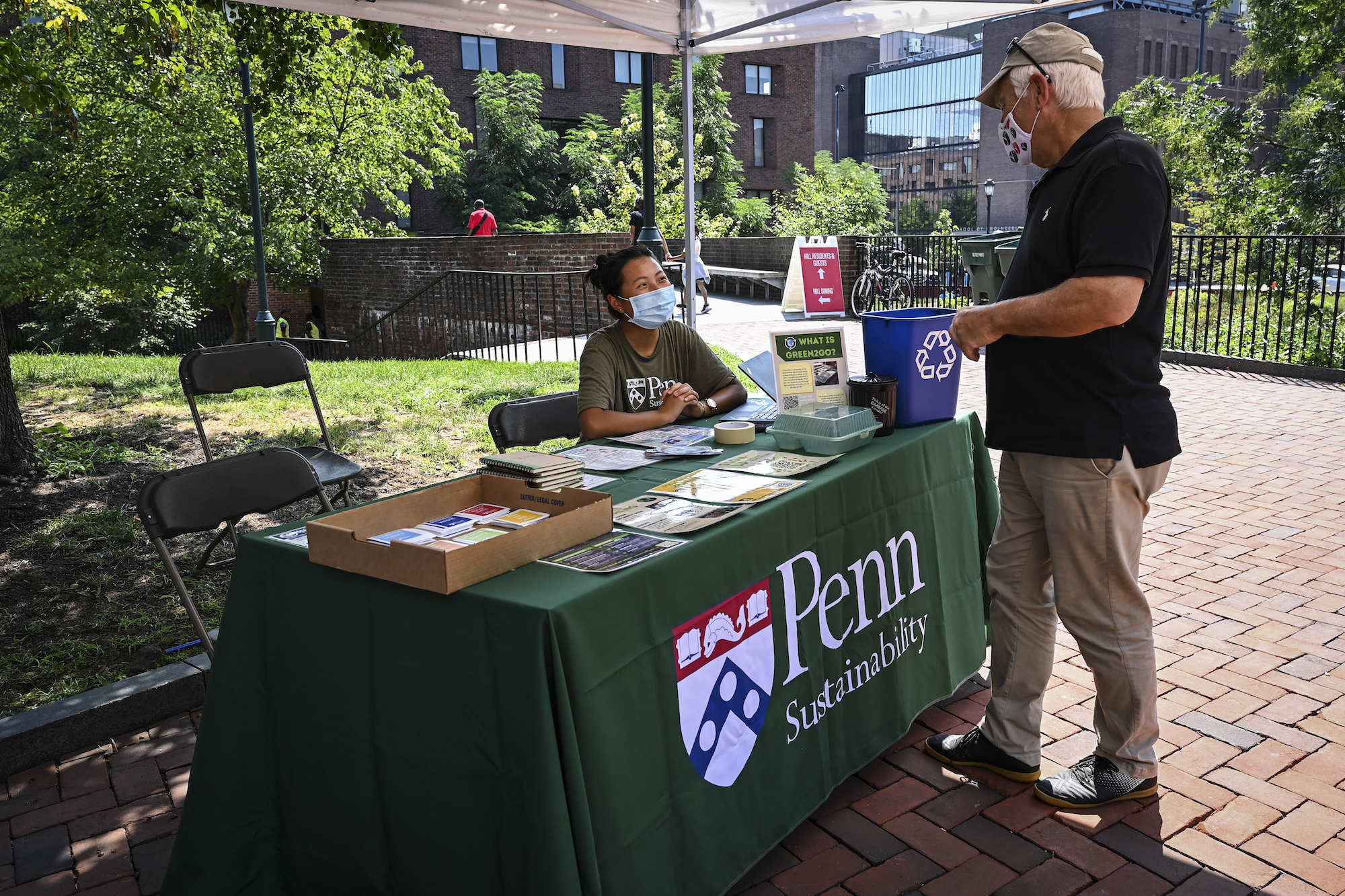 During the pandemic, sustainability has sometimes taken a back seat to public health, with disposable masks and gloves, plastic packaging, single-use food wrapping, and other garbage becoming an increasingly common part of life.
To address these new hurdles in the path of a greener campus life, Penn is continuing its long-standing environmental efforts while expanding others, many of them part of the Climate and Sustainability Action Plan 3.0. New initiatives to recycle personal protective equipment and flexible plastics and encourage reuse of to-go containers for meals on the run, for example, are among the ways that faculty, staff, and students can tamp down sources of pandemic-related waste.
"When it comes to sustainability work, we've had a good year in spite of the challenges," says Nina Morris, director of the Sustainability Office at Penn.
With many members of the campus community adjusting to life on campus for the first time and others readjusting after a lengthy time away, Morris and Barbara Lea-Kruger, director of communications and external relations for Penn's Division of Business Services, share key ways that faculty, staff, and students can make life on campus as low-waste as possible.
Expanded recycling
A major new initiative is the inclusion of flexible plastics in single-stream recycling for Penn-owned buildings on campus. In these buildings, faculty, staff, students, and visitors can place plastic shopping bags, snack bags, air bubble cushions from shipped packages, and more in the recycling bins, right along with the usual hard plastics, glass containers, paper, and cardboard. New signage will help users discern which materials can go in and which, like styrofoam, must continue to be kept out.
"The technology is incredible," says Morris. "There are very few limitations in what can be recycled. And the flexible plastics our waste hauler collects will be recycled into roofing materials and other products. We're excited to offer this to the Penn community."
For masks and gloves, millions of which have been delivered to Penn since the start of the pandemic, a partnership with Fisher Scientific and Terracycle has enabled labs to recycle these important pieces of protective equipment. Labs can assign a person to oversee the collection and recycling program and request boxes for recycling using information on the Sustainability Office website.
Green2Go
At the start of last semester, residential dining halls were only open for to-go meals, and COVID protocols required that food be prepackaged. But the Green2Go program, which offers reusable clamshell containers to students to take meals home, then bring back to trade in for a new, cleaned container, helped contain the waste.
This semester, though students are also encouraged to safely eat at residential dining halls and retail cafes if they choose, those preferring to carry out can rely on their Green2Go container. "We gave every student living on campus one of these containers, whether they had a dining plan or not," says Lea-Kruger.
"Students seem to really be getting comfortable with the concept," says Morris.
Food recovery and composting
Behind the scenes, food recovery and composting are key facets of how Penn Dining operates. For the last several years, the operation has partnered with local organization Philabundance to donate leftover food to shelters, according to Philadelphia Department of Health standards. Those efforts were paused due to safety concerns around COVID-19 but are in place once again.
"Food recovery is not only part of our sustainability commitment but also our effort to reduce food insecurity in our community," says Lea-Kruger.
Composting food scraps has also continued through the pandemic, with appropriate materials going either to on-campus digesters and composting devices or being picked up by external organizations for use as fertilizer on farms.
"Our staff has been trained to separate out compostable materials in the dish room to make sure we're not adding to waste unnecessarily," Lea-Kruger says. "Now that in-house dining has returned we can resume those efforts."
Greener getting around
While not new, campus shuttles, buses, and bike programs continue to offer members of the University convenient and low- or no-emissions alternatives to driving personal vehicles. The six Indego bike-share stations on campus make it easy to run errands or get to class on two wheels instead of four. Full-time faculty and staff who have or would like to use a personal bike to commute can take advantage of the Bike Commuter Reimbursement Program, which can cover up to $240 of bike-commute-related expenses each year.
In addition, the LUCY, PennBus East and West and FMC Tower routes, on-request shuttles, and walking escort services are among the many options for safe and efficient travel around campus, West Philadelphia, and parts of Center City.
For those who drive, Penn supports the use of electric vehicles with 12 electric charging stations on campus in three parking facilities.
Making waste reduction a part of daily life
Other long-standing campus sustainability efforts make it seamless to reduce unnecessary waste. Built-in water bottle refilling in many locations on campus make single-use plastic water bottles superfluous. And every student living on campus now has a recycling bin in their residential space, to help them recycle in their residential space from their first day on campus.
When hosting events with catered food or drink, Business Services offers a convenient way to keep the associated garbage to a minimum. An online database allows event hosts to search for caterers who commit to various levels of low- or no-waste food provision.
And to keep those sustainable practices going all through the year, those on campus who sought Green Office Certification are encouraged to recertify once they return to in-person operations. Those who haven't been certified are being encouraged to pursue certification for their offices.
Additional information about these and other greening efforts is available at the Penn Sustainability and Penn Dining websites.