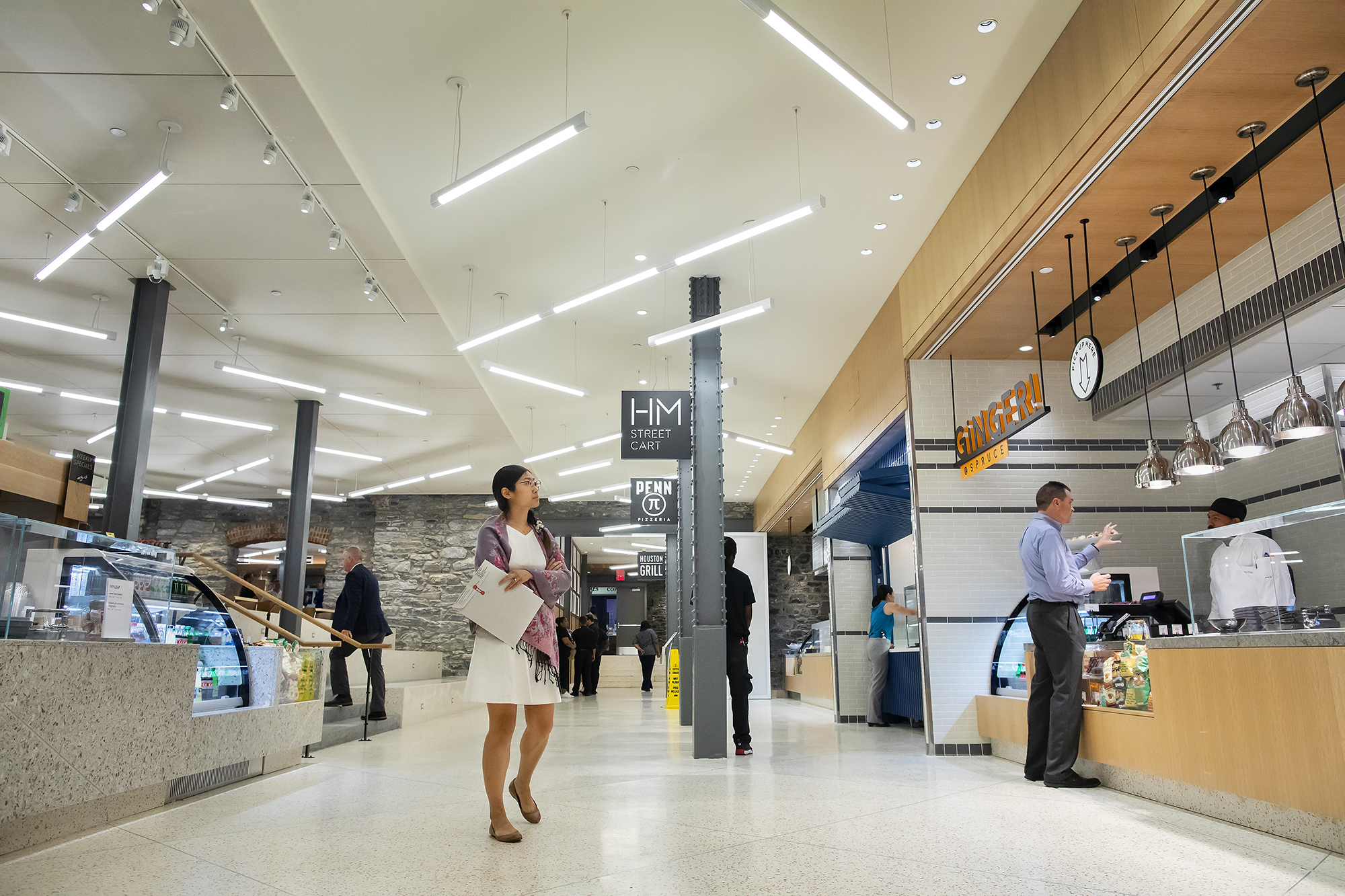 Sweet or savory, hot or cold—no matter what you're craving, Houston Market probably has it. Slated to officially re-open on Tuesday, Aug. 28, the enhanced space, in the lower level of Houston Hall, is serving up breakfast, lunch, and dinner like never before.
Years in the making, Houston Market underwent an entire summer's worth of renovations, ringing in at about $15 million, all while keeping the building's historic charm. It boasts revamped stations, a brighter, more comfortable and convenient atmosphere to eat and work, and extended hours for patrons—including on Saturdays. 
Pamela Lampitt, who oversees Hospitality Services for Penn Dining, touts the space—which hasn't seen major renovations since 1998—as a new and improved gathering place at Penn. 
"With the renovation, we kept in mind that Houston Hall was the first student union building, and as such is historically significant," Lampitt says. "But we also recognize that it's a hub on campus. What's great about Houston Market is that faculty, staff, students, the hospital, and the public all come to dine here. You really don't get this anywhere else. And we wanted to make sure the renovation also took into account the modern needs and taste preferences of all these diners."
Keeping students' unique scheduling needs in mind, new ways to order meals have been implemented—at the food stations; through the online ordering app Tapingo; or on kiosks, where users can browse each eatery's menu, as well as order and pay all in one place. All venues accept cash, credit, Dining Dollar$, and PennCash.
Fooderies at the innovative Houston Market are a mix of old and new. Here's a glimpse into what's now offered:
Market Café: Open early and late, the Market Café features La Colombe coffee and local breakfast items, and two sizes of Capogiro gelato, and, for a pick-me-up, affogato—a scoop of gelato topped with a shot of hot espresso. 
Ginger@Spruce: A new restaurant at Houston Market, Ginger@Spruce is serving up Mongolian-style bowls of fresh, local vegetables with a variety of proteins, rice, and noodles. 
Ivy Leaf: Much more than just salads, Ivy Leaf has a Mediterranean twist, with falafel and hummus, as well as smoothies and soup.
34th Street Carvery: House-roasted meats and fresh breads make for beautifully prepared sandwiches, hot or cold. There's also homestyle meals—serving up eats such as roasted chicken, macaroni and cheese, and creamed spinach.
HM Street Cart: Globally-inspired eats change weekly at HM Street Cart, which offers hot and chilled grab and go items for those on the run.
Houston Grill: Offering a variety of burgers along with sauces and toppings, the style has been reinvented, with an entirely new menu.
Penn Pi: The can't-be-forgotten pizza spot, Penn Pi offers pizza and flatbreads, and a seasonally changing, tossed-to-order pasta bar.
Bento: The former Sushi Do, Bento not only has a new name but also new menu items, including traditional sushi and sashimi, ramen bowls, rice bowls, and hand rolls.  
All of the food items are prepared from scratch, says Bill Hess, the resident district manager of Bon Appétit, which manages all of the eateries except Bento. "We don't use premade dough for pizzas, our salad dressings are from scratch, and so are our soup stocks." 
Bon Appétit also focuses on local purchasing and locally crafted ingredients, adds Hess.
"For example, La Colombe and Capogiro are both local," he says, "and our bakery items are from Balthazar in New Jersey, and High Point Bakery, which is in Philadelphia."
Lampitt notes that many of the same employees who worked at Houston Market before have returned, and are excited about the new environment. 
"They've come back and are working in a fresh redesign, which produces a lot of good energy," she says. "When we renovated Hill House and prior to that it was New College House, we experienced the same kind of energy. For these employees who serve our community, for them to be excited about the environment they are working in makes it a welcoming environment for our patrons."
Houston Market is open Monday through Thursday from 11 a.m. to 7 p.m., Friday from 11 a.m. to 5 p.m., Saturday from 11 a.m. to 3 p.m., and Sunday from noon to 7 p.m.
The Houston Market renovations were led jointly by the Division of Business Services and Vice Provost for University Life. The renovations were part of a larger project that included work on Penn Commons and Houston Hall South patio replacement.