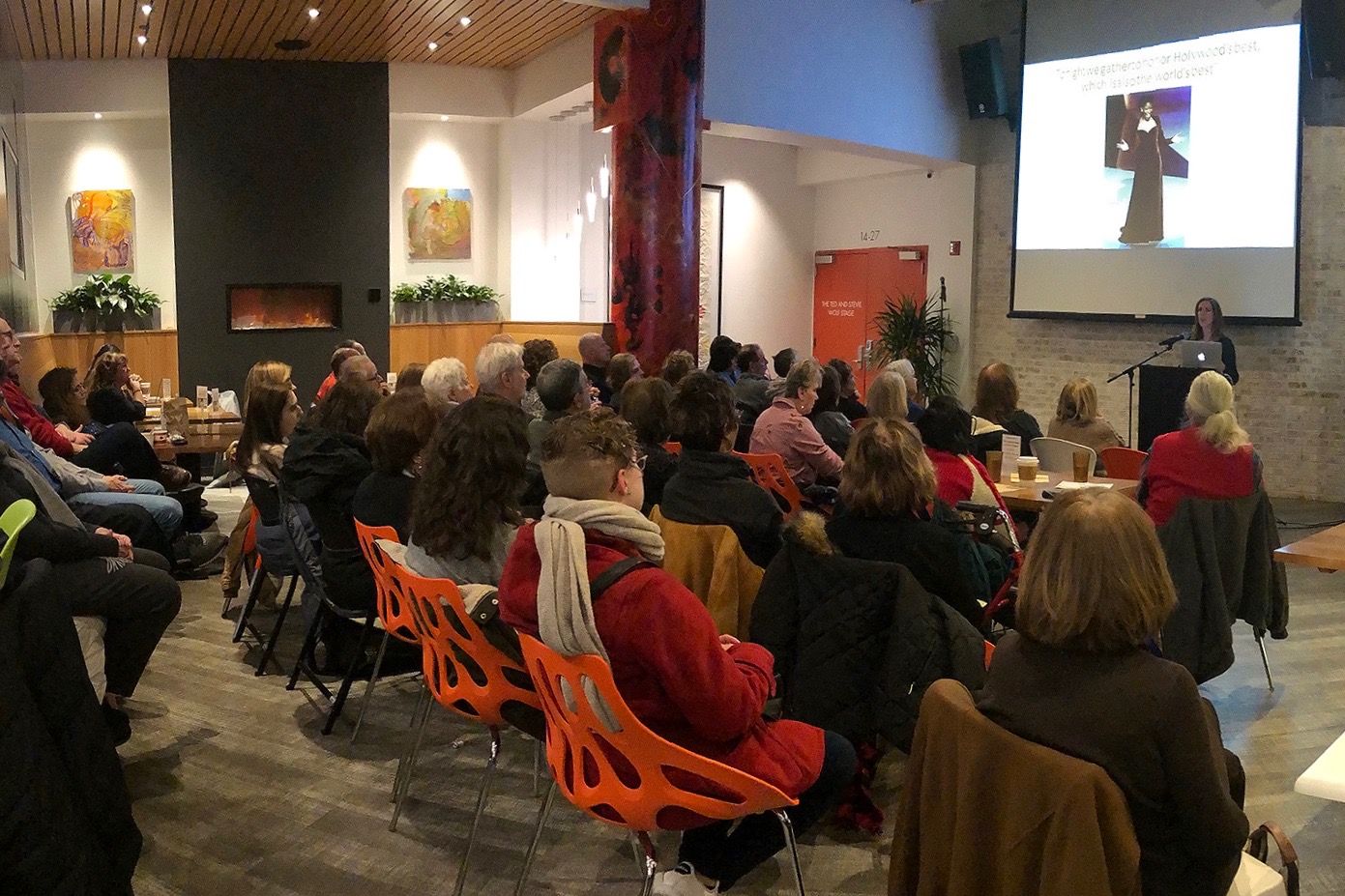 Nominated for 10 Academy Awards this year, "Roma" is a Spanish-language, black-and-white film set in Mexico and based on the childhood of director Alfonso Cuarón. Not only is the film nominated in the most-coveted categories, it is considered a leading contender. 
The popularity of "Roma" and its embrace by the Academy shows that Hollywood is becoming more open toward non-English language films. The designation "foreign film" is changing as cinema becomes more global, said Meta Mazaj, a Penn senior lecturer in Cinema Studies, speaking Tuesday at the Lightbulb Cafe sponsored by the School of Arts and Sciences.
"I find it encouraging that the difference between foreign-language film and the other categories has been slowly breaking down," she said to a crowd of about 65 at The Wilma Theater. "A film like 'Roma' this year is being nominated for everything."
The 91st Academy Awards will be broadcast live Sunday at 8 p.m. 
Among the Oscar nominees is a documentary short film, "Period. End of Sentence." that was co-produced by Penn sophomore Claire Sliney. "We are cheering for that one," Mazaj said. "I actually think it has a chance." Other Penn Oscar connections this year include alum Marc Platt, who produced the Disney musical "Mary Poppins Returns," nominated in four categories. 
Mazaj, who has been teaching at Penn for 12 years, said she is placing her bets on "Roma" to sweep several categories, including best picture, best cinematography, and best foreign-language film, as well as best director for Cuarón. 
"I think Academy voters tend to go for something more artistic, something that has a healthy dose of politics but that is not too controversial. I think 'Roma' checks all the boxes," Mazaj said. "And it is a stunning, stunning film."
The movie is distributed by Netflix, a growing streaming platform, which has made international films more accessible to large audiences, along with a growing number of international film festivals. 
The transnational trend has yet to be acknowledged by the Academy's "one country/one nomination" selection process, Mazai said. "Most films are international co-productions today and don't align neatly with national boundaries."
Global cinema is the focus of Mazaj's research. Her latest book, co-authored with Shekhar Deshpande, is "World Cinema: A Critical Introduction." 
Even with the trend toward transnationalism in the film industry, the landscape is far from level for international filmmakers, she said. The percentage of movies produced globally that get any kind of distribution in the United States is less than 1 percent, she said. 
While everyone is exposed to American cinema, the U.S. is only fourth in the number of films produced annually, she said. The world's largest is Indian cinema and Bollywood, which produces around 2,000 films each year, followed by Nigerian cinema, and Asian cinema, which includes cinemas of Japan, China, South Korea, Taiwan, and Hong Kong.
Although Hollywood continues to be the dominant force at box offices around the world, a growing trend is that some locally made films will outperform U.S. blockbusters in their home countries, she said. "The most encouraging feature when we look at the research is that domestic cinemas around the world thrive, despite Hollywood's very powerful presence in these countries," she said. 
The Academy Award category "foreign language film" was created in 1956. One of the first films to break into other top Oscar categories was Roberto Benigni's "Life is Beautiful" in 1998, followed by the Chinese blockbuster "Crouching Tiger, Hidden Dragon," by director Ang Lee, nominated in 10 categories and the winner in four.  
The category provides a much-needed opportunity for international films to compete with Hollywood, but it furthers the "us versus them" and "familiar versus unfamiliar" view, she said.
And it perpetuates pressure on filmmakers outside the U.S. to tailor their films to appeal to the mass market, she said. "There is a concern about world cinema being turned into a uniform market brand, homogenizing the diversity of films," she said. 
The international films that win awards, she said, are those that fall into a familiar framework. "The foreign-ness is reduced to the way film looks and sounds but not to the way that the story is told or to the visual experience itself," she said. 
Mazaj hopes that international movies like "Roma" will continue to appeal to larger audiences, especially in the U.S., where viewers, unlike the rest of the world, are still getting used to reading subtitles. 
"Watching films outside of our cultural walls is important," she said.
Mazaj's Oscar Picks:
Best Picture: "Roma"
Best Director: Alfonso Cuarón. "Roma"
Best Actress: Glenn Close, "The Wife"
Best Actor: Rami Malek, "Bohemian Rhapsody"
Best Supporting Actress: Regina King, "If Beale Street Could Talk"
Best Supporting Actor: Mahershala Ali, "Green Book"
Best Cinematography: "Roma"
Best Foreign Language: "Roma"
Photos by Julian Shendelman and Louisa Shepard