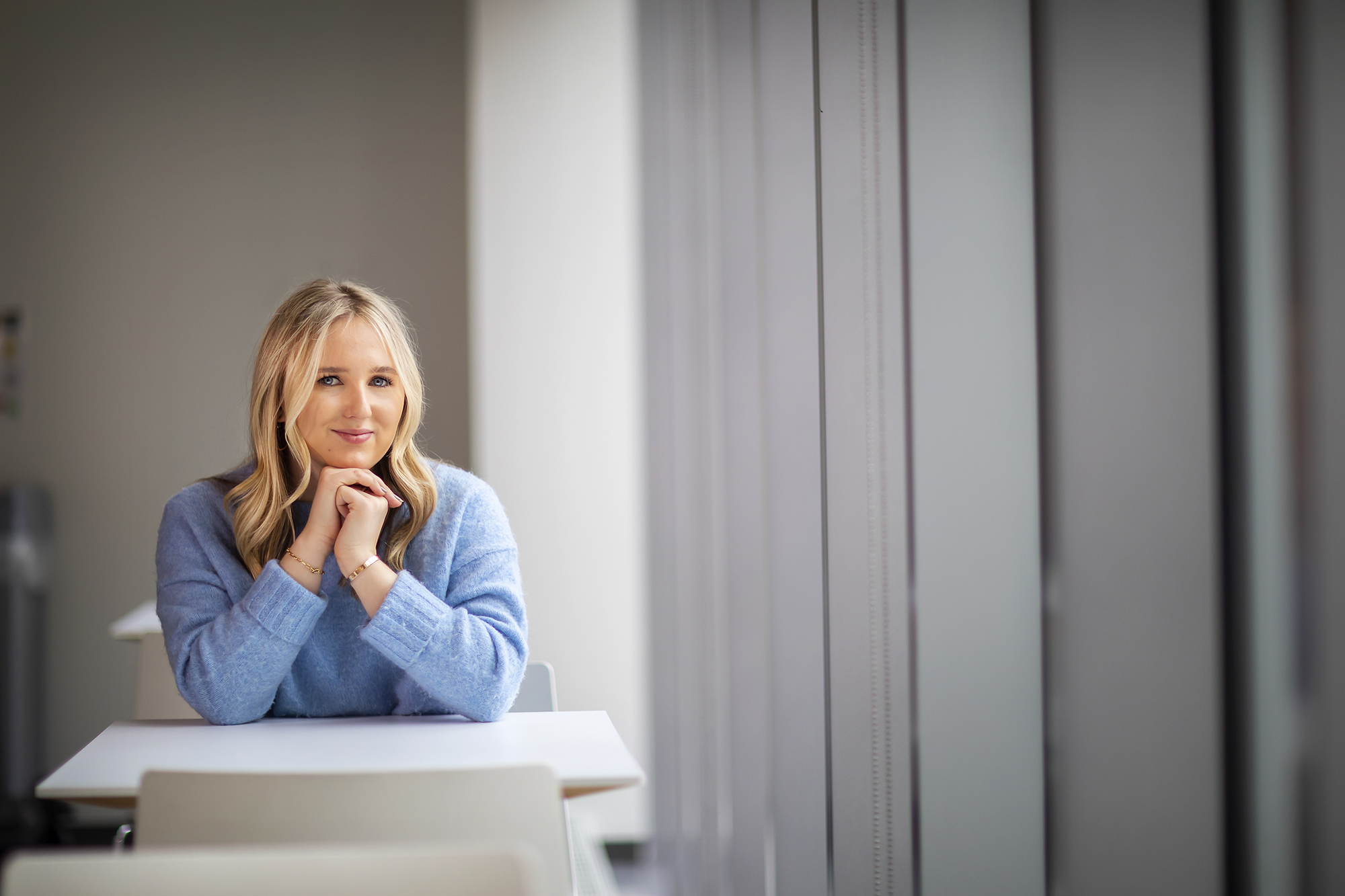 Neatly printed in black ink in Claire Sliney's color-coded calendar is "OSCARS," circled in lavender. The placeholder is there not to remind the Penn sophomore to watch the ceremony on Feb. 24, but to attend as a nominee for an Academy Award.
Sliney is an executive producer of the 26-minute film "Period. End of Sentence." It's one of five nominated in the Documentary Short Subject category. Netflix has picked up the film, to be released in mid-February, about the stigma of menstruation for girls in India and the efforts of a nonprofit Sliney co-founded in high school to address the issue and raise awareness. 
"It is incredible. I never thought we would have made it to this point at all. Or even made it to India with a completed film, let alone an Oscar nomination," Sliney says. "Every single expectation I had for this project has been surpassed."
Although many Penn alumni have been nominated for Academy Awards, Sliney is apparently the first student to have received an Oscar nomination while currently enrolled, according to Nicola Gentili, associate director of the Cinema & Media Studies Program. 
The nomination was overwhelming, Sliney says. Up early on Jan. 22 to join a FaceTime call with the team in Los Angeles, it was about 8:20 a.m. here when the five names for documentary short were read, in alphabetical order. "Black Sheep." "End Game." "Lifeboat." The film "Zion" was a serious contender, so Sliney started to lose hope. Next announced, "A Night at The Garden." 
"So, I thought, 'no way,'" Sliney says. Then "Period. End of Sentence." appeared on the screen as the name was read out. 
"The L.A. team's livestream was lagging about five seconds behind mine so I saw the announcement and started screaming and jumping up and down and probably woke up some of my housemates, and then everyone else started screaming a few seconds later," Sliney says. "I burst into tears because I was so overwhelmed with excitement and pride and, frankly, disbelief."
She then FaceTimed with her two best friends from high school, who are also co-executive producers: Avery Siegel at Tulane University and Ruby Schiff at Kenyon College. "We were just crying," Sliney says. "It was a crazy day because congratulatory texts and emails were flooding in and close friends and even acquaintances at Penn were coming up to me congratulating me and asking more about the film." 
Was she really surprised? "I say yes, because I have been surprised the whole time," Sliney says. "Every benchmark and achievement has been surprising."
The journey started six years ago, when Sliney was a freshman at the Oakwood School in her hometown of Los Angeles. She joined the Girls Learn International club, part of the Feminist Majority Foundation. A group of students had attended the United Nations Commission on the Status of Women and learned that the stigma of menstrual periods in some cultures stops girls from attending school. 
The club decided to take action and with some research found a machine made in India that could create feminine hygiene products. Sliney and her friends then founded The Pad Project, a nonprofit she continues to help manage today, established to raise money to purchase a machine and a year's worth of supplies to install in Kathikera, a rural Indian village outside New Delhi. The Kathikera women have since started their own business to sell the pads that they have produced on the machine.
They thought of creating a public-service-announcement-type ad by using their phones to film, and that idea grew into creating a short documentary, with a professional director and film crew, to have more impact. 
Starting with school-based fundraisers like bake sales and yoga-thons, they launched a Kickstarter campaign in October of 2016 during Sliney's senior year. So far the campaign has raised $45,000.
"We wanted to raise awareness about the issue. The only way you can dispel a taboo is by making the issue known and normalized," she says. "We didn't make the film to qualify for an Oscar. For us it was really our passion project."
The project was overseen by club faculty adviser and English teacher Melissa Berton, who is a producer on the film. Another producer is Sliney's mother, Lisa Taback, who at the time headed her own publicity firm but in August joined Netflix as vice president of talent relations and awards. 
"It was a home-grown project," Sliney says. "We would have meetings during lunch and get together on the weekends and over the summer—an English teacher and a group of high school girls and their parents talking these things out."
The group partnered with Action India, a women's-rights nonprofit, which organized the effort to put a machine in Kathikera. The director, Rayka Zehtabchi, a recent graduate of University of Southern California's film school, and a camera crew went to India twice, once when the machine arrived and again several months later. 
"Period. End of Sentence." was released on April 5. With the help of the students' parents, many of whom are involved in Hollywood's film industry, the film was presented at festivals throughout the country. Accolades came in one after the other: the AFI Audience Award for Best Doc Short, Traverse City Jury Best Doc Short, Savannah Film Festival Best Doc Short. As a result, the film qualified for consideration for an Academy Award. 
"We held a screening at the Commission on the Status of Women at the U.N., bringing it full circle," she says. "We did everything we could to make the film accessible so people would see it." 
Sliney is now trying to make arrangements to have a screening of the film on Penn's campus. "So many people I know are asking for more information about the project. People at Penn are really supportive and really interested to know about the issue," she says. "Because of the film existing, people are inevitably talking about menstruation and the stigma surrounding it."
Sliney's major is philosophy, politics, and economics (PPE), with a minor in gender and women's studies, although she is also interested in health and societies, all in the School of Arts and Sciences.
Penn was her choice because she is interested in "a million different things" and wanted the chance to take classes in many different subjects, she says. "I love how interdisciplinary everything is at Penn," she says. "So many centers and majors, all so integrated. I could delve into a number of programs and fields of study all at once.
"I want to do something impactful. After having been part of this project, and seeing the impact that we've had, it is such a fulfilling experience," she says. "Ultimately I would say I want to go into something political or advocacy-related." 
Not cinema studies? After having grown up in the film industry in Los Angeles, she says no, but now she is interested in adding some film courses. "My interest in global issues, women's issues, health issues, political science brought me right back into film," she says. "It makes me realize I could get involved in film and maintain my other interests." 
Sliney hopes to go to India to see the progress of the project but certainly not this month. "February is packed," she says, pulling the spiral-bound blue calendar from her backpack.
The weekend before the Oscar ceremony, she is a speaker and co-chair at the annual summit organized by Penn's OWN IT, a student leadership and empowerment club. She is also chair of a committee in her sorority, Delta Delta Delta, which has Big Sister-Little Sister week for new members. And there is school, with an exam before leaving for L.A., an in-class essay the day she returns, and a midterm two days later.
"I keep things organized and work to balance everything and prioritize," she says, noting she'll be studying on the plane. "It's just having a foot in a number of worlds." 
She will attend the Oscars with her mother, her high school teacher, and the film's director. What is she wearing? "I don't know. I'm thinking about it. I will use Rent the Runway and rent some dress options," she says. "Meanwhile I need to find a dress for Tri-Delt Date Night." 
And after the awards? "We are focusing completely on taking any fame and future donations and putting them toward more pad machines in more villages," she says. A second machine was just installed in India.
"The Pad Project for me is above everything else. To me it is the most important thing I do," she says. "I have dedicated so much of my life to this for so many years. It is my heart and soul."
Updated February 24: "Period. End of Sentence." won the 2019 Documentary Short Subject Academy Award.