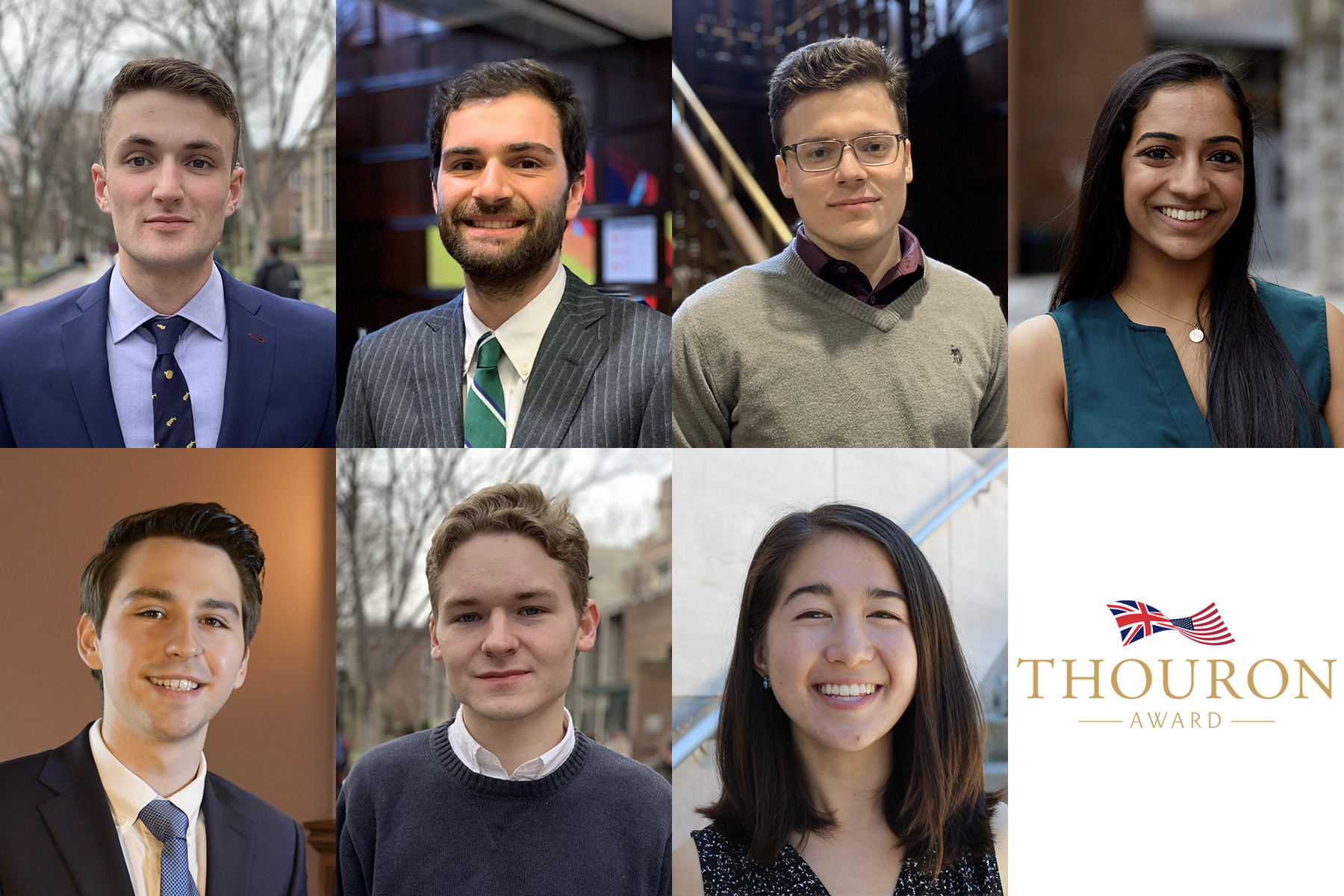 Four University of Pennsylvania seniors and three recent alumni have won a Thouron Award to pursue graduate studies in the United Kingdom. Each scholarship winner receives tuition for as long as two years, as well as travel and living stipends, to earn a graduate degree there.
Established in 1960 and supported with gifts by the late John Thouron and his wife, Esther du Pont Thouron, the Thouron Award is a graduate exchange program between Penn and U.K. universities that aims to improve understanding and relations between the two countries. 
Penn's seven 2020 Thouron Scholars are: 
Daniel Brennan
Senior Daniel Brennan, of Miami, is a varsity oarsmen for Penn's lightweight crew team majoring in history and political science, with concentrations in military history and political theory in the School of Arts and Sciences. As a United States Marine and past moderator of the University's Philomathean Society, he is an advocate for greater civil-military awareness. Brennan works on national security policy as a Student Fellow at the Perry World House and is writing his honors thesis on the development of counterinsurgency strategy during the Cuban War of Independence. He is a Benjamin Franklin Scholar and has worked on anti-hunger issues both as a Fox Leadership Fellow with the Catholic Archdiocese of Philadelphia and by organizing his crew team's meal-packing events. In the U.K., he plans to pursue a master's degree in military history.
Braden Cordivari
Braden Cordivari, of Elverson, Pennsylvania, is a 2018 graduate of the College of Arts and Sciences. He received his bachelor's degree in classical studies and anthropology with a minor in archaeological science. Since 2015, he has continued to work at Penn's excavations at the ancient Iron Age city of Gordion in Turkey. He spent the 2018-19 academic year as a John Williams White Fellow at the American School of Classical Studies at Athens completing a program of intensive study of Greek archaeology and history. His research interests include human/environment relationships in the past and the study of craft production through science-based methods. Cordivari plans to pursue a master's degree in archaeological science at the University of Cambridge.
Gregory Forkin
Gregory Forkin, of Philadelphia, is a 2019 graduate with a bachelor's degree in mathematics, physics, and biology and a minor in chemistry. He was a University Scholar and a member of Phi Beta Kappa. Currently, he is conducting research in neuroscience under Professor Vijay Balasubramanian and is a teaching assistant in the Math Department in the School of Arts and Sciences. Forkin plans to pursue a master's degree in pure mathematics at the University of Cambridge.
Natasha Menon
Senior Natasha Menon, of Scottsdale, Arizona, is pursuing a major in philosophy, politics, and economics with a concentration in distributive justice and a minor in legal studies and history in the School of Arts and Sciences. Menon serves as president of the Undergraduate Assembly, through which she works to elevate the voices of marginalized communities on campus to effect change. She is also a Civic Scholar, and has volunteered at Moder Patshala, a Bangladeshi immigrant services center in Philadelphia, for three years. Menon plans to pursue a master's degree in international migration and public policy at the London School of Economics. Upon returning to the U.S., she hopes to pursue a law degree and engage in public service in Arizona.
Robert Subtirelu
Senior Robert Subtirelu, from Ronkonkoma, New York, is majoring in the biological basis of behavior and minoring in chemistry in the School of Arts and Sciences. A recipient of the 2019 Clinical and Translational Research Award, he has conducted research with the Perelman School of Medicine's Department of Neurosurgery to investigate post-traumatic epilepsy. He works as a teaching assistant, volunteers with Wissahickon Hospice, and remains an active member of Penn's Medical Emergency Response Team. He also founded and coordinated the activities of a not-for-profit organization that has established educational and nutritional programs internationally. Subtirelu plans to pursue a master's degree in clinical and therapeutic neuroscience at the University of Oxford.
Zachary Whitlock
Senior Zachary Whitlock, of Washington, D.C., is in the Vagelos Integrated Program in Energy Research joint-degree program, majoring in materials science and engineering in the School of Engineering and Applied Science and in earth science in the School of Arts and Sciences. Whitlock has worked on biomimetic functional materials with Penn Engineering's Shu Yang Laboratory and internationally at the French Alternative Energies and Atomic Energy Commission. More recently, he worked at the intersection of industrial materials and environmental impact on the Kleinman Center for Energy Policy-funded project Fossil Fuels, the Building Industry, and Human Health. He is a 2020 Kleinman Undergraduate Fellow and Supported Student at the Water Center at Penn. He is planning to pursue a master's degree in environmental systems engineering at University College London and ultimately hopes to contribute to the sustainability and impact mitigation of projects reliant on ecosystem services. 
Maia Yoshida
Maia Yoshida, of Madison, New Jersey, received her bachelor's degree in 2018 in molecular and cell biology with a minor in fine arts. She is now a researcher in a bioengineering lab, engineering immune cells to better fight cancers. While at Penn, she researched the molecular mechanisms involved in neurodegenerative diseases and was a teaching assistant for a fine arts course on biological design. She also taught elementary school science at the Penn Alexander School in West Philadelphia. As the president of Global Brigades at Penn, she led fundraising efforts for sustainable development projects in Honduras. Yoshida plans to pursue a master's degree in STEM Education at King's College London.
The Center for Undergraduate Research and Fellowships serves as Penn's primary information hub and support office for students and alumni applying for major grants and fellowships, including the Thouron Award.