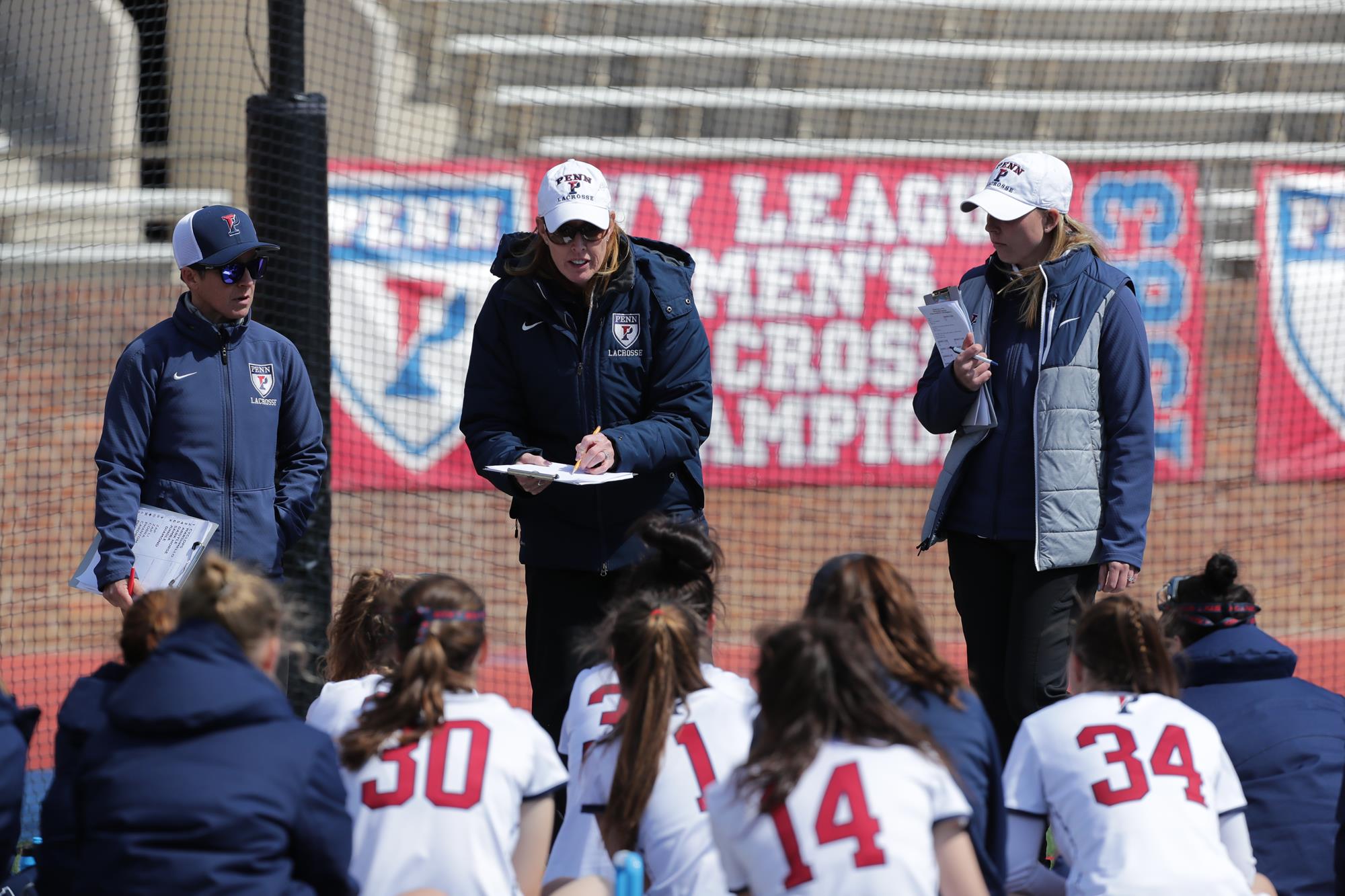 Penn announced on Wednesday an important $3.5 million leadership gift from 1981 alums Rose and Charles B. Leitner, III, underscoring their enduring commitment to Penn lacrosse. A portion of the Leitners' gift to the Set The Future In Motion campaign will establish the Lois S. Leitner Head Coach of Women's Lacrosse position, the Charles B. Leitner, III Offensive Coordinator position in men's lacrosse, as well as provide funding to the Young Quakers program in perpetuity.

"With this gift, Chuck and Rose are championing Quaker lacrosse in a thoughtful way that not only extends into the community, but also ensures that coaching positions will be filled with individuals who inspire, guide, and mentor Penn student-athletes far into the future," says Penn President Amy Gutmann. "We are deeply grateful to the Leitners for their extraordinary commitment and support of athletics and academics at Penn, and for making this truly meaningful gift."

In making this gift, Chuck Leitner, a Penn Trustee and chief executive officer of CBRE Global Investors, and his wife, Rose, recognize the positive impact that Penn coaches have on Quaker student-athletes over the trajectory of their lives. Not only do these coaches help their players strive for excellence through sport and competition, they scaffold the development of these young athletes' mental, physical, and social skill sets to help position them to make significant contributions to society long after graduation.

The Leitners found 2020 to be an especially compelling year to give to Penn Athletics, as Quakers are staying busy even as the Ivy League takes a pause during COVID-19. The Leitners recognize the need to prioritize the long-term financial health of the lacrosse program to give Penn an edge for future decades of competition.

During his time as a student, Chuck Leitner played four years of lacrosse and was selected as an All-American goalkeeper and MVP of the team he co-captained in 1981. In more recent years, the Leitners' daughters Emily G., a 2012 alumna, and Maureen R. Leitner, a 2018 alumna, both played for the University and also served as captains for their respective teams.

"I recognize and appreciate the incredibly positive impact that the lacrosse program had on my own life and on my daughters' experience at Penn," says Leitner. "It is my family's privilege to endow two coaching positions, and to support the Young Quakers program that connects varsity players—and now, assistant coaches—with local elementary and middle school athletic teams through after-school programs. We feel so strongly about Penn, Penn Athletics, and about lacrosse, and hope this gift will encourage other families to follow.

"The gift is also a way for Rose and me to honor my mother Lois," adds Leitner. "A high school educated, single parent, she provided unconditional support and encouragement for me and my sisters with respect to the importance of school and sports, and lacrosse became a constant and important vessel for her. She then proceeded to do the same for her six grandchildren. By endowing the women's lacrosse head coaching position in her memory, it is possible to imagine her lifting up generations of lacrosse student-athletes for years to come."

M. Grace Calhoun, the T. Gibbs Kane, Jr., W'69, Director of Athletics and Recreation, underscored the critical importance of endowments in the success of collegiate athletics.
"Thanks to Chuck and Rose Leitner, Penn can better attract, retain, and reward talented, dedicated coaches and help shape an unrivaled experience for Quaker student-athletes," she says. "This new endowment will propel Penn Athletics toward greater competitive excellence within the Ivy League and on a national scale. We are incredibly thankful to Chuck and Rose for their leadership and this transformational gift."

With the gift, Karin Corbett has been named the Lois S. Leitner Head Coach of Women's Lacrosse. With 11 Ivy League championships in the past 13 years—including seven seasons with the Leitners' daughters on the roster—Corbett has established Penn women's lacrosse as a perennial Ivy and NCAA power.

"Two generations of Leitners have played varsity lacrosse; they are a quintessential Penn Athletics family," says Corbett. "We continue to reap the many wonderful benefits of their commitment and determination to sustain and grow our program. I can think of no other family that has played such a vital role in supporting Penn lacrosse."