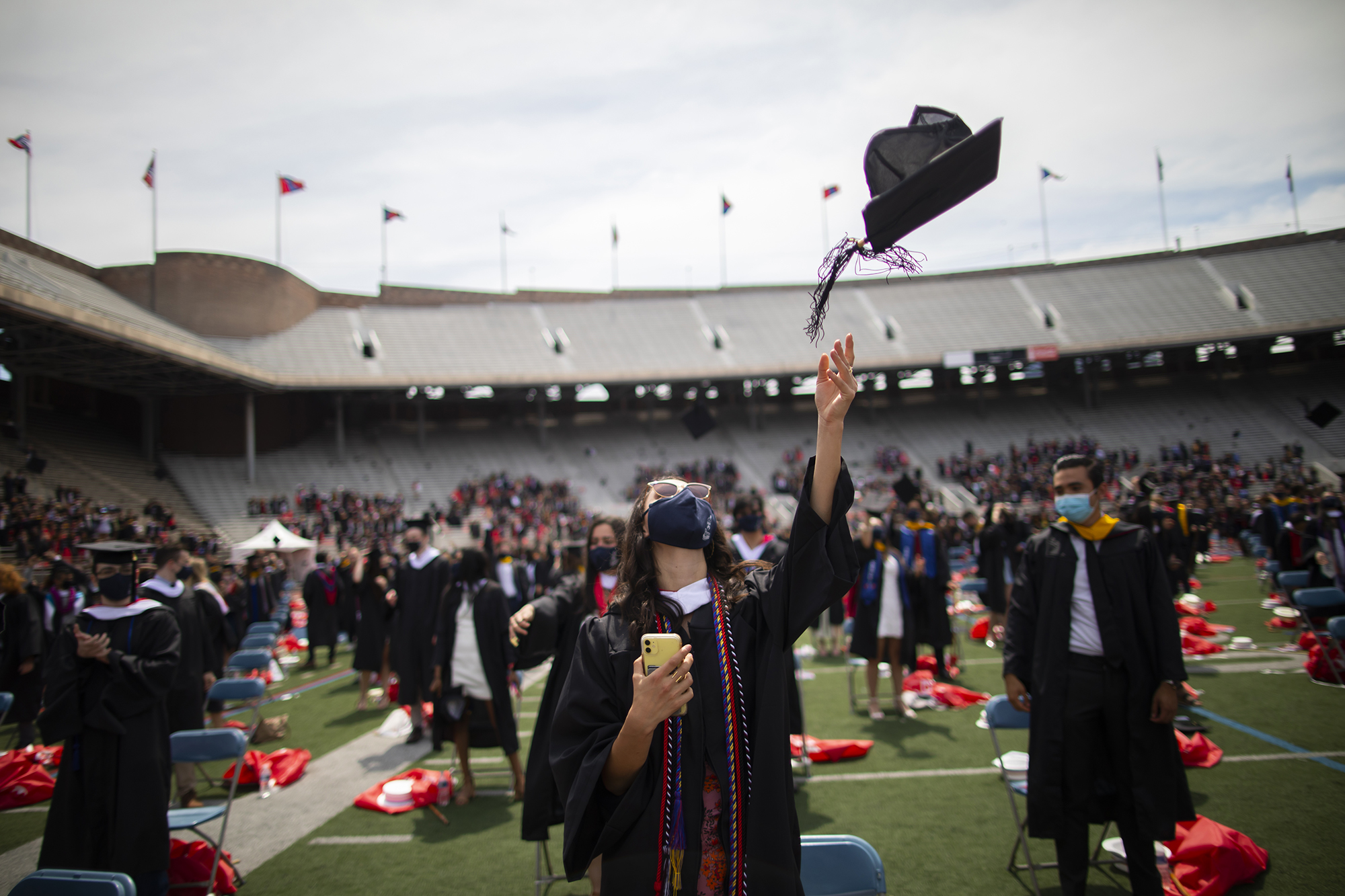 The University of Pennsylvania's 266th Commencement ceremony will be held on Franklin Field on Monday, May 16. Answers to most FAQs are at Penn's Commencement 2022 website. Here are facts and tips to help guide you through this year's ceremony.
Guests should use the south stands entrance to Franklin Field on South Street. Gates open at 8:30 a.m. Tickets are not required. The stadium has outdoor bench seating. Refreshments can be purchased at the concession stands.
 
In compliance with COVID public health guidance, visitors and guests attending Penn's 266th Commencement must complete PennOpen Campus pre-screening on May 16. While masking is not required for outdoor activities, it is recommended in areas where physical distancing is difficult.
 
Graduating students will march into the stadium beginning at 9:30 a.m. The ceremony will officially start at 10:15 a.m. and end at approximately noon.
 
American documentary filmmaker, Ken Burns, the recipient of 16 Emmy Awards, two Grammy Awards, and two Academy Award nominations will deliver the Commencement address. He will receive an honorary doctor of arts degree.
 
An estimated 5,000 undergrad and graduate students will attend Commencement. According to data from Penn's Office of Institutional Research and Analysis, 8,985 diplomas will be issued to approximately 8,352 graduates in the Class of 2022, some of whom are receiving more than one degree each.
 
Before entering Franklin Field, graduating students will assemble in Hamilton Village (39th Street and Locust Walk) for a procession across campus. Faculty, staff, and friends traditionally gather along Locust Walk to watch and cheer the graduates. The student procession will pass a viewing stage in front of College Hall where Interim President Wendell Pritchett, other senior administrators, trustees, and the Commencement speaker and honorees will applaud them.
 
Medha Narvekar, vice president and secretary of the University, will lead the academic procession carrying the University Mace, an ornate, four-pound staff designed in the style of maces of medieval knights. The Penn mace is adorned with the University seal and arms, the Penn and Ben Franklin coat of arms, a depiction of the Rittenhouse orrery, and a thistle symbolizing Penn's early ties with the University of Edinburgh in Scotland.
 
Commencement will be held on Franklin Field rain or shine, but, in the event of dangerous weather conditions, the ceremony may be delayed or relocated to the Palestra with seating limited to the academic procession and graduating students. In the event of severe weather conditions, the academic procession across campus may be cancelled. Information will be posted online at www.upenn.edu and on signs around campus and announced on KYW Radio and via automated telephone messages at 215-898-6358 (MELT).
 
Family and friends unable to attend Commencement can experience the ceremony live online beginning at 9 a.m. (EDT). Coverage will include the student and academic processions through campus. The streaming webcast is available on the Commencement Webcast & Multimedia Archives page. You can also follow the action on Twitter and Instagram at #PennGrad.
 
In addition to the University's Commencement ceremony and a separate Baccalaureate ceremony, Penn's 12 schools each host a ceremony, at which graduating students will be individually recognized as their names are called, and they walk across a stage. Additional information is available at the School Ceremonies page of the University Commencement website.
 
Public transport is advised. Those planning to drive should allow extra time for traffic congestion. Parking will be limited; normal parking fees apply.