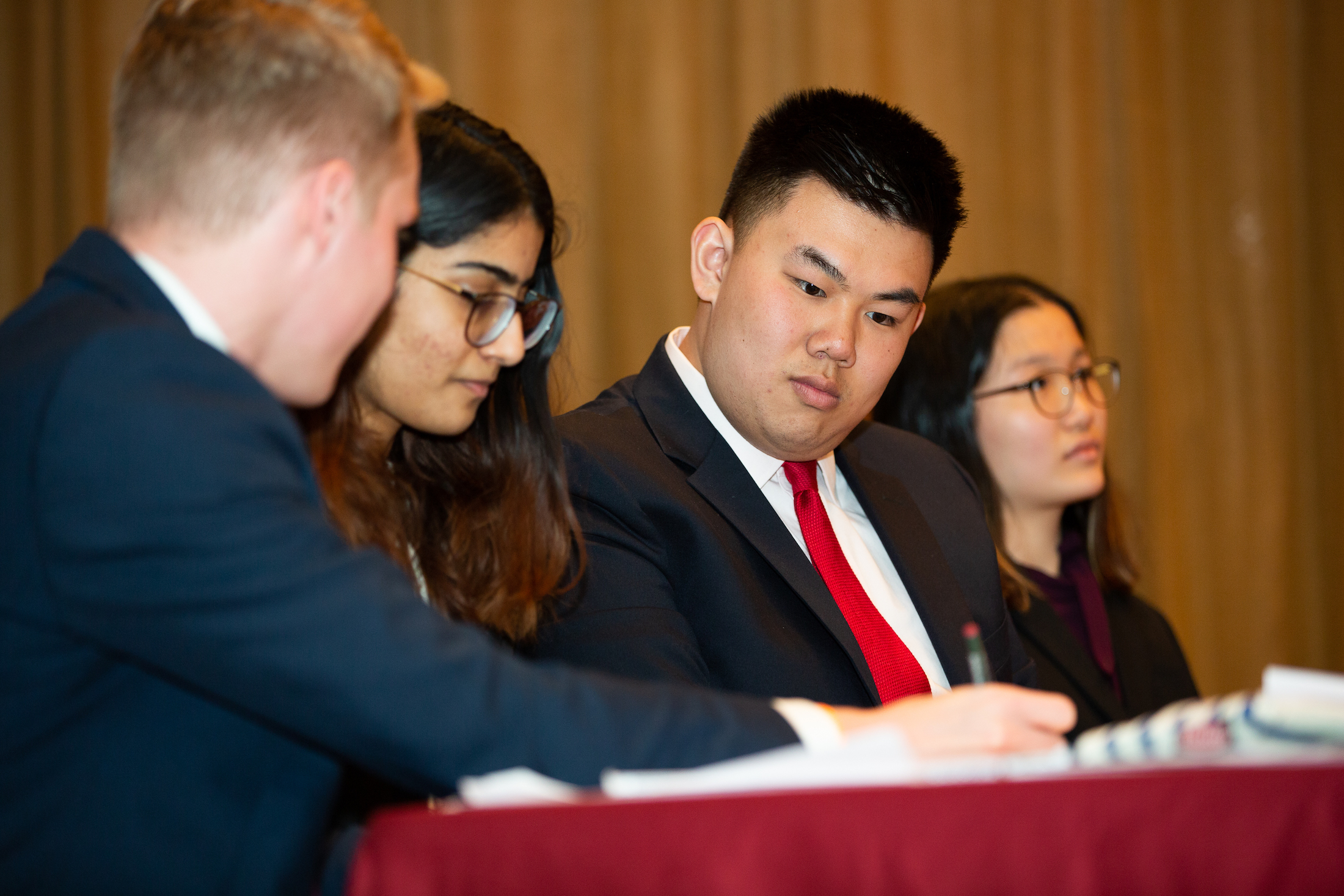 When a group of debaters from an upstate New York prison beat Harvard University's team back in 2015, the win made international news. Rising sophomore Yi Xin Gwee was a fledgling middle school debater in Singapore at the time and remembers it well.
"It was in the main newspaper, The Straits Times, and my mother showed me the article since I had just started debate," she says.
This spring semester, Gwee and three other members of the Penn Debate Society traveled to that same maximum security prison in upstate New York to debate participants on the same storied team, as part of the Bard Prison Initiative (BPI).
"Life is pretty unexpected. I would never have thought in my wildest dreams that seven years later I would be doing the same thing. Debate never fails to give pleasant surprises," says Gwee, an economics major at the Wharton School.
Part of Bard College in Annandale-on-Hudson, New York, BPI enrolls more than 300 students inside seven prisons in New York state. The initiative organizes a host of extracurricular activities to replicate the breadth of college life and inquiry, and among them is the Bard Prison Initiative Debate Union. 
For the Penn round against the Eastern New York Correctional Facility debaters, they tackled the topic of giving reparations to victims of Native American boarding schools. The Penn team was on the side against reparations. "We were definitely lagging on the moral high ground, given the backdrop of the oppression and abuses that happened in those Native American boarding schools," Gwee says. The Penn team ended up winning against the incarcerated debaters.
"It's a big deal that Penn won. Our team is very good, and they don't lose very often," said David Register, director of BPI's debate program. "It's a huge statement about those debaters that they were able to come in and pull that off because it's pretty rare."
Andrew Vandenbussche, a rising junior double majoring in political science and economics from Montreal, says he was struck by how the whole prison community at the correctional facility was so interested and intellectually engaged in debate.
"I was just absolutely blown away by the quality of the debaters on the other team; they were exceptional," he says.
The debate was held in person at Eastern New York Correctional Facility in an auditorium in front of incarcerated people and other attendees. Everyone was riveted during the round, says Vandenbussche.
"Possibly the most interesting part of the experience was, while the judges were deliberating, there was a Q&A portion in which prisoners in the audience were jumping to ask us detailed questions about the reasoning and the strategy behind our arguments," Vandenbussche says.
Manya Gupta, a rising sophomore majoring in economics from Jaipur, India, says sometimes in debate one can lose sight of the end goal and it becomes a game that you want to win, about getting good at the activity rather than drawing the most from it for yourself. 
"Being in this round, it was obvious that the BPI team was approaching it from a very different mindset," Gupta says. "I felt like they were drawing from strong intuitions and they were much better than us at leaning into a sense of moral certainty. The whole experience was valuable and refocusing."
Gwee agreed that the BPI debate felt very different from others they typically participate in. "They seemed driven by genuine passion for the topic. That kind of conviction can be lost a lot in competitive debate settings where the focus is just on winning," she says.
Register says he was tremendously impressed with the professionalism of the Penn team.
"The Penn debaters were fantastic. They were so kind and courteous, and Penn has a great reputation at BPI," says Register. BPI has now had two debates with Penn: one in 2018 that BPI won and the round this spring won by Penn. "There's certainly a buzz about the Penn Debate Society here, and we're hoping that we'll have a rematch at some point in the future."
Bringing debate into the community
The trip to the New York prison wasn't the first time Penn's Debate Society has worked with incarcerated or formerly incarcerated people. The Society also runs the Reentry Debate Initiative, a program launched by Allan Lee, a rising senior from Vancouver, Canada, majoring in economics in the College of Arts and Sciences. 
The Reentry Debate Initiative involves a series of lectures, debate exercises, and debate rounds between formerly incarcerated people and Penn debaters. The idea is to bring essential skills to the formerly incarcerated population and create a meaningful connection between the student debaters and the Philadelphia community at large.
"Debate is such a powerful tool, but it's very limited in access right now, primarily to college students," Lee says. "I wanted to promote it to new groups, and the Bard Prison initiative inspired me to reach out to the formerly incarcerated and incarcerated population around Philadelphia."
One of the biggest issues faced by the formerly incarcerated population is finding jobs and housing, which often involves interviews and communication with other people.
"Debate teaches you how to confidently introduce yourself, how to have a structure and framework that you can use to, for example, talk about yourself and explain your skills and experiences. That presentation skill is so key in many facets and aspects of life," Lee says.
Among the groups they work with is Why Not Prosper, an organization for women trying to reenter society after being released from prison.
"All these women are so inspiring: They want to begin businesses; they want to advocate for themselves to local leaders and officials," says Lee. "Debate can be used as a tool for advocacy, in terms of being able to properly articulate your thoughts and what you want to see happen around you and what kind of change you want in the world."
They've also worked with SCI Chester in suburban Philadelphia, as well as the ReAwakening Agency, a reentry organization in Philadelphia. At each location, they will have weekly or biweekly meetings with members of the debate team, sometimes in-person, sometimes via Zoom. Each week, they teach one debate skill, like how to construct an argument or how to rebut the other side's argument, using games and activities to make it as interactive and engaging as possible, Lee says.
For Register, hearing that his work at BPI has inspired similar programs elsewhere around the country is humbling.
"It really is special to me that people look at what we do and try to do their own thing in their own community," he said.
Gwee says that before college she had the mentality that helping people and debate were dichotomous. 
"One felt like an intellectual ivory tower activity, while the other seemed more hands-on," she says. "Coming to Penn made me realize it doesn't have to be a dichotomy. When you look at things like Allan's involvement in trying to make debate a tool for social empowerment, you realize debate doesn't need to be just an academic activity in an ivory tower. It can be used to help people."