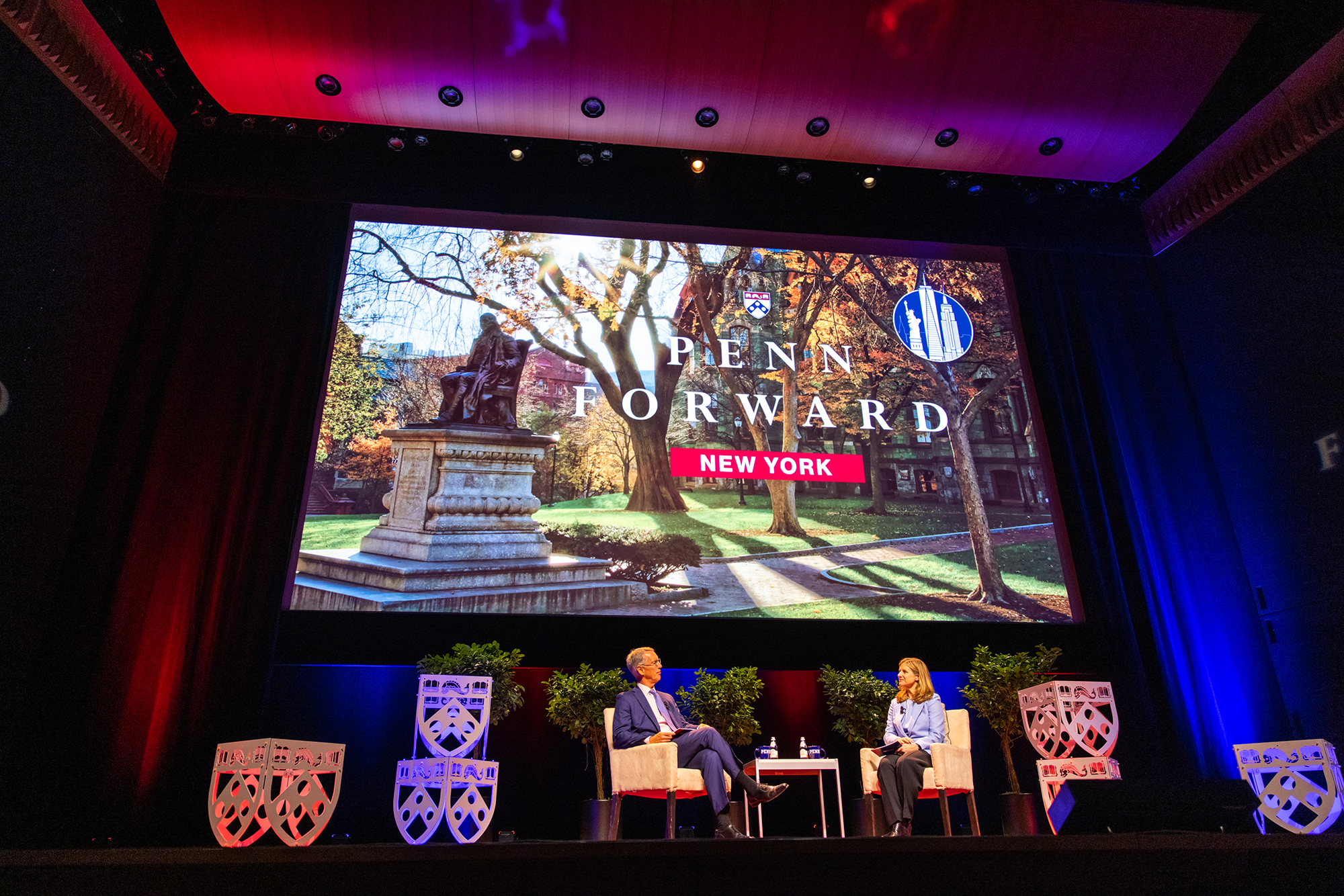 On Wednesday night, nearly 800 New York-based alumni and friends of the University filled Alice Tully Hall at the Lincoln Center in Manhattan, joining President Liz Magill for the kickoff of the Penn Forward Tour. The Tour, which will span the U.S. and London through April, brings together graduates of all ages to reconnect and network, and to begin to think deeply about the future of Penn with its new leader.
During the program, which featured Magill on stage in conversation with Trustee Chair Scott L. Bok, she talked to the crowd about how she's been adjusting to life in Philadelphia, what she has learned most about Penn's faculty, students, and alumni so far, how she views Penn's global reach and role, and her strategic thinking as she plans ahead for the University.
With the launch of "Tomorrow, Together" and its Red and Blue Advisory Committee just before her inauguration in October, Magill said several themes have already bubbled to the surface, including the interest in doubling down on interdisciplinary research and teaching and cultivating more of a service ethic into everyday life for students. Magill's aspirations and hopes for reimagining Penn are vast but achievable: With a nod to Penn's founder Benjamin Franklin, she wants the University community to think about how it can, together, "draw down the lightning."
"I know it's a big ambition," she explained, "but in this context I think drawing down the lightning is doing everything we can to unleash the extraordinary talent that we have in our faculty, staff, and students at Penn to contribute more to the world."
In an effort for attendees to get to know her a bit more, too, Magill talked with Bok about her background; her family and former role models and mentors; and even her best and worst career advice. Following the conversation on stage, Magill mingled with attendees in the space's lobby.
Akwugo Nnama, who graduated from Wharton with her MBA in 2018, said hearing directly from the president was "incredible." "I think she is a great fit for the school, and I was excited to hear how she has a deep love for academia and has basically hit the ground running," Nnama said. "I am really excited about the future of the University in her hands."
Introducing Magill and Bok at the start of the program was new Penn Alumni President Michael Barrett, who graduated from the School of Engineering and Applied Science in 1989 and is a proud Penn parent (twice over), and also serves as a University trustee, member of Penn Engineering's Technology Advisory Board, and co-chair of the James Brister Society. Sharing his personal story, Barrett said how his work after college led him to live all over the world—from Sweden to Australia to China to Dallas.
"What do these places have in common? The biggest thing to me was Penn people," Barrett said, noting that no matter where he lived, he always had a Penn connection nearby. "It makes me feel like I have a home away from home when I connect with Penn alums."
The evening event also included a Penn Spectrum pre-reception, which featured remarks from Barrett as well as the Rev. Chaz Howard, Penn's chaplain and inaugural vice president for social equity and community. Howard encouraged all in the room—many at such an event for the first time since the COVID-19 pandemic—to "fall back in love with Penn all over again, to love the University in a new way, in this new chapter that we've begun right now."
"My favorite part of events like these is hearing people's different stories about why they love Penn," said Mia Garuccio, who graduated from the College of Arts and Sciences in 2014. "No one loves Penn for the same reason, but for all different reasons. For me, it was the mentorship I received."
It was the first time Ekunda Wonodi, who graduated from Wharton in 2019 and recently began serving as an alumni interviewer for prospective undergraduates, had attended a Penn Alumni event. Sitting through the program with friends she met her first year at Penn, Wonodi said she felt "like a very proud alum."
"It's wonderful that the University continues to keep alumni engaged, even though we all live in different places, giving us the chance to meet the president, creating this opportunity to connect with old friends and new," Wonodi said. "It's also a good reminder that I am part of a very impressive network of people who continue to be engaged."
Remaining locations on the Penn Forward Tour include Los Angeles, San Francisco, London, Washington, D.C., and Philadelphia.