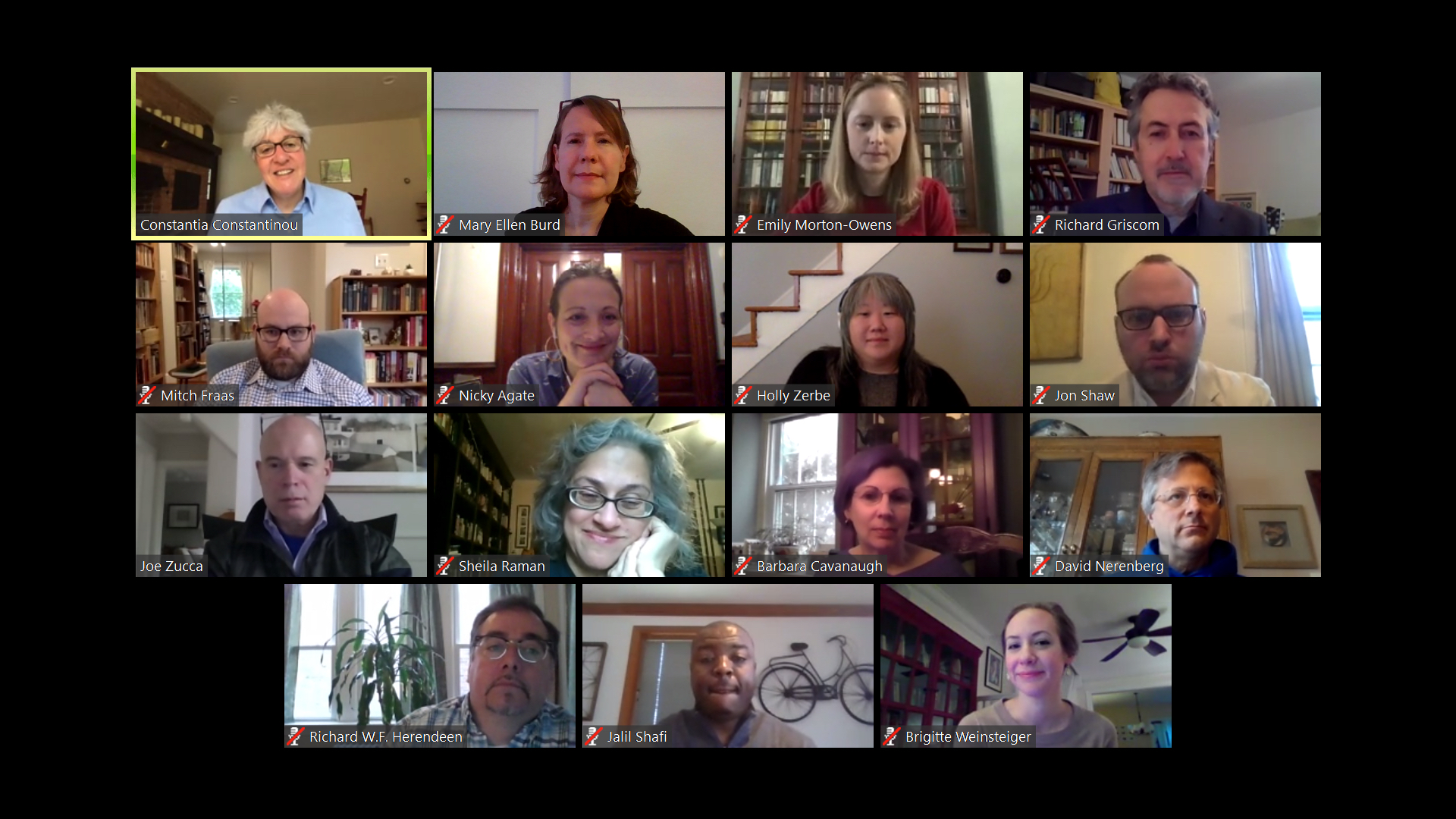 As it became clear that coronavirus restrictions would close much of the University of Pennsylvania campus, history professor Peter Holquist worried about many things, but main among them was that his students would not have the many books they needed for his classes.
"They didn't necessarily take their course books with them during break. The books were in dorm rooms, in apartments, and in cubbies," Holquist says. Students were told not to come back to campus. He turned to the Penn Libraries for help. Could they get the books his students needed?
"They were working madly, both to acquire digital books and scanning needed pages," he says. "And with such good humor and helpfulness."
Holquist was one of thousands of students and faculty who have been contacting the Libraries for help as the campus has gone virtual.
The Libraries created a virtual support webpage with four areas to direct the Penn community to assistance: talking with a librarian, access to the digital collection, technical issues, and teaching and learning support. Each effort required the Libraries staff to pivot to make all of these resources available from anyplace in the world.
Over the past few weeks the Libraries decided to make a substantial investment in e-book collections, negotiate access to other digital resources, boost video streaming access, and triple the number of librarians available to support teaching, research, and learning online.
"The Penn Libraries is focused on delivery of services, content, expertise, and technology, and is always striving to meet the needs of students and faculty to achieve their goals," says Constantia Constantinou, the H. Carton Rogers III Vice Provost and director of the Penn Libraries.
"The Libraries team is not just knowledgeable experts. They are determined, they are resourceful, they are creative, they are service-oriented, they are resilient, and they are passionate and kind to their communities."
Holquist has another word: heroic. "The Libraries people have been stupendous to us as scholars doing our own work and as instructors and helping the undergraduates. And they have been caring and immensely helpful to our graduate students," he says. "At a time when everybody is stressed out and deeply concerned and vulnerable, it helps to know there is somebody in your corner."
Building digital collections
One of the first decisions was to invest in the digital book collection, negotiating deals to purchase licenses to more than 35,000 e-books at a cost of hundreds of thousands of dollars, says Brigitte Weinsteiger, associate vice provost for collections and scholarly communications.
The Libraries purchased the titles in packages from several publishers, including major university presses such as Cambridge, Chicago, Columbia, Yale, Princeton, and Harvard, "the really heavy hitters we know our faculty and students use regularly," Weinsteiger says.
"We're doing our best," she says, "to buy anything that is requested, as long as it's commercially available: books, streaming films, and texts people heavily use from the print collection. We're also leveraging partnerships with the publishing community to provide access to even more."
It's more economical and efficient to buy books in package deals rather than individual volumes, "but if faculty contacted us and requested something specific, we acquired those regardless of cost," she says, adding that 1,400 e-books have been purchased specifically at faculty member or student request.
Usually the Libraries spends more on print than digital editions, as some Penn faculty and students prefer print, she says. The need to shift to remote learning completely changed the formula. "We have made a massive leap now to what would have likely been an eventual future," she says.
In addition to buying e-books, the Libraries was successful in negotiations to get access to Penn's digitized print collection of 2 million volumes, more than 40 percent of Penn Libraries' print collection, housed in the HathiTrust. "That was a very, very big win," Weinsteiger says.
In what has proven to be a critical resource, the Libraries struck a deal last summer to access the entire collection held by JSTOR, more than 12 million academic journal articles, books, and primary sources in 75 disciplines, Weinsteiger says. Also, many textbook publishers temporarily opened their collections, which has helped as well, she says.
Even before the shutdown, the Libraries was experiencing a "massive increase" in demand for streaming video, Weinsteiger says. But requests doubled from mid-March to mid-April. Along with that has come a cost. For example, to buy a DVD would require a one-time purchase of less than $20. Now one year of access to a film can cost as much as $200 a year.
The acquisitions and licensing staff, who negotiate contracts and put in the orders, have been getting up before dawn and working late into the night to get faculty and students access to new resources quickly. "None of these new digital collections would be possible without the staff working long hours behind the scenes to order and license them. This was a massive undertaking and I am so grateful to the team," Weinsteiger says.
Librarians on call
Holquist, the Ronald S. Lauder Endowed Term Associate Professor of History and the graduate studies chair, is grateful, too. The history graduate students were taking their comprehensive exams, the culmination of a year of preparation, which requires immense reading lists. 
"They know they are coming up to one of the critical benchmarks in their entire academic career, and they are all of a sudden in a world they can't imagine—not being able to use the library," Holquist says.
One student compiled a list of 360 books needed by all the history grad students needed, along with another 100 for just two students. Nick Okrent, librarian for the humanities collection, systematically went through the list and got the books. "In a situation of great anxiety for our grad students, it meant a lot to them," Holquist says.
Joan DeJean, Trustee Professor of Romance Languages, was just starting to work on a new chapter of a book about women in French colonial Louisiana as the Libraries were starting to shut down. She had asked the team led by Sheila Ketchum, the Libraries head of resource sharing services, for an interlibrary loan of an article from a library in Mobile, Alabama. 
"That article was really key," she says. "I had given up hope. But I opened my email and there it was. They had gotten the request fulfilled. Someone was paying attention and trying. I think that is really remarkable."
Kathleen Hall, associate professor of education and anthropology at the Graduate School of Education, had assigned a book-length ethnography each week for each of the four courses she was teaching this semester. Hall reached out to GSE librarian Patty Lynn who got back to her within an hour with the news that the Libraries could purchase e-volumes of all but one of the books she had assigned.
"That has made such a difference to my students, particularly since they haven't had to incur any additional costs for the course. The e-books were available within a week, so I didn't need to restructure the course in any way," Hall says. "I was incredibly impressed and grateful that Patty responded so quickly with the resources my students needed. Patty continues to be accessible and very helpful in the expertise she provides to our students. And given that they are working in isolation, her support has become even more important and meaningful." 
In response to the campus closures, the Libraries tripled the number of librarians standing by to answer questions. Anyone in the Penn community can live chat with a librarian, from 9 a.m. to 5 p.m. (EDT), asking questions online. They are also available by appointment for phone calls or videoconference consultations. And they will respond within 24 hours to email requests, even on evenings and weekends.
"Our librarians are working around the clock to support the students and faculty," Constantinou says. "The time of the day is no longer relevant. It's how we get the job done and how we move forward to the next day."
The Libraries has 50 subject librarians who have expertise in particular areas and will answer questions and make acquisition requests. "We want to make sure everybody knows that there is a personal librarian specifically for their subject," Weinsteiger says.
Web-based resources
Existing research guides on the Libraries website are also seeing new use, along with tutorials on what is available and how to access information. Fifth-year Ph.D. student Davy Knittle teaches an urban studies class, and the 17 undergraduates were required to do a research paper or a podcast.
"They've needed to lean into these research guides to learn about what sources they can get remotely, which will be very helpful to them as they continue to do research and work on larger projects," he says.
The Libraries oversees the University's learning-management system, Canvas that serves as a tool for instructors to organize their courses and streamline the logistics of teaching, such as sharing documents, submitting assignments, and assigning grades. 
What would have usually taken six weeks to put into place working with instructors and designers, the Libraries and their campus partners did in six days. "A truly herculean effort by the instructional designers and academic technologists across the University in accomplishing what would seemingly be impossible," says Jon Shaw, associate vice provost and deputy university librarian.
On one day in March, they established an unprecedented 3,042 sites on Canvas, Shaw says. Usually, Canvas has 2,500 Penn classes each semester, but currently there are 6,133, he says.
 "We've noticed a significant uptick in all of our services," Shaw says. "We've seen most of our service traffic double in information resource access, and it is far exceeding what we would typically see this time of year in both electronic and print access combined. I think that relates to people being at home and spending more time ratcheting up their research endeavors."
The Libraries team also created a virtual computer lab allowing remote access to a variety of specialized software, which was previously only available on campus. The Biomedical Library staff even stepped in to help make face shields with 3D printers they took home when their building closed.
One of the goals of the Libraries strategic plan is to "build a very robust information infrastructure, ensuring access in all formats, digital, video and beyond," Constantinou says. Supporting the new efforts by the Libraries has become one of the funding priorities by the University, she says.
"The Libraries made many critical investments to support the Penn community. We've shifted our service model much faster than anticipated, but all the new skills our staff are learning in offering online support will be skills we carry forward," Constantinou says. "It will become part of our fabric."