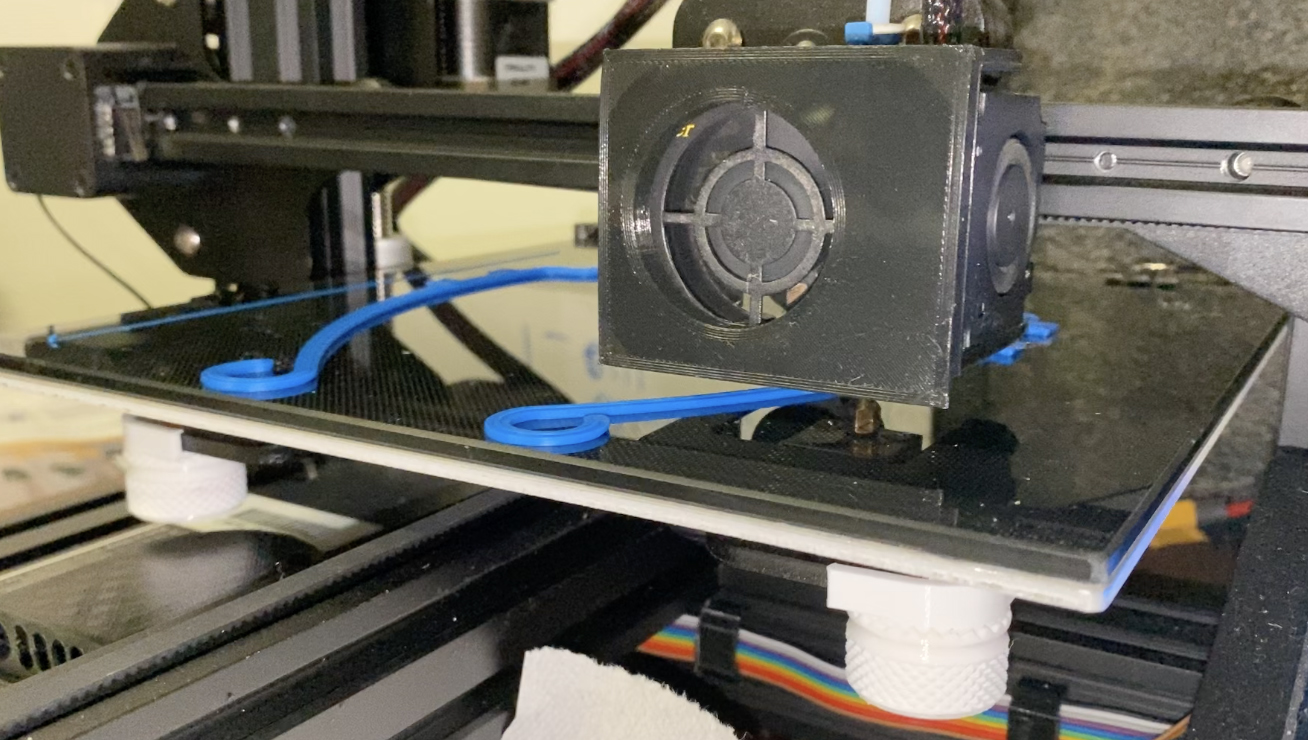 As the number of COVID-19 cases continues to rise, healthcare workers on the front lines of the pandemic are in crucial need of supplies to keep them safe.
While shuttered labs and research groups across campus recently donated personal protective equipment and supplies, additional volunteers have now come together to manufacture face shields, key equipment that can help keep doctors and nurses safe during high-risk procedures. Members of this Penn Health-Tech coronavirus rapid response team are now working tirelessly to meet their goal of producing 20,000 face shields by mid- to late-April.
Nimble response
"Our goal is to take down barriers and get the right solutions implemented as quickly and safely as possible at scale," says executive director Victoria Berenholz about Penn Health-Tech. In the past two weeks, she says, that goal, and the existing infrastructure for fostering innovations in health care, has truly been put to the test. "In the case of COVID-19 crisis, we realized that we were going to have to put something together that was more rapid and iterative."
To be able to react nimbly to the novel coronavirus, Penn Health-Tech established several coronavirus rapid response teams, pairing up engineers with clinical experts to address key unmet needs suggested by the medical community. Teams were assigned to work on projects that were both high priority as well as feasible to complete within the required time frame.
Mark Yim, a mechanical engineering professor, was recruited to help with the rapid response teams by Vijay Kumar, dean of the School of Engineering and Applied Science, and ended up taking the lead on the face shield design and fabrication effort. As the initiative took shape, volunteers from across Penn's schools and centers answered the call to help, including staff, faculty, and students from Engineering, the Perelman School of Medicine, Penn Libraries, and the Stuart Weitzman School of Design.
Design challenges
The face shields are comprised of two parts, a clear plastic sheet and a headband mount, which is the most complicated component and has been the focus of much of the work so far. "There were a lot of designs out there, and the whole world was scrambling—there was nothing that was tested or proven," says Varvara Kountouzi, who leads poster and 3D printing services at the Biomedical Library.
Kountouzi and visualizationist Lexi Voss got involved with the rapid response initiative through Barbara Cavanaugh, assistant University librarian for health sciences and STEM Libraries, who heard about the need for face shields from social epidemiologist Carolyn Cannuscio. Before the campus was shut down, Kountouzi was able to take home the Libraries' 3D printers and is able to print out headband mounts 24/7, which requires a considerable amount of time—a process that she describes as akin to being a new parent.
While many face shields are designed to be disposable, a shortage of materials means that a reusable shield is preferred. However, that also means that design modifications are needed, and Yim says that the nature of the current situation has turned the traditional design process on its head. Normally, a designer would be able to directly interact with a user and get immediate feedback on how their product works. In the case of the face shields, however, volunteers have to make modifications based on feedback from hospital workers received days later. "It's slow in terms of the design process, and slowed down because of the complications of isolation from the virus, but it also needs to happen superfast," says Yim. "The timeline has been kind of crazy because everyone knows there's a surge coming."
Kountouzi and Voss identified and shared the mount design that is currently being produced by the group, even as the shields continue to be evaluated and adjusted according to feedback from the frontline health care providers. "The [feedback] process is still ongoing, even during production, because they needed something fast," adds Kountouzi, who has now been working on the documentation of the designs to provide guidance for other institutions and individuals.
Coming together
As the director of the Penn electronic design shop, Miguel Hernandez reached out to pulmonologist Andrew Haas to ask if there was any way that he could help. From there, Hernandez and fellow engineer Alex Santos were recruited into the face shield rapid response team and immediately put their shop's 3D printer to work. "It's very tricky," Hernandez explains about the printing process. "You have to regulate temperature, the pressure to the nozzle, know properties of plastic and you have to tweak it to be able to make successful pieces."
In parallel to the 3D printing efforts, Weitzman staff members recently received authorization to use three laser cutters in the Fabrication Lab to make plastic head mounts for face shields. Led by Lab Manager Dennis Pierattini, volunteers come in on alternating days to cut straps out of 0.06-inch thick high-density polyethylene, the same type of flexible plastic used in milk jugs and ice cube trays.
Karl Wellman, senior director for operations and planning, design and construction, says his team immediately jumped at the opportunity to help. "As of April 8, we've cut 225 straps and a few dozen holders within the Fab Lab. We plan on doing this as long as it's needed," he says. In addition, a group of 20 architecture students, led by architecture professor Franca Trubiano, are helping to produce face shields using their personal 3D printers and hobby laminators.
Student volunteers, including Julia Lin, Kathie Jin, Corey Abramowitz, Leo Wang, Soummee Bhattacharya, and dozens more, are at the core of this rapid response initiative. The students help bring everything together by managing supply chain logistics, coordinating deliveries and drop-offs while maintaining social distancing, and conducting quality control checks and sterilizing the finished shields. "One of the amazing things is the organization of the students," says Yim. "Students are helping with things like transportation networks. How do we get things from one place to another? Everything has to be separate. Every time we hand off materials from one place to another, we have to be careful about exposure. All that kind of stuff makes it much more complicated and difficult."
As of April 5, the rapid response team has delivered more than 1,000 face shields. With the parts for 20,000 bands now arriving, dozens of medical students have been recruited to the effort and the team aims to assemble them at a rate of 2,000 per day.
Small yet significant
Despite the long hours manning 3D printers, cutting plastic mounts and face shields, and coordinating deliveries while maintaining social distancing, the rapid response team members are happy to do their part in keeping the healthcare community safe. "It's amazing to see how quickly everyone came together to provide assistance, and it goes to show that the schools and centers here at Penn are made up of incredibly caring people," says Wellman. "When the call goes out, they are ready to jump in immediately."
Amidst the outpouring of support, Berenholz is impressed with how this pandemic has brought so many schools, centers, and individuals together. "The crisis has been a driving force for innovation, and it will have lasting effects on the innovation ecosystem," she says.
Hernandez says he is inspired by the dedication of the clinical researchers he's worked with over the years and hopes that this small contribution can help keep them safe. "It's important to be able to contribute to this tremendous fight to save lives. If we are able to contribute even this small thing, it's worth it," he says.
Cavanaugh is proud of her team and hopes that the health system knows that the Libraries is a partner that they can rely on. "We want to be part of their mission and support what they are doing. It gives me a sense of being able to do something, to contribute to this situation, and helps alleviate that helpless feeling," she says.
"It feels good to be a part of a cause," adds Voss. "Being able to help people as best I can is extremely gratifying."
Launched in 2017, Penn Health-Tech is an interdisciplinary center aligned to the Perelman School of Medicine and the School of Engineering and Applied Science with a goal to accelerate innovation related to medical devices and healthcare. 
Additional information and resources on COVID-19 are available at  https://coronavirus.upenn.edu/
Homepage image: Volunteers from across the Penn community are using 3D printers to manufacturing face shields to help keep doctors and nurses safe during high-risk procedures. (Image: Project SHIELDS)