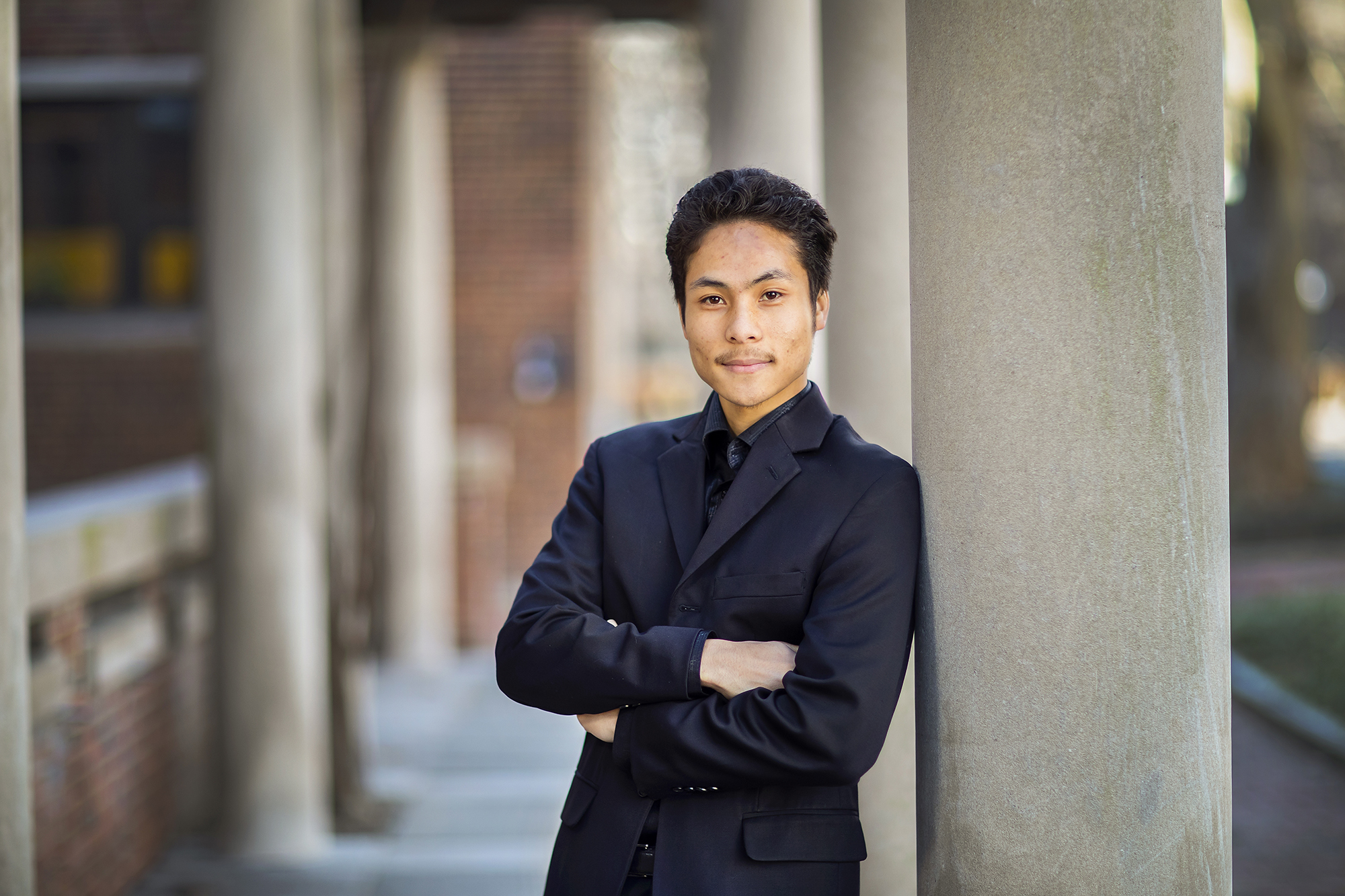 As he processed down Locust Walk the day of Commencement, Michael Wong didn't miss a beat. He took in with pride all his interactions with friends, every cheer from the crowd, and each step on his final day as an undergraduate at Penn.
The first in his family to go to college, Wong would not only graduate that day with a degree from the Wharton School. Thanks to a President's Innovation Prize (PIP), he'd also graduate with a full-fledged startup and significant funding in hand, ready and willing to take on his next chapter.
"The whole day of graduation I was like 'Wow, this is amazing,'" recalls Wong. "It's one of my favorite moments."
Wong, from Oakland, California, founded InstaHub in 2016. Working with Dayo Adewole, a doctoral candidate in the School of Engineering and Applied Science, the pair designed a snap-on motion sensor device that attaches onto existing light switches. It is battery powered, with occupancy sensing capabilities, and is easy to install. With PIP, which awarded Wong $100,000 (plus $50,000 for living expenses), he says he's been able to do rapid prototyping to move InstaHub forward.
The most important aspect of the product, says Wong, is that it eliminates the need for large, timely, and costly rewiring projects, while also maintaining cutting-edge sensors and analytics, which turn on lights when people enter rooms and off when they leave.
"By eliminating energy waste through a simple, fast solution, InstaHub offers tremendous potential for positive environmental impact, helping us to ensure a cleaner, greener planet," says Penn President Amy Gutmann, who founded the President's Engagement Prize in 2015, and the President's Innovation Prize in 2016.
"The philosophy [of InstaHub] is we need to erase our obvious energy waste ASAP," Wong says.
Over the summer, Wong and his team, which includes Adewole and Wong's sister Tiffany Wong, who goes to Wharton, continued to test InstaHub's product at various locations, including in Facilities and Real Estate Services' buildings on Penn's campus.
Wong also moved InstaHub's headquarters into a garage office space at the Pennovation Center, the hub of Pennovation Works just adjacent to campus. He attracted a couple dozen undergraduate and graduate student interns, studying mechanical engineering, marketing, electrical engineering, software engineering, web development, and more, from colleges throughout the world. Together, they learned and were able to grow not only the initial, aforementioned InstaHub product, but an entirely new one, too.
Going hand-in-hand with the original InstaHub product, the second sensor developed uses the startup's core technology, Wong explains, to determine energy use and energy waste in a specific room. For instance, it might determine the overuse of heat and air conditioning, or light.
"Knowing the data is important," Wong says, as this information ultimately informs how necessary InstaHub's main product is for a consumer.
Wong made it his mission throughout the past few months, too, to produce InstaHub's products in the eco-friendliest way going forward. Now, its parts are constructed through the most sustainable method of manufacturing via additive manufacturing (3D printing) and with sustainable material that is cost effective, Wong says.  
"People tell us how there are a million things we have to do to run a business, and that what the products are made of should be considered later," Wong says, noting how he feels differently. "It's not something we should worry about later, it's something we should worry about now."
Wong used the PIP award as a jumping off point, as startups that build products can be extremely costly.
"It helps me on the next stage of my life, which is great, because I didn't really have a backup plan," Wong said, back when he first learned he earned the prize.
Chatting from the International Facility Management Association's World Workplace 2019 Conference and Expo in Phoenix, where he was targeting customers and building stronger networks with global facility managers, Wong says he hit the ground running with InstaHub, and hasn't stopped since.
"Time is just flying by," he says, noting how grateful he is for the progress InstaHub has been able to make. "It's been really busy and it's worth pursuing a fulfilling dream for a positive global environmental, social, and financial impact."