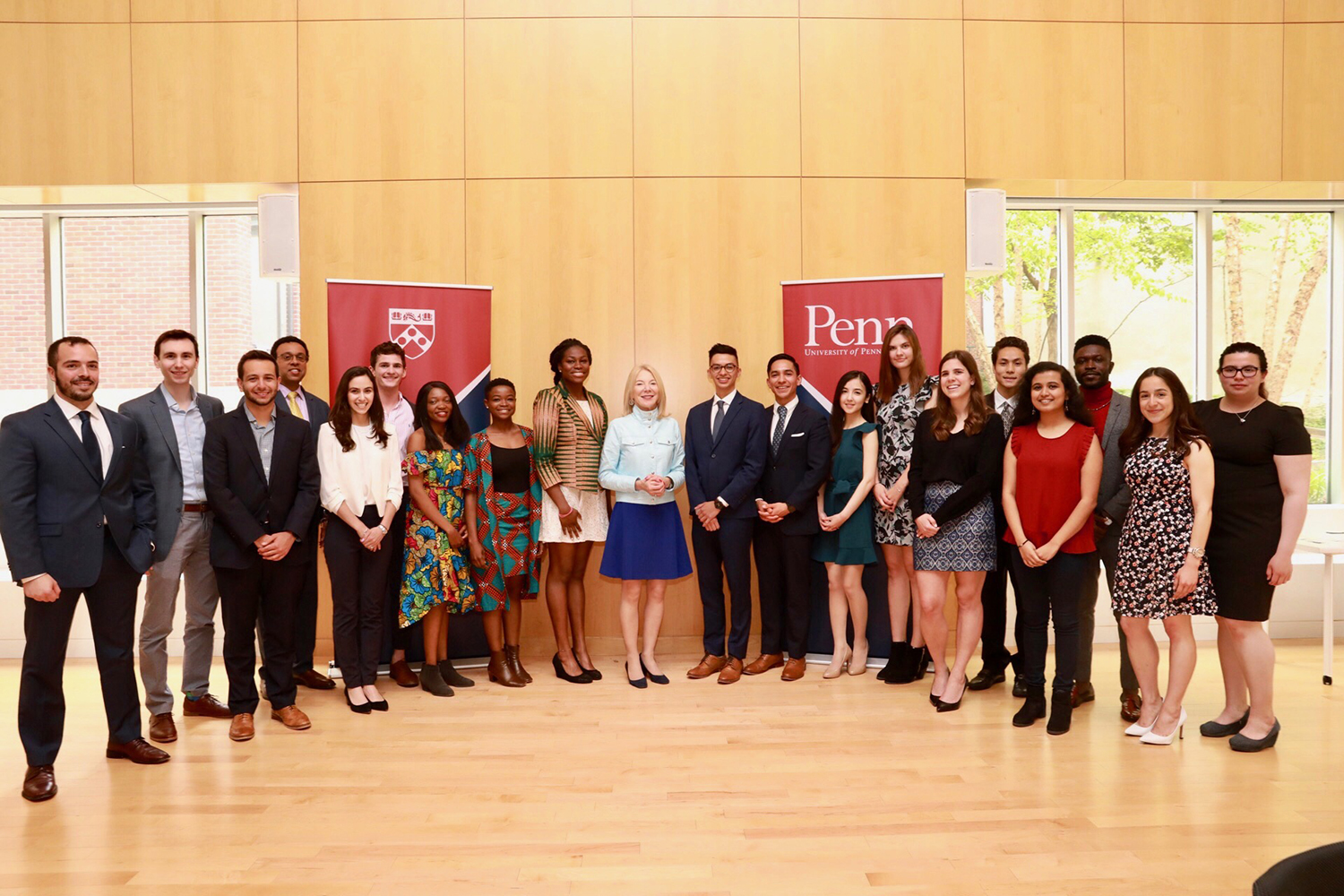 Brendan Taliaferro remembers getting the call from President Amy Gutmann explaining that he'd been selected to receive the President's Engagement Prize for his pilot program to combat LBGTQ homelessness in Philadelphia. 
He "collapsed," he said. And while he laughed about the reaction being a smidge melodramatic, the shock truly hasn't worn off.
"I am totally overwhelmed, still, even after a month," he explained. "I'm incredibly grateful for the opportunity and still unable to believe it's actually happening."
Taliaferro stood next to his beaming father, who had flown from Atlanta to attend the luncheon and expressed being "super excited" for his son, emphasizing that he'd always known his son would strive to make a difference in the world after graduation.
That drive to strive is the common thread of the winners celebrated at the 2019 luncheon at the Annenberg Public Policy Center, honoring the nine graduating seniors awarded this year's President's Engagement Prize and President's Innovation Prize. Each of the prizes comes with $100,000 for project implementation and a $50,000 stipend for living expenses for every prize recipient. 
Among the winning PEP teams: Rebound Liberia, which will build a basketball court and resource center in Liberia to bridge the literacy gap between men and women while being a healthy means of coping for youth; Cultivando Juntos, which will build a community program to improve the quality of life of agricultural workers in Kennett Square, Pennsylvania; and Host Homes for LGBTQ Youth in Philadelphia, which connects homeless LGBTQ youth with adult volunteers who can provide access to support services. 
The winning PIP teams: Strella Biotechnology, which is developing a sensor that detects ripeness of fruits, beginning with apples but with plans for expansion; and InstaHub, which uses a snap-on tool that shuts off energy-consuming lights and allows existing infrastructure to be enhanced rather than replaced.
"Not if, but when these projects are successful, not only the people who are directly affected by them, but many people around the world will benefit," Gutmann remarked at the luncheon. "The winners have demonstrated immense creativity in leadership and they epitomize why these prizes are central to the vision that we here share at Penn. Across disciplines, applications, and technologies, the initiatives and projects these winners envision will make life better for many people. 
"I can't think of a more powerful example of the Penn Compact in action, and I can't think of a more powerful reason to get up every morning."
Gutmann also spoke of the "incredible, entrepreneurial, do-good Benjamin Franklin network of President's Prize winners" that the recipients can be in touch with as years progress.
Indeed, they're connections already happening.
"We're actually all getting dinner tonight," said Matt Lisle, a 2015 PEP winner and mechanical engineering alumnus who was in attendance at the luncheon with his Everwaters winning teammates. (Lisle is now studying for his master's in robotics at Penn.) "The community is growing and it's really great that we're all people with similar motivations."
Lisle said he feels the 2019 winners' excitement and wishes he could relay the incredible experiences ahead of them.
"It's not an easy road, but it is one of the most fulfilling, for sure," he added.
Summer Kollie, one of three winners from the Rebound Liberia team, a first-generation student in attendance at the luncheon with her mother and grandmother, reiterated how helpful it is to engage with a community of Prize winners as the awards enter the fifth year and fifth round of winners. 
She's worked with 2015 winner Shadrack Frimpong, she says, to do some troubleshooting as her team plans their resource center.
"Because he did his project in Ghana, and we are doing our project in Liberia, he has a lot of experience we don't have," she said. "So, we talk with him a lot and problem-shoot with him a lot. I really enjoy that network aspect of it, that you can reach out to past winners and talk about your project."
Katherine Sizov, one-half of Strella Biotechnology, says she's been in communication with other winners throughout the application process, including Taliaferro, as they've completed pitches and sought insights. 
"We're all working on these grand projects, and so the same woes exist," Sizov explained. "There's definitely a connection there."
But for the moment, the luncheon was an opportunity to pause, nibble on midday delights, and relish in the success.
"It feels heartwarming," said Antonio E. Renteria of Cultivando Juntos of the abundance of support from the Penn community.
"It's amazing, and I'm very thankful for my family to be here and a lot of my friends, and honestly how grateful I am for how supportive everyone is—getting to sit with Josh Kopelman [from First Round Capital], Dean Garrett [Dean of the Wharton School], and Amy Gutmann right next to me, it's a once-in-a-lifetime opportunity," said Michael Wong of InstaHub, who is a first-generation, low-income student.
He's excited to scale his company's impact, he said, and work with a team of interns who will soon fly in to jumpstart his startup. In the meantime, he said, he's living "day by day," and taking a moment to breathe and enjoy the upcoming moment of walking the Commencement stage as his family watches him graduate.
"I know they're really proud, but just to walk that stage, it's going to be really different—I can't explain it," he remarked. "Before, I didn't even know about Penn, and now graduating at Penn and getting to start my own company right after.
"This is going to be the most exciting chapter of my life."