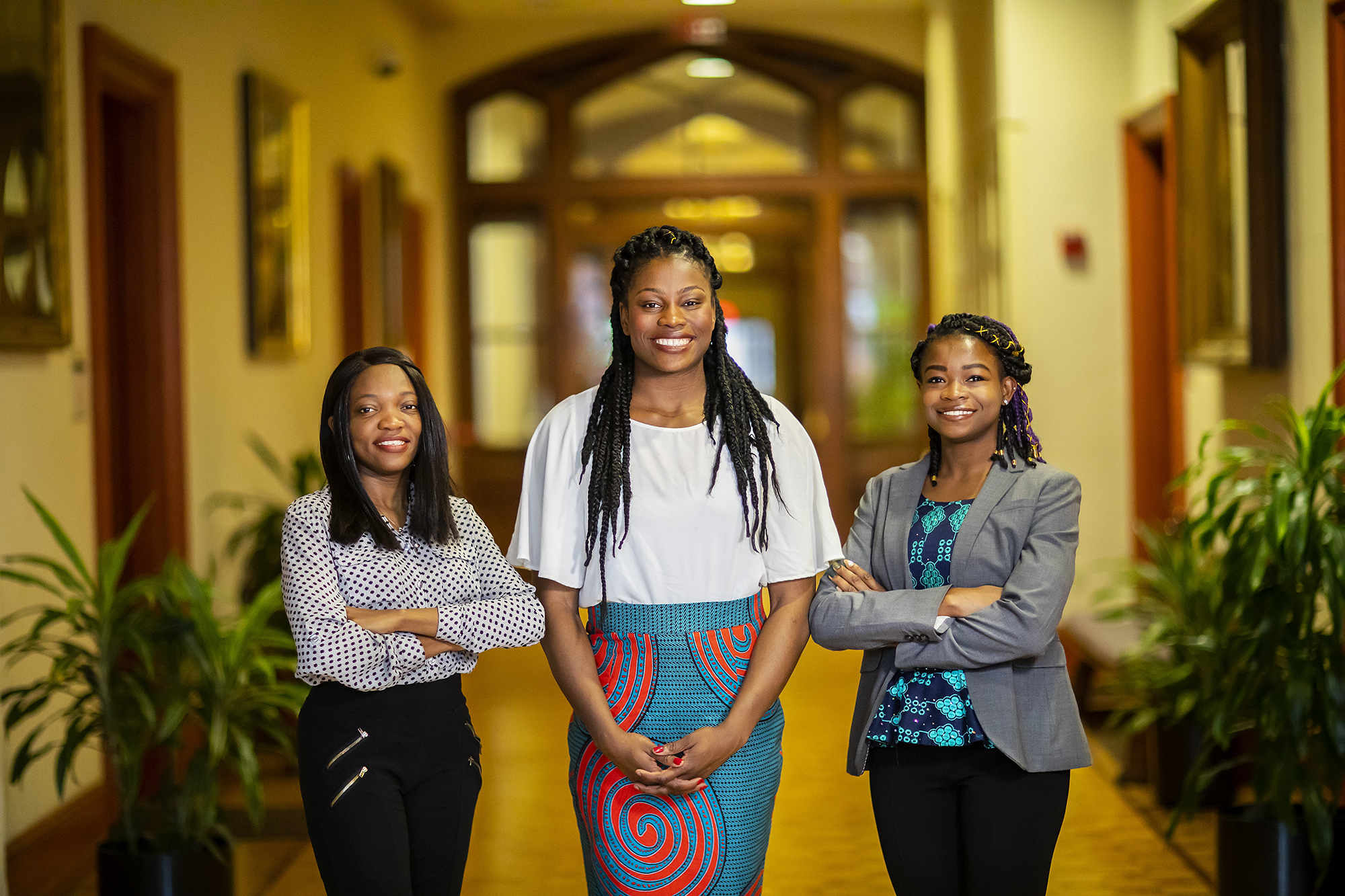 Princess Aghayere, Summer Kollie, and Oladunni Alomaja met for the first time before they even started college, at Penn's Pre-Freshman Program. Drawn together by their common ties to West Africa, they became fast friends and, eventually, roommates. Kollie is originally from Liberia, and Aghayere and Alomaja were born in Nigeria. 
Although all three moved to the United States as children or teenagers, each felt compelled to give back to Africa. As winners of one of the 2019 President's Engagement Prizes (PEP), they will. 
Their project, Rebound Liberia, aims to give young women a platform to develop their voices and, ultimately, to position them to create a new, more positive narrative about the country. It involves building a basketball court in Monrovia, the capital, and pairing it with literacy programs and a resource center. 
The initial goal is to serve about 60 girls between the ages of 8 and 18, to complement what the young women are learning in school, and to build on those skills during the summer break. The PEP gives their project a $100,000 award, as well as a $50,000 living stiped for each of them. 
All three women said the ability to begin their post-Penn lives giving back is hugely significant. 
"We have always had that passion, that drive to want to work with youth in West Africa, to give back and just kind of help the youth in the way we have been helped along the way of our journey," Kollie says.  
"In Africa, West Africa especially, it's very patriarchal," says Alomaja, who goes by the nickname Ola. "We're giving girls a voice. We're empowering them, teaching them leadership skills. And we're teaching them so many things that their society might have taken away from them or has not given them the opportunity to learn. 
"For me, being involved in this project means I will be able to see that through and to have a close, interactive relationship with these girls for a long time, to help reach their own goals. I want to help them realize they're more than what their society tells them they can be."
Aghayere, a standout forward on Penn's women's basketball team, began playing basketball not long after she and her family moved to Virginia when she was 8. She's driven by research showing the power of sports to teach leadership, and she can't wait to expand the sport's reach in Liberia.
"Basketball is definitely on the rise in Liberia. If we can build this program to a world-class program and really sort of help redefine Liberia in a new way, it will help. We've talked a lot about the negative narratives about Liberia," Aghayere says. "We want to see this not only be self-sustainable but be something that people from all across West Africa come to and know Liberia for."
The genesis of the project lies in Penn Engineering's global and local-service program. Aghayere and Kollie had both been involved in summer projects in Africa and in 2018 won a grant from the Davis Projects for Peace Program.  
Their project, Promoting Education and Cultivating Empowerment (PEACE) through Girls Basketball, renovated a basketball court in Monrovia and hosted a basketball clinic for girls twice a week. Each participant received a jersey, shoes, and a basketball, all donated by the Penn women's basketball team. 
Kollie and Aghayere also put together weekly workshops for the girls, discussing everything from sexual and reproductive health to goal-setting. They took the girls to Monrovia's Coca-Cola plant and the nation's Senate, two places where women are scarce. 
After that success, the duo wanted to reach higher and began thinking about entering the annual contest for the PEP. Alomaja suggested adding in the literacy component to round out the program. 
The trio approached Ocek Eke, the director of global and local-service learning programs in the School of Engineering and Applied Science. He knew all three women, since Alomaja is majoring in bioengineering and Kollie and Aghayere had worked on programs with him, and he agreed to be their faculty mentor for the project. 
Eke encouraged them to reach for the PEP, which President Amy Gutmann began five years ago to encourage seniors to spend their early post-graduate years on projects that make a difference through community engagement. 
"I tell all my students on our projects to look at the society, look at the environment we're in. If you won the President's Engagement Prize, what could you do? How could you change this?" Eke says. "This is fantastic because they can sustain the project, which is very important. You don't want to be a flash in the pan. 
"This is about uplifting young women, and I think that's important because in these African societies men dominate every sector of life. What Rebound Liberia will do is empower young women in term of leadership and in terms of helping them set their minds on the goals they want to achieve." 
The format of Rebound Liberia will involve reading every morning but Friday, followed by lunch and basketball. The literacy component will be cooperative, Kollie says, with more skilled students reading aloud to those who are less skilled. 
"This will complement what they're learning at school because it's a summer program," she says. "They've learned all throughout the school year, and now they're coming in the summer to have fun but also to keep up with what they already know and learn things they don't know."
Aghayere noticed during work in Ghana that the educational model was based on teacher-student interaction, with little contact between students. Rebound Liberia will be more peer-to-peer, she says. 
"I think learning is more fun when it's engaging, as a community type of thing," she says. 
Each woman is highly aware of what they will symbolize to the young women they meet in Liberia. Aghayere came to Penn in part because of basketball, and is a health and societies major in the School of Arts and Sciences, as is Kollie. 
Kollie's family left Liberia when she was 6 to get away from the country's civil war and moved to Southwest Philadelphia. She grew up knowing little about Penn, despite growing up almost in its backyard. A Temple University Upward Bound program and the QuestBridge Scholars Network helped set her on the path to Penn. 
Alomaja moved to Minnesota six years ago. Penn wasn't on her radar until a high school biology teacher suggested she apply. 
All three say their time at Penn has been transformative. 
"One of the biggest things I'll take away from Penn is that the sky's the limit, which sounds a little cliché but isn't," Aghayere says. "I'm not limited anymore in terms of what I think I can do. I know that if I set my mind and I put in the work I can accomplish a great deal."
Eke says Kollie, Aghayere, and Alomaja will be powerful role models for the young women they work with through Rebound Liberia. 
"It's a very big deal, and it's also inspiring," he says. "Ola, Summer, and Princess could have made other choices with their brand-new Penn degrees, to go and do other things around the world. But they chose to do this, which I think is quite admirable.
"It also shows humility, that they understand the need and that this is a more direct way of addressing those needs. Entering Liberian society with a Penn education caries a lot of weight, and I think will be an inspiration to these girls, that they can see these women who look like them and have achieved something like this." 
Alomaja says she's excited to be her own boss but also to be able to put the leadership skills she's learned at Penn to the best use. 
"Even though we came here to learn math and science and other subjects, the skills that we are going to use in the real world are the leadership skills and the ability to work on a team," she says.  
After the project is up and running and, hopefully, able to be replicated in other places around Liberia and, ultimately, other parts of Africa, it's unclear what the next step is for each woman. But their instincts tell them it will involve their native continent. 
"I definitely want to stay in Africa," Aghayere says. "I don't know what the future holds, but for now I want to invest all my time and energy into this and just see what it becomes."
Kollie agrees.
"My heart is in Liberia," she says. "Liberia is a post-conflict country, so there is a lot of work that needs to be done in cultivating the next generation of leaders who are going to take over the country and take it in a positive direction. For me, that's definitely something I'm interested in long-term."